"I didn't think my stuff was the best, but we fought through those first two innings and kind of stayed out of trouble," Wood said. "It's easy when you score seven runs, as long as you don't have an awful one, you've got a good chance to win. We've been a lot of fun to watch, and hopefully we'll keep going."
Bellinger, who needed the triple after his first three at-bats, lined a ball past Giancarlo Stanton to the right-center gap to lead off the seventh and raced around second without hesitation. The 22-year-old's cycle is the 10th in franchise history and first since Orlando Hudson achieved the feat on April 13, 2009.
"I guess I just took advantage of hittable pitches," Bellinger said. "I've been missing them lately, so I'm glad I was able to put good swings on them today. It's such a hard game. Tomorrow, I could go out there and strike out four times."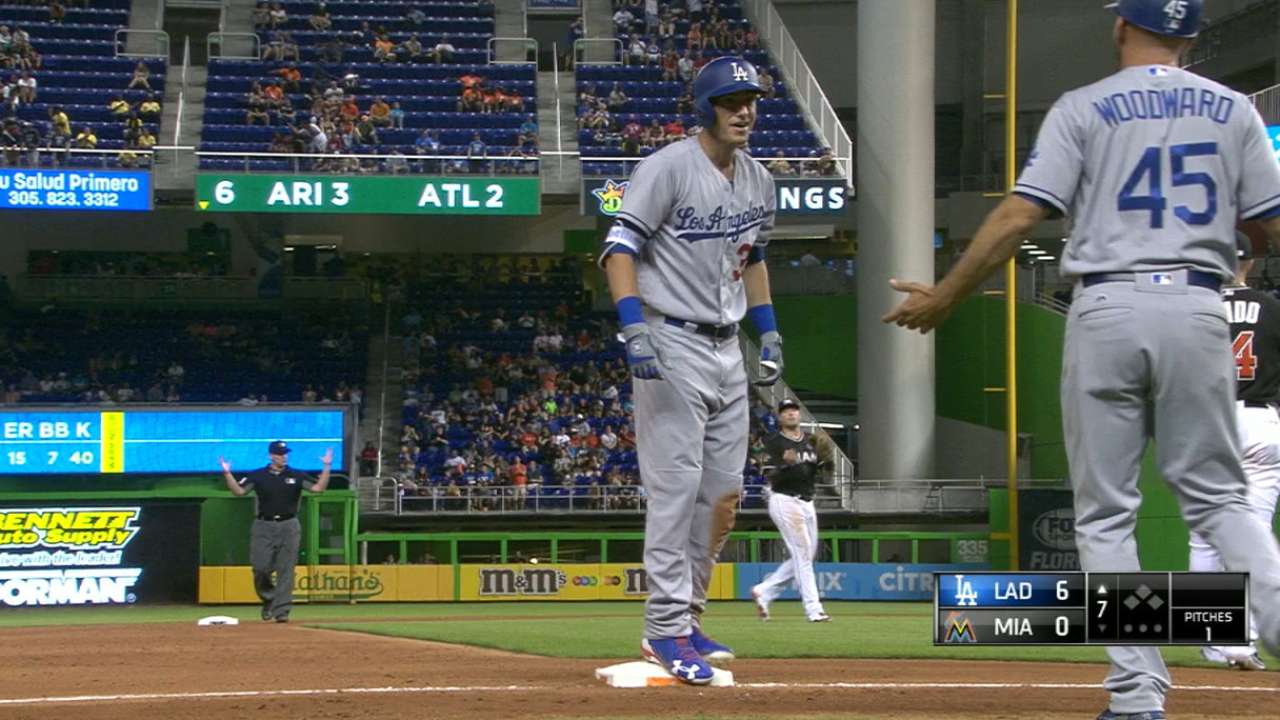 Bellinger records the cycle
LAD@MIA: Bellinger hits for the cycle against Marlins
Cody Bellinger goes 4-for-5 and drives in three runs as he hits for the cycle against the Marlins, the first Dodgers rookie to ever do so
A night after hitting a ninth-inning go-ahead homer, Yasiel Puig took exception to a Jose Urena first-pitch fastball that ran high and tight on him in the second. The two stared each other down, as the benches cleared but no warnings were issued.
"That was a two-seam," Urena said. "I threw the same pitch by [Chris] Taylor. But, you know, he get like a little baby with that. But we gotta focus on the game, because we've got a job to do."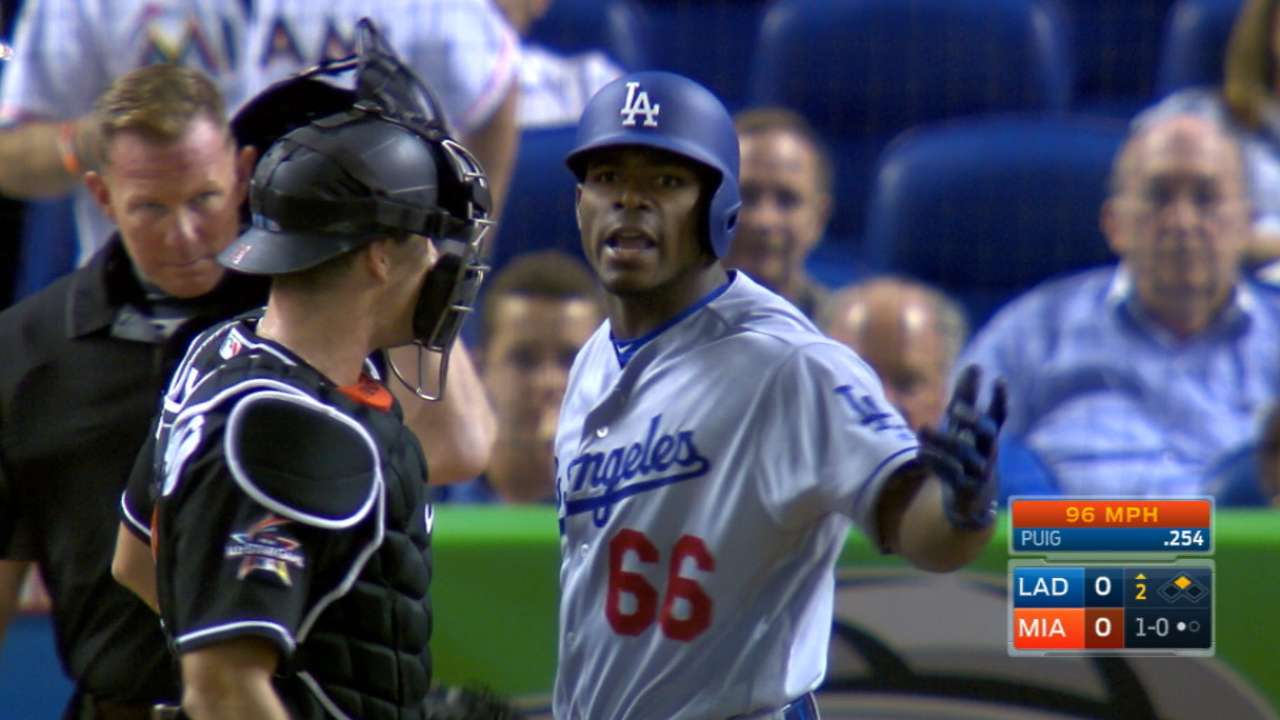 Urena, Puig have heated exchange
LAD@MIA: Tempers flare after Urena nearly hits Puig
Jose Urena throws an inside pitch that nearly hits Yasiel Puig and both start walking towards each other as players leave the dugouts
Urena entered with a 0.59 ERA in 15 1/3 career innings versus Los Angeles, but he lasted just three frames. All damage against the right-hander came in the third when the Dodgers put up a five-spot on Bellinger's two-run shot and Yasmani Grandal's three-run tater.
"Seems like they got to his breaking ball a little bit and got in counts where he was using that," Marlins manager Don Mattingly said. "Just didn't get the pitch where he wanted to as much as anything."
MOMENTS THAT MATTERED
Rookie cookin': Bellinger's stellar campaign continued in a big way. He singled in the first, launched a two-run dinger in the third, roped an RBI double in the fourth and scored after tripling in the seventh. He became just the third Los Angeles Dodger to hit for the cycle. The slugger's 26 homers are also tied for the NL lead and are the most in the Majors since his April 25 callup.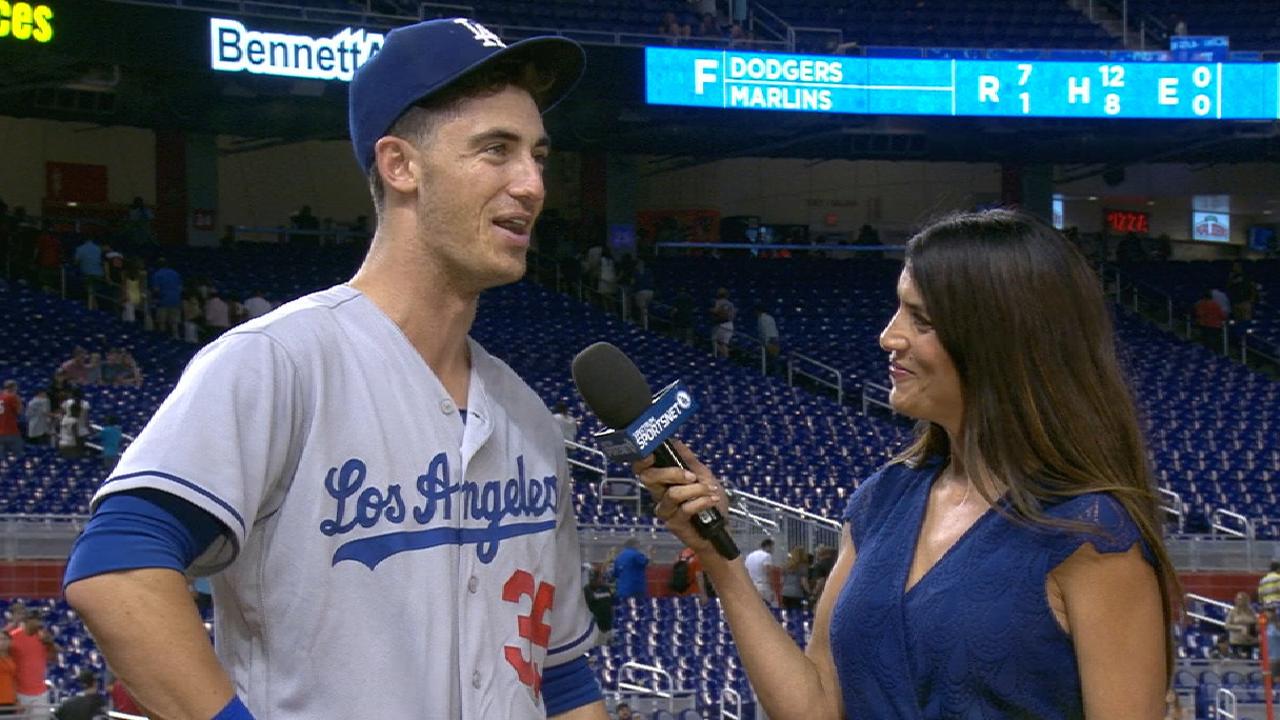 Bellinger on his historic night
LAD@MIA: Bellinger talks about hitting for the cycle
Cody Bellinger talks about becoming the first Dodgers rookie to hit for the cycle after a 7-1 win over the Marlins
"As we watch him every single night, seems like he's always doing something to win us a baseball game," Dodgers manager Dave Roberts said. "Now when you're talking about being a part of history and re-writing record books for a Dodger and a player at his age, it's really not a surprise. Every time he steps on the field, something special can happen.
"The great thing about Cody is he doesn't get too far out of each moment. At the end of the season, it will be great for him to look back at what he's accomplished. But right now, the special thing about him, Cody just has really good perspective of things. Granted, it's a wave he's never been on, but he's enjoying the ride." More >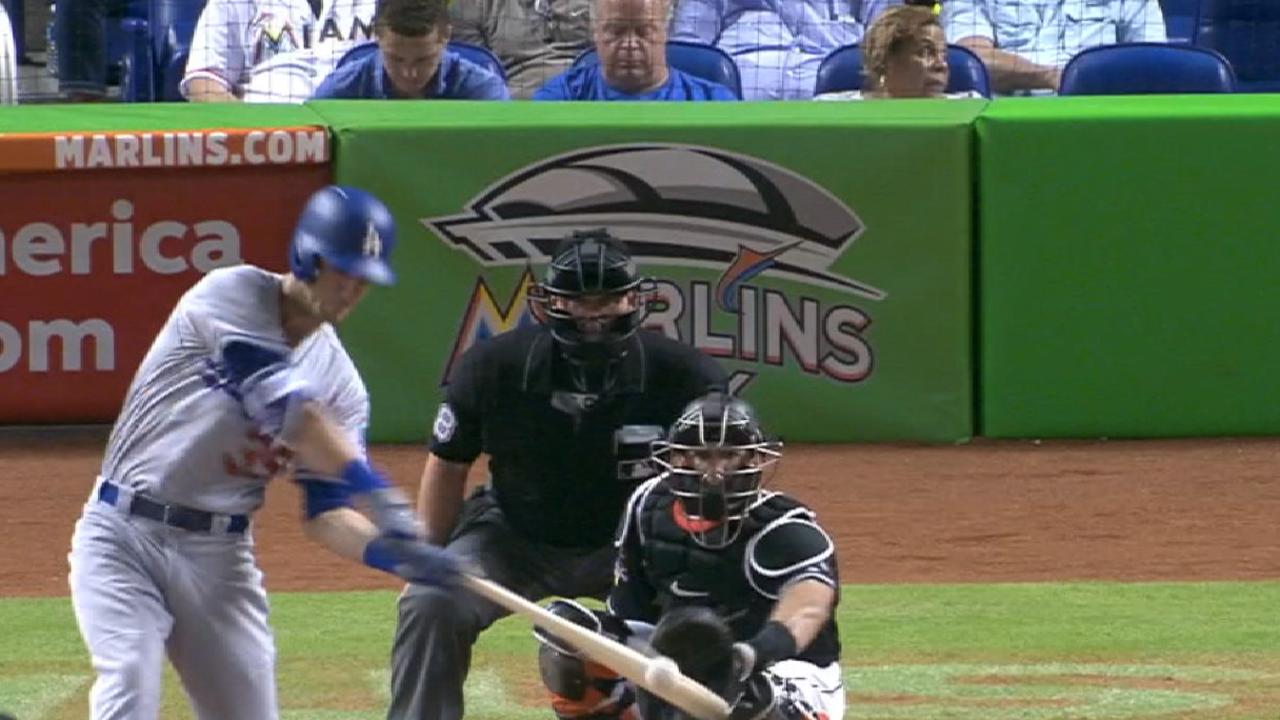 Extended Cut: Bellinger's cycle
LAD@MIA: Extended cut of Bellinger completing cycle
Watch an extended version of Cody Bellinger's triple in the top of the 7th to become the first Dodgers rookie to hit for the cycle
Yasmani in Miami: Grandal yanked a three-run homer on a Urena slider and hooked it just inside the right-field foul pole in the fifth to cap a two-out, five-run rally, and he did so in a familiar city. Grandal attended Miami Springs High School and starred at the University of Miami before the Reds drafted him in the first round in 2010. The long ball was just the second of his career at Marlins Park.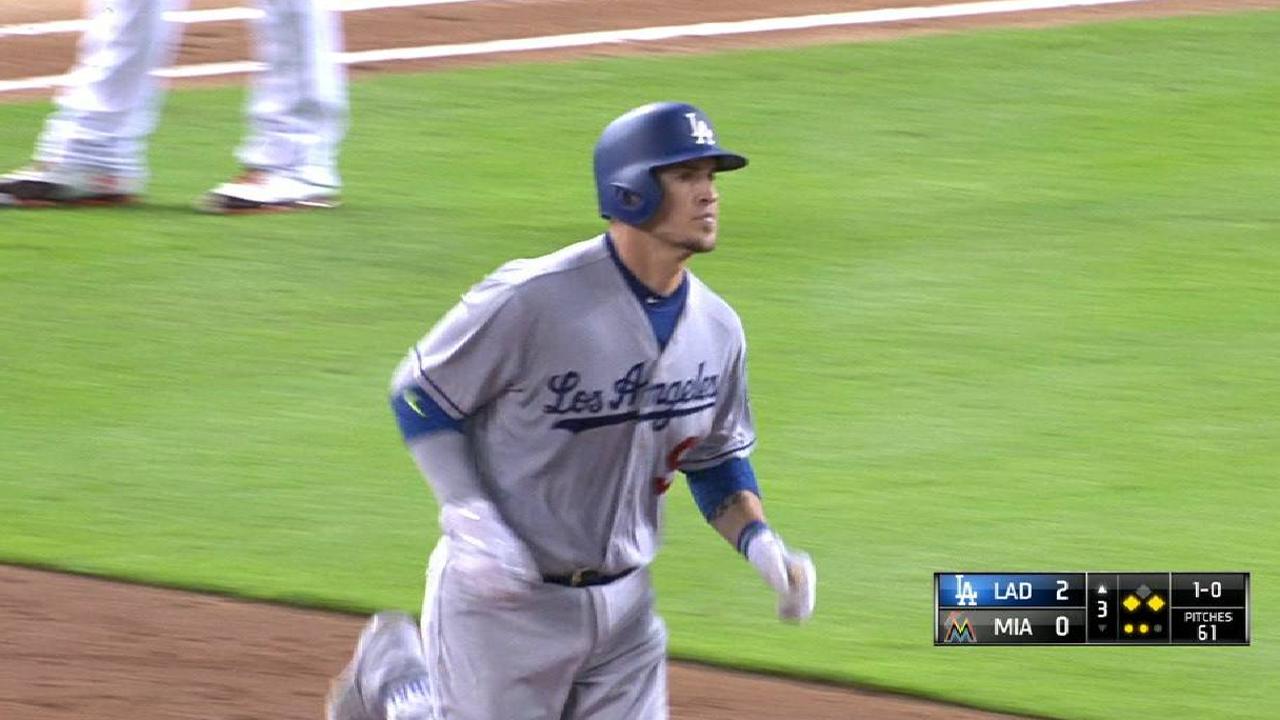 Grandal's booming three-run shot
LAD@MIA: Grandal hits the column with three-run jack
Yasmani Grandal clubs a deep drive that hooks around the foul pole and hits a column in right for a three-run homer in the 3rd
QUOTABLE
"I thought that Yasiel overreacted. Urena has an arm-side miss in there, and that's his miss. He was throwing in on a lot of our right-handed hitters to start the game. Yasiel saw that. No one likes to be crowded, but [you need] to understand that there wasn't intent, and it's clear to me that there was no intent. So we talked to Yasi, and I think he realizes he overreacted." — Roberts, on the Puig-Urena incident
SOUND SMART WITH YOUR FRIENDS
Only three cycles have been hit by the Dodgers since the team moved to Los Angeles in 1958: Wes Parker on May 7, '70, Hudson on April 13, 2009, and now Bellinger against the Marlins.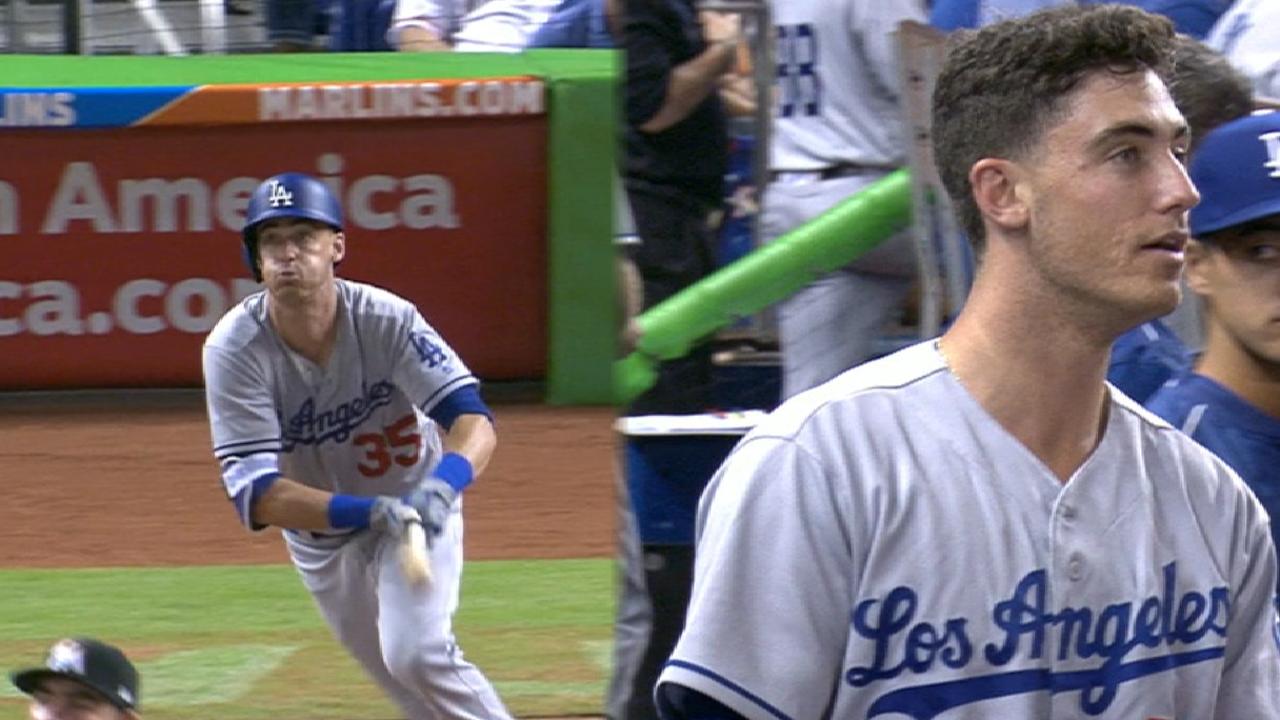 Must C: Bellinger hits for cycle
Must C Cycle: Bellinger completes historic cycle
Cody Bellinger records a triple in the 7th inning to complete the cycle, becoming the first rookie in Dodgers history to hit for the cycle
WHAT'S NEXT
Dodgers: Left-hander Rich Hill takes the mound for the Dodgers as they close out the series in Miami with a 10:10 a.m. PT Sunday start. He has gone seven innings in each of his last three starts, giving up just four runs over 21 innings while striking out 27.
Marlins: Rookie Chris O'Grady will make his second career start in place of the injured Edinson Volquez in Sunday's series finale against the Dodgers at 1:10 p.m. ET. The left-hander became the 11th Marlins starter to win his Major League debut last time out against the Giants.
Patrick Pinak is a reporter for MLB.com based in Miami and covered the Marlins on Saturday.
Glenn Sattell is a contributor to MLB.com based in Miami and covered the Dodgers on Saturday.
This story was not subject to the approval of Major League Baseball or its clubs.