Puig stared Urena down and made a move toward him. Urena, however, said the pitch wasn't intentional.
"I threw the same pitch by [Chris] Taylor," Urena said. "But, you know, he got like a little baby with that. But we gotta focus on the game, because we've got a job to do."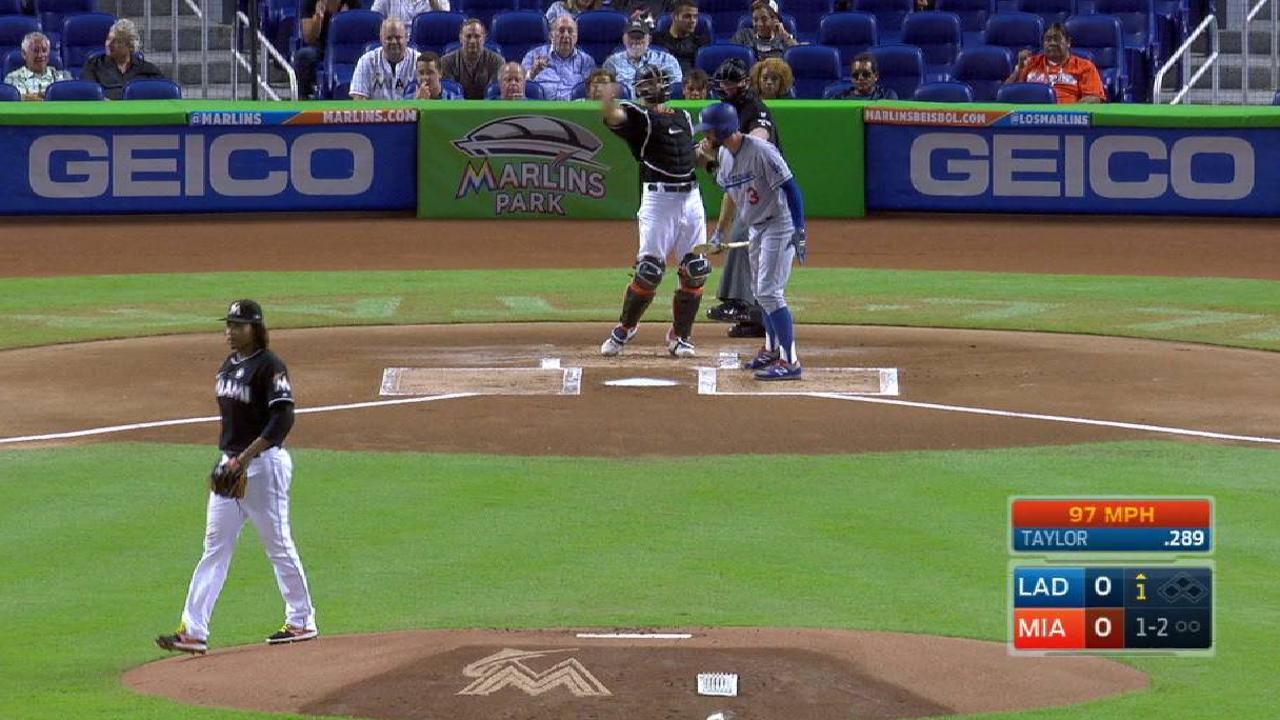 Urena rings up Taylor
LAD@MIA: Urena starts the game with a strikeout
Jose Urena picks up an early strikeout in the 1st inning as he gets Chris Taylor to go down looking on four pitches
Added Urena: "I saw when he was walking. For me, that was disrespect. I play the game. I respect the game. If you do something like that, if I go, let's go, you know?"
It was a testy way to begin Urena's first start of the second half, which didn't go his way, after he retired Puig on a flyout to right.
The Dodgers busted the game open against Urena in the third inning. After the Marlins turned two, Cody Bellinger launched a two-run shot on a slider. Three batters later, Yasmani Grandal yanked a three-run tater down the right-field line off another slider.
"Seems like they got to his breaking ball a little bit and got in counts where he was using that," Marlins manager Don Mattingly said. "Just didn't get the pitch where he wanted to as much as anything."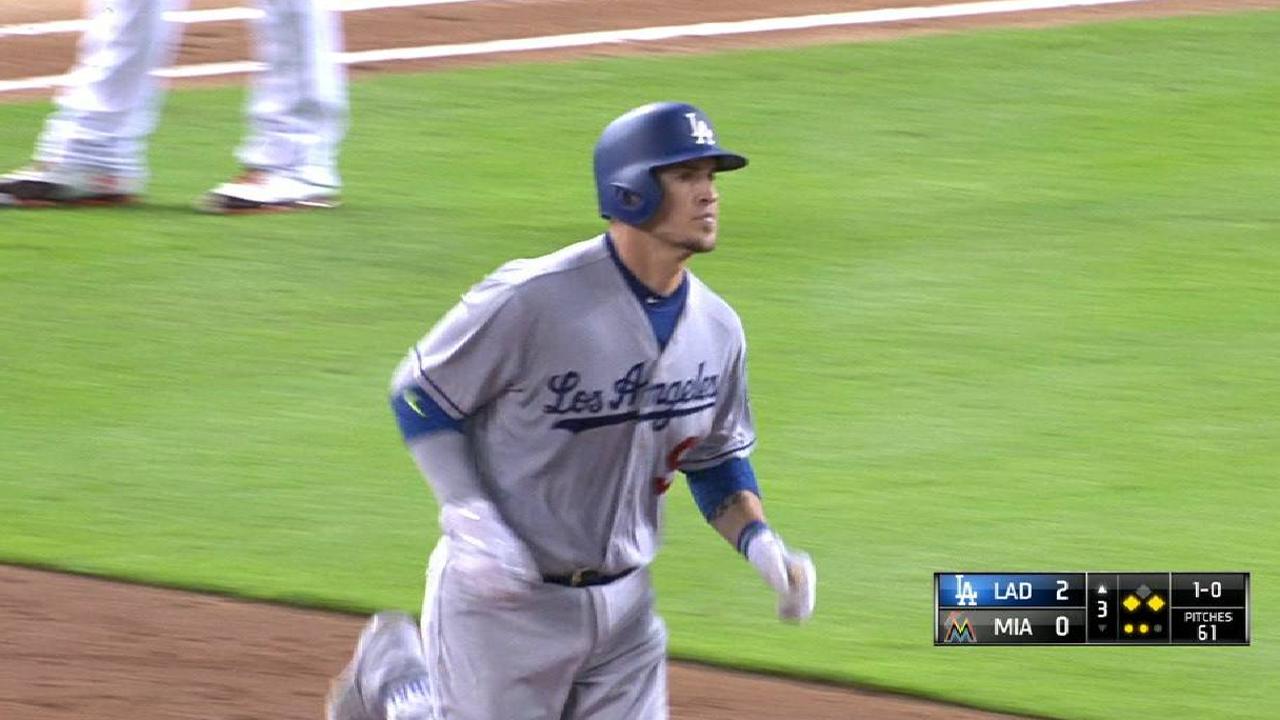 Grandal's booming three-run shot
LAD@MIA: Grandal hits the column with three-run jack
Yasmani Grandal clubs a deep drive that hooks around the foul pole and hits a column in right for a three-run homer in the 3rd
The three innings marked Urena's shortest outing of the season and seems like an anomaly considering he was 7-3 with a 3.54 ERA in the first half. He gave up five runs on seven hits in his first start after the All-Star break.
Despite the loss, Urena was positive following the game.
"You gotta keep your head up, keep fighting, you know?" Urena said. "Any outing you go, you learn something."
As for the Urena-Puig incident, Mattingly didn't see the pitch, but he didn't think it stemmed from a scuffle between the two teams in May after Ross Stripling threw behind Giancarlo Stanton.
"Yeah, I don't think [Puig] was involved with it, though," Mattingly said. "And I don't think Jose was involved with anything out there either, so I'm not quite sure. Was it that far in? I didn't even see it. Barely off the plate? I'm not quite sure."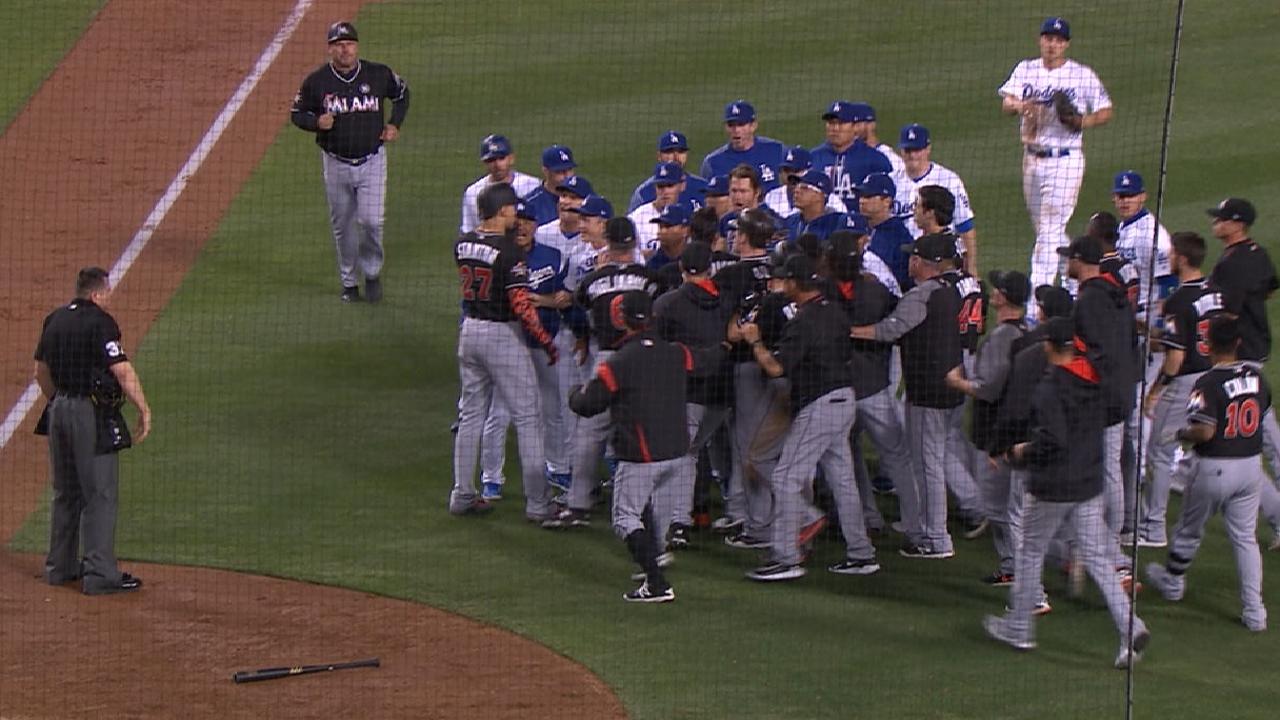 Stanton gets thrown behind
MIA@LAD: Stanton gets thrown behind, tempers flare
Giancarlo Stanton gets thrown at by Ross Stripling and the benches clear in the top of the 9th inning
Dodgers manager Dave Roberts said he thought Puig overreacted.
"Urena has an arm-side miss in there, and that's his miss," Roberts said. "He was throwing in on a lot of our right-handed hitters to start the game. Yasiel saw that. No one likes to be crowded, but [you have] to understand that there wasn't intent, and it's clear to me that there was no intent. So we talked to Yasi, and I think he realizes he overreacted."
Patrick Pinak is a reporter for MLB.com based in Miami. This story was not subject to the approval of Major League Baseball or its clubs.