"I know that he likes to throw that cutter in," said Turner, who hit his 11th homer of the season and went 2-for-3 for his team-leading 29th multi-hit game. "I got ahead on the count and was just looking middle in, and he just left it in."
Facing a left-hander for a second straight game, the Marlins struggled against Rich Hill. After tossing seven perfect frames on Sept. 10, 2016, in Miami, the southpaw fanned nine over five innings of one-run ball.
"This has been five starts in a row where he's been in control," Dodgers manager Dave Roberts said. "The command on the mound, his mound presence and just the way he's throwing the baseball. He has such good feel of that breaking ball."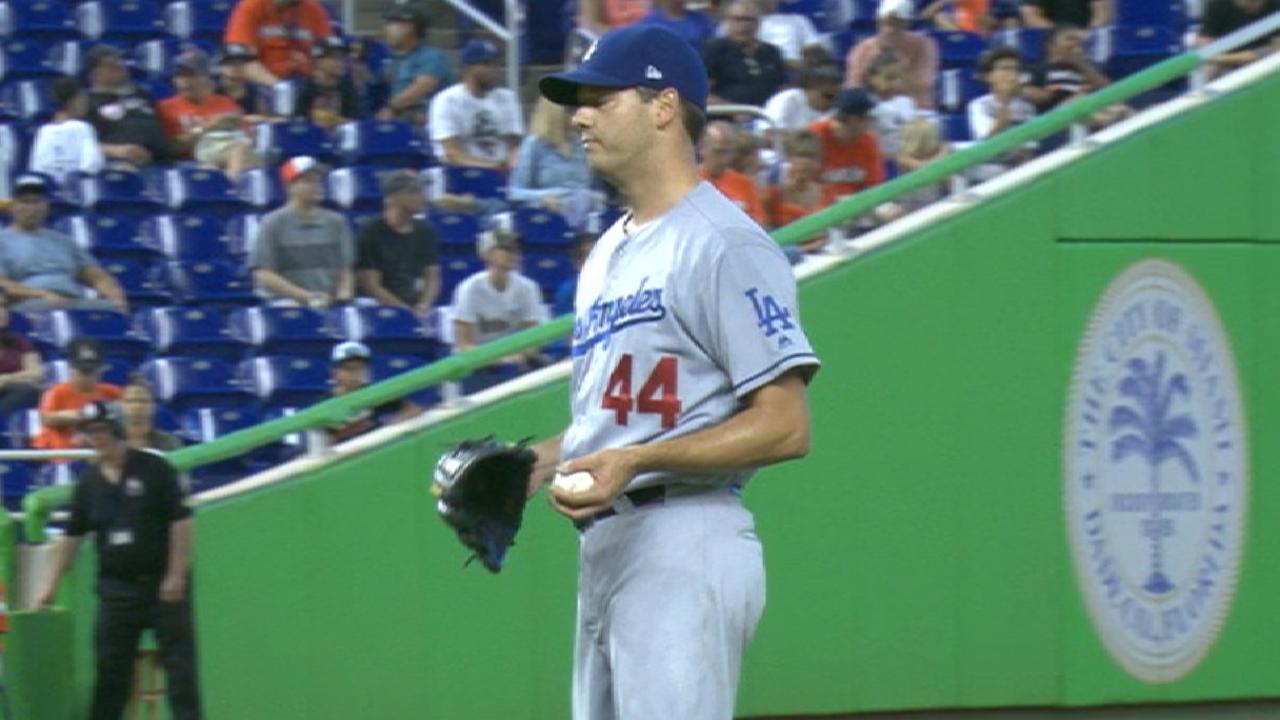 Hill's strong outing on the road
LAD@MIA: Hill strikes out nine over five frames
Rich Hill strikes out nine hitters over five strong innings, allowing just one run and zero walks vs. the Marlins
Christian Yelich singled home a run to bring Miami within one off Kenley Jansen in the eighth, but the Dodgers' closer fanned pinch-hitter Justin Bour on a 97-mph fastball with two on to end the Marlins' threat. Jansen worked a perfect ninth for the four-out save (No. 23).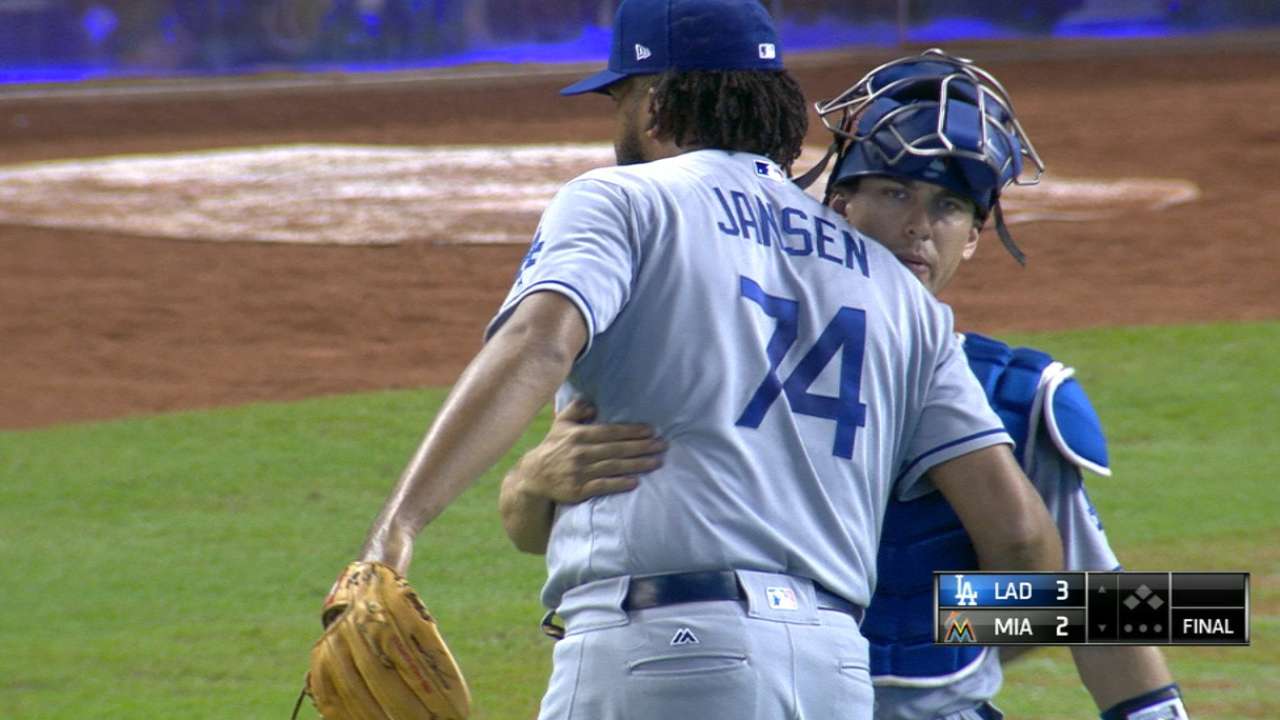 Jansen's four-out save
LAD@MIA: Jansen strikes out three in four-out save
Kenley Jansen picks up a four-out save by striking out three batters in the Dodgers' 3-2 win over the Marlins
Making his second big league start, Marlins southpaw Chris O'Grady allowed three runs on five hits over five innings while striking out six. The Dodgers tacked on their third run off O'Grady on Austin Barnes' RBI single in the fourth.
"He's not a guy that's gonna overpower," Marlins manager Don Mattingly said of O'Grady. "He's gonna have to hit spots and change locations, but he hung in there."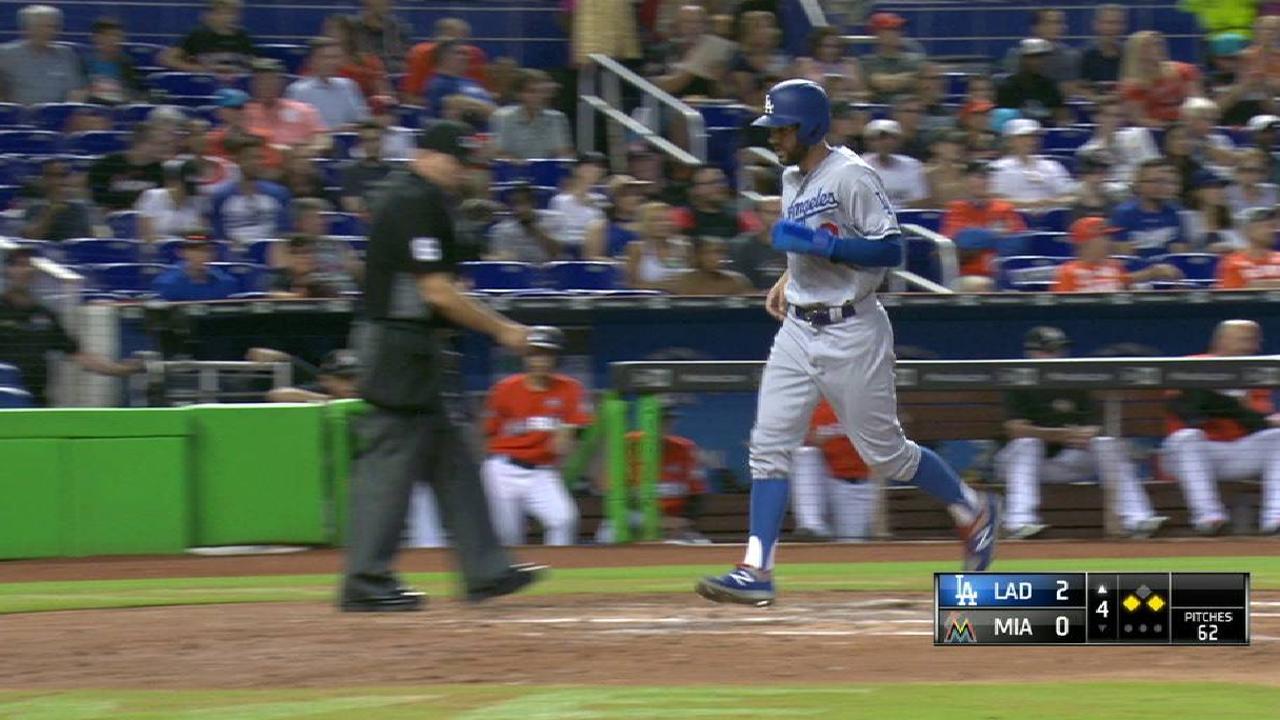 Barnes' RBI knock to center
LAD@MIA: Barnes lines an RBI single to plate Taylor
Austin Barnes rips an RBI single to center field to score Chris Taylor and give the Dodgers a 3-0 lead in the top of the 4th
MOMENTS THAT MATTERED
Turner time: Turner's day began with a first-inning solo homer off an O'Grady cutter, but his at-bat that counted most came in the third. With two runners on, Turner lifted a 1-1 fastball deep enough to right to score Logan Forsythe from third. Turner, who is just a few at-bats away from qualifying to sit atop the batting average leaderboard, added two hits to push his season clip to .374.
"I knew coming in he was one of the guys I needed to keep off the bases," O'Grady said of Turner. "Him and [Cody] Bellinger and [Corey] Seager, and [I] did what I needed to do against the two lefties, but unfortunately Turner hurt us."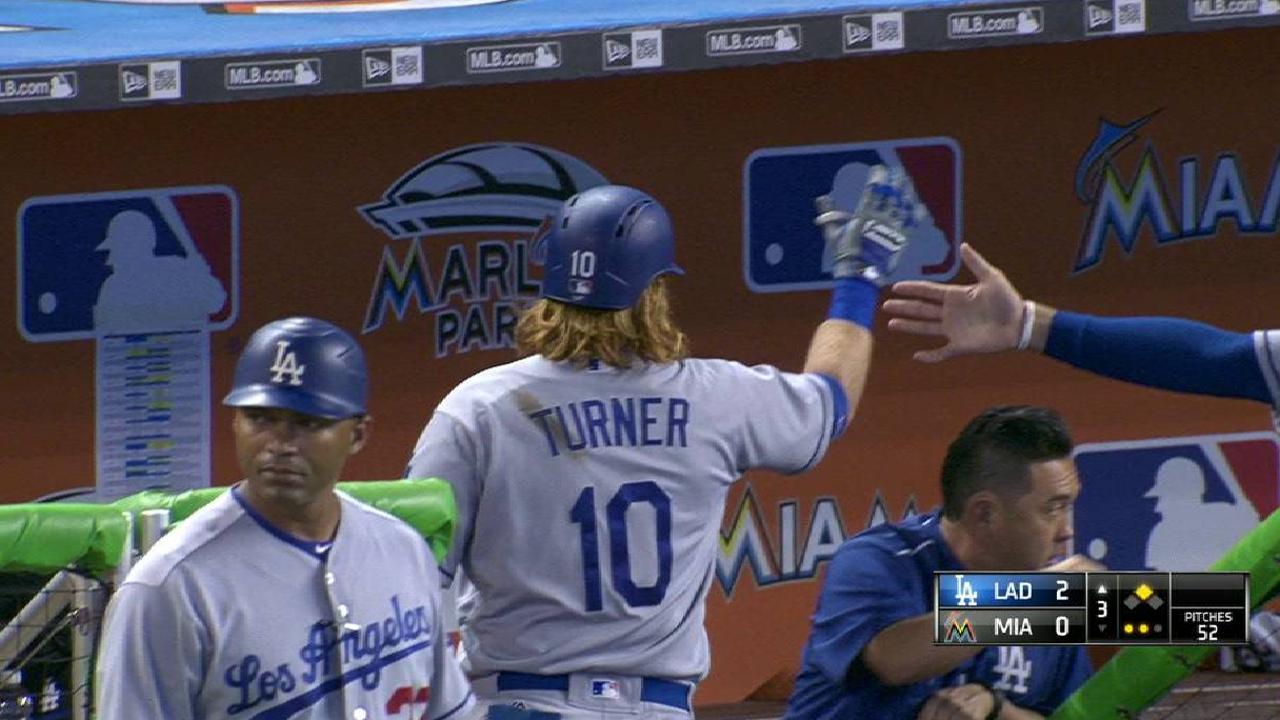 Turner's sac fly to right
LAD@MIA: Turner lifts a sacrifice fly the other way
Justin Turner plates Logan Forsythe with a sacrifice fly to right, his second RBI of the game, to extend the Dodgers' lead to 2-0 in the 3rd
The Hill has Ks: Marcell Ozuna's leadoff double in the second snapped Hill's perfect inning streak against Miami at eight, but it also gave the Marlins a chance to score early against him. The left-hander quickly extinguished the threat by fanning Tyler Moore and Derek Dietrich before catching A.J. Ellis looking on a 90-mph fastball to end the frame. Miami struggled with men on, going 3-for-13 with runners in scoring position.
"We started to scratch back," Mattingly said. "We had a few chances with guys out there and just weren't able to get that big hit." More >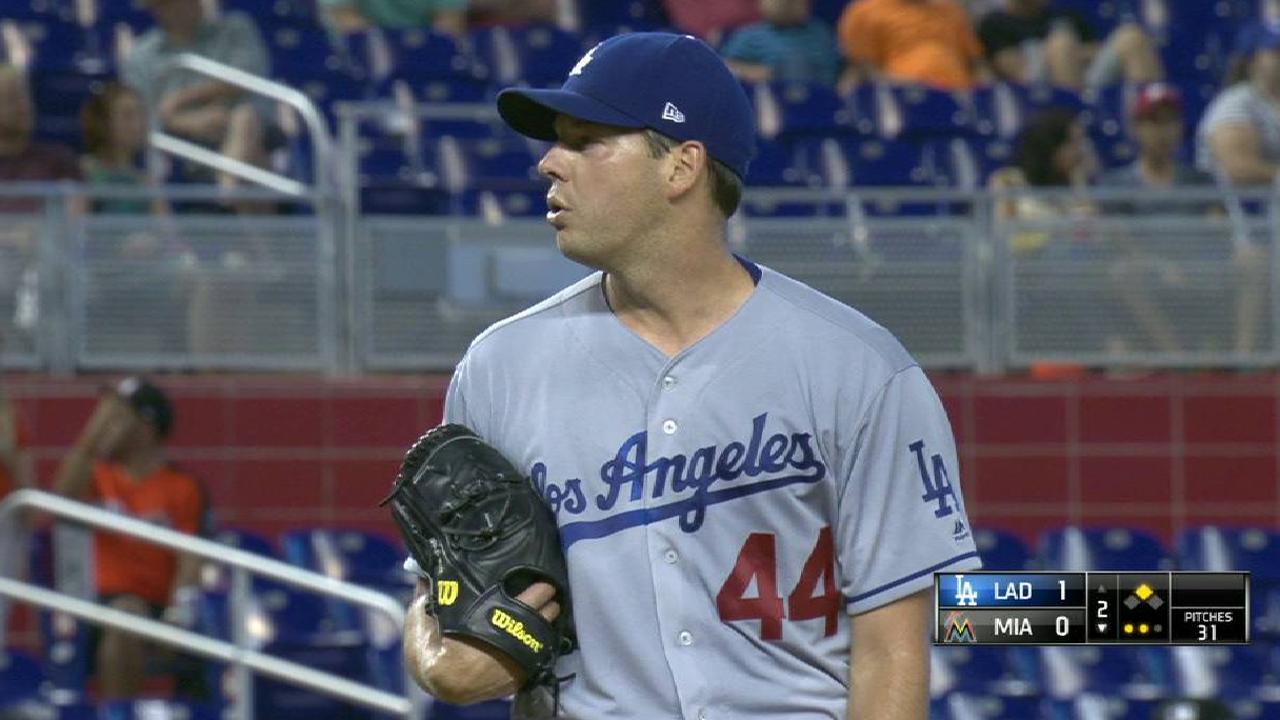 Hill freezes Ellis in the 2nd
LAD@MIA: Hill strikes out Ellis to strand a runner
Rich Hill strikes out A.J. Ellis looking for his third strikeout of the inning, stranding a runner on second in the bottom of the 2nd
QUOTABLE
"I think a lot of offensive guys are going to be really happy to get out of this place. If we're at home in Dodger Stadium, we might have hit 20 homers this series. This place is enormous, and they have a very athletic outfield and cover a lot of ground. They made a lot of really good plays today, and the whole series, really." — Turner
"We've just gotta rebound and get going. We were playing pretty well going into the break. We ran into a little bit of a buzzsaw here." — Mattingly, on getting swept
SOUND SMART WITH YOUR FRIENDS
Ichiro Suzuki lined a pinch-hit RBI infield single off Hill's leg in the fifth, bringing him to 3,055 career hits. The 43-year-old is now tied with Rickey Henderson for 23rd on the all-time hits list.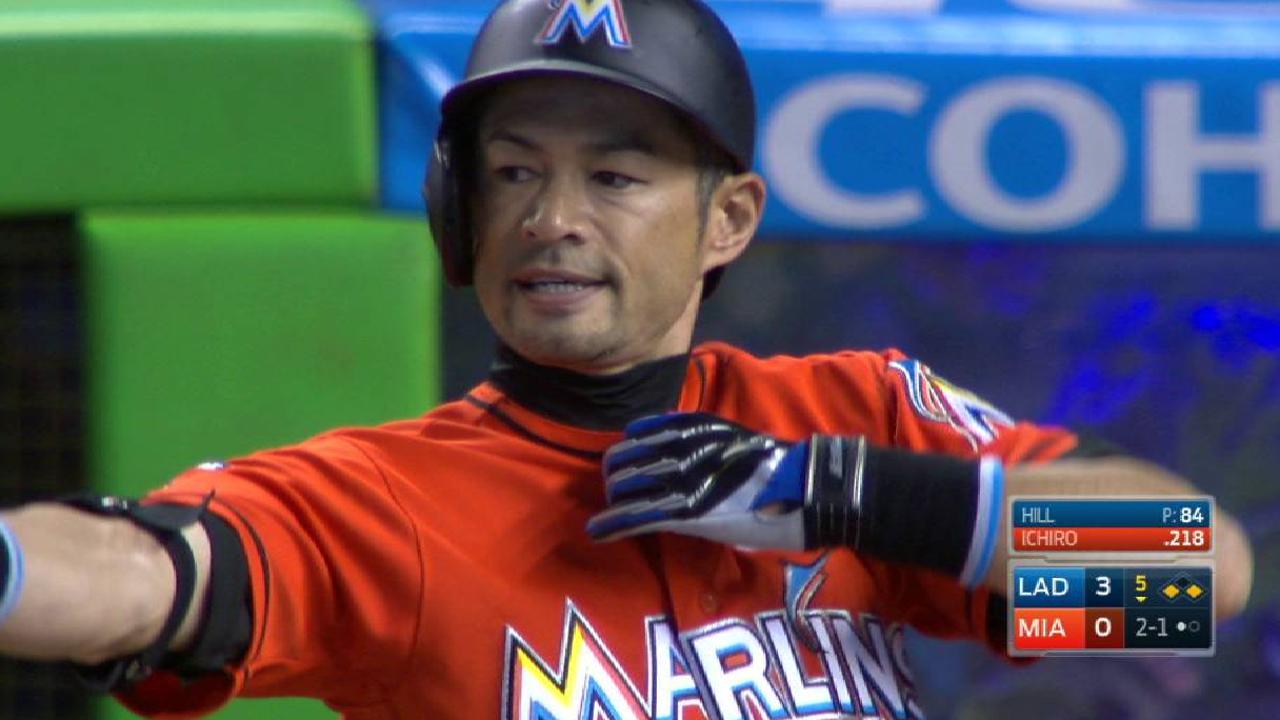 Ichiro's RBI infield single
LAD@MIA: Ichiro lines an RBI single off the pitcher
Ichiro Suzuki smacks an RBI infield single off Rich Hill to put the Marlins on the scoreboard in the bottom of the 5th inning
DEFENSE ROBS DODGERS
The left-field fence at Marlins Park was lowered from 11 1/2 to 7 feet in 2016 for two reasons: more home runs and more chances to rob home runs. So when Ozuna drifted back on a deep fly by Enrique Hernandez in the sixth, he was well-equipped to snag it before it left the yard. Ozuna used one leg to leap onto the fence before hanging over it to rob Hernandez.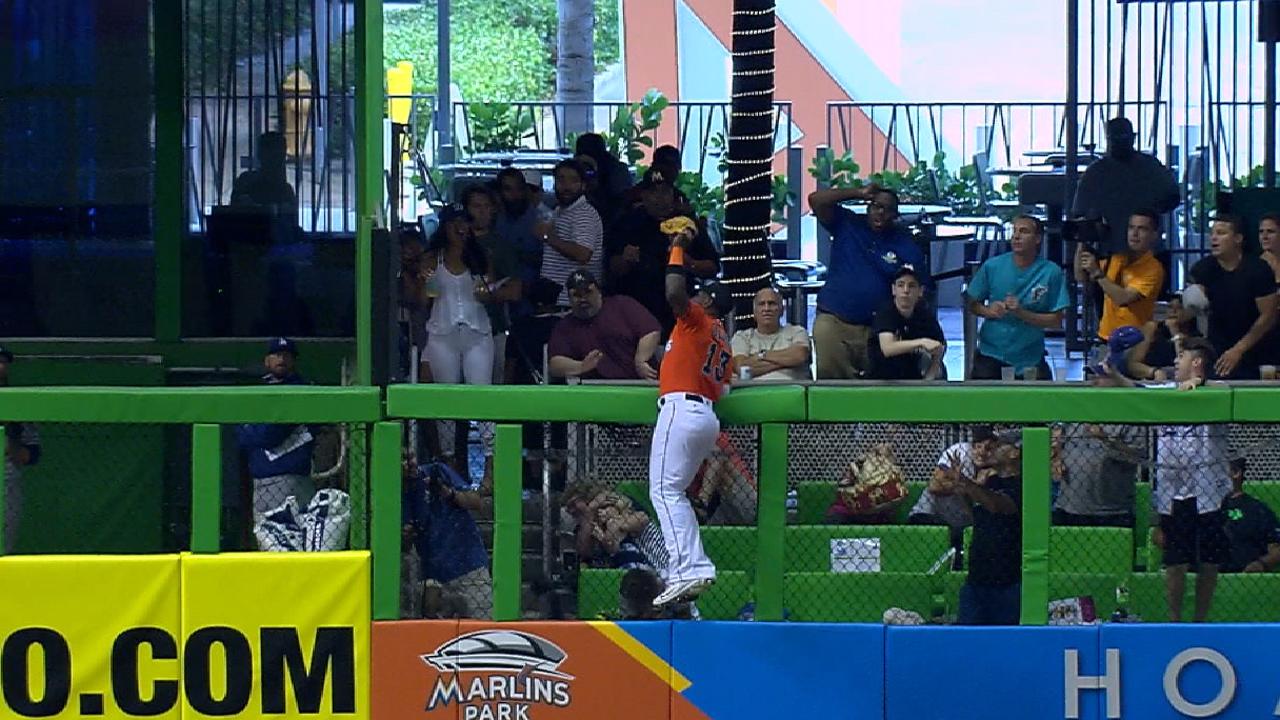 Must C: Ozuna robs Hernandez
Must C Catch: Ozuna robs Hernandez of a home run
Marcell Ozuna leaps high over the left-field wall to rob Enrique Hernandez of a home run in the 6th inning
Just an inning prior, Yelich took away extra bases from Forsythe on a leaping catch at the wall in left-center.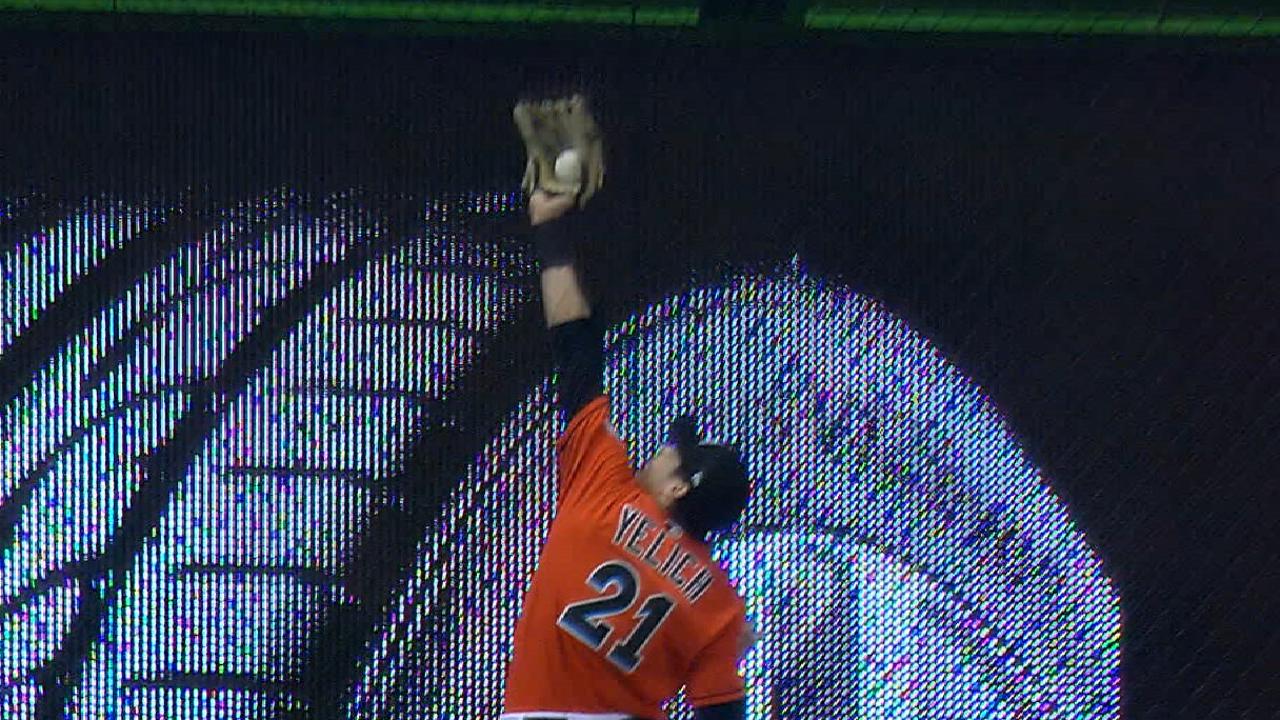 Yelich's stellar leaping grab
LAD@MIA: Yelich makes an outstanding jumping catch
Logan Forsythe drives the ball to deep left-center and Christian Yelich times it perfectly to make a terrific leaping catch at the wall
"I mean, you've gotta love outfielders that are willing to do that," O'Grady said. "They're giving everything they've got. Made a couple really nice plays today, all three of them." More >
WHAT'S NEXT
Dodgers: Clayton Kershaw gets his first start since the All-Star break when the Dodgers open up a short two-game series against the White Sox at 5:10 p.m. PT on Tuesday. The left-hander is 14-2 and hasn't lost since May 1.
Marlins: Tom Koehler (1-4, 8.00 ERA) toes the rubber for his third start since being called back up to the Majors as the Marlins open a three-game set with the Phillies at 7:10 p.m. ET on Monday in Miami.
Watch every out-of-market regular-season game live on MLB.TV.
Patrick Pinak is a reporter for MLB.com based in Miami and covered the Marlins on Sunday.
Glenn Sattell is a contributor to MLB.com based in Miami and covered the Dodgers on Sunday.
This story was not subject to the approval of Major League Baseball or its clubs.