"Today was a good one for me," Fulmer said. "Honestly, I kind of needed it, just to be able to throw the ball and get ground balls and popups and miss barrels. The defense played great and made every play for me."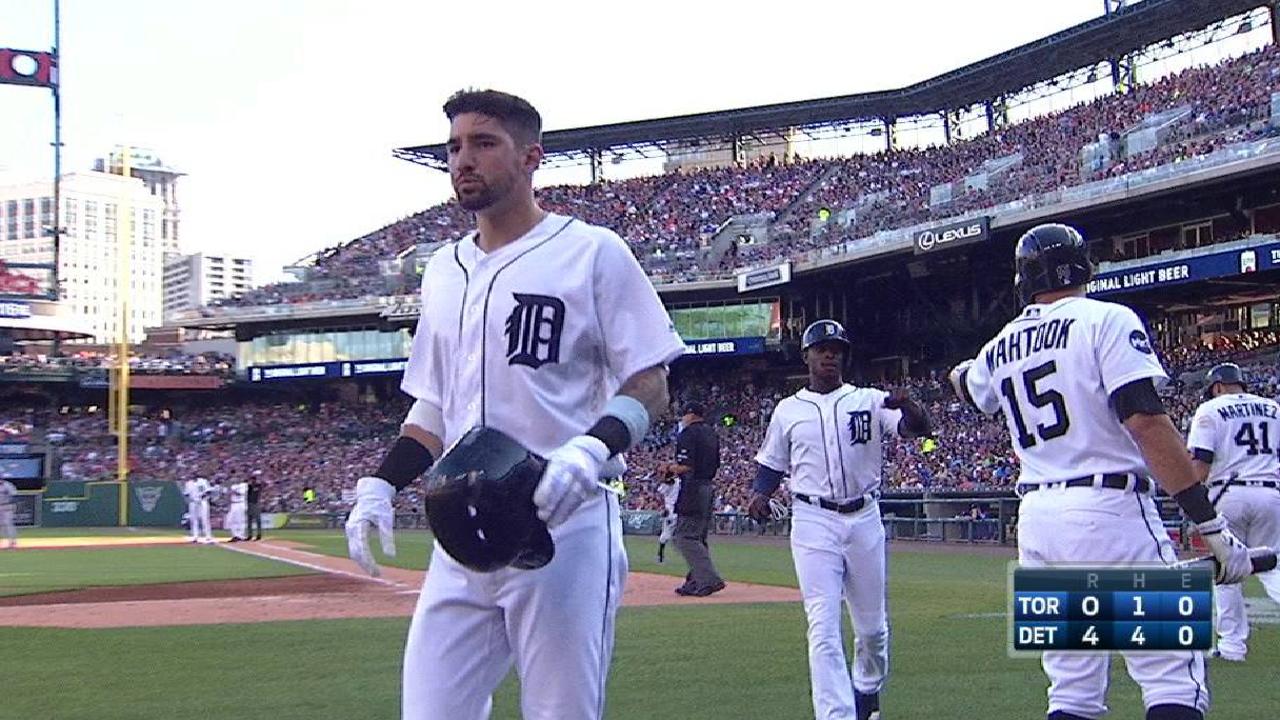 J.D. Martinez's two-run single
TOR@DET: J.D. Martinez plates two with single to left
J.D. Martinez grounds a ball into left field for a base hit, driving in two runs to extend the Tigers' lead to 4-0 in the 3rd
Unlike past Fulmer gems spoiled by lack of run support, the Tigers built a comfortable lead for Fulmer early. Nicholas Castellanos' first-inning solo homer put Detroit up for good before a three-run third — fueled by three consecutive walks from Francisco Liriano (5-5), who left in that inning with neck tightness — padded the lead. J.D. Martinez added a three-run homer off Aaron Loup in the eighth as part of a five-RBI performance.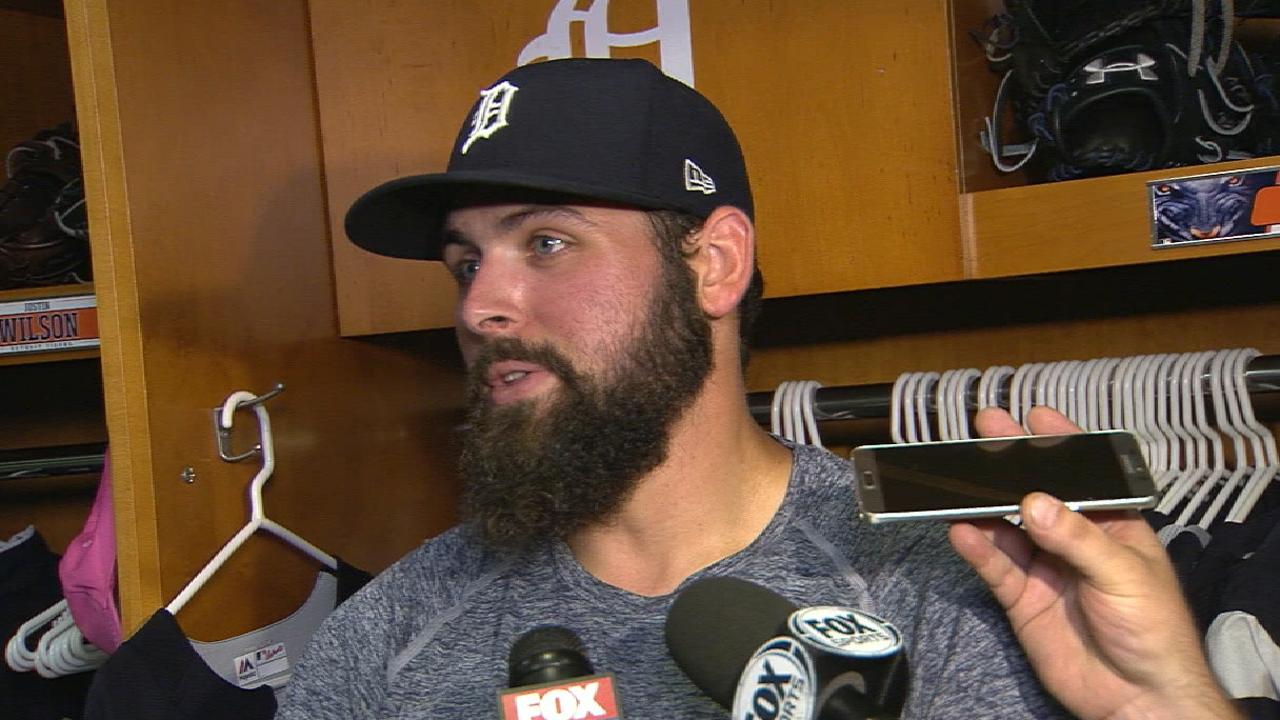 Fulmer discusses his performance
TOR@DET: Fulmer discusses impressive outing in win
Michael Fulmer discusses his outing following the Tigers' 11-1 win against the Blue Jays
"You could tell [the neck tightness] started to affect him," Toronto manager John Gibbons said of Liriano. "We've seen bouts of wildness occasionally, but then he just really lost it. Hopefully it's just one of those things, [like] he slept wrong or something."
• Tigers sluggers show pop post-break
MOMENTS THAT MATTERED
Castellanos crushes one: Home plate was covered in shadows despite a sunny sky for the 6:10 p.m. ET start, making things tough on hitters early. Castellanos didn't seem to mind, sending a Liriano fastball out to right field for his 11th home run of the season, and his fifth to the opposite field.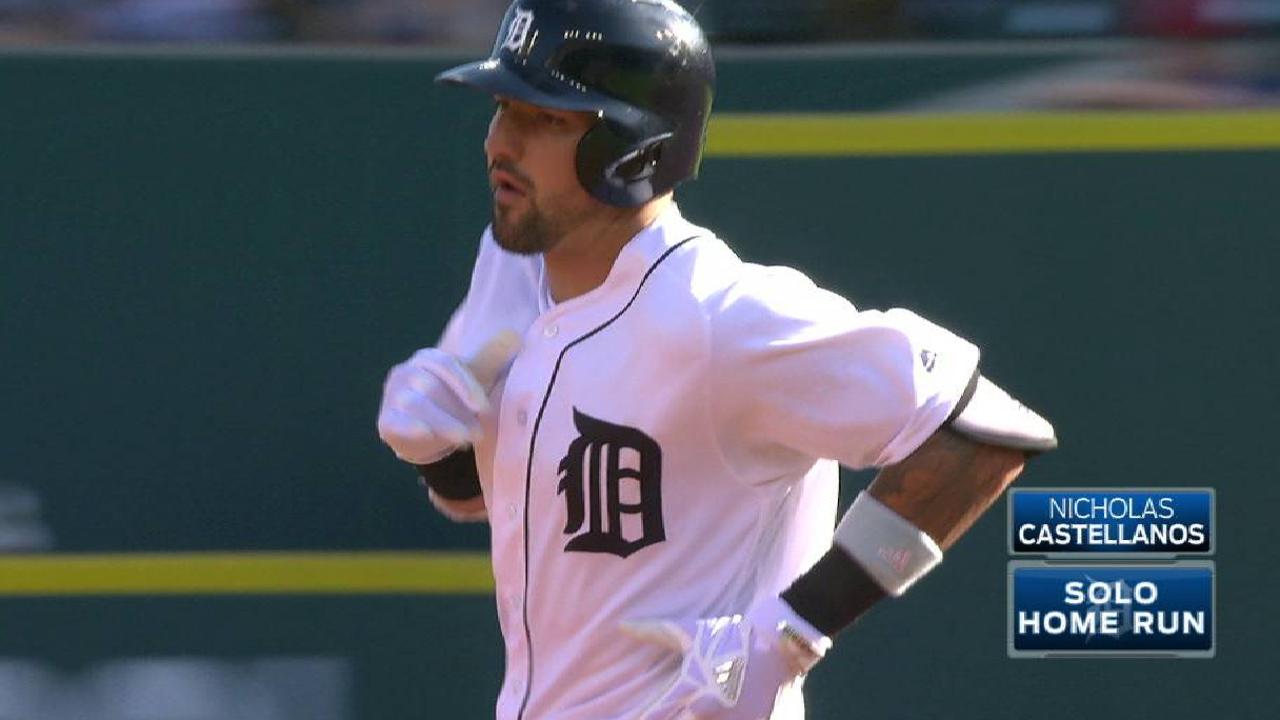 Castellanos' opposite-field jack
Tor@DET: Castellanos pounds a solo shot to right
Nicholas Castellanos goes the other way and powers a pitch over the right-field fence for a solo home run, giving the Tigers an early lead
"I was able to put a good swing on a fastball," Castellanos said.
Martinez mashes: After Liriano left with the bases loaded, a 2-0 count and nobody out, the Tigers capitalized when Martinez lined reliever Mike Bolsinger's offering to left for a two-run single. Martinez put the game away in the eighth with his 15th home run of the season.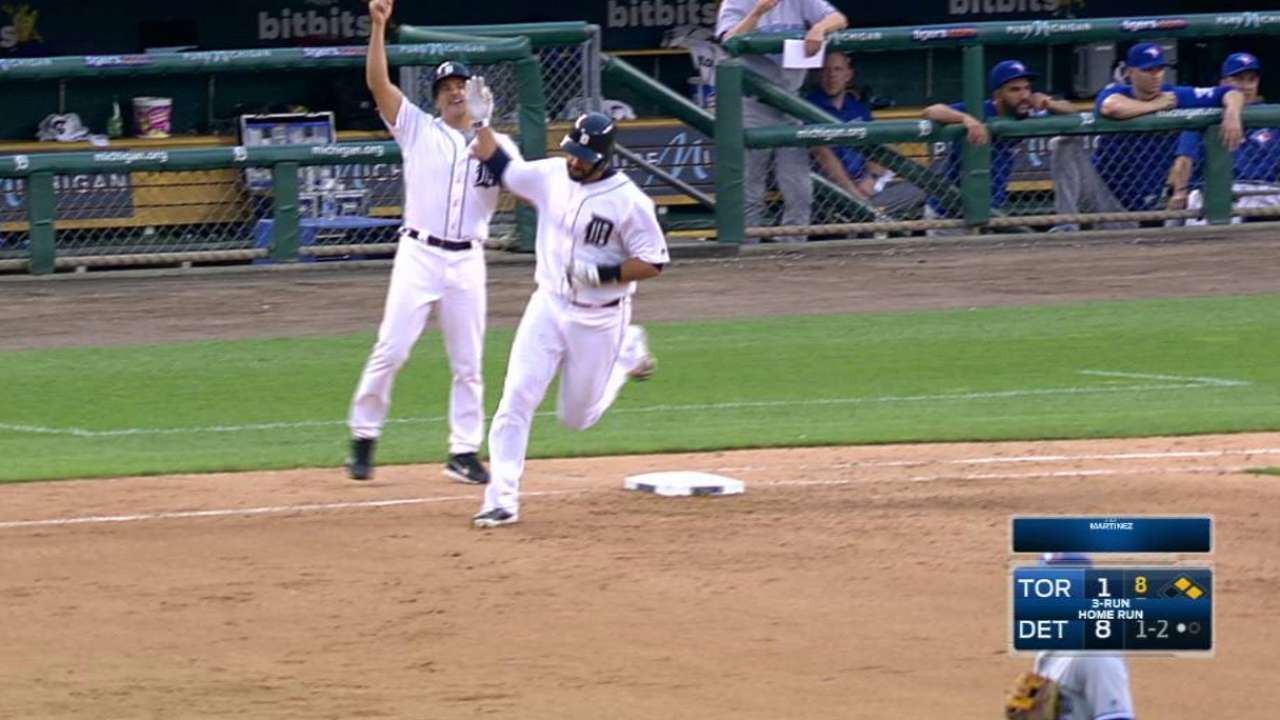 Martinez's three-run big fly
TOR@DET: Martinez slams a three-run homer to right
J.D. Martinez swats a pitch over the right-field fence for a three-run home run, giving the Tigers an 11-1 lead in the 8th inning
QUOTABLE
"There's no question he's been our best pitcher this year. If the ace is your best pitcher in a season, then he's been the ace." — Tigers manager Brad Ausmus, on Fulmer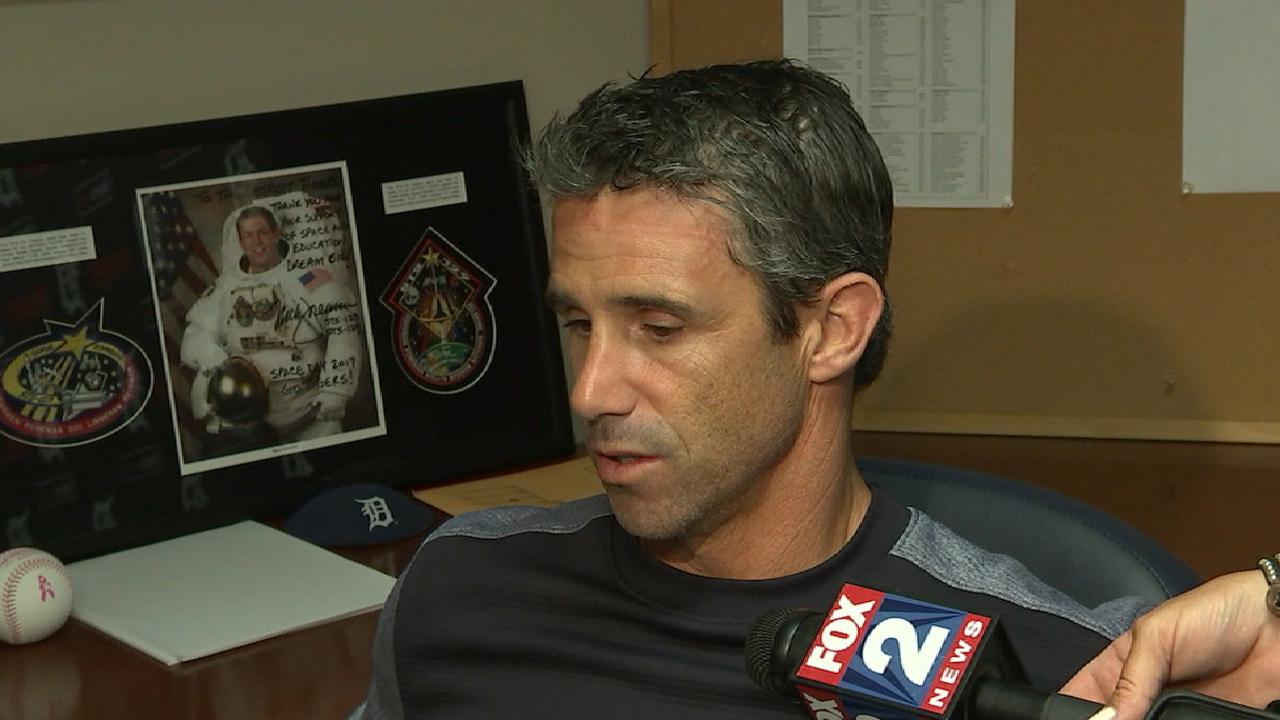 Ausmus on Tigers' 11-1 win
TOR@DET: Ausmus discusses Fulmer, offense in win
Brad Ausmus discusses Michael Fulmer's impressive outing and his team's offensive output following the 11-1 win against the Blue Jays
"He didn't look comfortable on the mound. He looked like he was pulling off a little bit, kind of falling off toward the third-base side. And he does it every once in a while, but not as consistent as he was doing it today. I've seen him battle through some things, but he definitely looked like he wasn't 100 percent comfortable." — Blue Jays catcher Russell Martin, on Liriano
SOUND SMART WITH YOUR FRIENDS
The Blue Jays were held to two hits for the first time since Sept. 14, 2016, against the Rays. It was the second two-hitter of the year for the Tigers, after Fulmer and Shane Greene combined for one against the Padres in a 1-0 loss on June 23.
CABRERA CLIMBS RBI LIST
Miguel Cabrera's two-run homer in the sixth inning gives him 1,596 RBIs, pushing him past Hall of Famers Mike Schmidt and George Brett for 37th on the all-time Major League list, according to Elias Sports Bureau.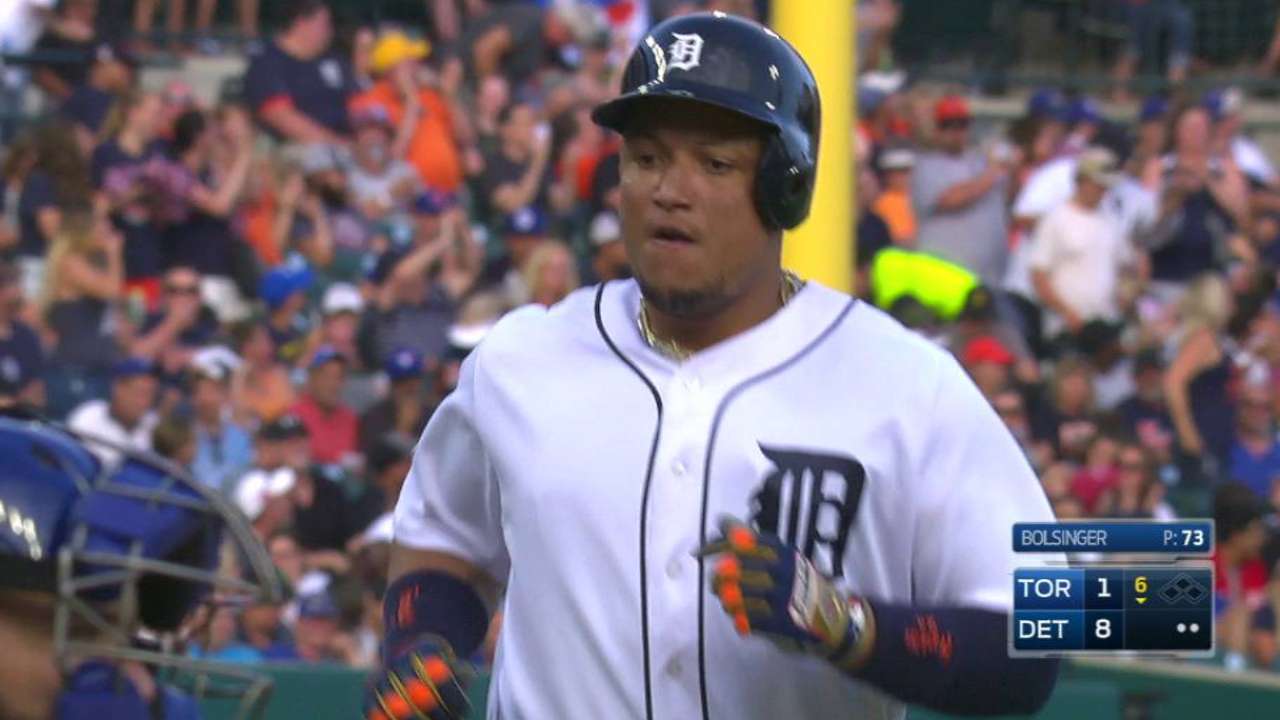 Miggy's two-run big fly
TOR@DET: Miggy bashes a two-run homer to left
Miguel Cabrera crushes a ball into the bullpen in left field for a two-run homer, giving the Tigers an 8-1 lead in the 6th
Because RBIs became an official Major League statistic in 1920, Elias' tally begins at that date. Due to the uncertain nature of record keeping in the early part of the 20th century, some discrepancies may exist between the stats provided today by different historical data providers.
WHAT'S NEXT
Blue Jays: Marco Estrada gets the nod in the series finale at 1:10 p.m. ET on Sunday, looking to bounce back from a recent slide; he has a 9.46 ERA since the beginning of June. Estrada won his only career start against the Tigers in 2015, when he pitched five innings and gave up two runs.
Tigers: Anibal Sanchez will take the mound in Sunday's series finale. The veteran right-hander has a 3.09 ERA and .195 batting average against in four starts since rejoining Detroit's rotation.
Watch every out-of-market regular-season game live on MLB.TV.
Jordan Horrobin is a reporter for MLB.com based in Detroit and covered the Blue Jays on Saturday.
This story was not subject to the approval of Major League Baseball or its clubs.