• 2017 Fantasy Player Preview: Dodgers | Giants | Full rankings
But who has the edge in 2017? Find out below as we compare the fantasy value of their key players for the upcoming campaign.
Catcher: Although Buster Posey took a small step backward last season (.288, 14 homers), he's still the gold standard among fantasy catchers. The lifetime .307 hitter holds a sizable advantage over Yasmani Grandal, who is a useful power source at the tail end of mixed-league drafts but also carries a career .238 average.
Winner: Giants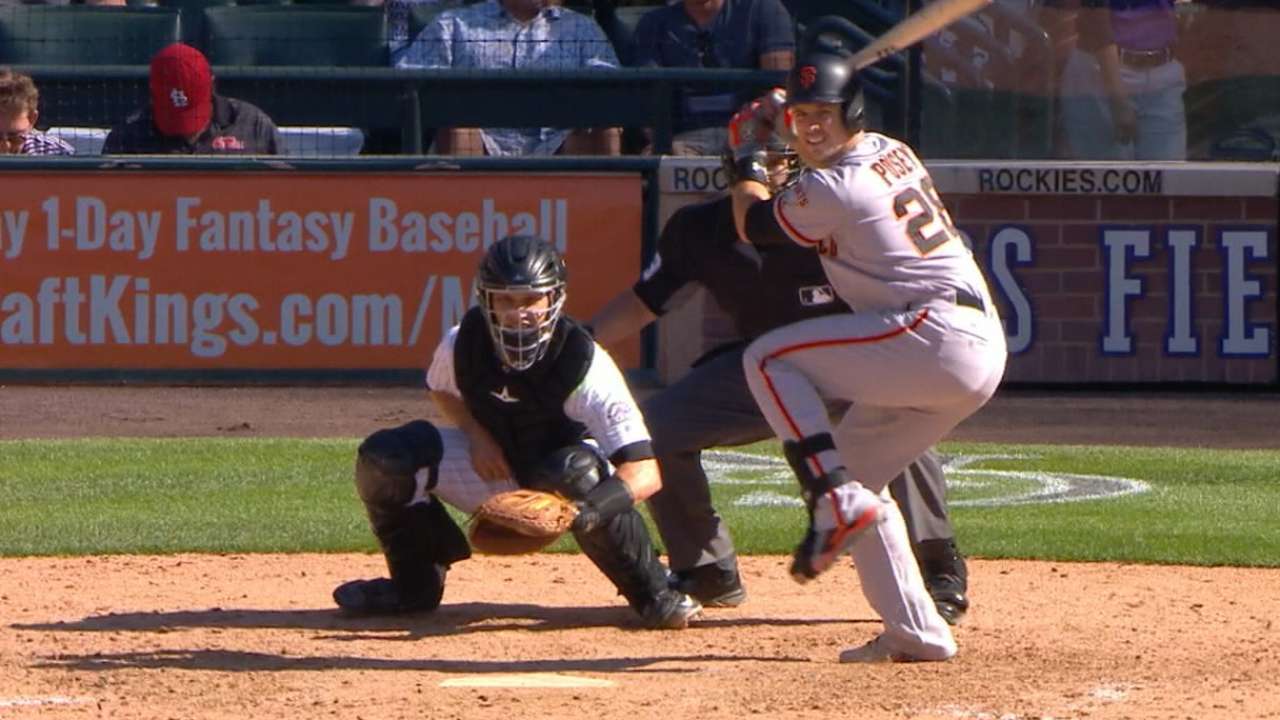 Outlook: Posey, C, SF
Outlook: Posey should maintain strong OBP
Buster Posey posted his lowest homer total and OPS since 2011, but still recorded a high OBP and drove in 80 runs for the Giants
First base: Although he is sometimes stifled by his pitcher-friendly home park — where he's hit just 26 of his 80 career home runs — Brandon Belt deserves a spot in all mixed-league lineups after posting a career-best .868 OPS and 0.7 BB/K ratio last season. Belt has a narrow edge over Adrian Gonzalez, who showed signs of decline in '16 by producing a sub-.800 OPS for the first time since '05.
Winner: Giants
Outlook: Belt, 1B/OF, SF
Outlook: Expect Belt to reach base often
Brandon Belt boasts an impressive track record of reaching base, but his home ballpark might be stifling his power numbers
Second base: With stellar plate discipline and top-notch contact skills, Joe Panik should rebound from his '16 struggles — which were fueled by poor batted-ball fortune (.245 BABIP) and reported vision issues following a concussion. But Panik's expected '17 fantasy value trails that of Logan Forsythe, who could produce 20 homers and 90 runs as a fixture atop the Dodgers' lineup.
Winner: Dodgers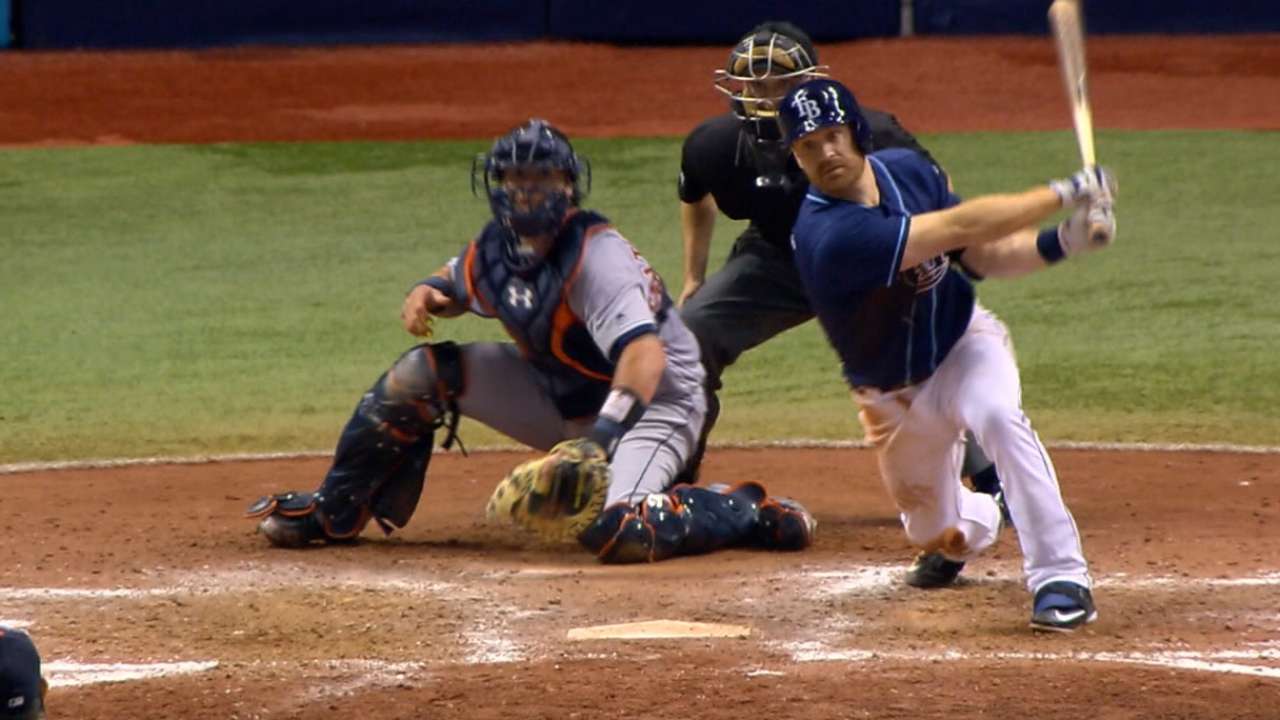 Outlook, Forsythe, 2B, LAD
Outlook: Forsythe is steady addition to Dodger lineup
Logan Forsythe belted a career-high 20 home runs in 2016, and he hopes that power carries over from Tropicana Field to Dodger Stadium
Shortstop: Corey Seager needed just one full season to prove that he is one of the game's most talented players and a viable second-round pick in mixed leagues. The youngster should outperform steady-but-unspectacular Brandon Crawford (.275 average, 12 homers in '16) by a wide margin.
Winner: Dodgers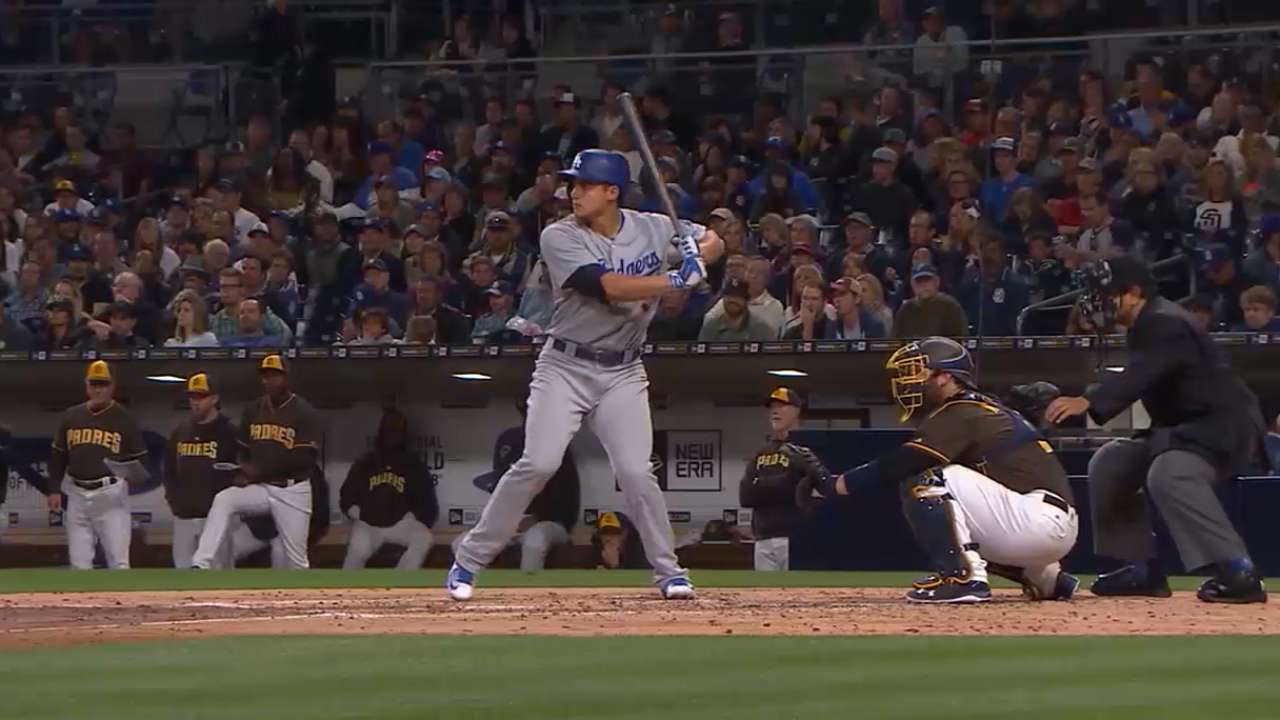 Outlook: Seager, SS, LAD
Outlook: NL ROY Seager still has room to grow
Corey Seager has room to grow in the power and plate-discipline departments but should build on his unanimous NL Rookie of the Year Award
Third base: Eduardo Nunez was one of the biggest breakout performers of '16, producing 16 homers and 40 steals after opening the season on waivers in virtually every league. But with just one season of mixed-league relevance under his belt and regression possibly on the horizon, Nunez should be selected after Justin Turner (.296/.364/.492 slash line from '14-16) in '17 drafts.
Winner: Dodgers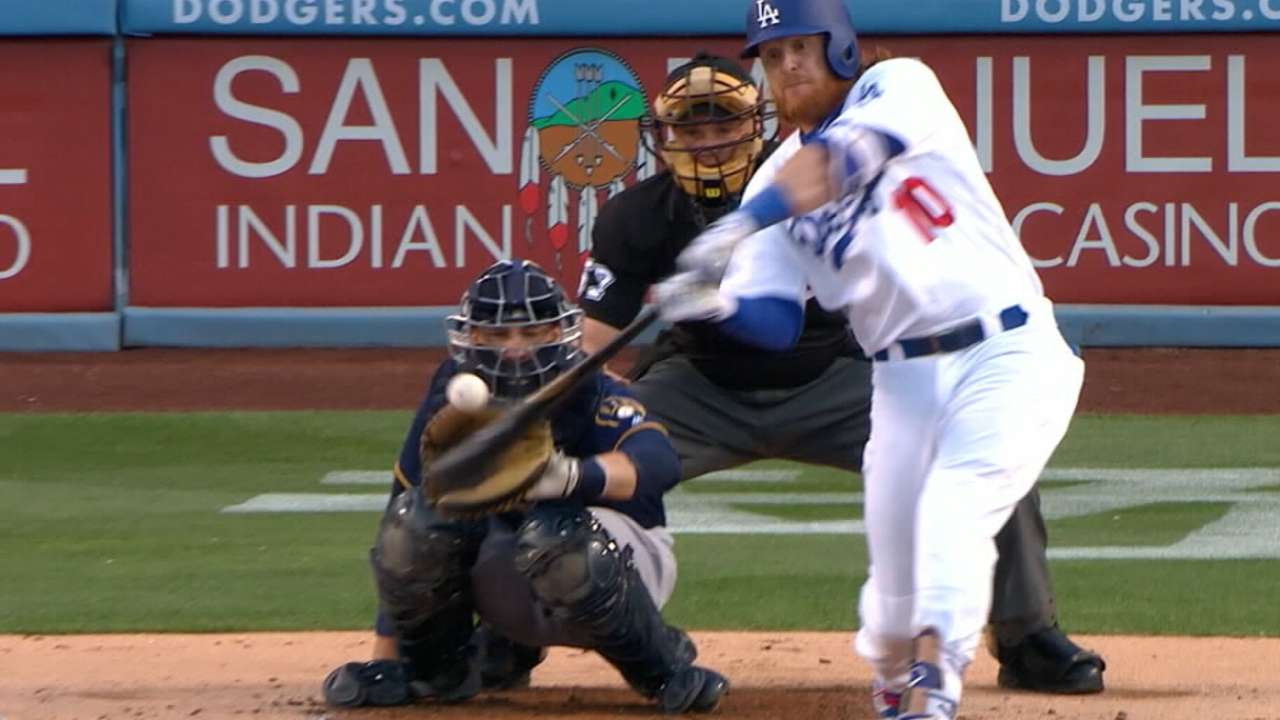 Outlook: Turner, 3B, LAD
Outlook: Turner reaches another level on power surge
Justin Turner will look to continue his power surge in 2017, as an increased fly-ball rate helped lead to a career-high 27 homers last year
Left field: Although both clubs are unsettled at this spot, the Dodgers get the edge. The combination of high-upside youngster Andrew Toles (.870 OPS in '16) and veterans Andre Ethier (career .822 OPS) and Franklin Gutierrez (lifetime .846 OPS vs. LHP) should provide more fantasy production than the Giants' inexperienced duo of Mac Williamson (.726 OPS in '16) and Jarrett Parker (.751 OPS in '16).
Winner: Dodgers
Center field: Despite persistent struggles against left-handers (.469 OPS vs. LHP in '16), Joc Pederson has the necessary power to produce 25 home runs and 70 RBIs this season. Pederson is a better fantasy asset than Denard Span, who hit .266 last year and has compiled just 23 stolen bases since the outset of '15.
Winner: Dodgers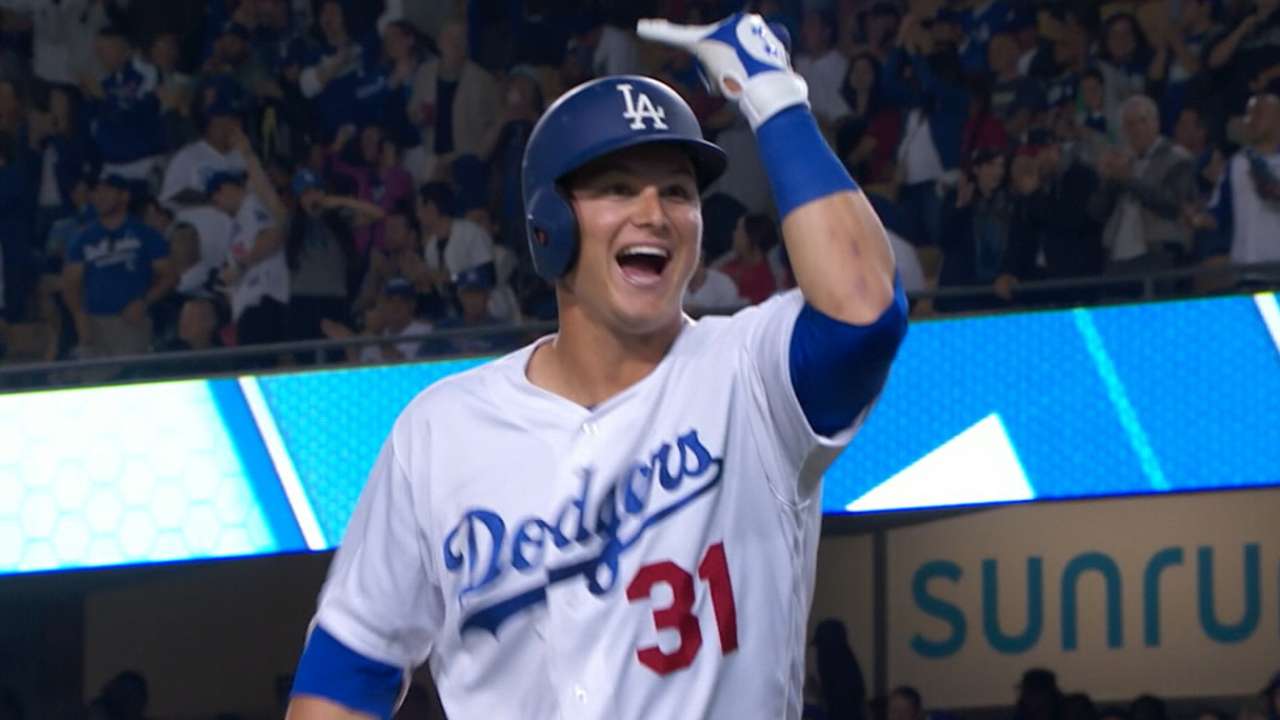 Outlook: Pederson, CF, LAD
Outlook: Pederson may become premier offensive force
If Joc Pederson can continue to improve his contact skills while maintaining an elite walk rate, he could become a premier offensive force
Right field: Once one of baseball's iron men, Hunter Pence is now more of a wild card after playing just 158 games across the past two seasons. But with a .284 average, 22 homers, 97 RBIs and 88 runs scored in that span, Pence can be selected ahead of Yasiel Puig. The Cuban-born outfielder should slide to the final rounds of mixed-league drafts, given he's posted a .260/.323/.425 slash line since the outset of '15.
Winner: Giants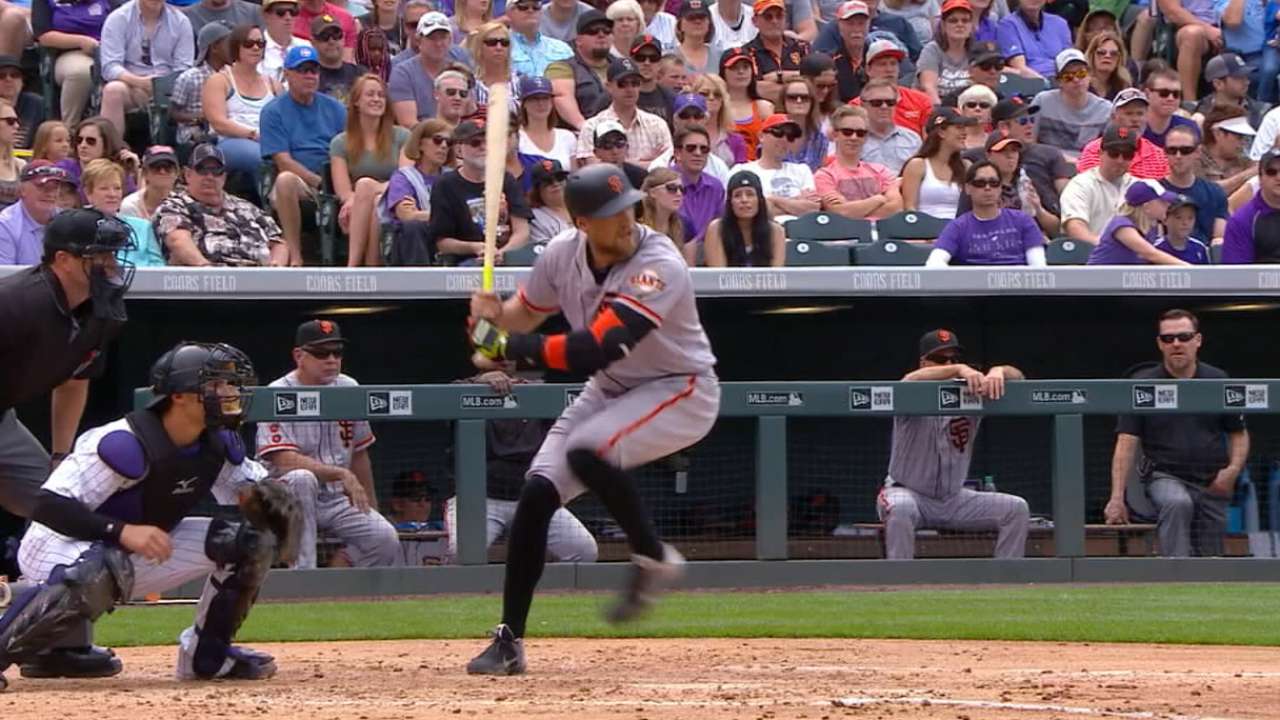 Outlook: Pence, RF, SF
Outlook: Pence remains valuable offensive asset
Hunter Pence has been beset by injuries in each of the past two seasons, but has maintained solid offensive numbers when healthy
No. 1 starter: Madison Bumgarner is a bona fide mixed-league ace, but he cannot match the fantasy production of Clayton Kershaw. The Dodgers southpaw was an elite fantasy option despite missing more than two months with a back injury last season, as he finished with astonishing ratios (1.69 ERA, 0.72 WHIP, 15.6 K/BB) and 172 strikeouts over 149 innings.
Winner: Dodgers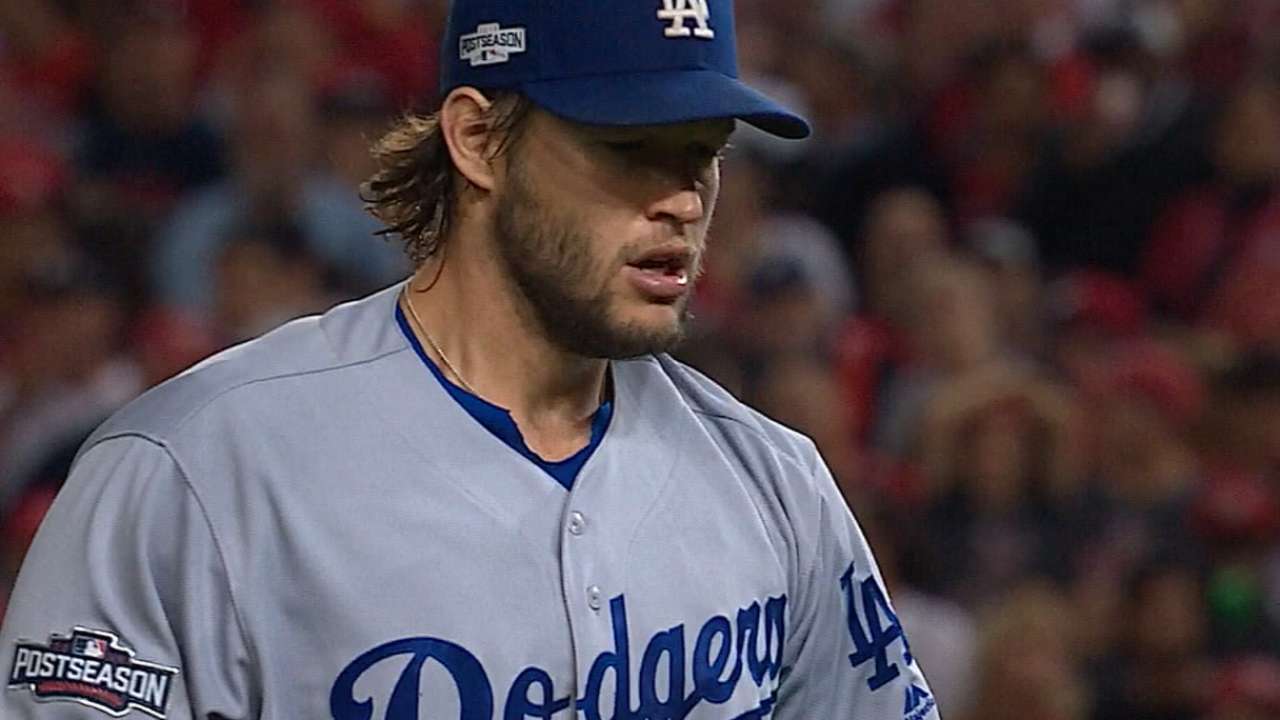 Outlook: Kershaw, SP, LAD
Outlook: Kershaw in midst of historic pitching run
Clayton Kershaw should continue his historic run of dominance after finishing 2016 with a career-best 1.69 ERA and 0.73 WHIP
No. 2 starter: Rich Hill (2.12 ERA, 1.00 WHIP in '16) is a mixed-league ace on a per-start basis, but his lengthy injury history leaves him behind Johnny Cueto in fantasy rankings. With a 2.73 ERA and a 1.08 WHIP across 166 starts since the outset of '11, Cueto has overcome unremarkable strikeout numbers (7.6 K/9 rate from '11-16) to rank among the most reliable hurlers in baseball during that span.
Winner: Giants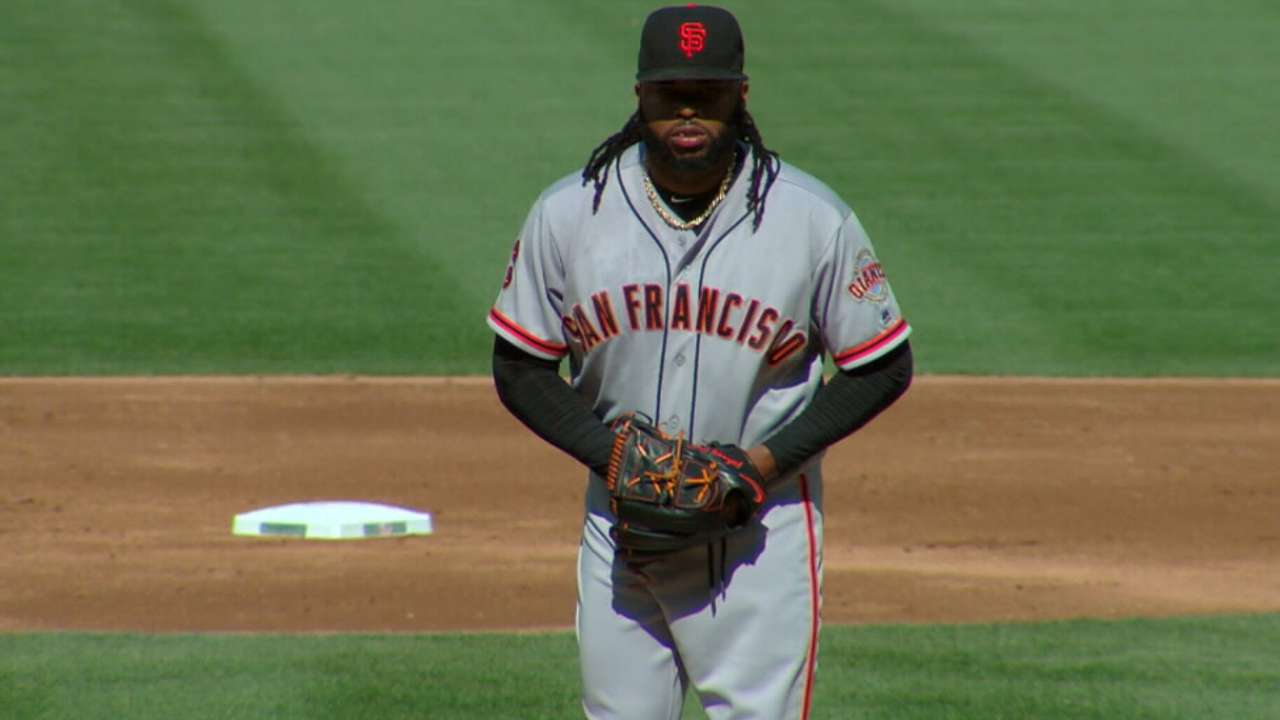 Outlook: Cueto, SP, SF
Outlook: Cueto has skills to repeat excellent '16
Johnny Cueto finished last year among the top five Major Leaguers in wins and ERA and is one of the best at limiting walks and homers
No. 3 starter: While Kenta Maeda will need to produce a worthy follow-up to his successful rookie season (3.48 ERA, 1.14 WHIP) before fantasy owners can consider him as an early-round option, his immediate success gives him a slight edge over talented southpaw Matt Moore. Battling through control and injury problems, Moore has produced an unremarkable lifetime 3.91 ERA and 1.34 WHIP.
Winner: Dodgers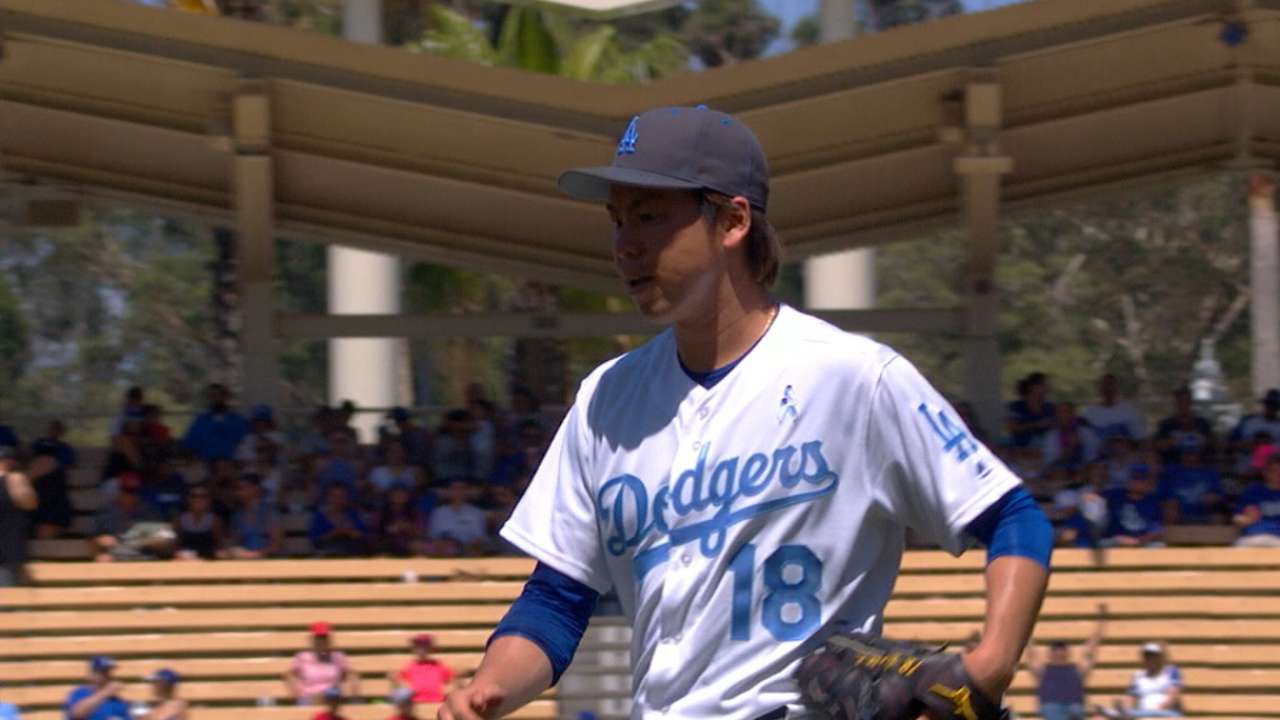 Outlook: Maeda, SP, LAD
Outlook: Maeda hoping to improve off debut season
In order to take a step forward, Kenta Maeda will likely need to reduce the .886 OPS he permitted the third time through the batting order
No. 4 starter: Still just 20 years old, Julio Urias has the skills to make massive strides in his second season after overcoming a .358 BABIP to post an impressive 3.39 ERA as a rookie. Even though the Dodgers may limit his innings, Urias is a preferred '17 option to inconsistent veteran Jeff Samardzija (3.81 ERA, 7.4 K/9 rate in '16).
Winner: Dodgers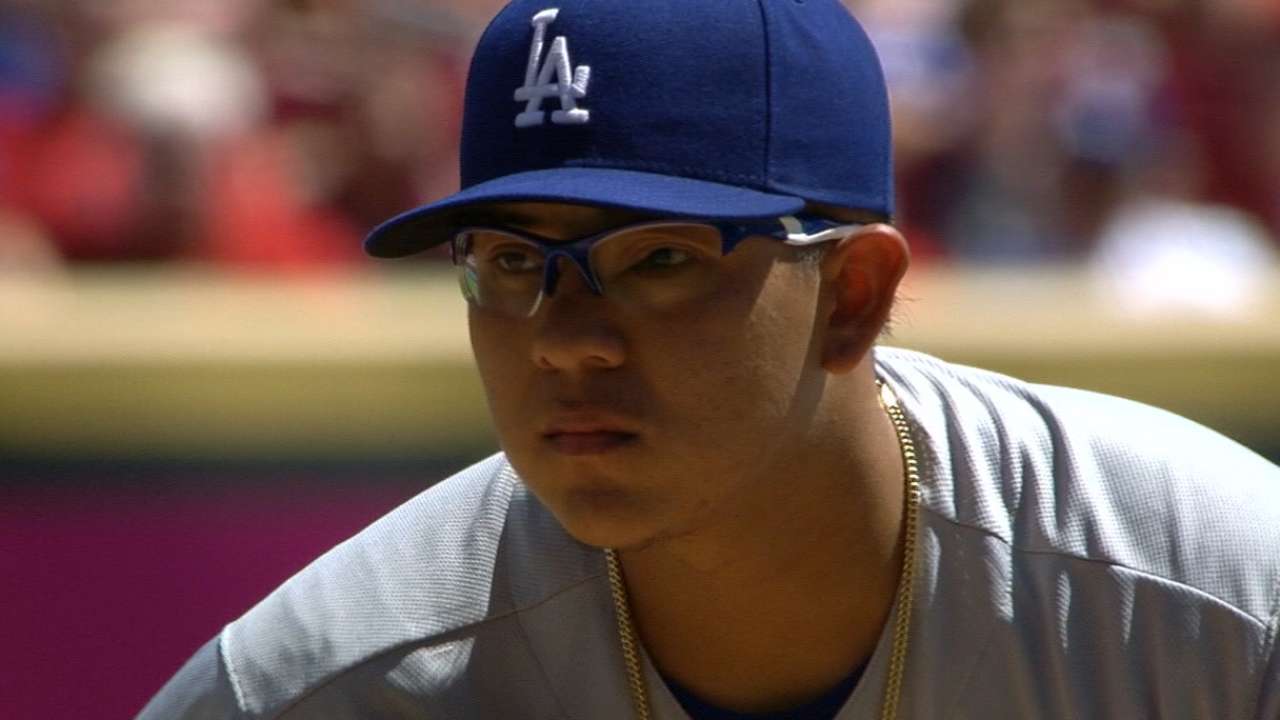 Outlook: Urias, SP, LAD
Outlook: Urias could ascend to an elite level soon
Julio Urias showed excellent poise and demonstrated terrific strikeout skills, which increases his chances of ascending to an elite level
No. 5 starter: Though both clubs entered Spring Training without stability at the back of the rotation, the Dodgers' fifth-starter candidates (Scott Kazmir, Alex Wood, Hyun-Jin Ryu, Brandon McCarthy) have greater fantasy potential than the Giants' (Ty Blach, Matt Cain, Albert Suarez).
Winner: Dodgers
Closer: The Giants made a notable bullpen upgrade when they added top-flight closer Mark Melancon (1.80 ERA, 0.91 WHIP from '13-16) in the offseason. But like every other stopper, Melancon cannot match the fantasy value of Kenley Jansen. With a lifetime 2.20 ERA, 0.89 WHIP and 13.9 K/9 rate, Jansen should be the No. 1 reliever on every '17 draft board.
Winner: Dodgers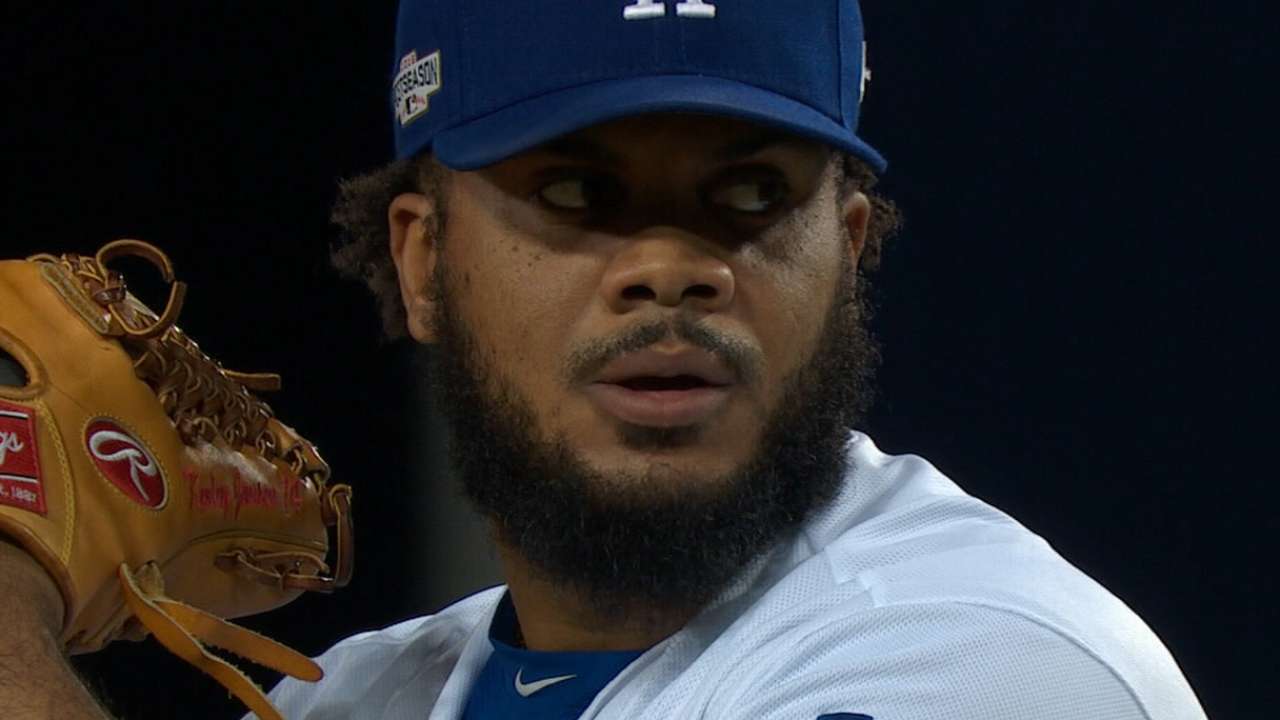 Outlook: Jansen, RP, LAD
Outlook: Jansen likely to remain elite closer in '17
Kenley Jansen is primed for another outstanding showing in 2017, following a 47-save season with a 1.83 ERA and dominant control
Setup men: While neither club possesses a setup man with game-changing fantasy value, both have multiple relievers with the skills to contribute in deep formats. This position can be labeled a draw, with Hunter Strickland and Sergio Romo likely to be the best options from their respective clubs.
Winner: push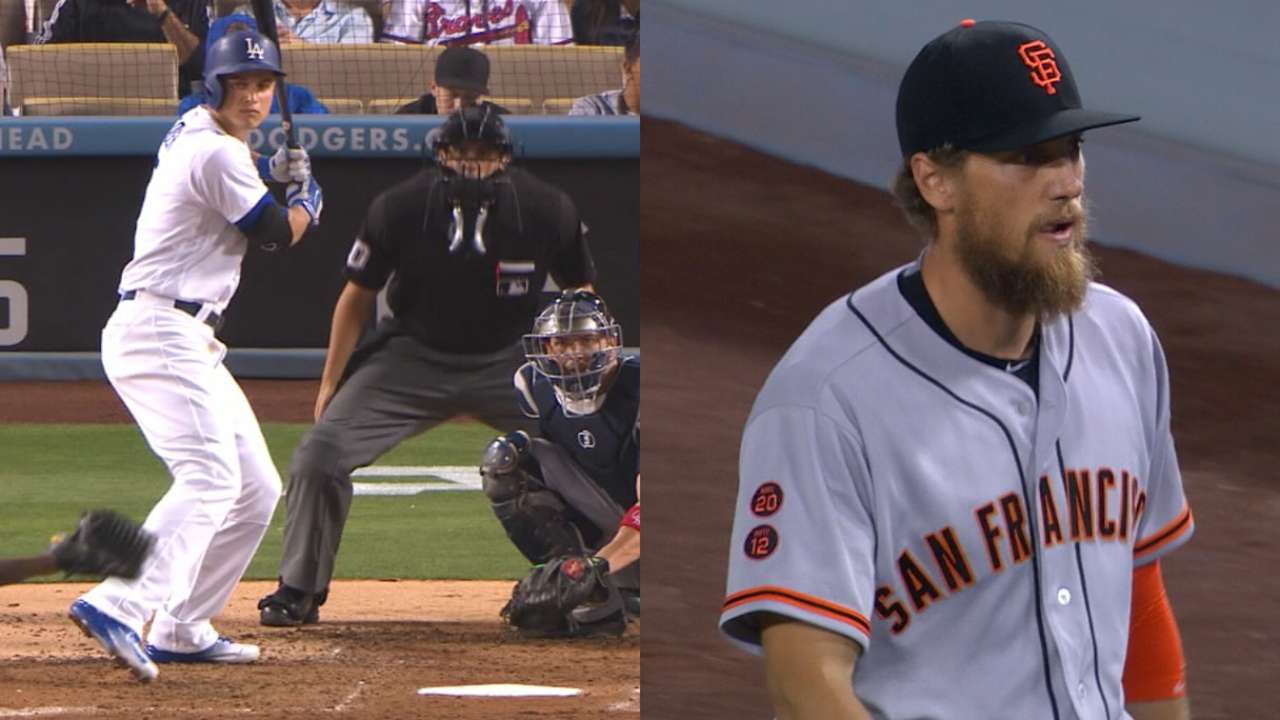 NL West fantasy options
Zinkie breaks down the Dodgers, Giants
MLB.com Fantasy writer Fred Zinkie discusses the top fantasy options on the Los Angeles Dodgers and the San Francisco Giants
Final verdict: As the Dodgers prepare to challenge for a fifth straight division title, their deep and talented roster gives them a 10-4 win (with one tie) over the Giants in this Tale of the Fantasy Tape.
Fred Zinkie is the lead fantasy baseball writer for MLB.com. Follow him on Twitter at @FredZinkieMLB. This story was not subject to the approval of Major League Baseball or its clubs.