• Cast your Esurance All-Star ballot for Springer and other #ASGWorthy players
"That was pretty much an offensive explosion for us," Astros manager A.J. Hinch said. "We put up really good at-bats every inning. It was really at our best. We did a little bit of everything today. I thought we controlled the strike zone. I thought we did a ton of damage, obviously, with the home runs. We did what we do when we're at our best, which is keep coming at you every inning and putting pressure on you."
• Bye George! Springer has #ASGWorthy day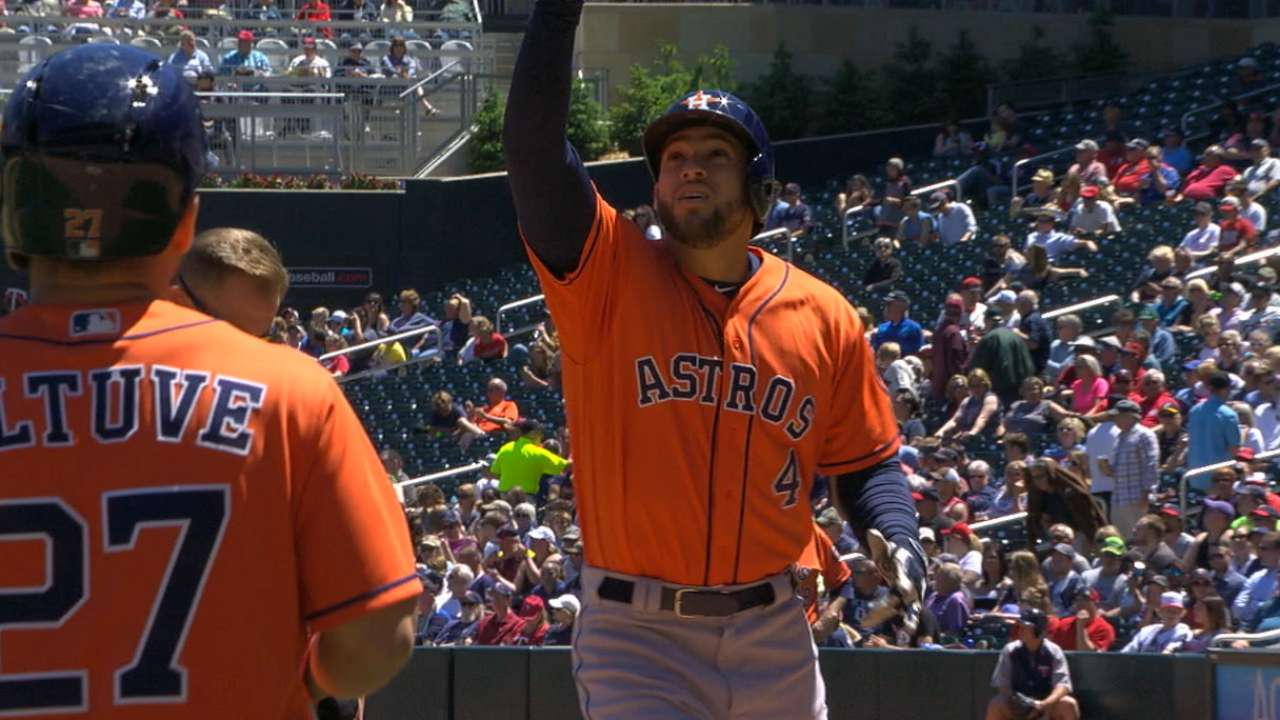 Springer's huge offensive game
HOU@MIN: Springer clubs two homers in four-hit game
George Springer goes 4-for-4 with two singles, two solo home runs, two walks and four runs in the Astros' victory against the Twins
Correa helped open the scoring for the Astros with a two-run homer off Hector Santiago in the first before singling home a run in the third. But it was Springer's power that wowed, as he slammed a solo shot in the fifth off Santiago and a solo blast in the seventh off reliever Ryan Pressly. Springer's first homer left the bat at 114.2 mph, going a projected 381 feet, while his second had an exit velocity of 112.6 mph and went a projected 473 feet. That homer was the farthest by an Astros player this year, per Statcast™, and second-longest in baseball in 2017 behind Jake Lamb's 481-foot blast.
"It's been special," Springer said of the team's offensive outburst. "The quality at-bat after quality at-bat in a row is something that I haven't seen before, so hopefully we can keep this up."
The Twins, though, made it a one-run game with a two-run homer by former Astros catcher Jason Castro as part of a three-run sixth. But Houston got to Minnesota's beleaguered bullpen, scoring six runs in the seventh to put the game away.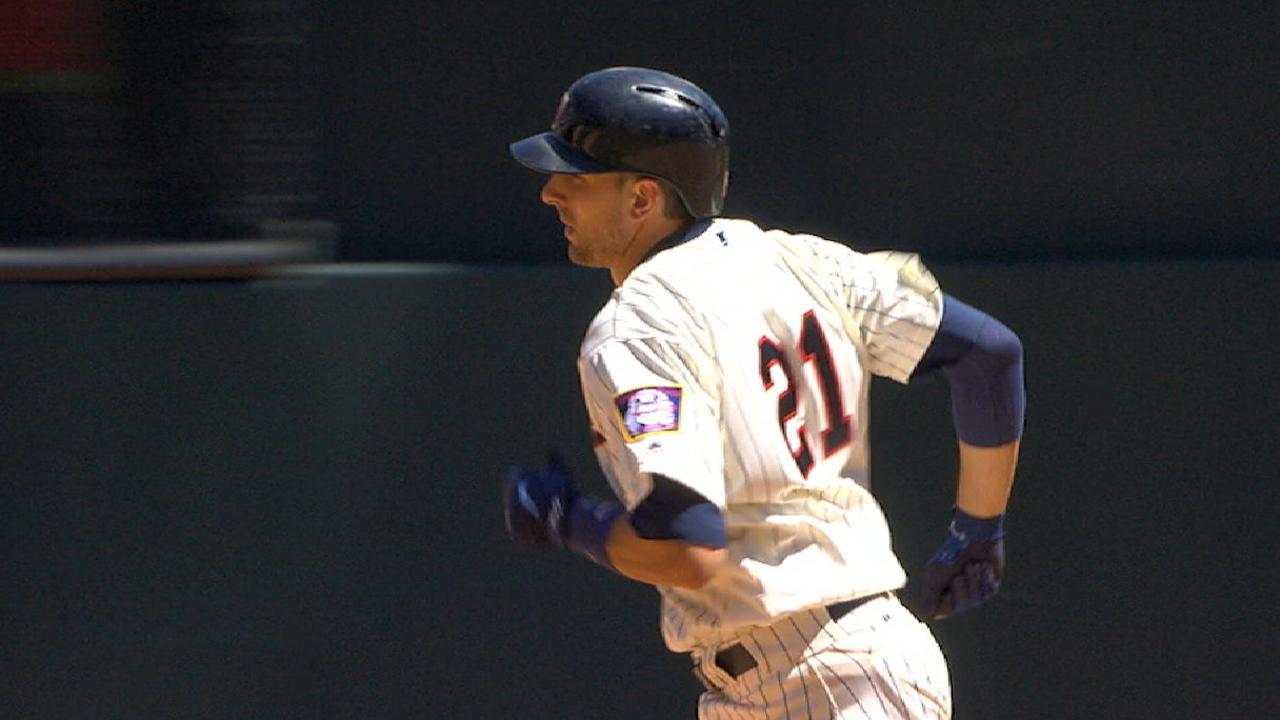 Castro's two-run jack
HOU@MIN: Castro cranks a two-run homer to center
Jason Castro smashes a two-run home run over the fence in straightaway center field, cutting the Twins' deficit to one run in the 6th inning
Right-hander David Paulino, ranked as the Astros' No. 3 prospect and the No. 48 overall prospect by MLBPipeline.com, made his first start of the year, but was stuck with a no-decision, allowing two runs on five hits over four innings with eight strikeouts.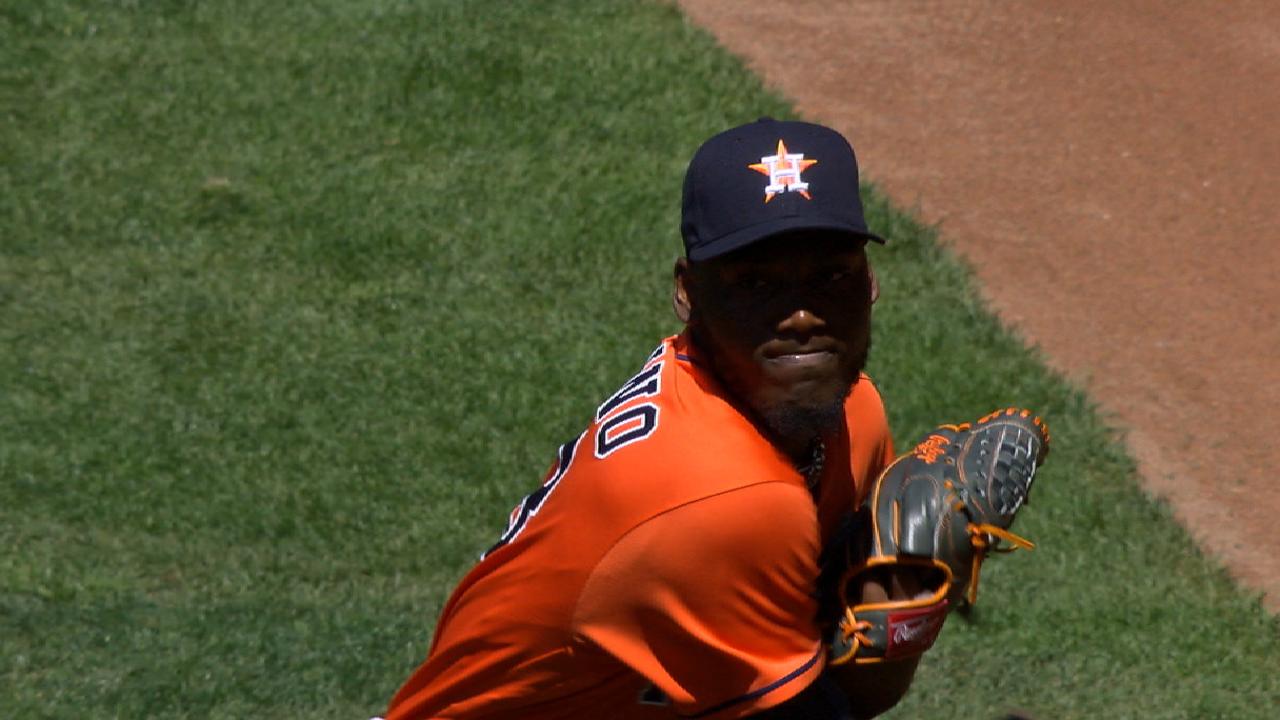 Paulino's eight-strikeout start
HOU@MIN: Paulino fans eight in season debut
David Paulino strikes out eight Twins over four innings in his season debut for the Astros
Santiago took the loss, surrendering six runs on eight hits, including three homers, over six innings. Alex Bregman was the third to homer off Santiago with a solo shot in the sixth, giving Bregman a homer in three straight games.
"Those guys are good, man," Santiago said. "That's a tough lineup. I thought I made some competitive pitches, but it's just a tough lineup. We'd play a shift and they'd hit it the other way. And we'd play it the other way, and they'd pull it through the hole. It seems like everything they did was right and the ball just won't bounce our way. It's a tough one. But we're happy these guys are getting out of here and going somewhere else."
• Twins pitchers can't find relief in series finale
MOMENTS THAT MATTERED
Springer dinger extends lead: After the Twins cut it to 6-5 following Castro's two-run homer off lefty Tony Sipp, Springer gave the Astros an insurance run with his mammoth blast off Pressly. It helped spark a six-run rally that saw Gattis, Yuli Gurriel and Bregman come through with RBI hits, while Norichika Aoki added a sacrifice fly. Pressly was charged with two runs without getting an out, while Tyler Duffey gave up four runs without recording an out.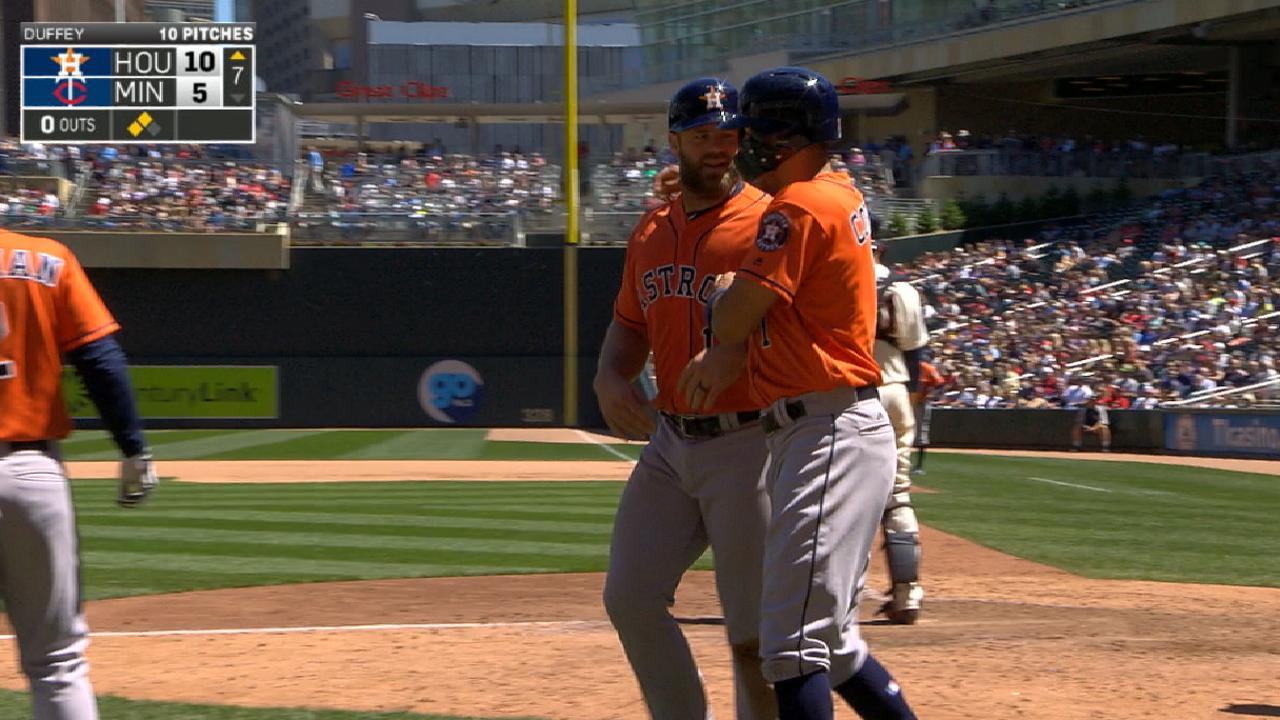 Astros' six-run 7th inning
HOU@MIN: Astros plate six runs in the 7th
The Astros score six runs in the 7th behind George Springer's second home run and RBI hits from Evan Gattis, Yuli Gurriel and Alex Bregman
"Pretty wowed by it," Hinch said of Springer's second homer. "That went a long way and went to a big part of the yard, especially the timing of it. They got back in the game with a big home run of their own and Springer comes up and separates us a little bit. He's got as much power as anybody on the team, and he displayed it."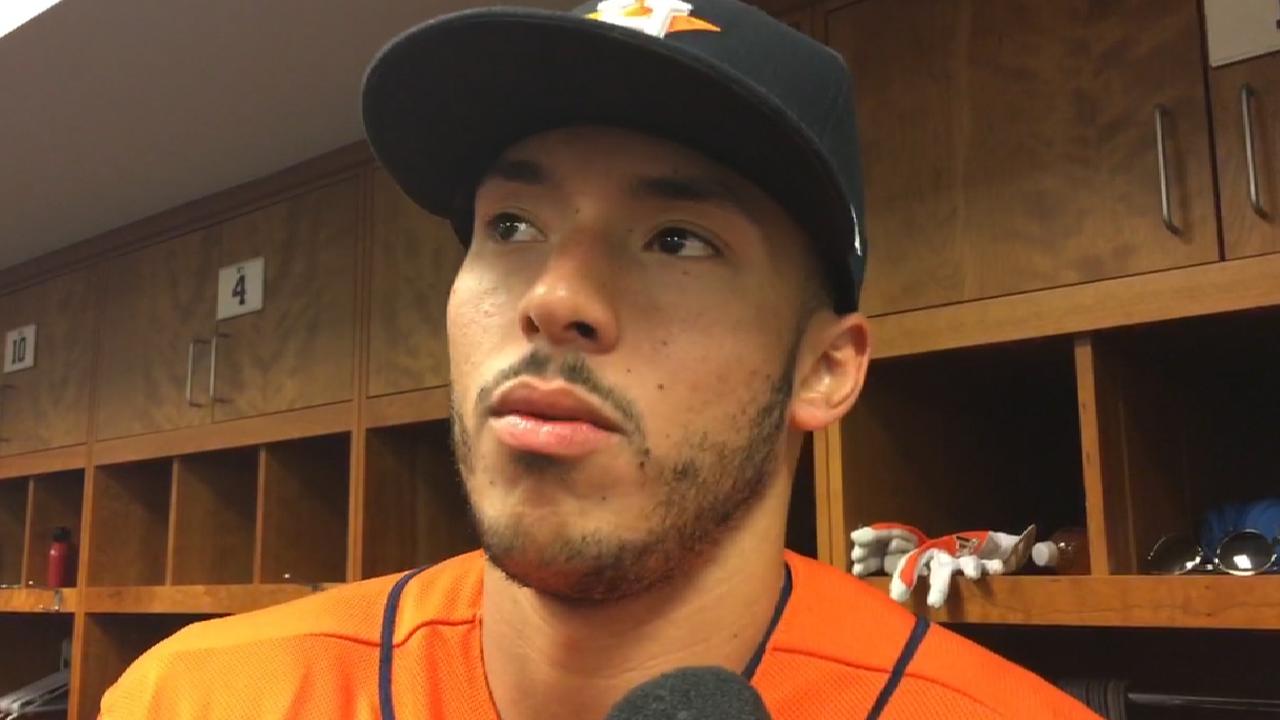 Astros on seventh straight win
HOU@MIN: Astros discuss six homers, winning streak
Carlos Correa and Evan Gattis discuss the Astros' six home runs as well as their winning streak following the team's 17-6 win over the Twins
Astros string together hits: While Houston's power was on display with six homers, it was four straight singles in the third that helped them open a 4-0 lead that set the tone for the rest of the game. Springer, Altuve, Correa and Gattis all singled off Santiago, bringing home two runs with right fielder Max Kepler saving the Twins from allowing another run by throwing out Correa at home as he tried to tag up on a fly ball to end the inning.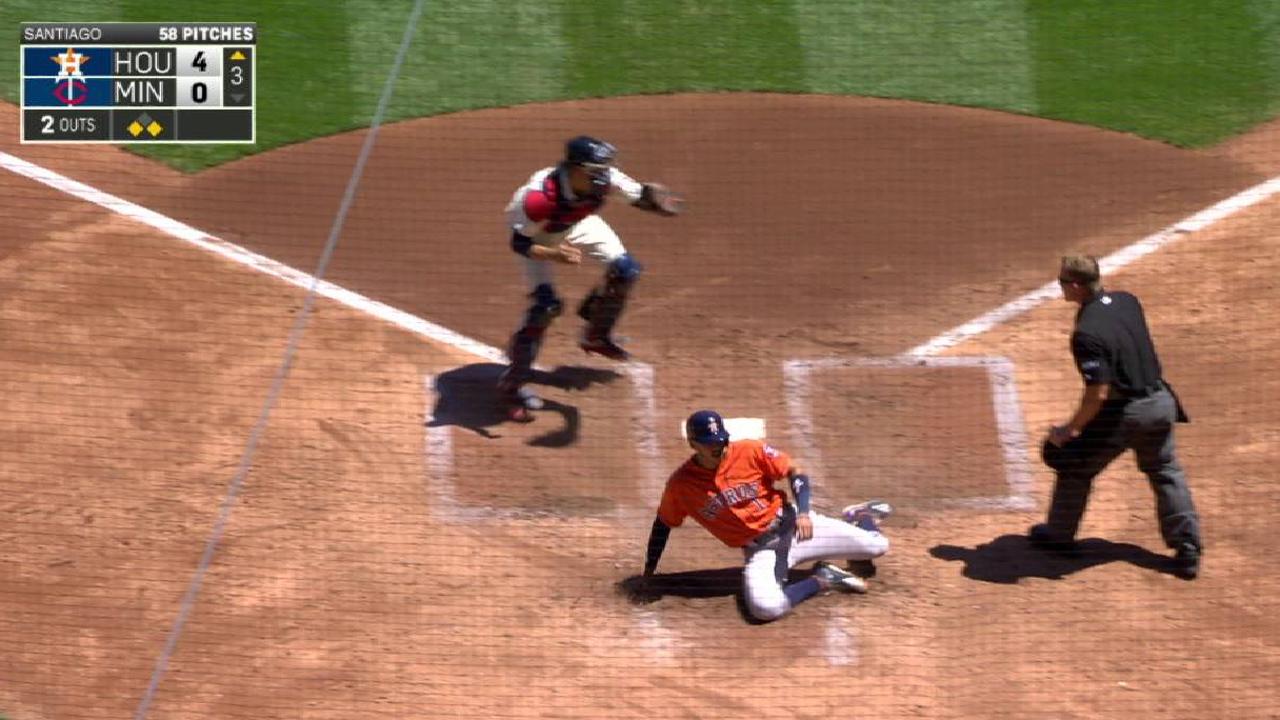 Kepler's perfect throw home
HOU@MIN: Kepler cuts down Correa at home plate
Max Kepler catches a fly ball down the right-field line and fires a strike to home plate in time to cut down Carlos Correa trying to score
"They're a tough team," said Castro, who played with the Astros from 2010-16. "They have some guys who can hit the ball a long way. They put together some good at-bats. Unfortunately, they were clicking at the wrong time for us."
QUOTABLE
"We're trying to keep battling. As soon as you lose that faith, that's when it's over for you. I think we're in a good place still. We have some veteran leadership. We're going to keep battling and not give up — that's for sure." — Duffey, on Minnesota's bullpen allowing 28 runs in nine innings in the three-game sweep
"On my gosh, bro, I was in shock. I tell him, 'I was in shock.' I've never seen a ball hit that hard before live in my life." — Correa, on Springer's 473-foot homer
SOUND SMART WITH YOUR FRIENDS
Springer's homer was the second-longest at Target Field in the Statcast™ era since 2015, trailing Nelson Cruz's 493-foot drive on Sept. 24, 2016. Springer's previous long was 455 feet on May 11, 2016, while the longest by an Astros in the Statcast™ era before Springer's 473-foot shot was 469 feet by Correa on Sept. 12, 2015.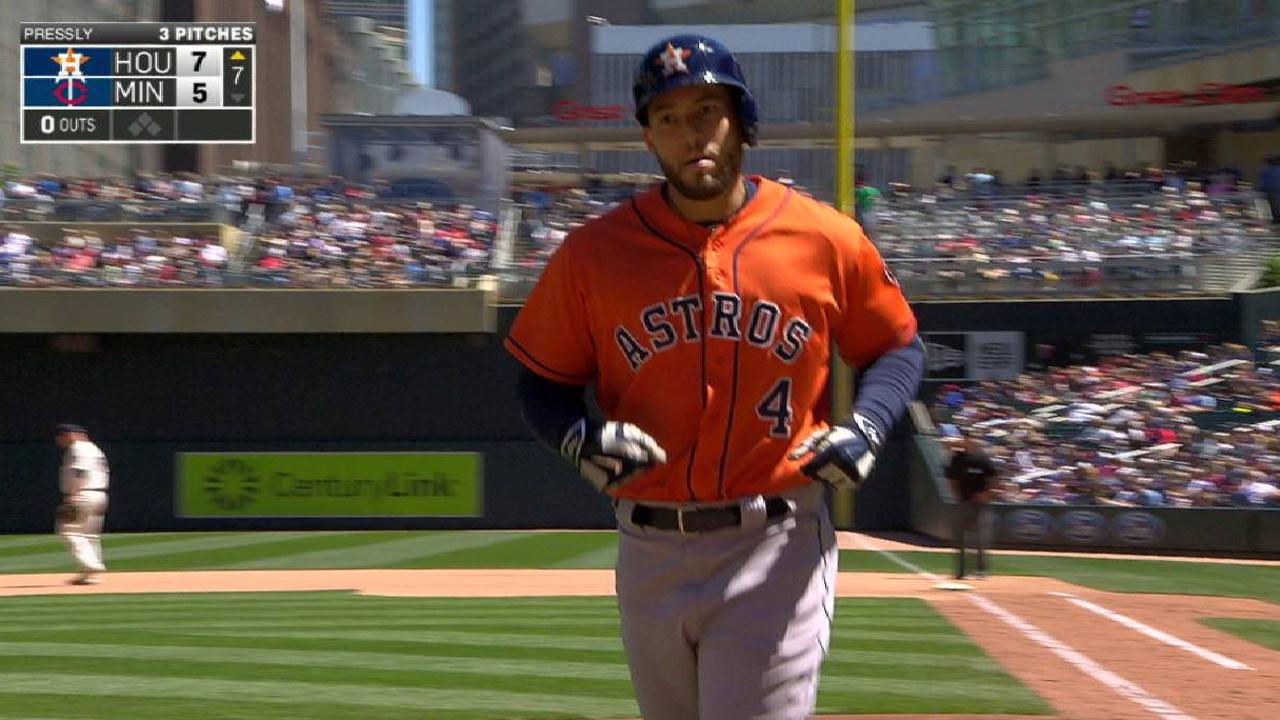 Springer's upper-deck solo shot
HOU@MIN: Springer launches his second HR of the day
George Springer cranks a long solo home run into the upper deck in left-center field, his second homer of the game, padding the Astros' lead
GIMENEZ PITCHES THE NINTH
With the Twins trailing by nine runs, catcher Chris Gimenez made his third relief appearance of the season in the ninth. He entered with a 0.00 ERA, but served up a two-run homer to Marwin Gonzalez.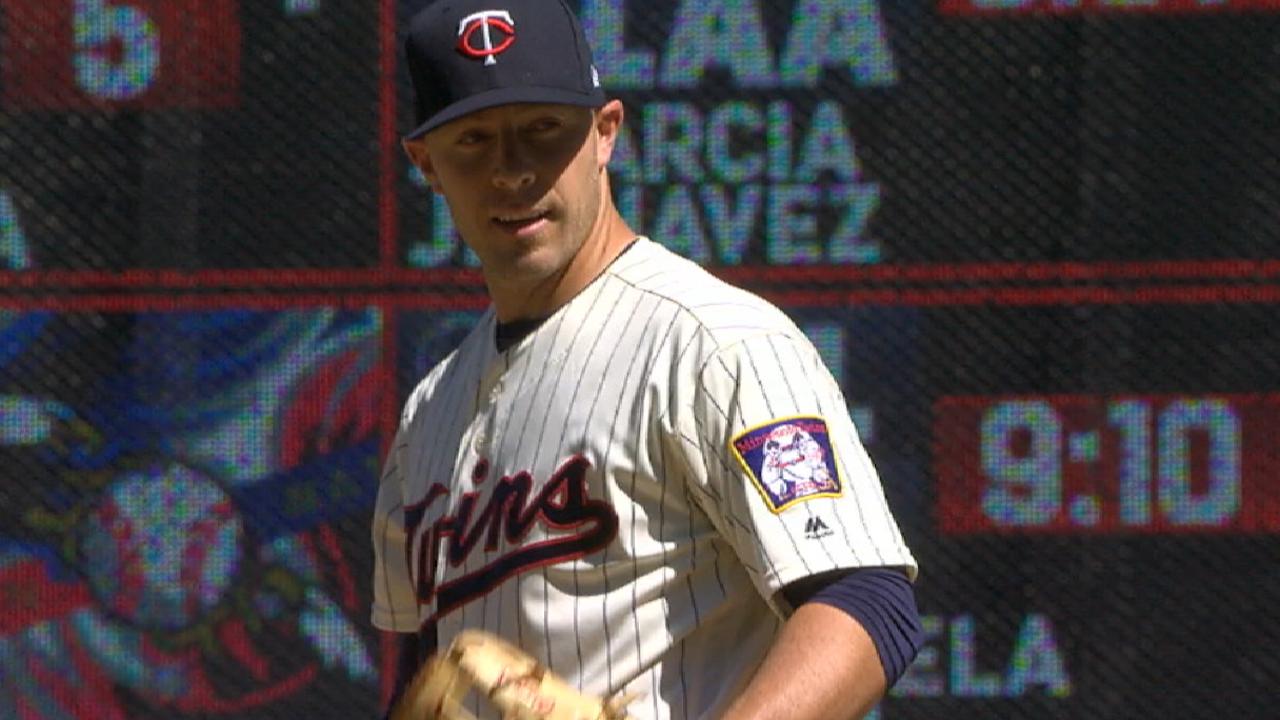 Gimenez retires Correa
HOU@MIN: Gimenez comes in to pitch, retires Correa
Twins catcher Chris Gimenez comes in to pitch and gets Carlos Correa to ground out to begin the top of the 9th inning
"He saved a bullpen arm," Santiago said. "That's what it's all about. So I thanked him."
WHAT'S NEXT
Astros: After taking Thursday off, the Astros will open a three-game Silver Boot Series against the Rangers at 7:05 p.m. CT on Friday in Arlington. Lefty Dallas Keuchel (8-0, 1.81 ERA) will oppose Rangers ace Yu Darvish (5-3, 2.97).
Twins: The Twins begin a 10-game West Coast road trip Thursday, when they face the Angels at 9:07 p.m. CT in Anaheim. Rookie left-hander Adalberto Mejia (1-1, 4.64 ERA) is set to start, after allowing two runs in five innings against the Rays on Saturday.
Watch every out-of-market regular-season game live on MLB.TV.
This story was not subject to the approval of Major League Baseball or its clubs.