In an 8-0 loss to the Cubs, Britton started the eighth inning with a 6-0 deficit. The lefty allowed a leadoff single to Happ, but forced back-to-back groundouts from Jason Heyward and Addison Russell. With a runner on third, Britton walked Jon Jay before inducing Ben Zobrist to ground out to third and escape the inning.
"I feel good, you know, physically," Britton said. "Where we are right now, just trying to get innings in games. You know, [I] would like it to be in a situation where we're winning games, but that's kind of where we're at. It's not ideal for me, but I feel good, so that's a plus."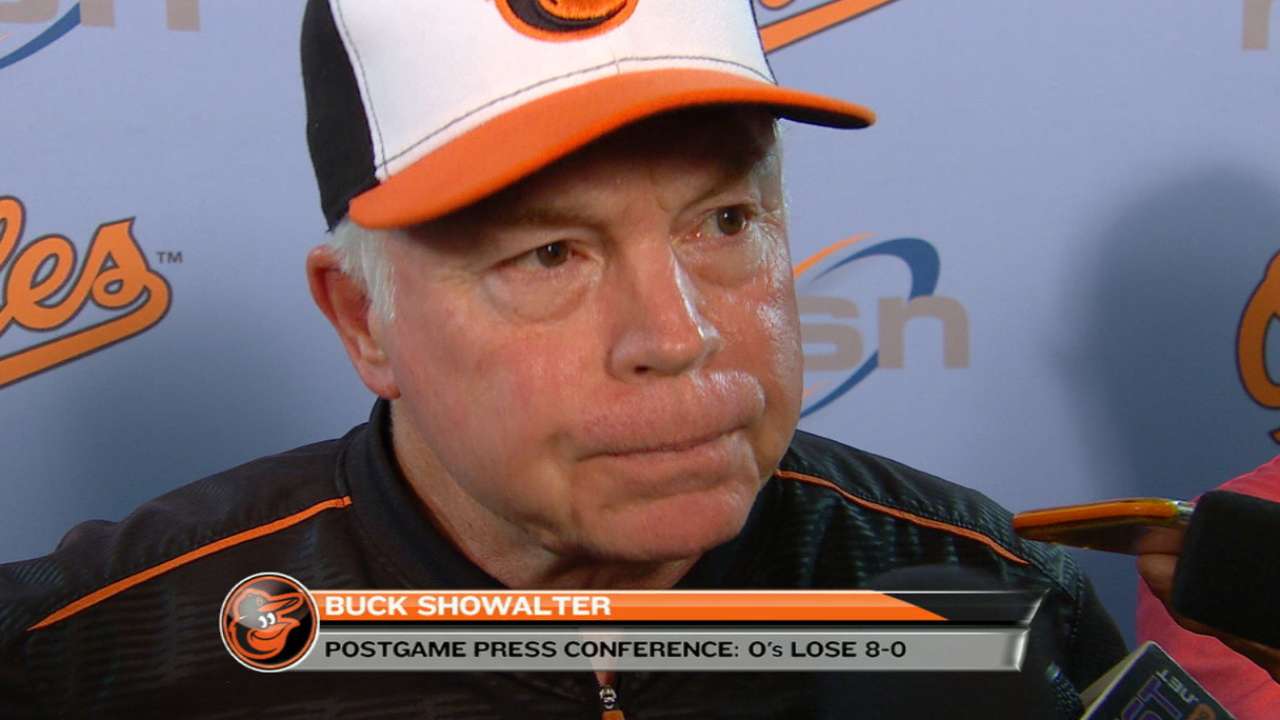 Showalter on shutout loss
CHC@BAL: Showalter discusses lack of offense in loss
Buck Showalter discusses his club's lack of offense against Jose Quintana as well as the Orioles' bullpen in their 8-0 loss to the Cubs
The closer went on the disabled list for the second time this season on May 5 with a left forearm strain. He was reinstated on July 5 and, since that evening, Britton has been on an every-other-day schedule to get him some work before being put back in the high-leverage closer role.
"I think there's such a process in that when you look at everything he went through to get here," Showalter said on Saturday. "If you remember the first two or three outings, it wasn't Zach, and you could tell [by] the look on his face he didn't feel good about the command of the sinker and everything, and that's why we tried to stay on an every-other-day thing."
Britton's return has given some depth to a bullpen that has been forced to come into games as early as the third and fourth innings of late. Prior to his second DL stint, Britton had posted a 1.00 ERA through nine innings. After going a perfect 47-for-47 in save opportunities last season, Britton is carrying a 54-game save streak — dating back to Oct. 1, 2015 — which is tied for the second-longest of its kind in Major League history.
"He wants perfection, and when it's not there, he's not satisfied with it until a very few times last year, [well] the last two years, [when he had] very historic times for a reliever statistically," Showalter said. "There were times where he felt like he wasn't really good, but he was, obviously."
Mandy Bell is a reporter for MLB.com based in Baltimore. This story was not subject to the approval of Major League Baseball or its clubs.