"It's nice to not have traffic; you don't have to worry about scenarios or making certain pitches," said Freeland, who emerged with no damage when hit on the throwing forearm by Joe Panik's second-inning line drive. "But being able to get out of situations with runners on or in scoring position is a nice quality to have."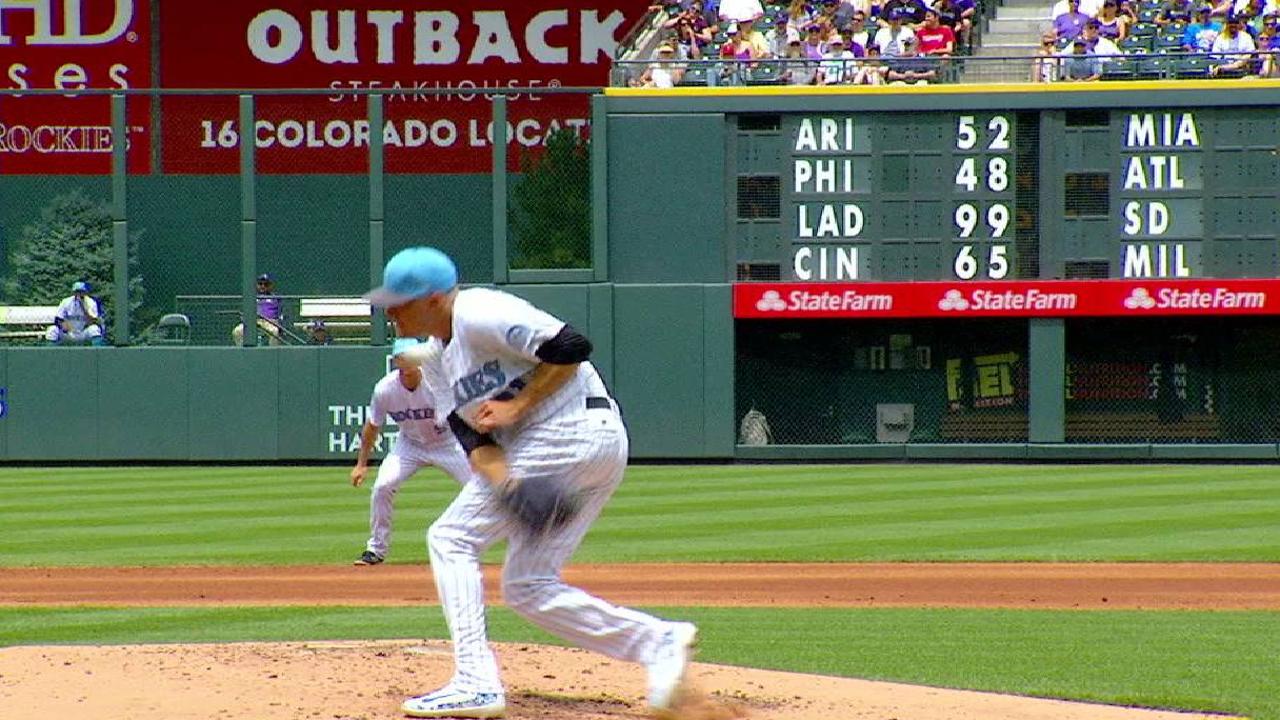 Freeland hit by liner, stays in
SF@COL: Freeland hit by a line drive, stays in game
Kyle Freeland is hit in the left arm by a line drive off the bat of Joe Panik, but he shakes it off and stays in the game
The Giants — who have dropped eight straight to the Rockies — had two on and one out in the first before Freeland struck out Buster Posey and Austin Slater. With two on in the sixth, Freeland came from a 2-0 count to fan pinch-hitter Brandon Belt with his final pitch. Freeland at first shook off catcher Tony Wolters' slider call, but he obliged with the fastball to beat Belt.
"He pumped me up, man," said Wolters, who delivered two RBI singles. "He jumped off that mound, started yelling, fist-bumping. I don't know what he said, but he pumped us all up. I love that energy about him."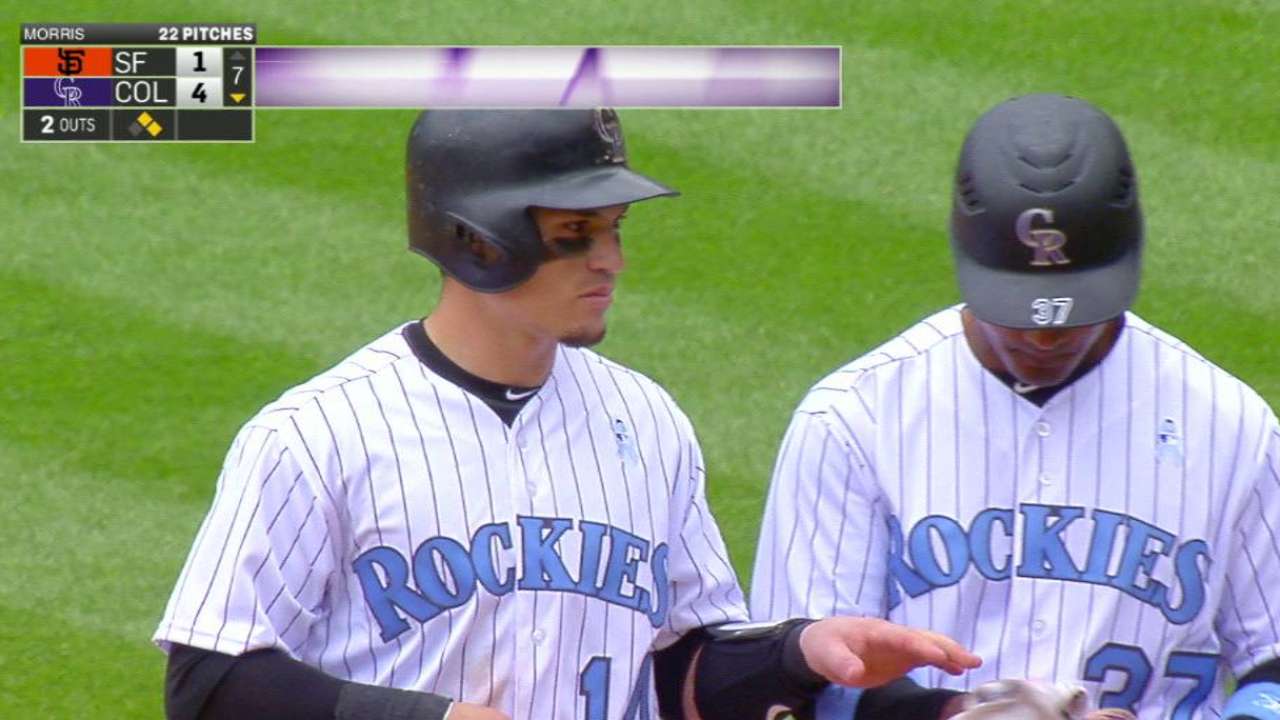 Wolters' second RBI single
SF@COL: Wolters hits his second RBI single to right
Tony Wolters hits his second RBI single to right field to extend the Rockies' lead to 4-1 in the bottom of the 7th inning
After losing the first two games by 10-9 and 10-8 scores, the Giants received solid work from starter Matt Cain (3-6), who gave up two runs (one earned) and nine hits in five innings. But Gorkys Hernandez's RBI single — a play that led to some consternation between Wolters and former teammate Nick Hundley, who scored on the play — off Freeland with two outs in the fourth was the Giants' only hit in seven chances with runners in scoring position.
"They have some really good starters over there," Cain said. "For a little while, they were trying to piece that together. They've always had a great lineup."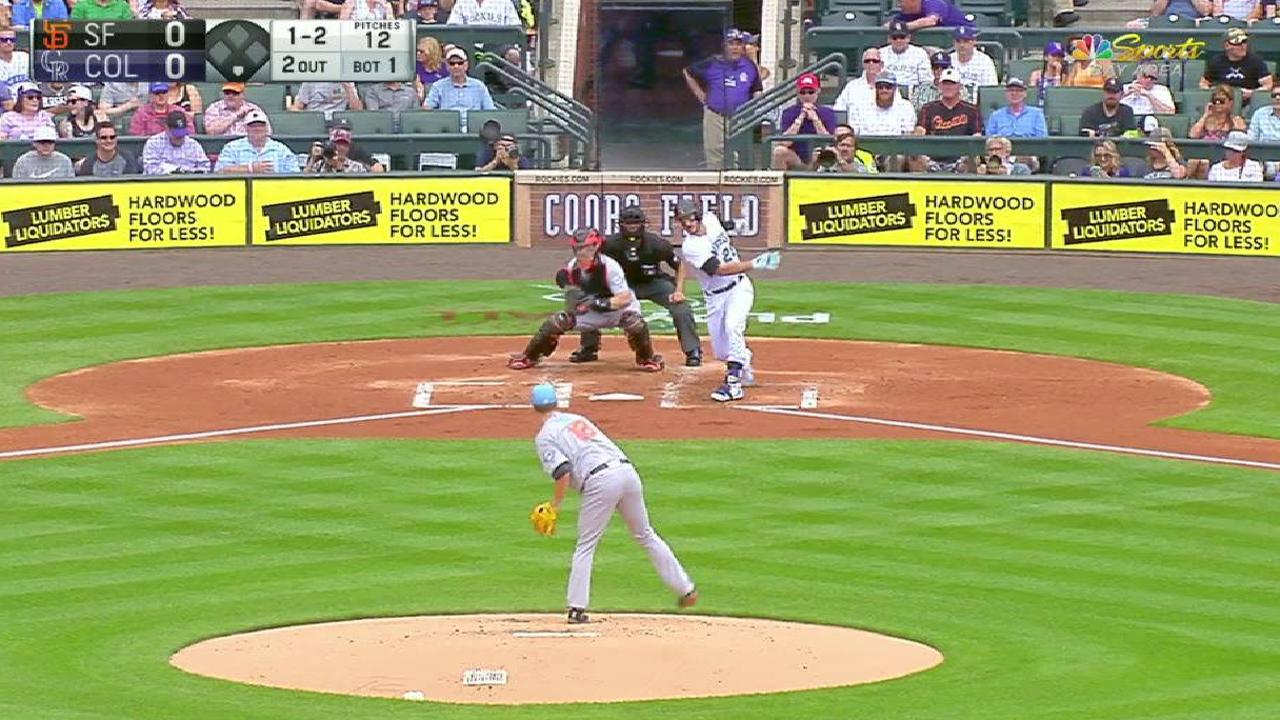 Cain retires Arenado
SF@COL: Cain strikes out Arenado to end the inning
Matt Cain strikes out Nolan Arenado swinging to end the 1st inning with his first K of the game
MOMENTS THAT MATTERED
When it counted: Rockies righty Scott Oberg's last outing before Saturday was forgettable — 1 2/3 innings, four hits and two runs including a homer Thursday night — except for the fact the Rockies ended up winning. Saturday, protecting a 3-1 lead, he yielded singles to Hunter Pence and Posey with two outs. But, after a visit from pitching coach Steve Foster, Oberg dispensed Slater on three pitches, the last a slider that Slater watched.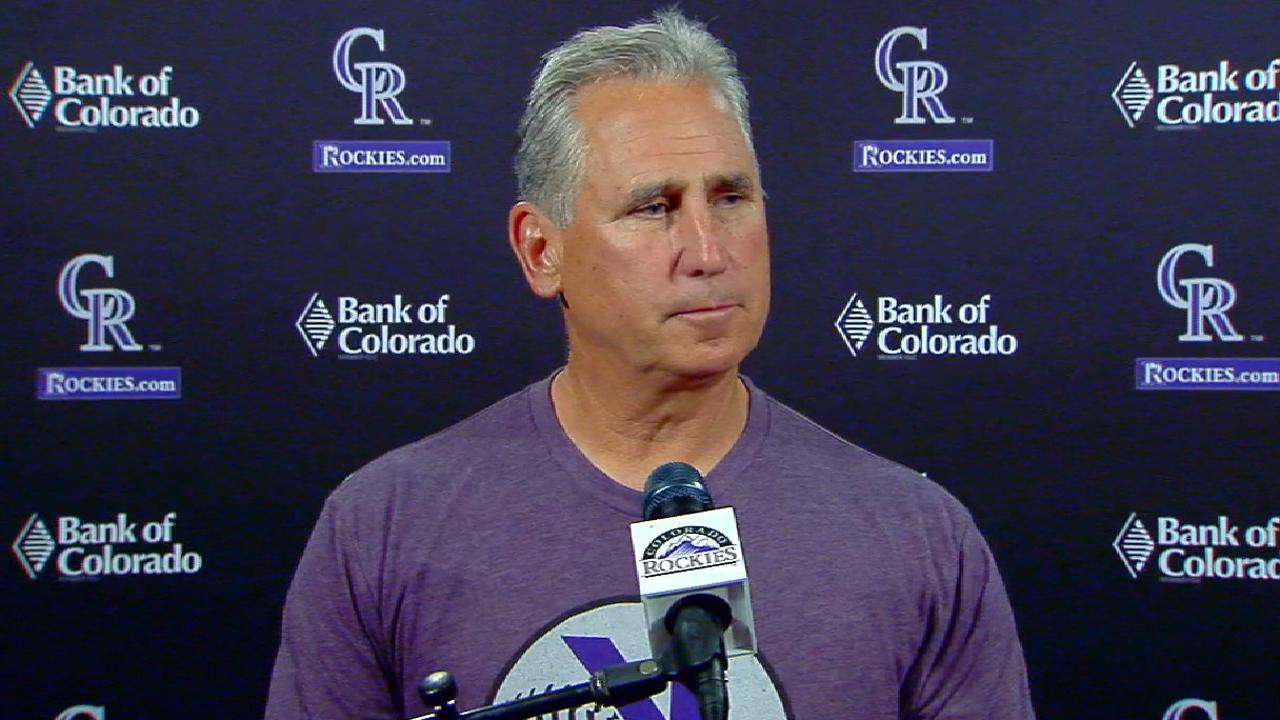 Black reflects on Rockies' win
SF@COL: Black credits great hitting in 5-1 victory
Rockies manager Bud Black talks about the Rockies' offense and how it led them to a 5-1 victory over the Giants
Timely hitting: It was still a two-run game when Giants reliever Bryan Morris reached the lower part of the order with two down in the seventh. However, Wolters lashed a single into right, then pinch-hitter Pat Valaika looped a double into right-center, with each hit driving in a run. It gave the Rockies the padding they needed on a day when they had to rest closer Greg Holland, who had appeared in the past three games and thrown 58 pitches — 47 in the past two.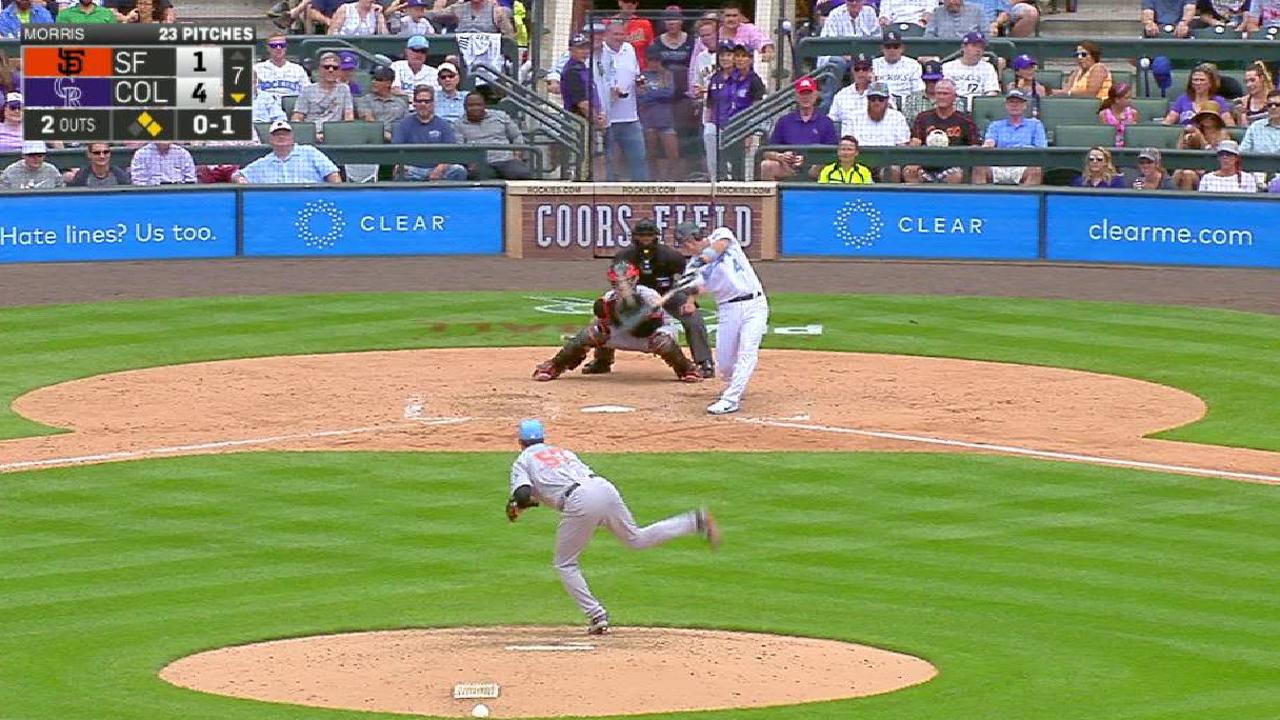 Valaika's RBI double
SF@COL: Valaika drops an RBI double into right field
Pat Valaika dumps an RBI double into right field to give the Rockies a 5-1 lead in the bottom of the 7th inning
QUOTABLE
"It's big to strike with two outs. When it happens to us, sometimes it takes a little bit out of you." — Rockies shortstop Trevor Story, who singled in a run with two outs in the fifth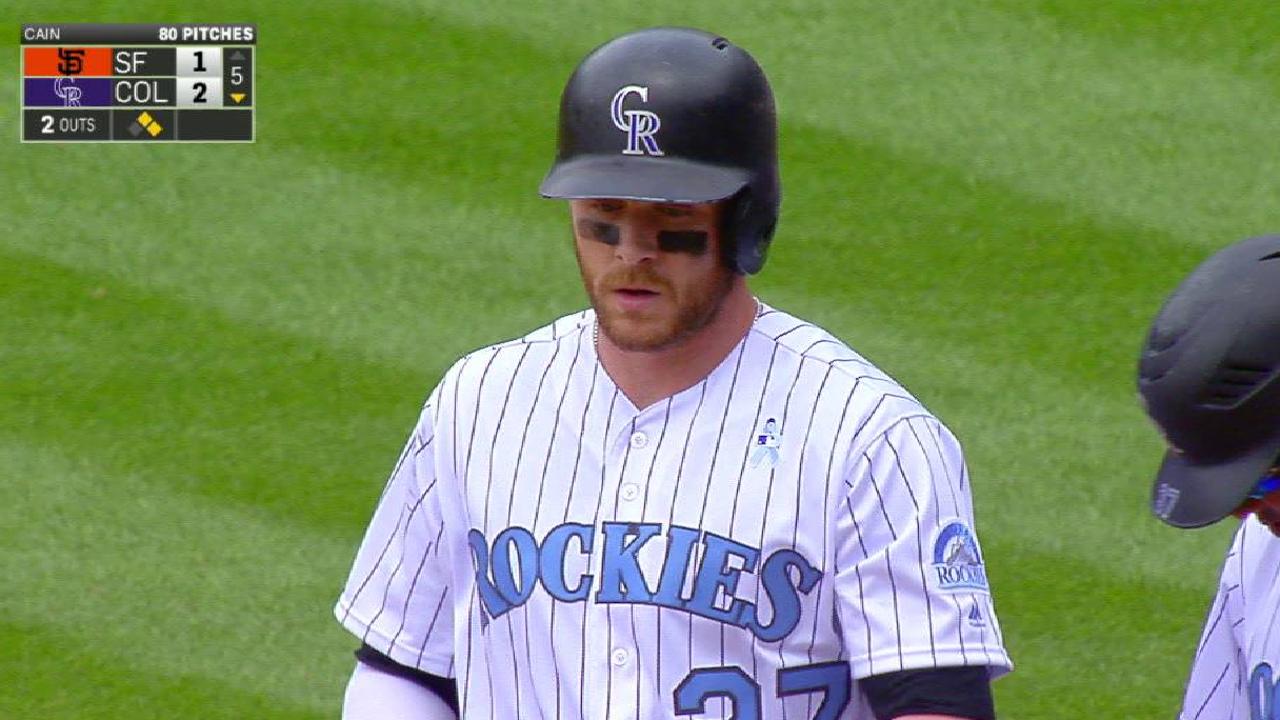 Story's RBI single
SF@COL: Story smacks an RBI single up the middle
Trevor Story grounds an RBI single up the gut and into center field to give the Rockies a 2-1 lead in the bottom of the 5th inning
"Winning breeds confidence. The club has that right now. They believe, and that's part of it. Just like Arizona, they're having a big year — a different club that now believes. That's where we need to get. Right now, it doesn't look it, the way we're playing." — Giants manager Bruce Bochy
SOUND SMART WITH YOUR FRIENDS
The Rockies have blown away the previous record for wins by rookie starters before the All-Star break. Freeland's victory on Saturday made Rockies rookie starters — along with Antonio Senzatela, Jeff Hoffman and German Marquez — 26-9. The previous record was 18 wins, shared by the 2006 Marlins and the '14 Yankees, according to the Elias Sports Bureau.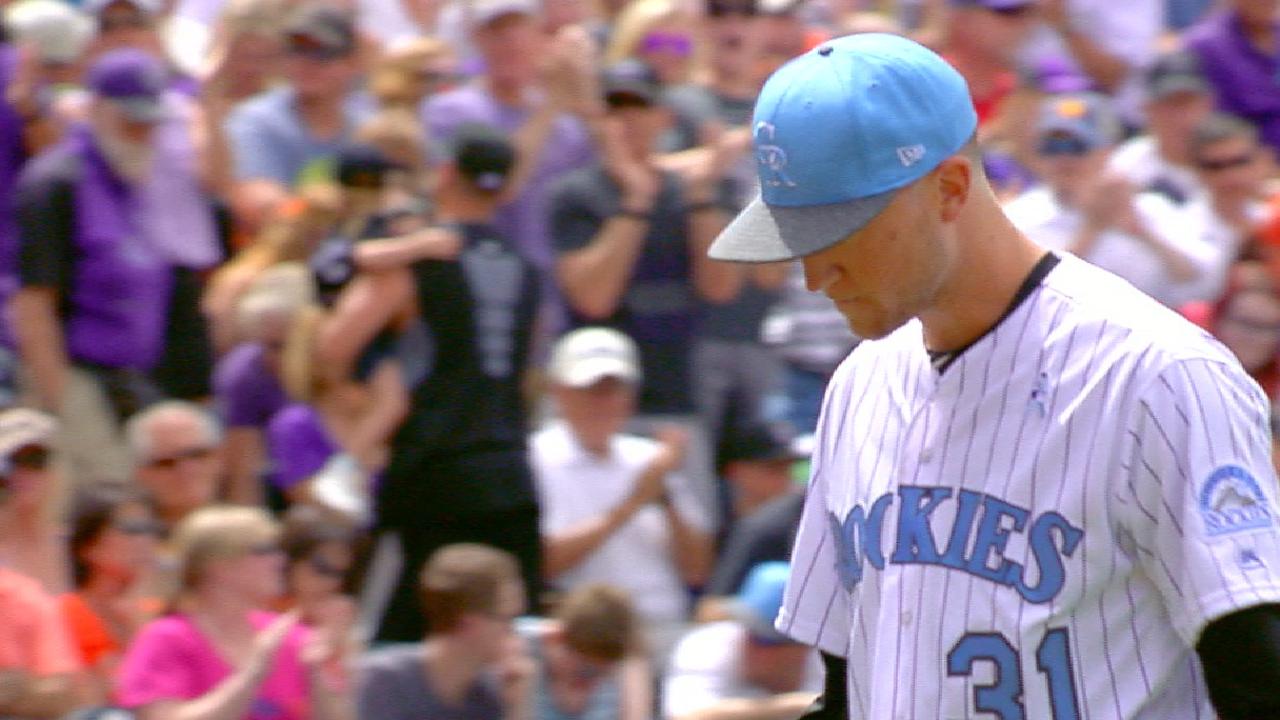 Freeland's solid outing
SF@COL: Freeland allows just one run over six innings
Kyle Freeland strikes out three and allows one run in six innings of work in the Rockies' 5-1 victory over the Giants
THE STREAK ENDS, BUT NOT THE DEFENSE
Rockies four-time Gold Glove third baseman Nolan Arenado saw his errorless streak end at 71 games when Hundley's leadoff bouncer clanged off the heel of his glove. But Arenado easily fielded a grounder from the next hitter, Aaron Hill.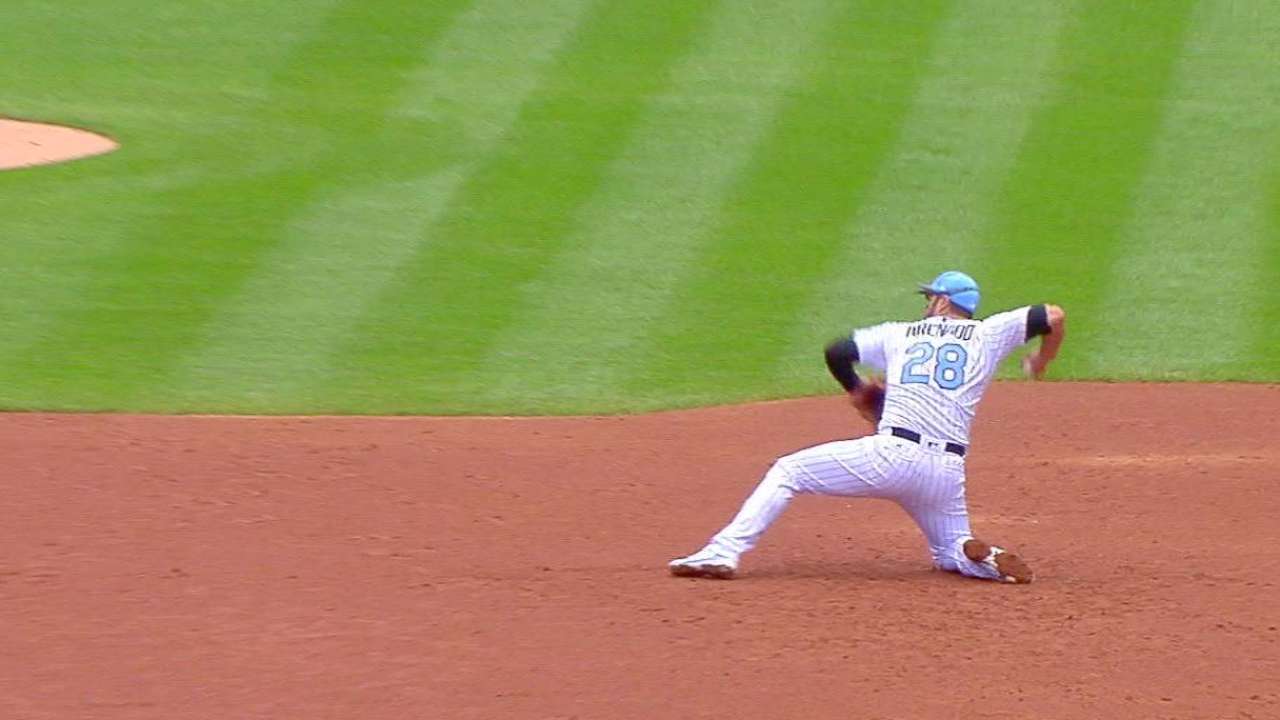 Arenado starts the double play
SF@COL: Arenado starts the 5-4-3 double play
Nolan Arenado fields a sharp grounder from Aaron Hill and fires to second from one knee to start the 5-4-3 double play in the 2nd inning
UP NEXT
Giants: Rookie left-hander Ty Blach, who grew up in a Denver suburb rooting for the Rockies, will try to stop the Giants' skid as their starter for Sunday's series finale beginning at 12:10 p.m. PT on MLB.TV. This will mark Blach's first start against the Rockies, whom he has blanked in four relief appearances spanning six innings.
Rockies: Righty Tyler Chatwood has a 1.35 ERA in his past three starts, but all were on the road. He'll face the Giants on Sunday at Coors Field — where he is 2-4 with a 7.03 ERA in 32 innings — at 1:10 p.m. MT on MLB.TV in the finale of a four-game series.
Watch every out-of-market regular-season game live on MLB.TV.
Chris Haft has covered the Giants since 2005, and for MLB.com since 2007. Follow him on Twitter at @sfgiantsbeat and listen to his podcast.
This story was not subject to the approval of Major League Baseball or its clubs.