MLB.TV Premium is now available for $79.99 yearly or $24.99 monthly, with nearly two dozen features for subscribers to access and interact with live out-of-market Major League Baseball games at 60 frames per second on any of the more than 400 supported devices. MLB.TV Single Team subscriptions are also available at $59.99 yearly.
Here's what to watch for (all times ET):
You look good in blue: CHC@BAL, 1:35 p.m.
The centerpiece of the most significant deal of the trade season so far, Quintana will make his first start with the Cubs against a Baltimore club he already has pitched against this year. The left-hander gave up four earned runs on nine hits and three walks and lasted just five innings in a May 7 loss for the White Sox at Camden Yards, though that start was in the midst of his early-season struggles.
Quintana comes to the Cubs on the heels of seven strong starts, six leading to wins, during which he has posted a 2.70 ERA and struck out 45 in 40 innings. He should give the North Siders a major boost, as starting pitching has been a concern for them. Their starters have a 4.69 ERA, eighth in the National League.
Epstein on Cubs getting Quintana
Epstein on acquiring Quintana from the White Sox
Cubs president of baseball operations Theo Epstein talks about working with the club's crosstown rivals to acquire pitcher Jose Quintana
For the Orioles, Ubaldo Jimenez is making his sixth start since returning to the rotation following a brief bullpen stint. He is 3-2 with a 6.59 ERA in this current stretch, with 22 strikeouts and 16 walks in 27 1/3 innings. He won his last start against the Twins last Sunday.
Doubling down at Fenway: NYY@BOS, 1:05 p.m. and 8:05 p.m.
Despite winning the longest game in terms of time that has ever been played at Fenway Park between the Yankees and Red Sox on Saturday night, a 4-1 victory in 16 innings (5 hours, 50 minutes), New York has lost 19 of its last 27 games. The Yankees have fallen to third place in the American League East as a result, but will have a chance to take two back from the first-place Red Sox with a split doubleheader on tap. The nightcap will be featured on ESPN's Sunday Night Baseball.
In the matinee, veteran left-hander CC Sabathia will take the hill. Though he was roughed up for four runs in 2 2/3 innings against the Blue Jays in his last start, he blanked the Red Sox for eight innings in an 8-0 Yankees win on June 7 at Yankee Stadium. Sabathia will face a resurgent Rick Porcello, who is coming off his best start of the year, a one-run complete game at Tampa Bay.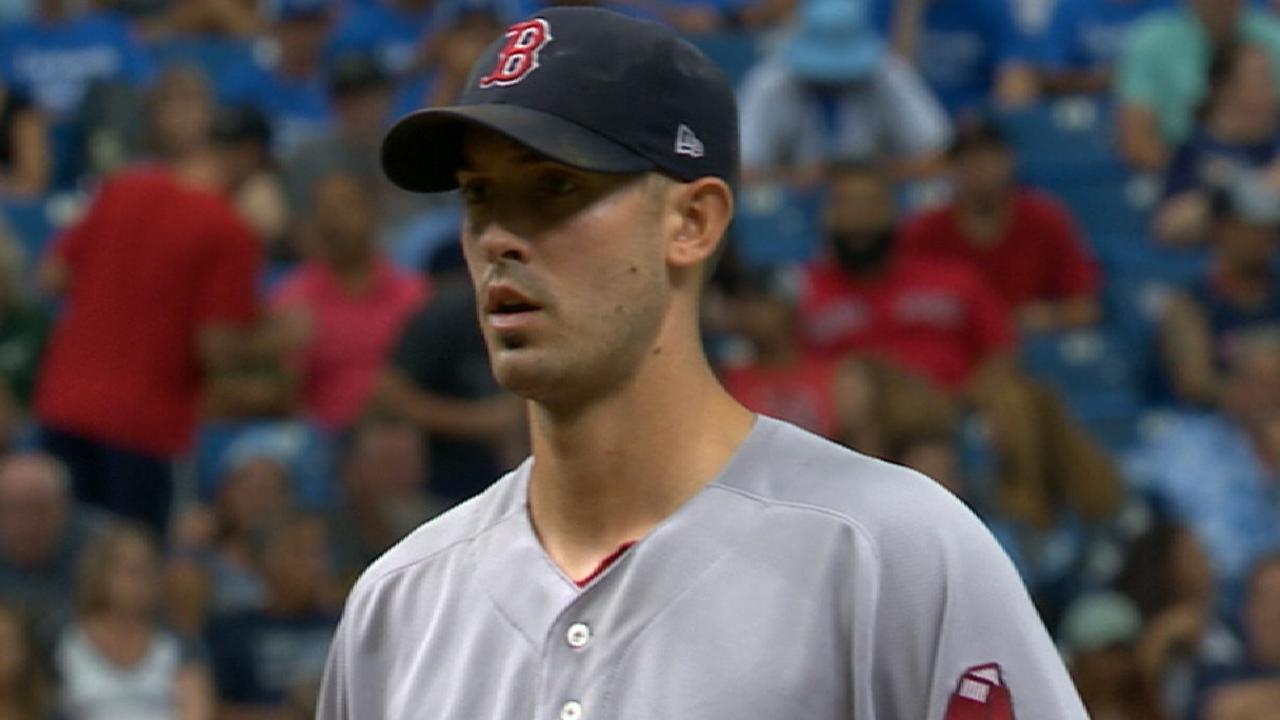 Porcello's complete game
BOS@TB: Porcello tosses complete game in loss to Rays
Rick Porcello strikes out seven batters while allowing one run over eight innings in his complete game against the Rays
In the nightcap, Masahiro Tanaka will look to rebound from a rough first half, though he did fire a three-hit shutout at Fenway Park on April 27, outdueling Chris Sale in the process. For the Red Sox, David Price looks ahead to a full second half after missing the first two months of the year with a strained left elbow.
Every game matters: TEX@KC, 2:15 p.m.
The Rangers and Royals entered the second half as two of 12 AL teams within 5 1/2 games of a postseason spot. Even in the dog days of summer, it's games like these that can prove pivotal in a playoff race, particularly among clubs who have been there twice over the past three seasons.
Rangers right-hander Yu Darvish takes a 2.25 ERA in four starts against the Royals. Though he was selected as an All-Star for the fourth time in his five career seasons, he did not pitch in Tuesday's game. He squares off against a consistent Ian Kennedy, who hasn't given up more than three runs in any of his past five starts. The righty went seven strong innings against the Rangers on April 22, giving up just one run but settling for a no-decision.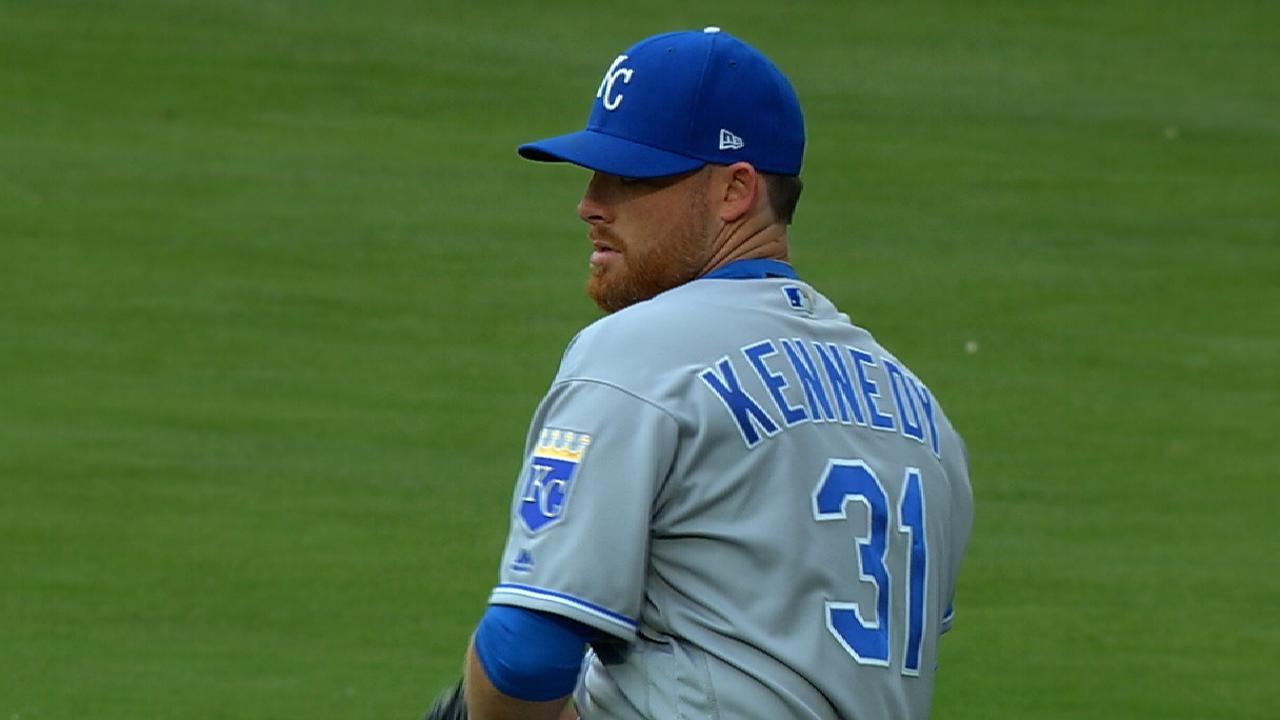 Kennedy holds Rangers to one run
KC@TEX: Kennedy holds Rangers to one run over seven
Ian Kennedy strikes out three batters across seven solid innings, allowing just one run on four hits and three walks against the Rangers
On the up-and-up: STL@PIT, 1:35 p.m.
Martinez gave up five earned runs on seven hits and lasted just five innings in each of his last two starts (against the Nationals and Mets, respectively). That's far from his All-Star form, though he did pitch two scoreless frames in the Midsummer Classic, with four strikeouts among the eight batters he faced.
Pirates right-hander Trevor Williams is clinging to a rotation spot after posting a 4.03 ERA in his past 11 starts. He has never started against the Cardinals, and has a 4.54 ERA in nine outings (six starts) at PNC Park this year.
Martinez vs. Williams
STL@PIT: Martinez, Williams to meet up in Pittsburgh
The Cardinals send Carlos Martinez to the mound to take on Trevor Williams and the Pirates
Daniel Kramer is a reporter for MLB.com based in Denver. Follow him on Twitter at @DKramer_. This story was not subject to the approval of Major League Baseball or its clubs.