• Cast your Esurance All-Star ballot for #ASGWorthy players
Goldschmidt might very well be the NL Most Valuable Player Award winner if the season ended today. He's leading the NL in Wins Above Replacement and is tops among NL first basemen in on-base percentage, RBIs and stolen bases.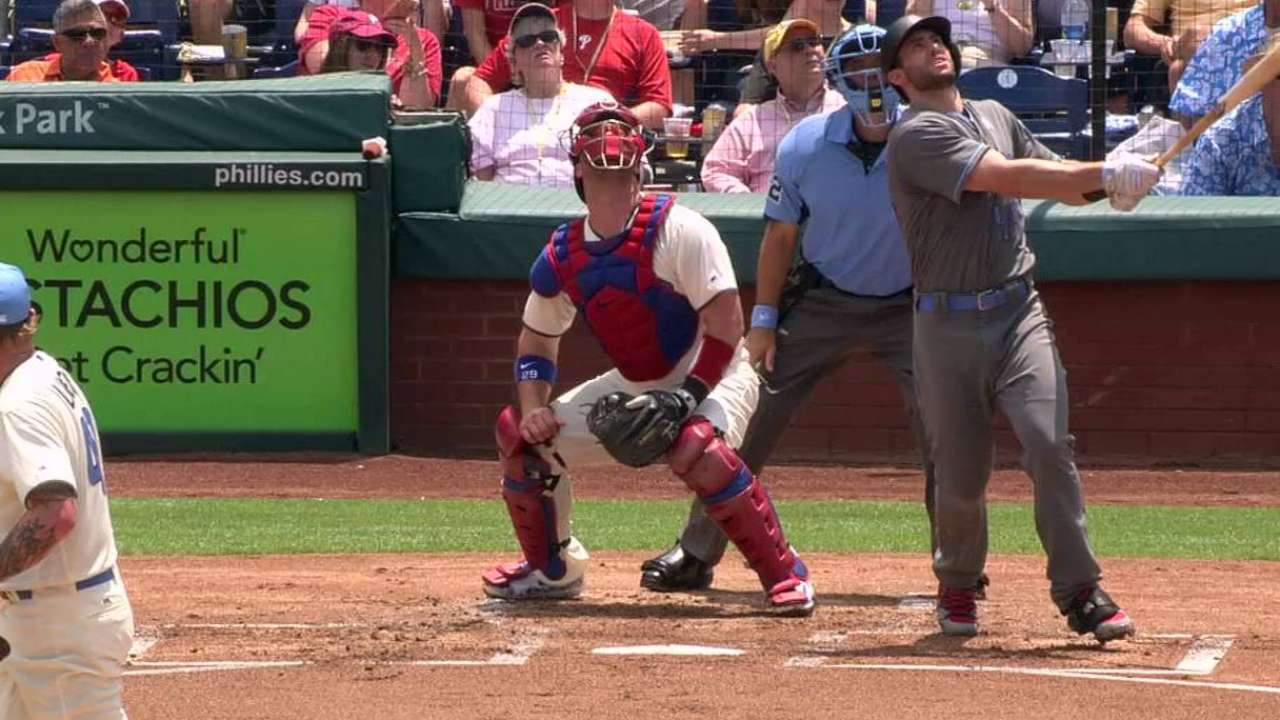 Goldschmidt's two-run blast
ARI@PHI: Goldschmidt crushes a two-run homer in 1st
Paul Goldschmidt launches a two-run home run over the left-field wall, his 16th blast of the year, to put the D-backs ahead in the 1st
Goldschmidt is also exemplary in community work, engaging fans and being a good teammate. He prides himself on that part of his professional responsibility, as well.
There's just one teensy issue, and it's not that Goldy is third in the latest NL Esurance MLB All-Star Game Ballot update, trailing Washington's Ryan Zimmerman and Chicago's Anthony Rizzo.
That issue is that the NL is so deep at first base that there might be no more than an eyelash of difference among four or five players.
Who could argue against Zimmerman? He's second in the NL with a .349 batting average, and his OPS is No. 1 among NL first basemen, slightly better than Goldschmidt's 1.038.
If it were just the two of them, that would be enough of a tough decision. There's also a reasonable case to be made for Cincinnati's Joey Votto, Milwaukee's Eric Thames and Rizzo.
That's where you come in by filling out your Esurance MLB All-Star Game Ballot as we draw closer to the MLB All-Star Game presented by MasterCard on July 11 at Marlins Park.
THIRD BASE
You'll make the call there, too. Better you than me. There's so little difference between the top guys that we could debate into the night.
Colorado's Nolan Arenado leads in WAR (2.7), but Jake Lamb of the D-backs is first in OPS (.932), home runs (16) and RBIs (59). Kris Bryant of the Cubs leads in the latest voting with 1.6 million votes to Arenado's 1.3 million, and they are statistically close.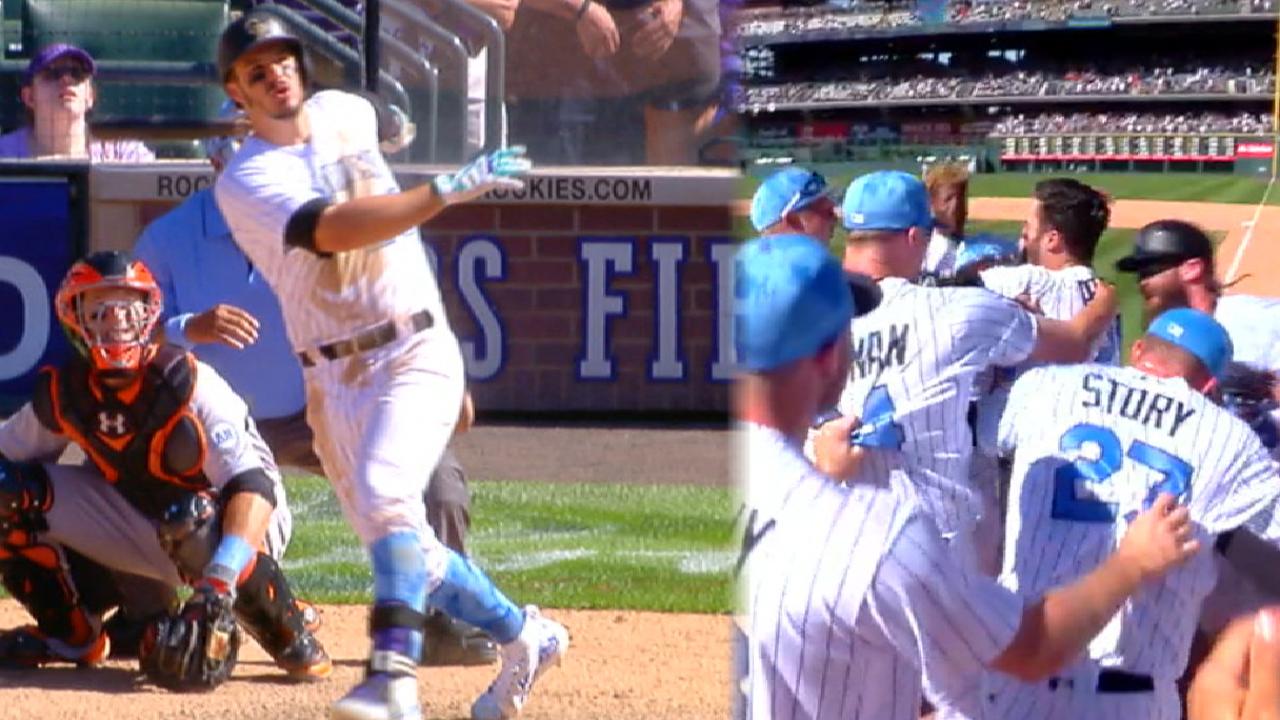 Must C: Arenado hits for cycle
Must C Cycle: Arenado gets cycle with walk-off homer
Nolan Arenado completes hitting for the cycle when he connects for a walk-off homer to give the Rockies the win
WAR
Arenado 2.7, Anthony Rendon 2.6, Bryant 2.4
OPS
Lamb .932, Arenado .925, Bryant .919
Home runs
Lamb 16, Arenado 15, Bryant 15
RBIs
Lamb 59, Arenado 55, Travis Shaw 47
CATCHER
Buster Posey of the Giants has a huge lead in the balloting, and he deserves to be there. After him is where it gets interesting. Willson Contreras of the Cubs and Yadier Molina of the Cardinals are second and third.
Here's who should be in those two spots: J.T. Realmuto of the Marlins and Yasmani Grandal of the Dodgers. They're right behind Posey in WAR and OPS. Molina has been a franchise player for so long that he should be in Miami simply because of his stature in the game. But he probably should not take a spot away from Realmuto or Grandal, either.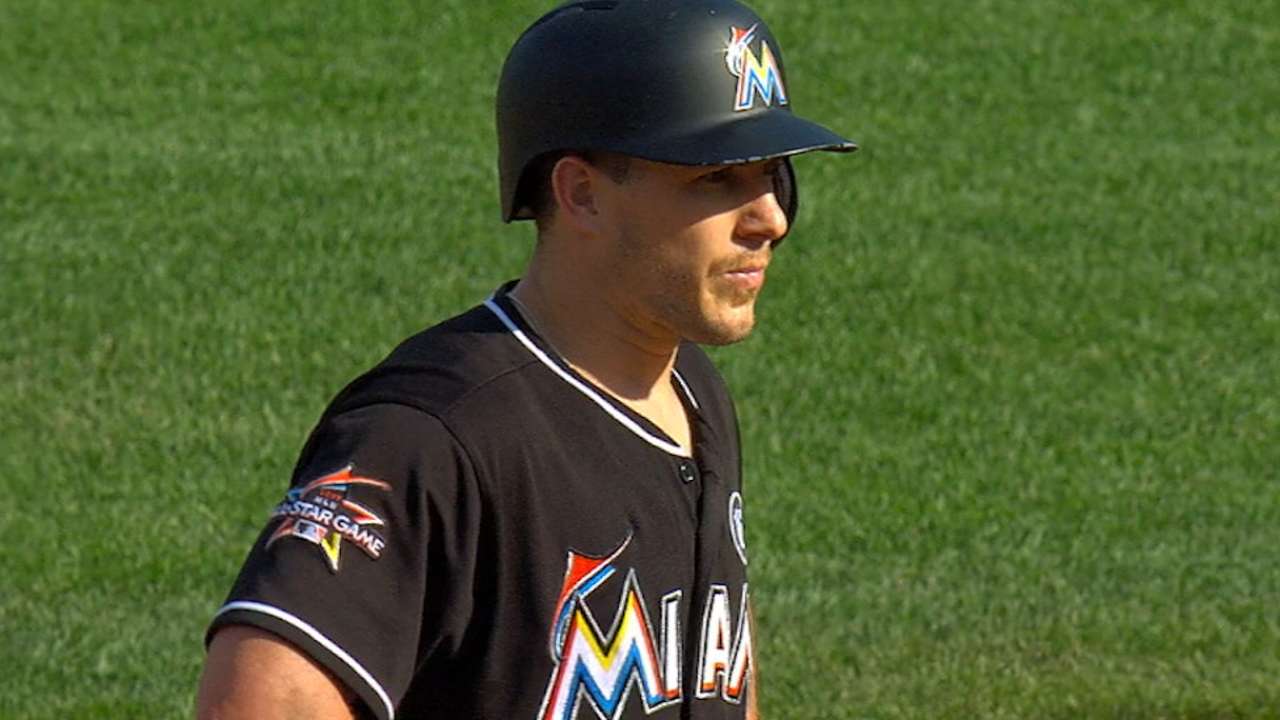 Realmuto's big day
MIA@PIT: Realmuto homers, doubles twice vs. Pirates
J.T. Realmuto drills his sixth home run of the season, rips a pair of doubles, knocks in three and makes a strong throw on a dribbler
OUTFIELD
Marcell Ozuna is running fifth behind Bryce Harper, Charlie Blackmon, Jason Heyward and Ben Zobrist. He deserves better because he trails only Harper in NL WAR in the outfield.
Richard Justice has been a reporter for MLB.com since 2011. Read his columns and follow him on Twitter at @RichardJustice This story was not subject to the approval of Major League Baseball or its clubs.