"I felt like we kind of played a lot of baseball heading into the break," Murphy said. "If I'm not mistaken it was like 46 out of 49 [days]. We played a lot of baseball, and one of those was a rainout. So I think the guys appreciated the rest, and it seems like we're swinging the bats well right now. We've definitely got a lot of energy."
• Nats acquire Doolittle, Madson from A's
Tanner Roark took advantage of the space he was given as he pitched six innings for the Nationals with three unearned runs, four hits, three walks and five strikeouts. Meanwhile, it was a labored day for Reds starter Homer Bailey, who was knocked out in the fifth inning. Bailey's line was four-plus innings with eight earned runs, eight hits, two walks and five strikeouts.
Murphy's first homer made it a 2-0 game in the first inning. Washington had a 4-2 lead when Bailey began the fifth inning with back-to-back walks. That set up Murphy to slug a three-run homer to right field on a 1-2 pitch. Two batters later, Adam Lind slugged a two-run homer against reliever Ariel Hernandez.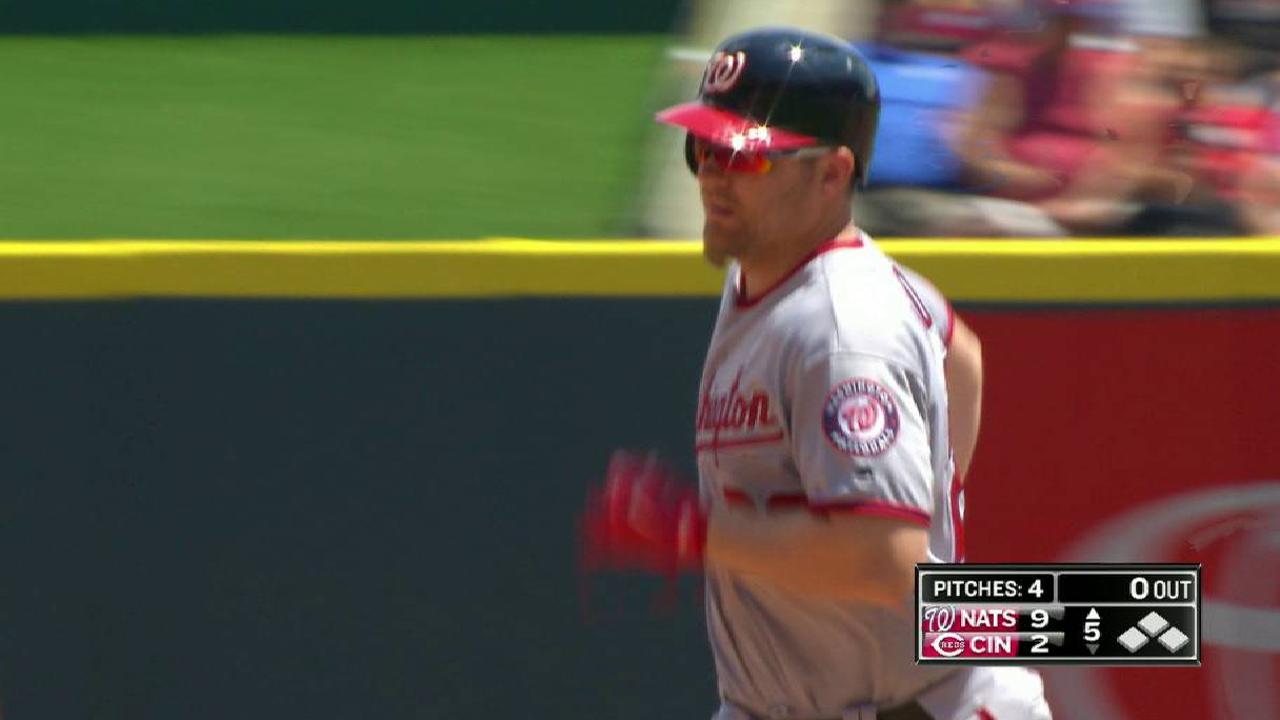 Lind's two-run homer
WSH@CIN: Lind cracks two-run homer to right
Adam Lind lines a two-run homer to right, giving the Nationals a 9-2 lead in the top of the 5th inning
In the seventh inning against Drew Storen, Anthony Rendon led off with a homer to left field and Jose Lobaton got into the act with his own two-run shot to center field that turned the game into a blowout. It was the 17th time this season that Washington notched 10 or more runs in a game, which was already a franchise record.
"Everybody on the bench and in the starting lineup can hit the ball," Roark said. "And that's what they've shown the past couple games, coming right out of the gates and swinging the bat and hitting the ball well. They're waiting for their pitches and putting good swings on them."
It was the second time this season that Reds pitchers have allowed at least 10 homers in a single series. The Brewers hit 11 over a three-game series from June 27-29. It was also the first time since July 3-4, 2016, that Cincinnati has surrendered 10 or more runs in consecutive games.
"They had 21 baserunners. They did a lot of things right. We did a lot of things wrong," Reds manager Bryan Price said. "They were the better club."
The Reds did add a couple of runs late, both courtesy of Scooter Gennett. As part of a three-RBI game, Gennett hit two-out RBI singles in the fifth and seventh innings, but by then there was too big of a hole for Cincinnati to dig itself out of.
MOMENTS THAT MATTERED
Alert move: In a quirky moment to begin the bottom of the third inning, Bailey struck out on a Roark pitch that one-hopped into the dirt. As Lobaton threw the ball around the horn, Bailey alertly ran to first base and reached safely on what was ruled an error on the catcher. It paid off later in the inning when Bailey scored from third base on Adam Duvall's bases-loaded ground ball that Wilmer Difo botched for an error.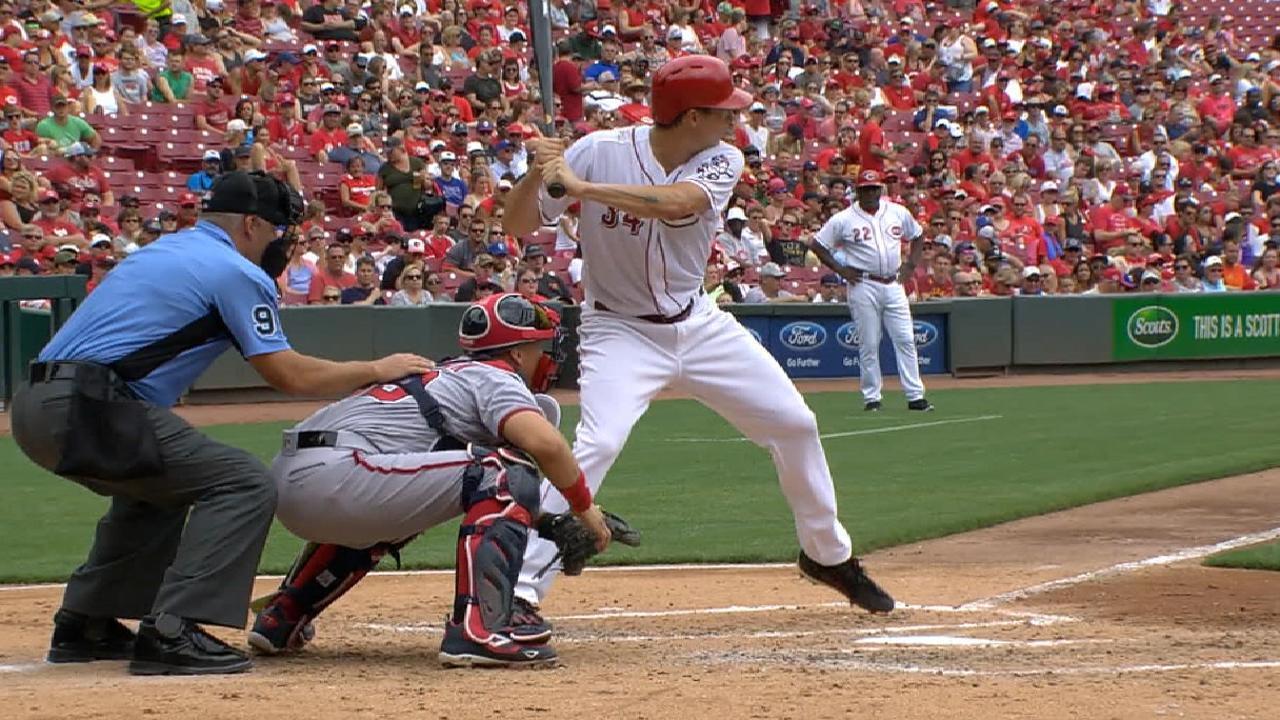 Bailey takes first on strikeout
WSH@CIN: Bailey alertly takes first on K in dirt
Homer Bailey swings and misses, but alertly takes first base on a disputed strikeout that is ruled to hit the dirt
Murphy has all the power: In the top of the first inning with one on and two outs, Murphy lifted a 1-0 Bailey fastball. It landed in the first row of seats in right field, just enough to put Washington up early, 2-0. It also extended Murphy's hitting streak to seven games and would be the first of two long balls for the second baseman. More >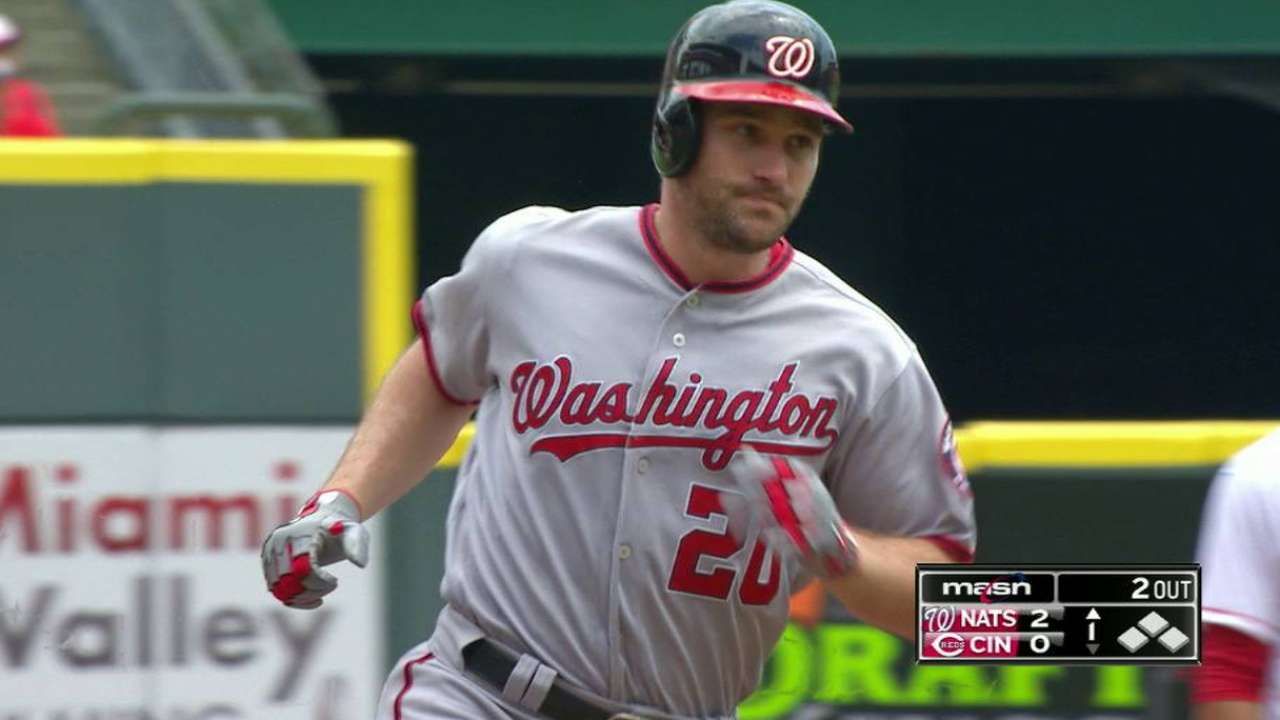 Murphy's two-run homer
WSH@CIN: Murphy smashes two-run homer to right
Daniel Murphy crushes a two-run homer to deep right, giving the Nationals a 2-0 lead in the top of the 1st inning
QUOTABLE
"It is [deflating]. It doesn't mean we're going to deflate, but you're darn right it is. It's certainly not anything anyone envisioned. Everyone goes, 'Hey it's Washington, they're top of their division.' It doesn't matter. We've played good clubs, and we've won games. These games, it's not that they've been non-competitive. Today was. There was a good effort but there wasn't a good result." — Price, on the blowout losses to open the second half
WHAT'S NEXT
Nationals: Stephen Strasburg will try to put his last start against the Reds behind him as he takes the mound for Monday's 12:35 p.m. ET series finale. The right-hander allowed five runs over five innings — including four in the first — against Cincinnati in an eventual no-decision on June 23.
Reds: Scott Feldman will get his first start of the second half and will need to play stopper so the Reds can salvage one game from the series. Feldman was a 6-2 winner over Washington on June 25 while allowing two earned runs over seven innings.
Watch every out-of-market regular-season game live on MLB.TV.
Mark Sheldon has covered the Reds for MLB.com since 2006, and previously covered the Twins from 2001-05. Follow him on Twitter @m_sheldon and Facebook and listen to his podcast.
Jeremy Vernon is a reporter for MLB.com based in Cincinnati and covered the Nationals on Sunday.
This story was not subject to the approval of Major League Baseball or its clubs.