In order to understand Hand, let's talk for a second, about Andrew Miller. Like Hand, Miller is a lefty who spent much of his early time in the Majors struggling to succeed as a starter, mainly for the Marlins. Miller made 66 career starts, none past his age-26 season, putting up a 5.70 ERA. Likewise, Hand made 43 starts, all for Miami, with a 4.86 ERA, with his final start coming at 25 years old.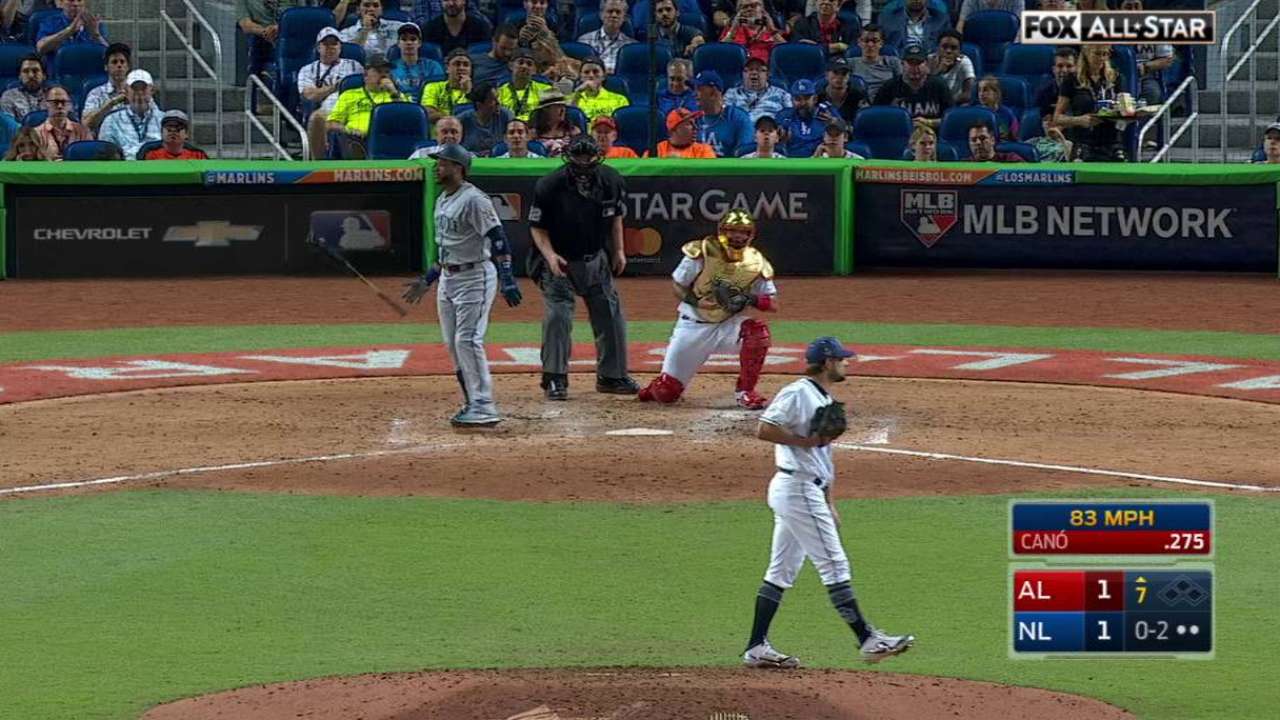 Hand strikes out Cano swinging
2017 ASG: Hand whiffs Cano to end the top of the 7th
Brad Hand gets Robinson Cano to strike out swinging, ending the top of the 7th inning
As you may have noticed, Miller left the Marlins, went to the bullpen and became one of baseball's most dominant weapons, first with Boston and Baltimore before signing with the Yankees and being dealt to Cleveland. Of course, if you'd looked at his career numbers at the time he signed a four-year, $36 million contract with the Yankees prior to 2015, you'd have seen "30-38, 4.91 ERA, one save," which doesn't reflect the fact that after becoming strictly a reliever in 2012, he'd put up a 2.57 ERA and 202 strikeouts in 133 1/3 innings in three seasons before free agency. What mattered is what the relief version of Miller had done, not his career stats.
So let's safely ignore what Hand did as a 21-year-old starter in 2011 and focus more on how he ranks among among the 208 relievers who have thrown at least 50 innings in 2016-17.
Hand Ranks, Among Relievers, 2016-17 (min. 50 innings)
Innings:         137 1/3 (2nd)
ERA:               2.69 (32nd)
wOBA:          .258 (33rd)
K%:                31.1 (21st)
WAR:              2.8 (9th)
Not only that, Hand has increased his whiff rate this year (from 30.5 to 32.1) and decreased his walk rate, from 9.9 percent to 6.8. He's dropped his ERA from 2.92 to 2.25; he's dropped his hard-hit rate from 38 percent to 26. The most impressive number on that leaderboard might just be "innings pitched," where he's second only to Chris Devenski; it's one thing to pitch like he has, and another to have done it over nearly twice as many innings as, say, Wade Davis. In a world where Miller-esque multi-inning relievers have gained new value, Hand fits in perfectly.
So know that you know Hand has been really good as a reliever, you're probably wondering why, and the Miller comparisons aren't going to stop here. When Miller moved to the bullpen, he was able to make two big changes. He dropped his ineffective sinker and changeup to focus entirely on four-seamers and sliders, and his velocity increased in shorter stints. Hand's velocity actually didn't increase, surprisingly, but he also dropped his weakest pitches, a curve and a changeup, to also focus on just fastballs and sliders.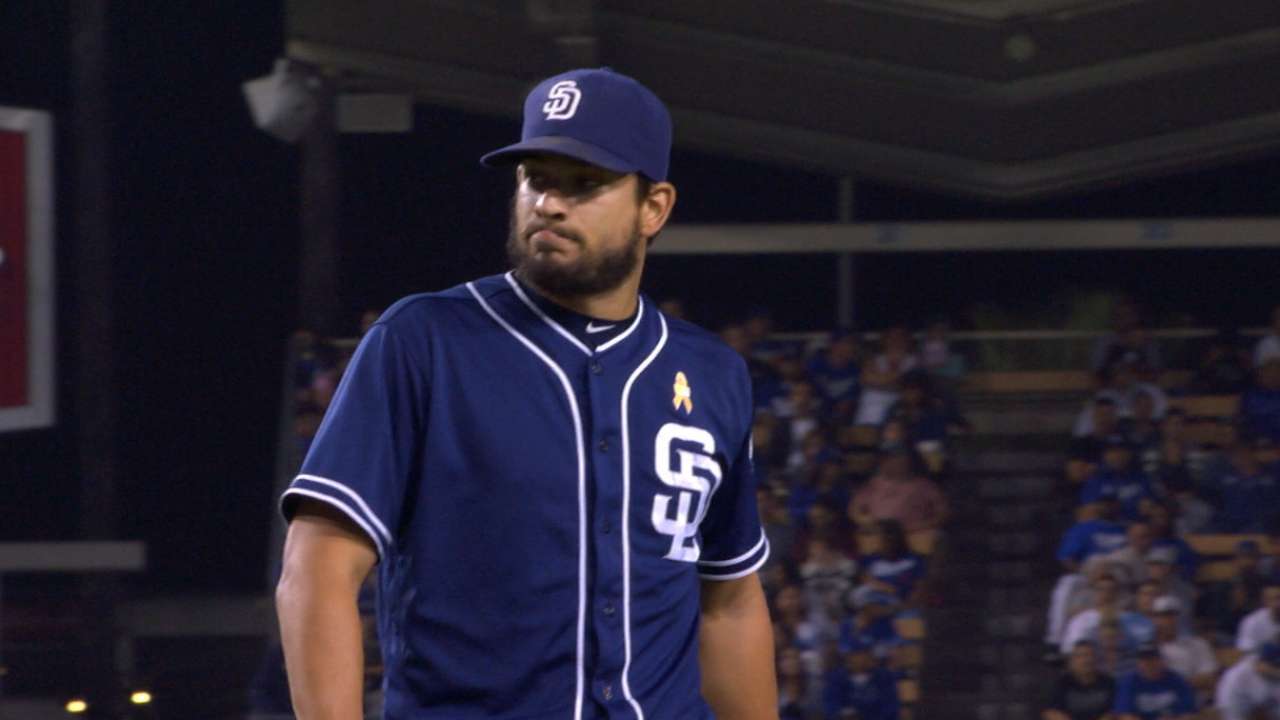 Hand strikes out side in 7th
SD@LAD: Hand strikes out side in 7th, picks up win
Brad Hand enters in relief to pick up his fourth win of the season, striking out four Dodgers including three in the 7th inning
In fact, Hand throws so many sliders that if you look at all the lefties who have thrown at least 500 pitches this year, you'll see our two comparison points in the top three names on the list.
Highest slider percentage, lefties, 2017 (min. 500 total pitches)
58.9 percent — Miller, CLE
48.5 percent — Dan Jennings, CHW
45.2 percent — Hand, SD
40.7 percent — Andrew Chafin, ARI
40.3 percent — Mike Dunn, COL
There's been similar results, too. While Miller throws his slider harder (83.7 mph to 81.7 mph), the outcomes are essentially identical. Using our most advanced Statcast™ metrics, which accounts not only for quality of contact (via exit velocity and launch angle) but also amount of contact made, Hand has allowed an Expected wOBA of .164; Miller, .167. The Major League average for lefty pitchers? .242.
They even sort of look the same. Here's Hand…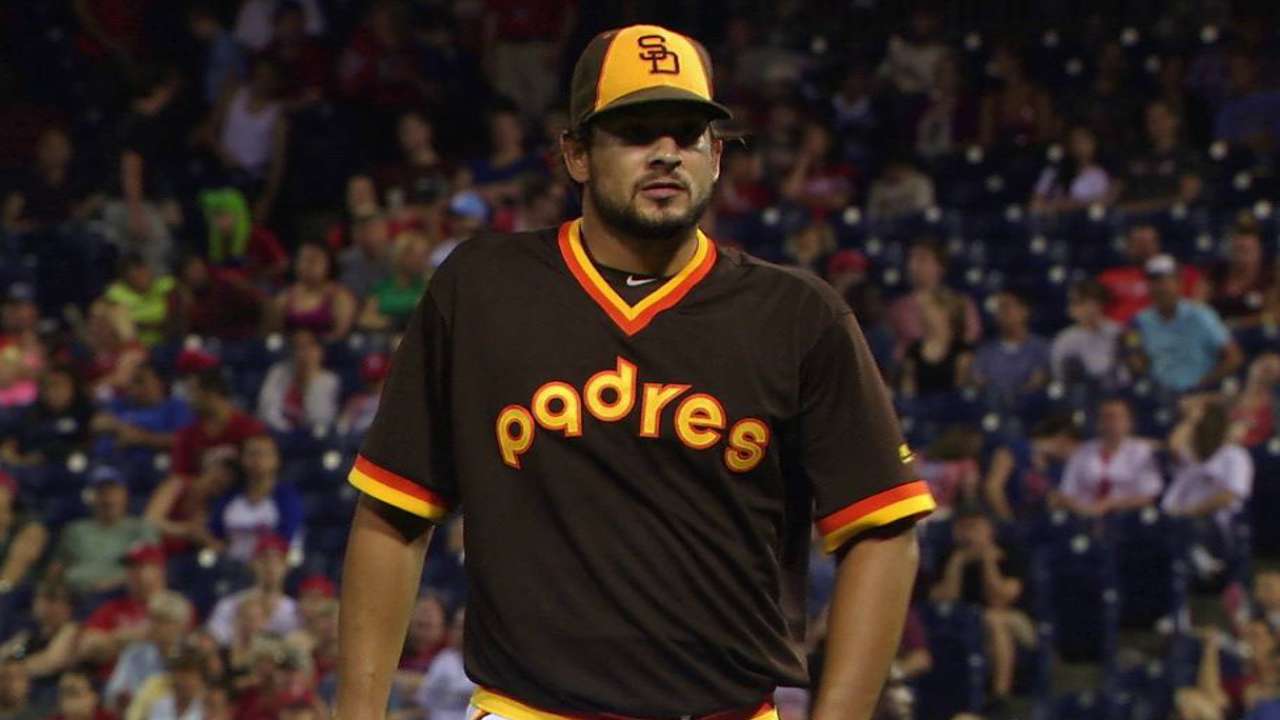 Hand K's Rupp to escape jam
SD@PHI: Hand escapes trouble with a big strikeout
Brad Hand strikes out Cameron Rupp swinging for the final out of the 8th inning, stranding two runners to keep it tied at 3
…and here's MIller.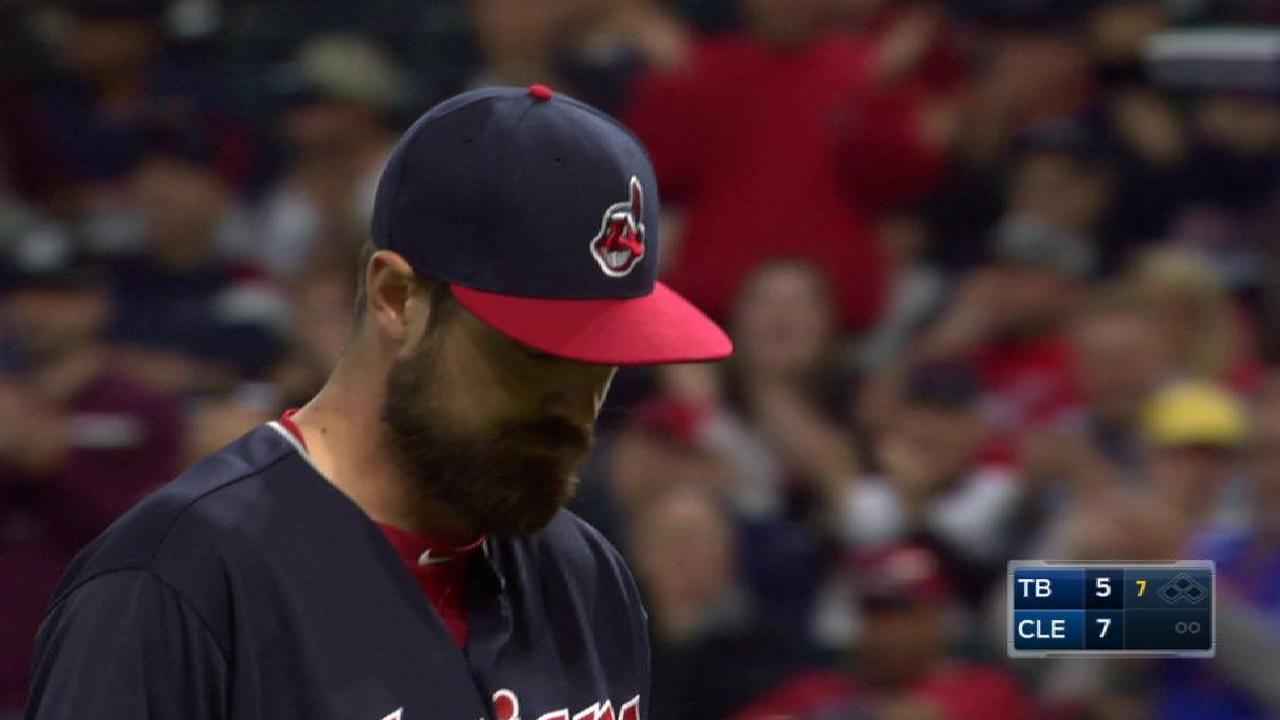 Miller strikes out Norris
TB@CLE: Miller fans Norris to escape a jam
Andrew Miller strikes out Derek Norris with two runners on base to escape a jam in the top of the 7th inning
Yet while Hand's velocity didn't increase with the shift to the bullpen, it's interesting to note that his four-seam spin rate did, which is somewhat unusual. High spin rate on fastballs, which allow the ball to defy gravity and offer the "rising fastball" effect, can be positively correlated to an increase in swinging strikes. The Major League average four-seam spin rate this year is 2259 RPM, while Hand's spin has jumped from 2367 RPM (2015) to 2483 RPM (2016) to 2533 RPM (2017).
That last number, 2533 RPM, isn't just good, it's borderline-elite. Of 383 pitchers who have thrown 100 four-seamers this year, Hand's spin rate is ninth, behind interesting names like Justin Verlander and Matt Bush. If we just look at lefties, we have 97 names…
Top four-seam fastball spin, 2017, lefties, min. 100 thrown
2605 RPM — Mike Minor, KC
2557 RPM — Chasen Shreve, NYY
2533 RPM — Hand, SD
2497 RPM — Aroldis Chapman, NYY
2464 RPM — Adalberto Mejia, MIN
Names in the next group on the list include Justin Wilson, Felipe Rivero, and Rich Hill. It's a good list to be high on; while high spin doesn't guarantee success, Minor and Shreve have each been quietly striking out more than a hitter per inning. For his part, Hand's four-seam whiff rate has jumped about a point each year.
But for all the numbers that show how effective Hand has been, the two that may add the most value are "$1.375 million," which is what Hand is making in 2017, and "2019", his final year of club control. That means that he's not a mere rental, and he fits into anyone's payroll; he's barely making more than the minimum this year, and the arbitration process is still far enough behind the curve that a pitcher with few wins or saves won't get much of a raise.
A multi-inning reliever, one who's never had an arm injury, who isn't limited to facing only lefties, who brings some strong comparisons to Miller, who is under control for 2.5 years at a fraction of his true value, is an incredibly valuable piece. We probably aren't talking the territory of Gleyber Torres or Clint Frazier, because Hand isn't yet Chapman or Miller. He's better than his career line or name value would suggest, however. The Padres can trade him for a ton if they so desire — and they'll be more than justified to do so.  
Mike Petriello is an analyst for MLB.com and the host of the Statcast podcast. He has previously written for ESPN Insider and FanGraphs.
This story was not subject to the approval of Major League Baseball or its clubs.