"In that moment, after swinging at a 99-mph fastball inside," Ozuna said. "after that, I was thinking, 'Alright, stay short and put the ball in play.' That's what I did."
Having an All-Star caliber season, Ozuna is batting .327 with 18 home runs and 50 RBIs.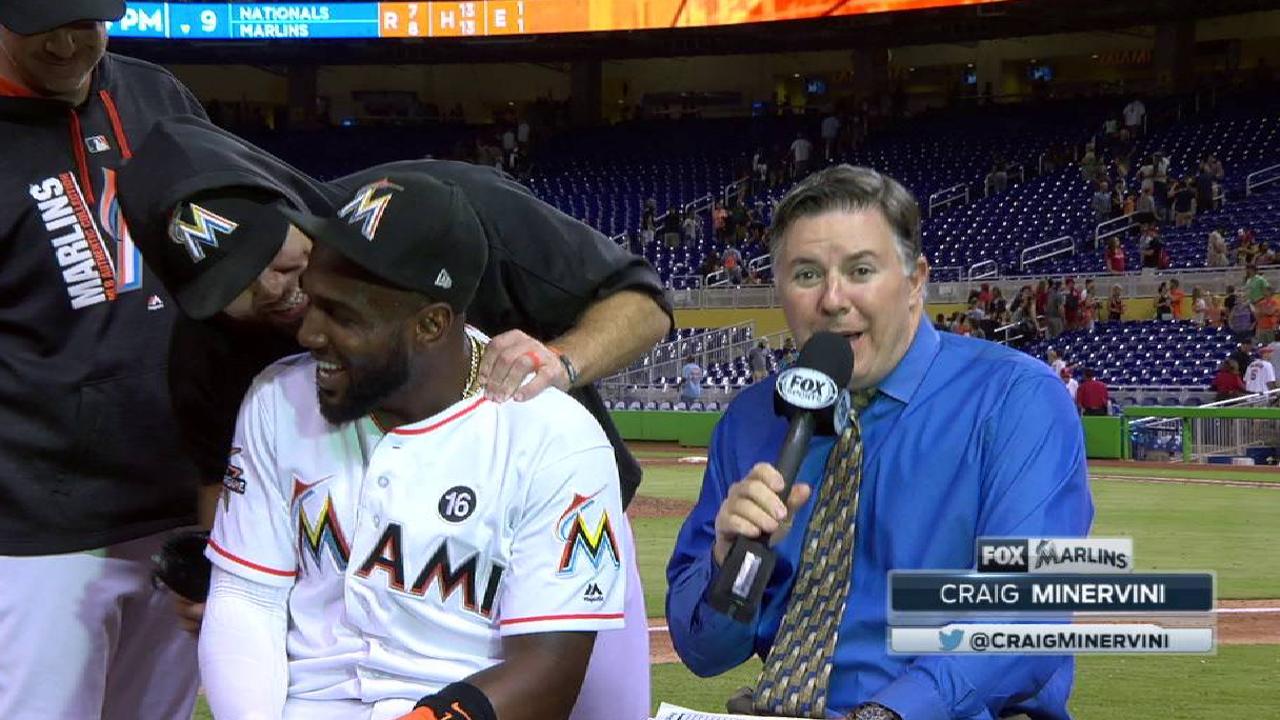 Ozuna pied discussing walk-off
WSH@MIA: Ozuna gets pied discussing his walk-off hit
Marcell Ozuna talks about the Marlins' 8-7 walk-off win, as his teammates hit him with a shaving cream pie during the interview
Ozuna has been Miami's most consistent hitter, and he's been among the most productive players in the National League.
"You're always confident with Ozuna, because you know nobody is really going to out-stuff him," Miami manager Don Mattingly said. "You don't really care how hard they're throwing or what kind of stuff they have. If he keeps the ball in the strike zone, he's got a good chance of hitting something hard."
Romero didn't locate the pitch where he wanted.
"I was trying to locate fastballs up, just at chest-level and in the zone," Romero said. "Unfortunately, I didn't execute that pitch and it caught more of the plate than I wanted to and the results were what happened."
Bryce Harper connected on his 18th homer, a two-run shot to right-center in the first inning. The drive, projected by Statcast™ at 399 feet with an exit velocity of 110 mph, extended his hitting streak to 12 games. Anthony Rendon crushed a home run off the sculpture in left-center, and the Nationals built a six-run lead.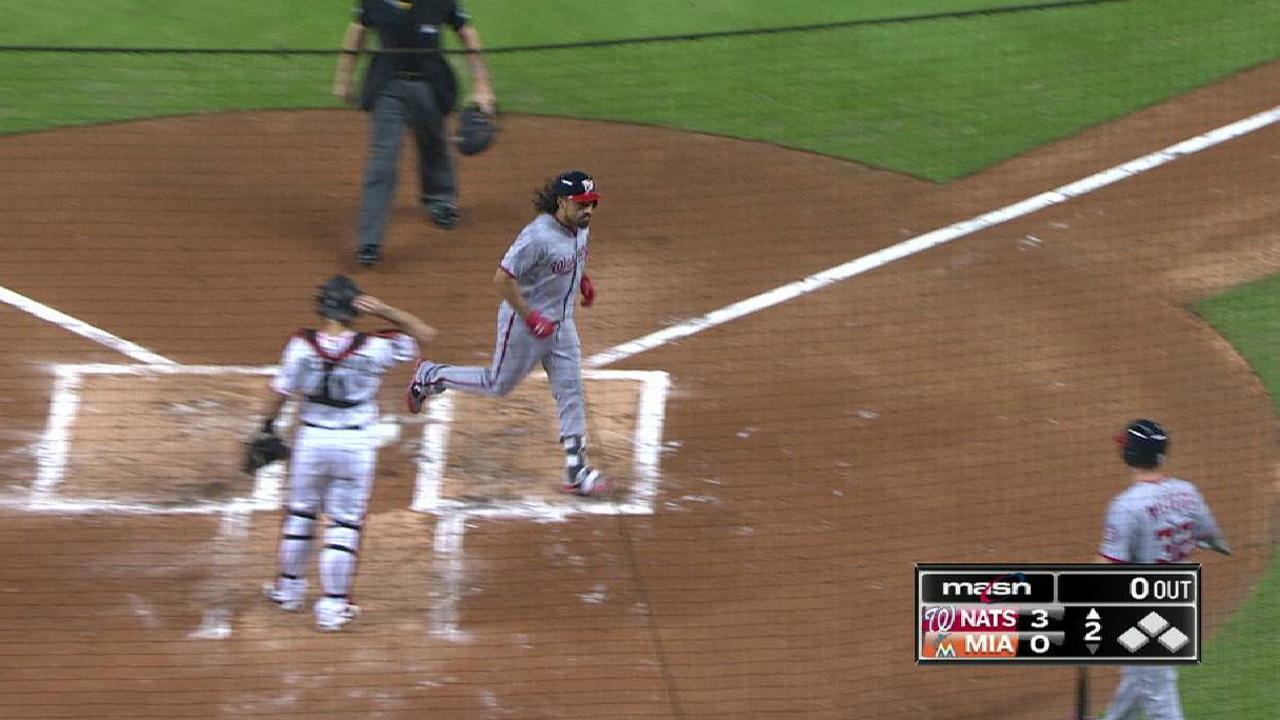 Rendon's long solo smash
WSH@MIA: Rendon demolishes solo shot to center field
Anthony Rendon clobbers a pitch well over the fence in center field for a solo home run, extending the Nationals' lead to 3-0 in the 2nd
Rendon left the game in the fifth inning due to a neck injury, and was replaced by Stephen Drew.
The Marlins roared back with six runs in the third inning off Tanner Roark. Justin Bour's two-out grand slam pulled Miami even.
"Changeup," Roark said of the pitch Bour homered off of. "Just trying to throw a good one, and obviously it wasn't a good one. It was a terrible one, and he hit far."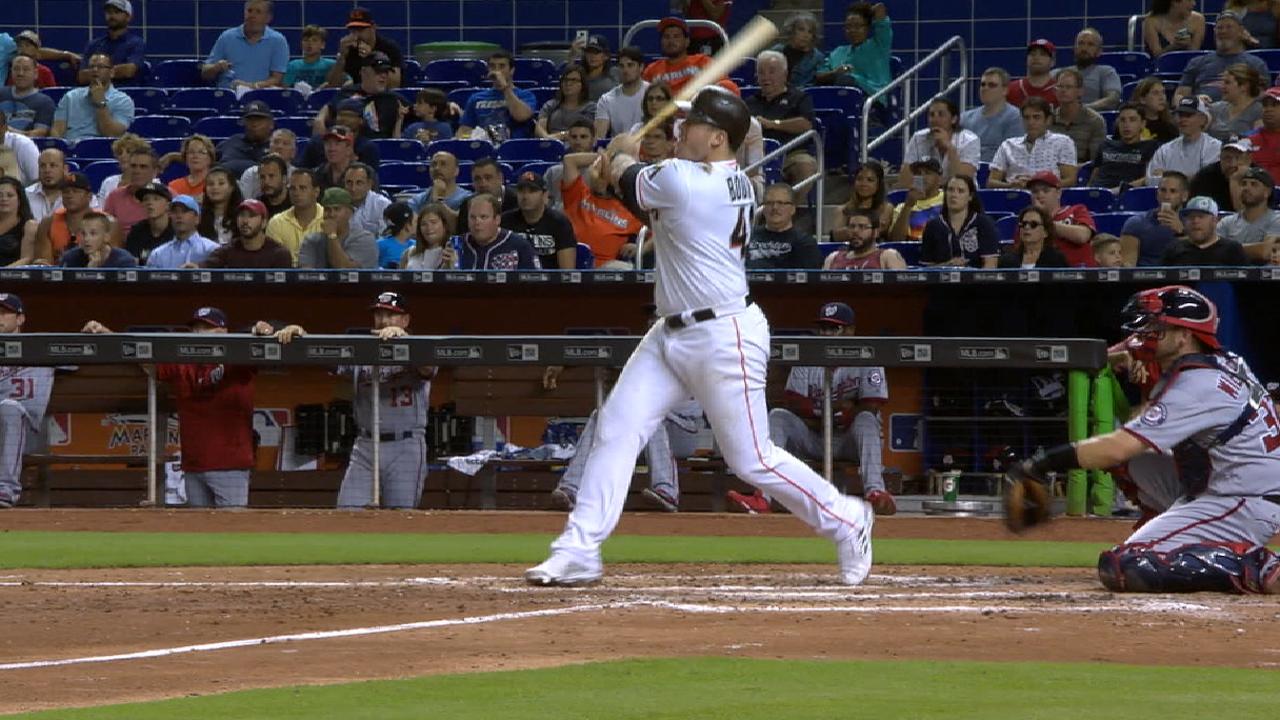 Bour's laser grand slam
WSH@MIA: Bour crushes a grand slam to right field
Justin Bour clobbers a ball into the Marlins' bullpen in right field for a grand slam, tying the game at 6 in the 3rd inning #PapaSlam
Giancarlo Stanton's opposite-field home run off Jacob Turner's 97.7-mph fastball in the seventh inning made it 7-7.
MOMENTS THAT MATTERED
Dee's walk, steal in ninth: Dee Gordon kept the Marlins hopes alive in the ninth inning by drawing a two-out walk off Romero. The speedster swiped second and went to third on Stanton's infield single. Yelich drew a full-count walk, and Ozuna delivered the game-winning hit.
"Dee's been swinging the bat well and getting on base a lot," Mattingly said. "Playing with a lot of energy."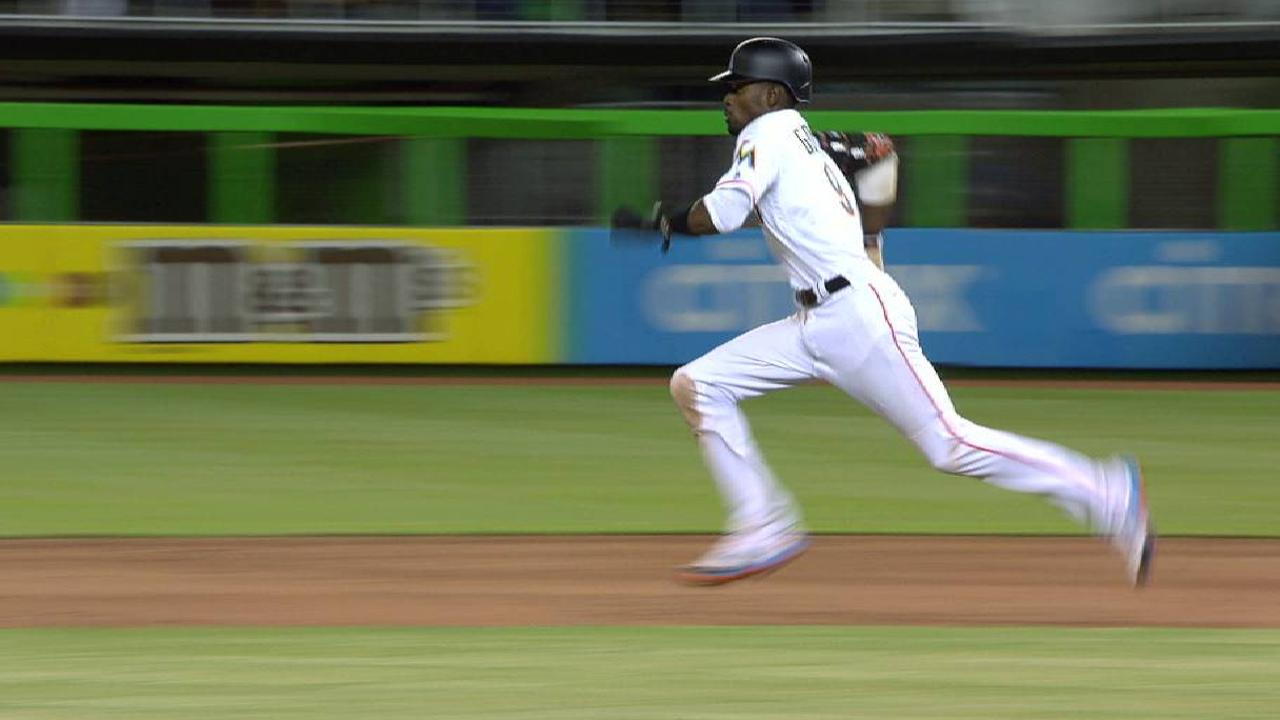 Gordon's crucial steal
WSH@MIA: Gordon swipes second, sets up walk-off
Dee Gordon takes off from first and slides into second with his second stolen base of the game, setting the Marlins up for a walk-off win
Hot smash, half turn? Bour's slam, obviously, was a turning point for the Marlins, because it pulled the club even at 6 in the third inning. But the inning was extended three batters earlier when Stanton was safe on an infield single. The ball was smoked, per Statcast™, with an exit velocity of 113.9 mph. Rendon made a diving stop at third and threw from the ground to first. The throw pulled Ryan Zimmerman off the bag at first. Stanton initially intended to round the base, in case the ball got away from Zimmerman. But as he touched first he straightened out and overran the base in fair territory. Zimmerman tagged Stanton, but the umpire ruled the Miami right fielder didn't commit towards second. The Nationals questioned the umpires. It's a judgment call not reviewable.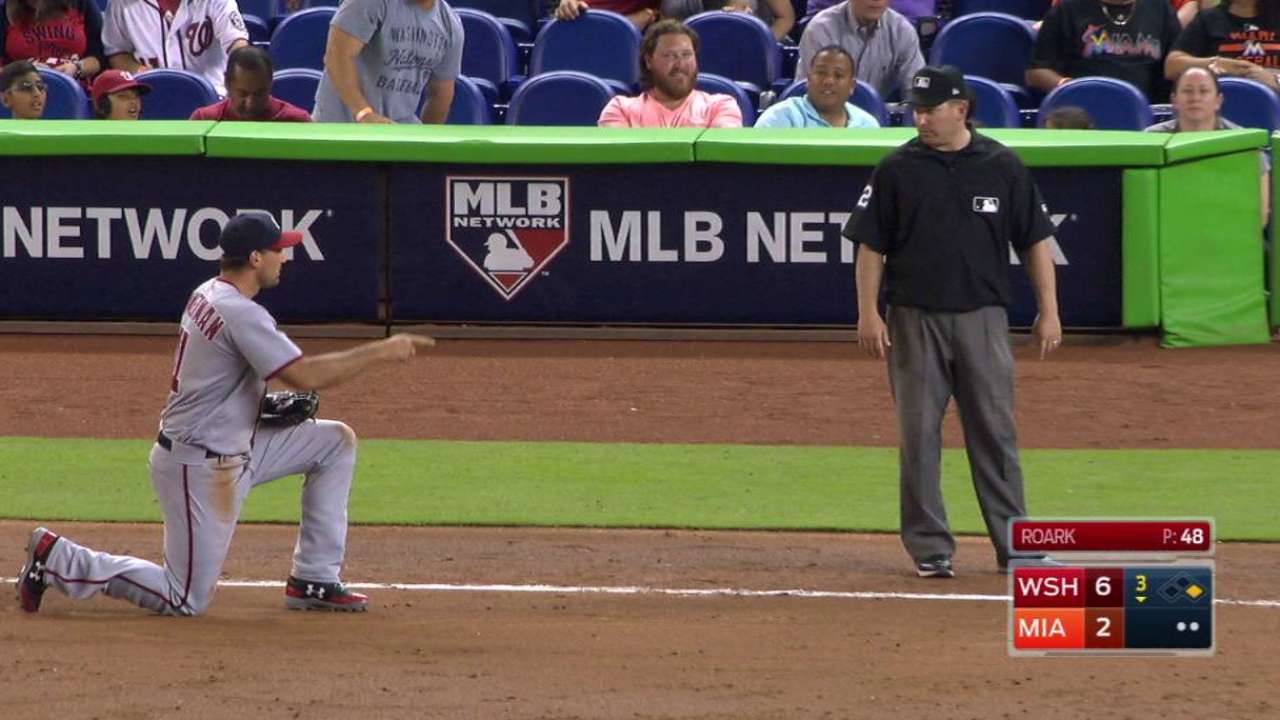 Stanton beats out infield single
WSH@MIA: Stanton reaches on infield single in 3rd
Giancarlo Stanton hits a sharp grounder to third base, then beats out the throw to first for a single in the 3rd inning
"It did look like he did have a little bit of a jab, going that way," Mattingly said. "You didn't see him like turn the body, but you did see that one step. We've had some of those really hurt us for major runs over the course of season. Today, we might have caught a little break there. I haven't seen it on video, but just from the naked eye."
QUOTABLE
"Just preparation. Getting ready. I was able to go down to Jupiter and get a couple of at-bats. I really didn't miss too much time. This is a great time to be a Marlin right now. We're winning ballgames. Just happy to be able to contribute." — Bour, who came off the DL on June 16 and is 6-for-12 with two homers and eight RBIs in four games.
COLON EJECTED
Oliver Perez painted the outside corner for strike three to catch Christian Colon looking to end the sixth inning. Colon took exception with home-plate umpire Carlos Torres, and said a few words, prompting his first ejection of the season. Colon had a few more words with Torres as manager Don Mattingly came out to discuss the call.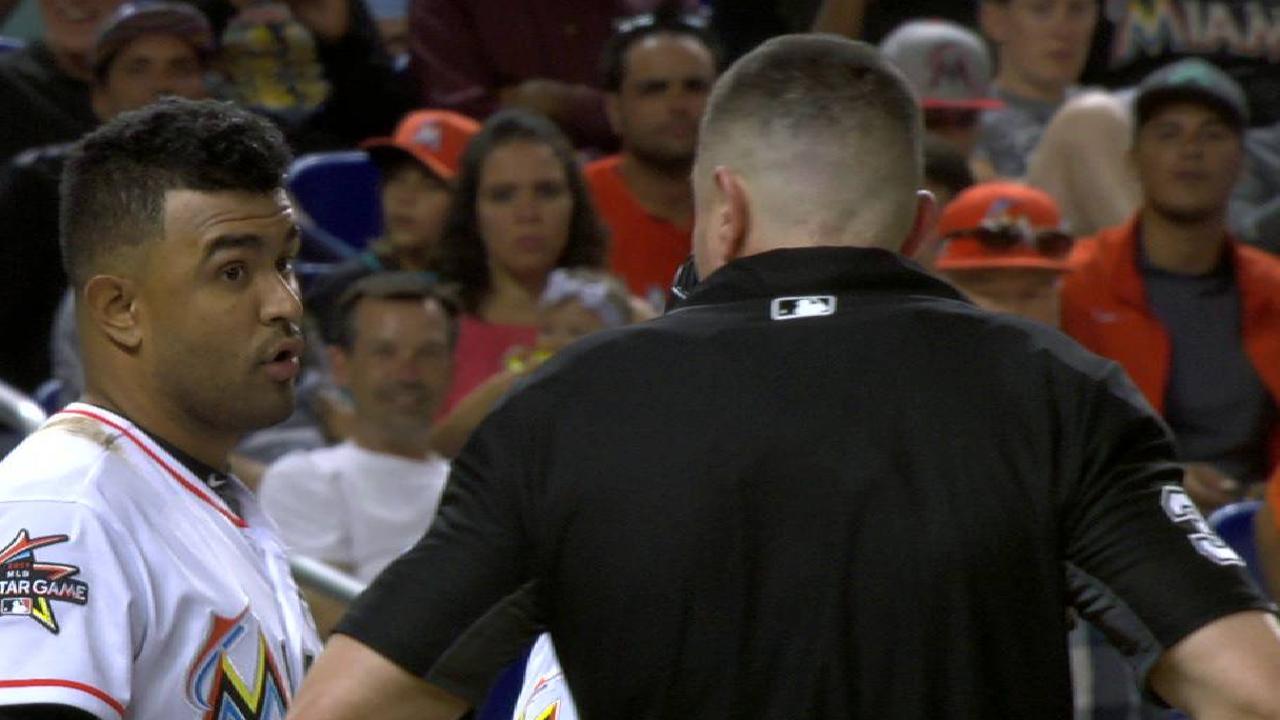 Colon gets tossed in the 6th
WSH@MIA: Colon gets ejected following strikeout
Christian Colon gets ejected from the game following his strikeout to end the 6th inning
INSTANT REPLAY
The Nationals won a big replay review in the fifth inning when it appeared the Marlins were primed to have first-and-third and no outs. Christian Yelich, who was hit by a pitch, attempted to go from first to third on Ozuna's single to center. Michael Taylor threw to third, and Drew applied the tag on Yelich, who was called safe. Washington challenged, and after a review of 1 minute, 39 seconds, the call was overturned. Yelich initially was safe, but his lead foot came off the bag for the out.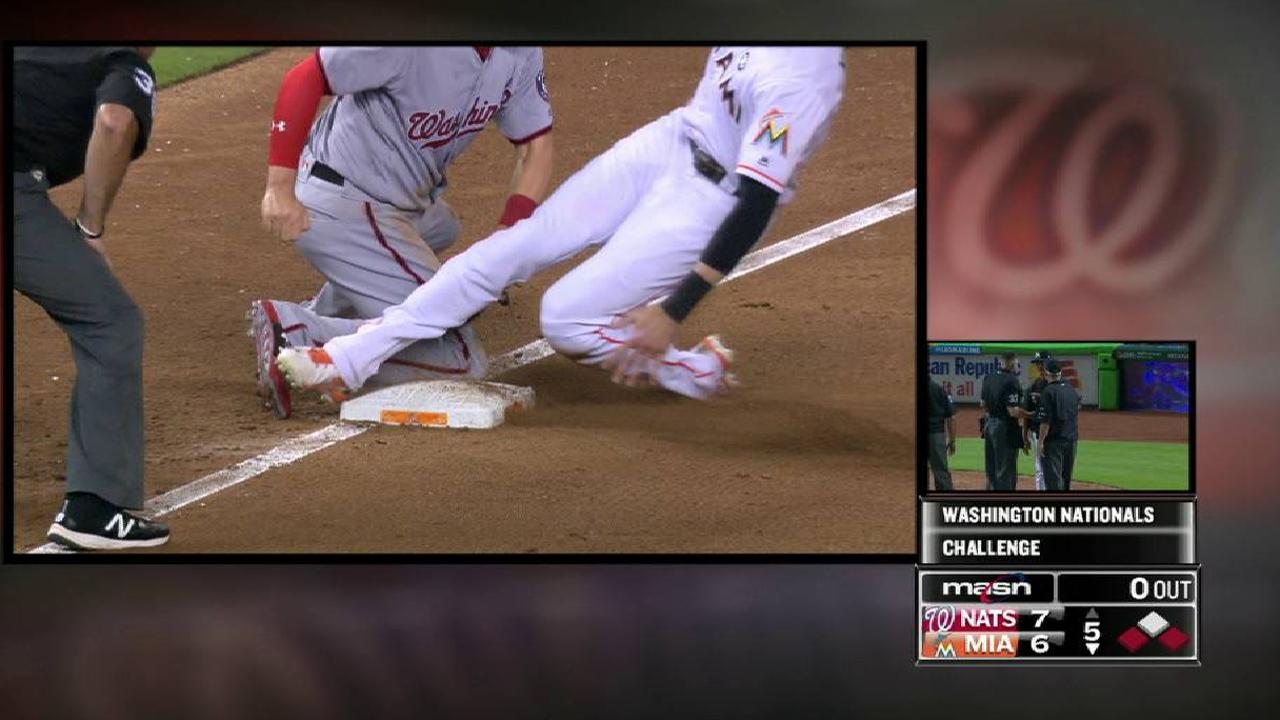 Taylor's great throw nabs Yelich
WSH@MIA: Taylor cuts down Yelich following review
Marcell Ozuna rips a ball into center and Michael Taylor fires to third, nabbing Christian Yelich after the call is overturned
WHAT'S NEXT
Nationals: Left-hander Gio Gonzalez (6-1, 2.89) makes his 13th career start and second of the season against the Marlins on Tuesday at 7:10 p.m. ET. The Hialeah native is 6-3 with a 2.03 ERA lifetime against Miami.
Marlins: Edinson Volquez (3-7, 3.72) has won three straight decisions. The right-hander starts on Tuesday against Washington.
Watch every out-of-market regular-season game live on MLB.TV.
Patrick Pinak is a reporter for MLB.com based in Miami.
This story was not subject to the approval of Major League Baseball or its clubs.