"Just location, you know? Something you can drive," Cruz said, of what he was looking for with a 3-0 count. "It's not every time you're going to get it, but definitely looking for something you can put damage on."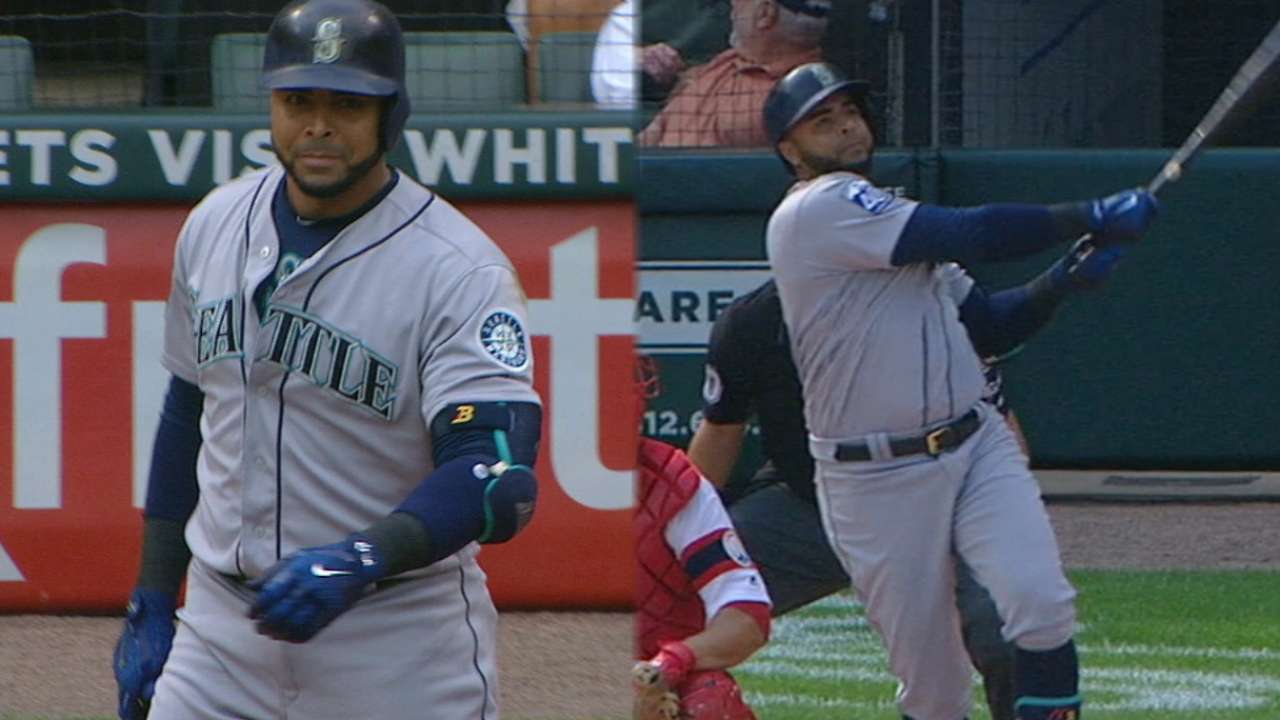 Must C: Cruz has fun, homers
Must C Cruz: Cruz jokes around, slugs clutch homer
Nelson Cruz gets hit by a pitch by former teammate Derek Holland and fakes charging the mound, then later hits a go-ahead jack in the 10th
White Sox left-hander Derek Holland's 10.16 ERA since the start of June entering Sunday was the worst among qualified Major League starters. It dropped, but only slightly, to 9.82. Holland got an early 5-0 boost and was cruising through four innings before a four-run fifth allowed Seattle to come back and tie it. He left after 5 2/3 innings with the bases loaded in a 5-5 game. Anthony Swarzak, who gave up the go-ahead homer in Saturday's 4-3 loss, allowed the go-ahead run to score on a wild pitch.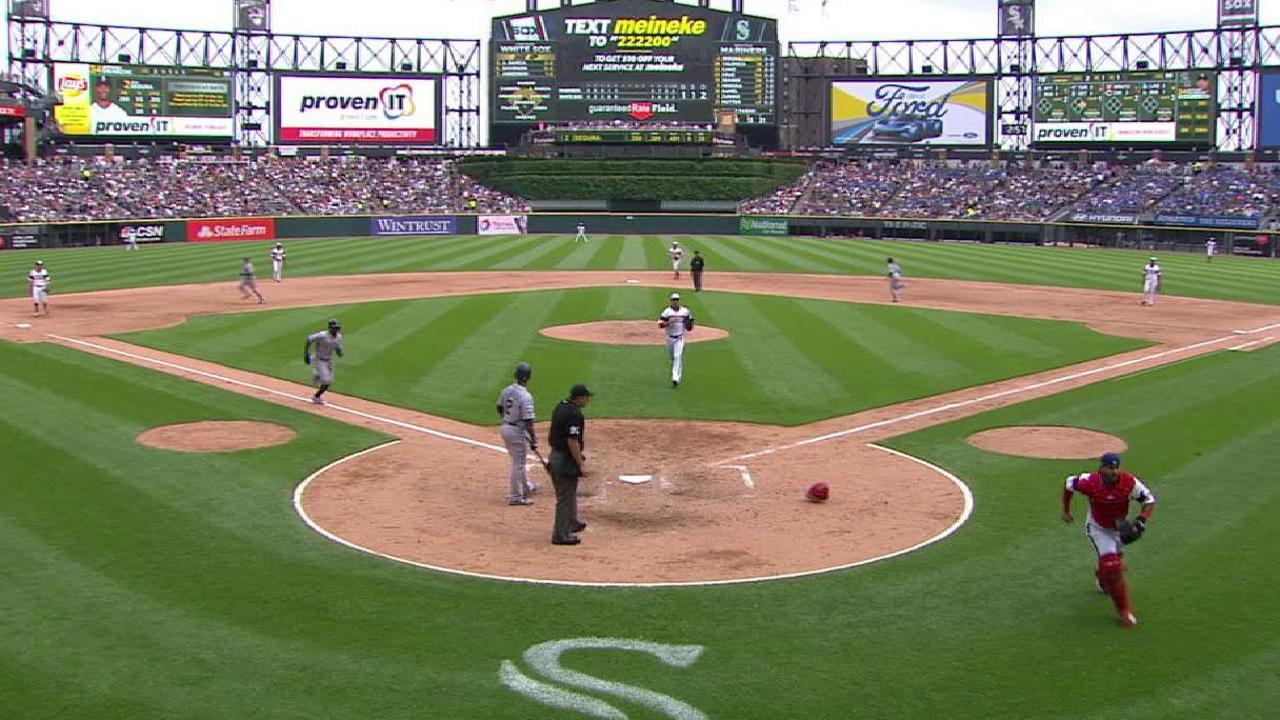 Heredia scores on a wild pitch
SEA@CWS: Heredia scores go-ahead run on wild pitch
Guillermo Heredia scores on Anthony Swarzak's wild pitch in the top of the 6th inning to give the Mariners a 6-5 lead
"It's frustrating," Holland said. "I think it was a better pitching performance than obviously the line said. One pitch [the tying home run to Danny Valencia] is what really killed me."
Mariners rookie right-hander Andrew Moore had the shortest outing of his young career, giving up five runs and three homers over three innings of work after going at least six in each of his first three starts. Moore was taken deep twice by White Sox All-Star Avisail Garcia in the game's first two innings, with the blasts sandwiched around Omar Narvaez's second career homer.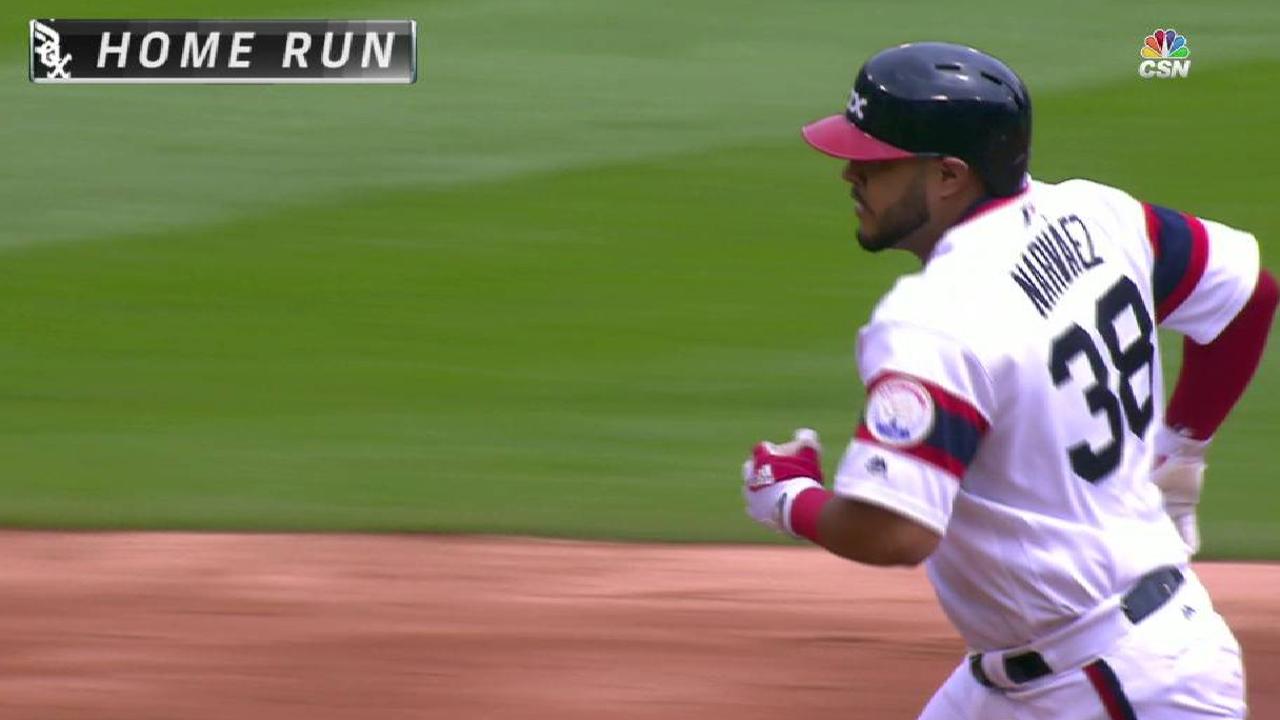 Narvaez's two-run homer
SEA@CWS: Narvaez crushes a two-run shot to right
Omar Narvaez launches his first home run of the year to right field, giving the White Sox a 3-0 lead in the bottom of the 2nd inning
"Total team effort. Obviously, Andrew Moore was not on top of his game today," Mariners manager Scott Servais said. "Thankful for us, we had a pretty rested 'pen."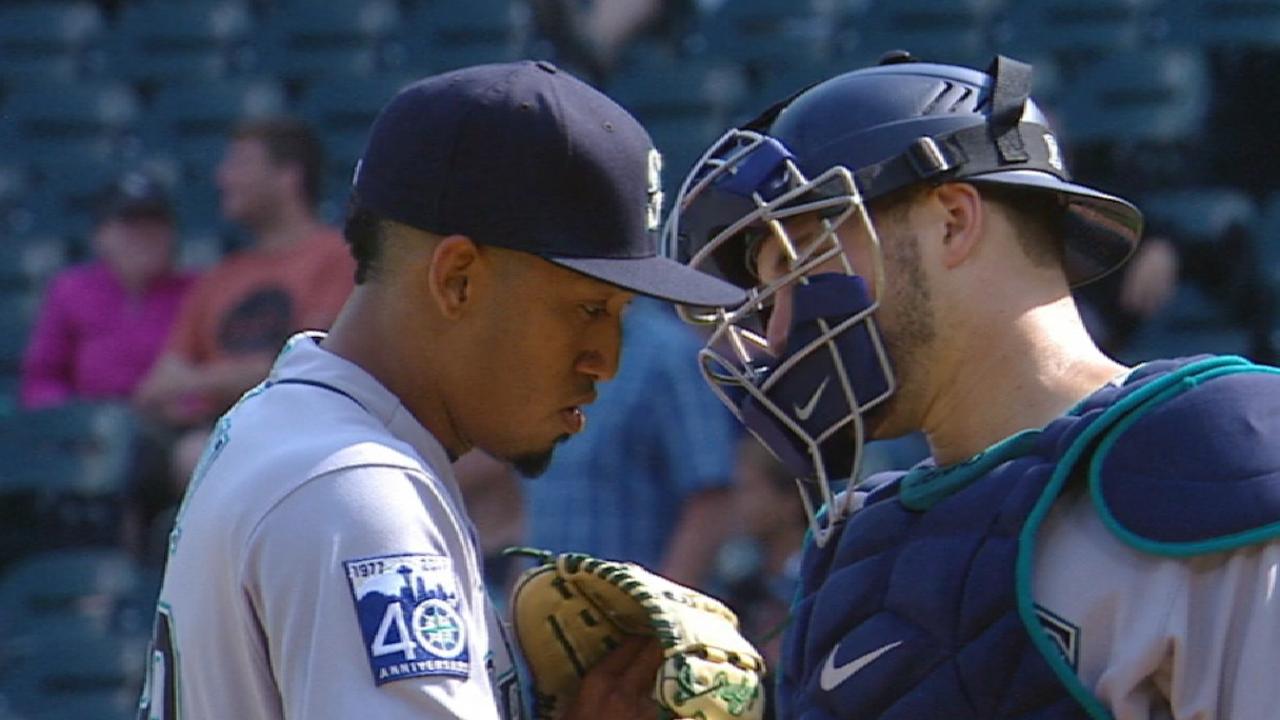 Diaz notches the save
SEA@CWS: Diaz strikes out the side to notch 16th save
Edwin Diaz strikes out the side in the bottom of the 10th inning to notch his 16th save of the season
MOMENTS THAT MATTERED
King in the South (Side): Garcia had been in a prolonged 1-for-31 slump entering his first career All-Star appearance, in part due to a sore left knee and sprained right middle finger that nagged him. He has come back strong in the second half, and led off the second inning on Sunday with a solo shot driven 422 feet, according to Statcast™, to right-center field to open up the scoring against Moore.
It was Garcia's first homer this month, and first at home since May 13 against San Diego. Of the first 10 earned runs Moore had allowed in his career, six have come on solo homers. It was the first of two homers for Garcia, his sixth career multi-homer game and first since May 20, coincidentally at Seattle.
I think that the All-Star break might have given him a little charge, make him feel a little better," White Sox manager Rick Renteria said. "We're glad his knee is feeling good and his hand is feeling good, that he's continuing to put together some obviously very good at-bats." More >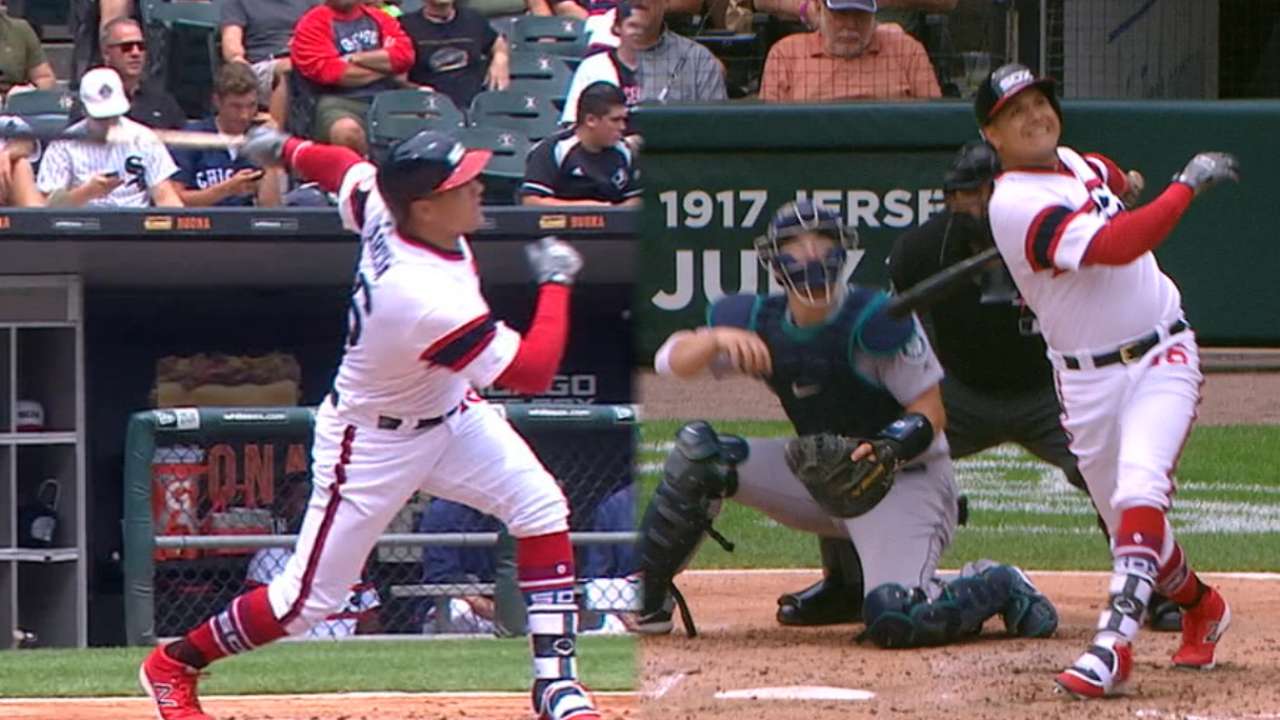 Avisail Garcia's two-homer game
SEA@CWS: Avisail Garcia crushes two homers in loss
Avisail Garcia hits a solo home run and a two-run home run in 7-6 loss against the Mariners
Beyond the wall: Holland's struggles since the start of June have been compounded by his tendency to give up the long ball. After Seattle had already scored in the fifth on Jean Segura's sacrifice fly, Valencia took Holland deep to left field for a game-tying three-run shot that went 414 feet, as projected by Statcast™. Holland has now given up 13 homers in 36 2/3 innings since the start of June.
"I still thought he was attacking the strike zone, he was working in, he was using his breaking ball, keeping it down," Renteria said. "I think if he gets that breaking ball down to Valencia, down below, I think he gets out of that pretty much unscathed."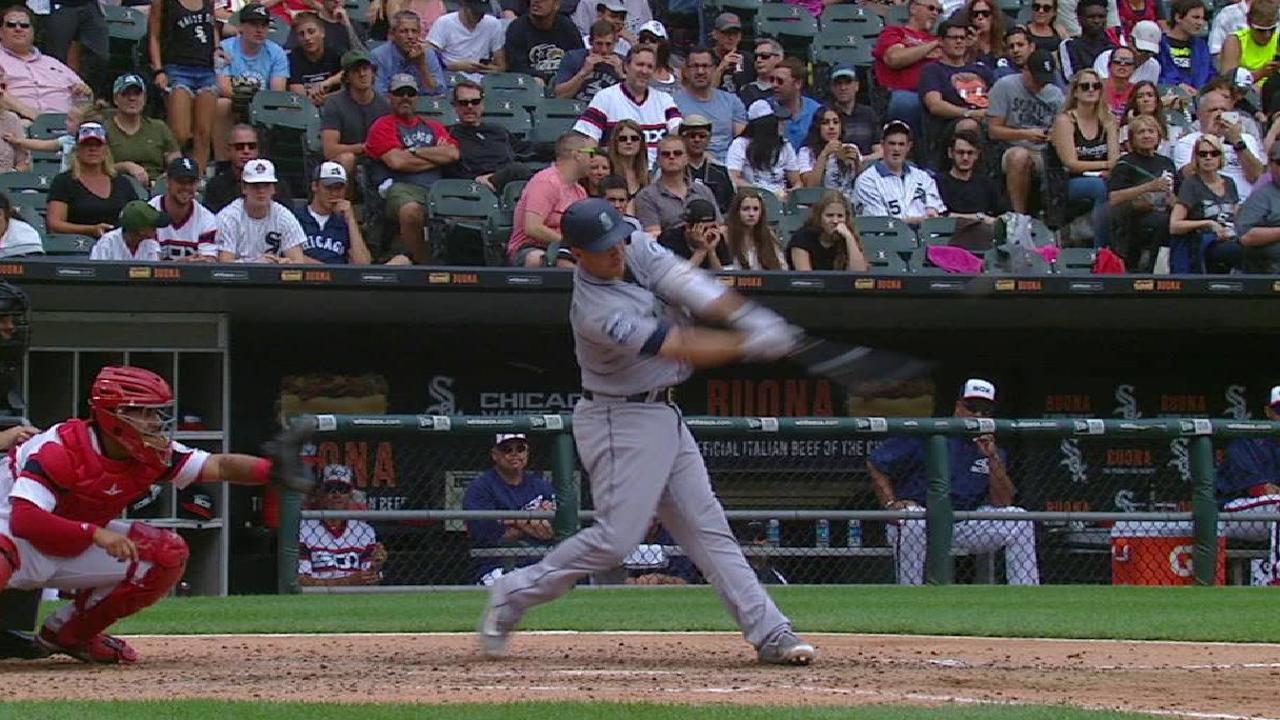 Valencia's three-run homer
SEA@CWS: Valencia rips a three-run shot to left field
Danny Valencia hits a long three-run home run to left field to tie the game at 5 in the top of the 5th inning
"The home run that Valencia hit was huge," Servais said. "That's the one that got us back totally in the game.
"I like hitting him in the two-hole against the lefties. He adds the power dimension there. But the at-bats are good and I think his defense at first base really goes underrated."
QUOTABLE
"I'm getting faster, yeah. That one hurt a little bit after I touch third base. Yesterday was before [third]. So it's getting better" — Cruz, joking about his slow trot around the bases
"I've never done that, actually. When I caught it, I felt like it was heavier than normal when you catch a ball, so that's where I was freaking out a little bit, what to do. I just ran over and gave him my glove." — Holland, on getting the ball stuck in his glove on a comebacker in the fourth inning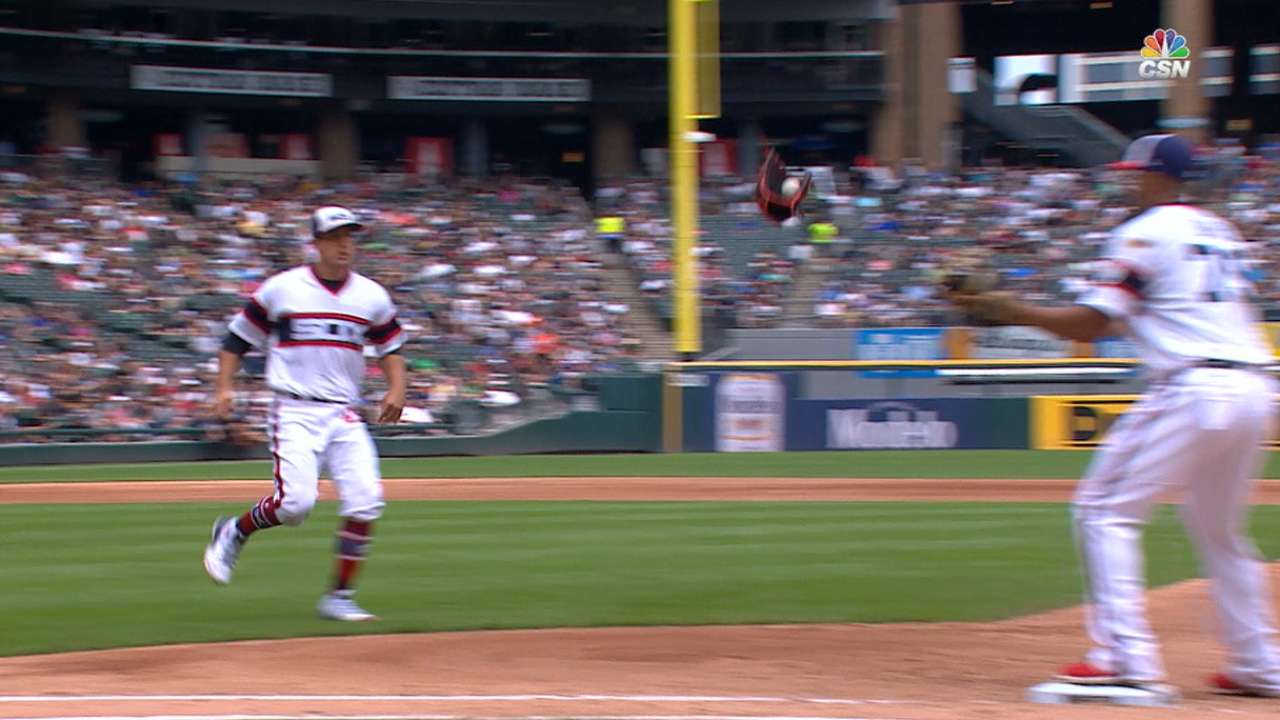 Must C: Holland's glove assist
Must C Creative: Holland goes around back, flips mitt
Derek Holland makes a flashy behind-the-back stop, then throws his glove to Jose Abreu at first to get the out
SOUND SMART WITH YOUR FRIENDS
Sunday was the first extra-inning game at Guaranteed Rate Field for the White Sox this season and first for Chicago since a 2-1 win on May 19, coincidentally against Seattle.
As for the Mariners' last sweep over the Sox, you'd have to go back a little further. The club's last sweep of three-plus games at Guaranteed Rate Field came in 2003, just two years after Servais retired from the sport.
"You obviously want to win series and sweeps are definitely a bonus," Valencia said. "It's crunch time for us. These next couple weeks will be very telling to see … the direction the club decides to go in."
WHAT'S NEXT
Mariners: The Mariners will continue their road trip on Monday, taking on the Astros for a three-game set at Minute Maid Park. Left-hander Ariel Miranda (7-4, 4.15 ERA) will get the ball for the series opener at 5:10 PT, looking to rebound from a July 5 outing in which he gave up six runs in five innings to the Royals.
White Sox: The White Sox will have Monday off before hosting the Dodgers for a two-game set at Guaranteed Rate Field. Miguel Gonzalez (4-8, 5.15 ERA) will make his first start Tuesday since coming off the 10-day disabled list after dealing with A/C joint inflammation in his right shoulder. First pitch is scheduled for 7:10 p.m. CT.
Watch every out-of-market regular-season game live on MLB.TV.
Fabian Ardaya is a reporter for MLB.com based in Chicago who covered the White Sox on Sunday.
Scott Chasen is a reporter for MLB.com based in Chicago who covered the Mariners on Sunday.
This story was not subject to the approval of Major League Baseball or its clubs.