"Seager had a big day, and Valencia had the home run off Darvish. Big shot in the arm there," said Mariners manager Scott Servais. "The guys really stepped up. It was toasty out, and one of those gut-check games. You know you're going to be in it, you know it's going to be hot, and we had to find a way against undoubtedly their best pitcher and we got it done today."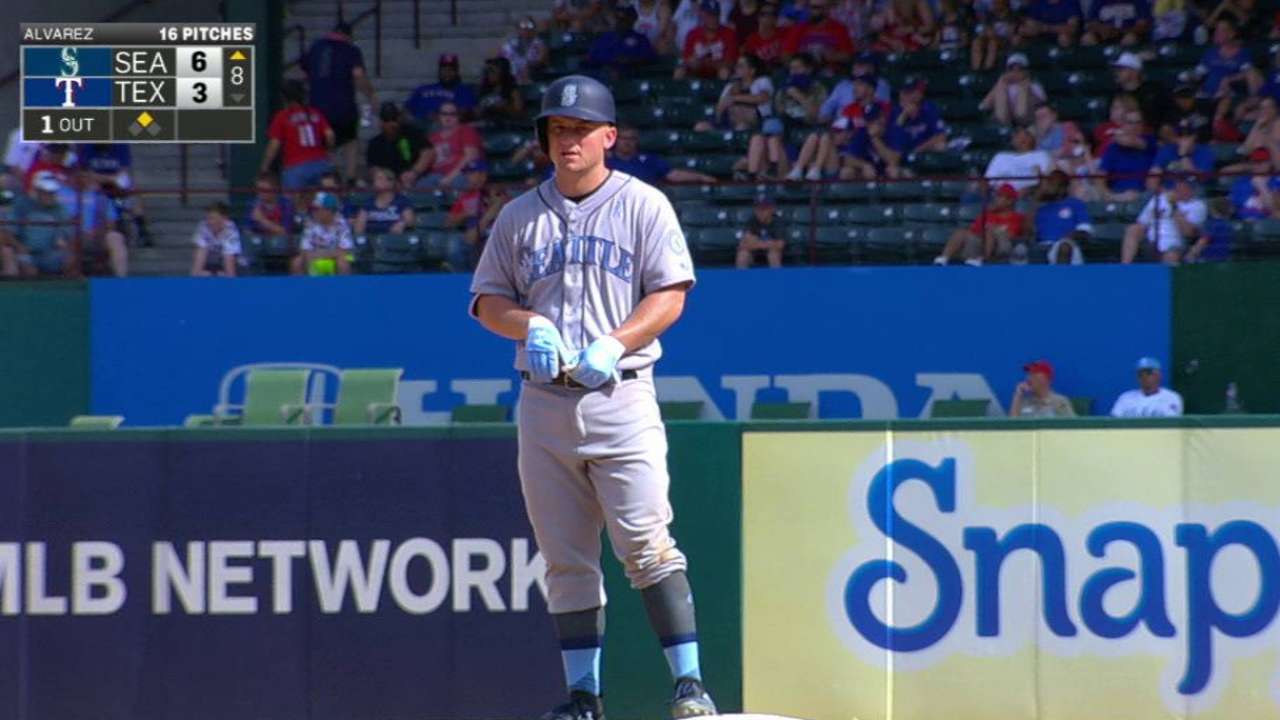 Seager's third RBI double
SEA@TEX: Seager smacks an RBI double to left-center
Kyle Seager knocks a double to deep left-center field to plate Nelson Cruz and give the Mariners a 6-3 lead in the 8th inning
Despite the loss, the Rangers have won seven of nine going into a four-game series with the Blue Jays that starts Monday at home. They ended up taking two of three from the Mariners after scoring 10 runs in each of the first two games.
"We looked tired today, maybe scoring too many runs in the first two games," Rangers shortstop Elvis Andrus said. "But we still won the series, that's the positive thing."
Mariners starter Christian Bergman, trying to make a case for staying in the rotation, rebounded from a rough start in his last outing by holding the Rangers to two runs in 5 2/3 innings. Bergman, who allowed nine runs to the Twins on Tuesday, picked up his fourth win while limiting the Rangers to four hits.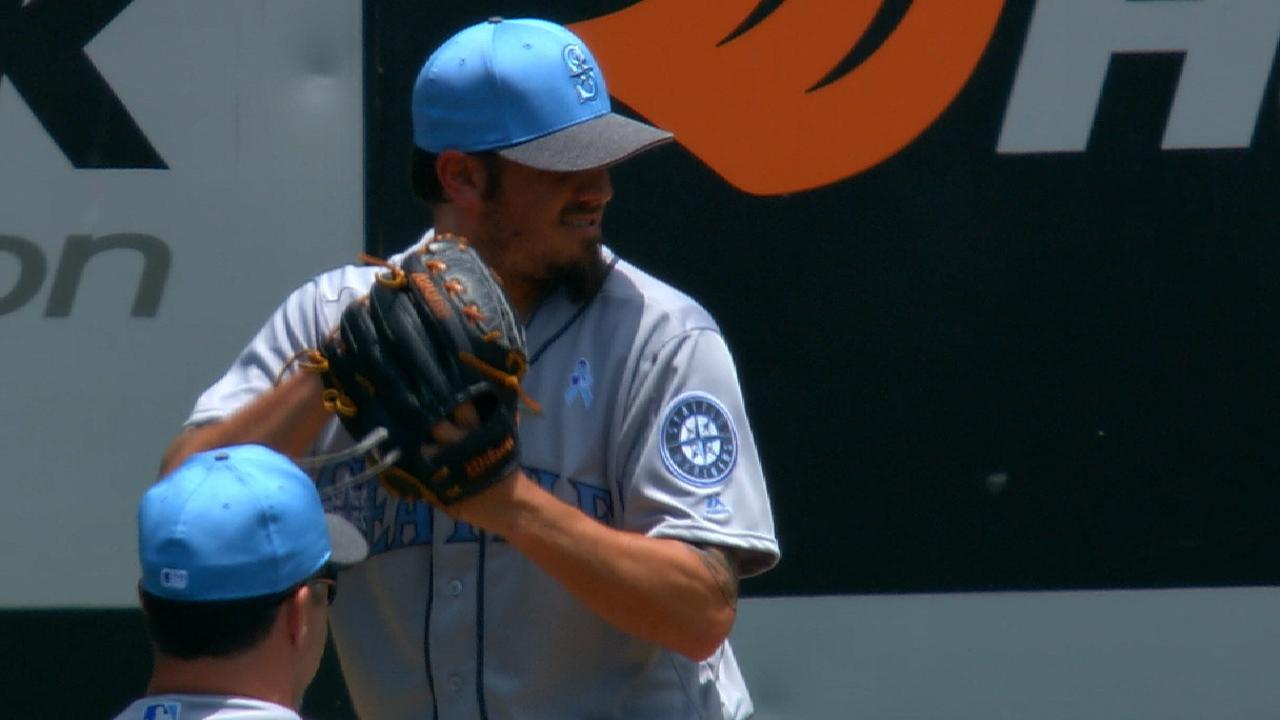 Bergman's 5 2/3 solid innings
SEA@TEX: Bergman hurls 5 2/ solid frames vs. Rangers
Christian Bergman strikes out one batter over 5 2/3 solid innings, allowing two runs on four hits and two walks vs. the Rangers
This is the first time the Mariners have beaten Darvish in Arlington in his career. He was 5-0 with a 3.30 ERA in seven starts coming into the game. He is now 1-3 with a 4.45 ERA in his past five starts.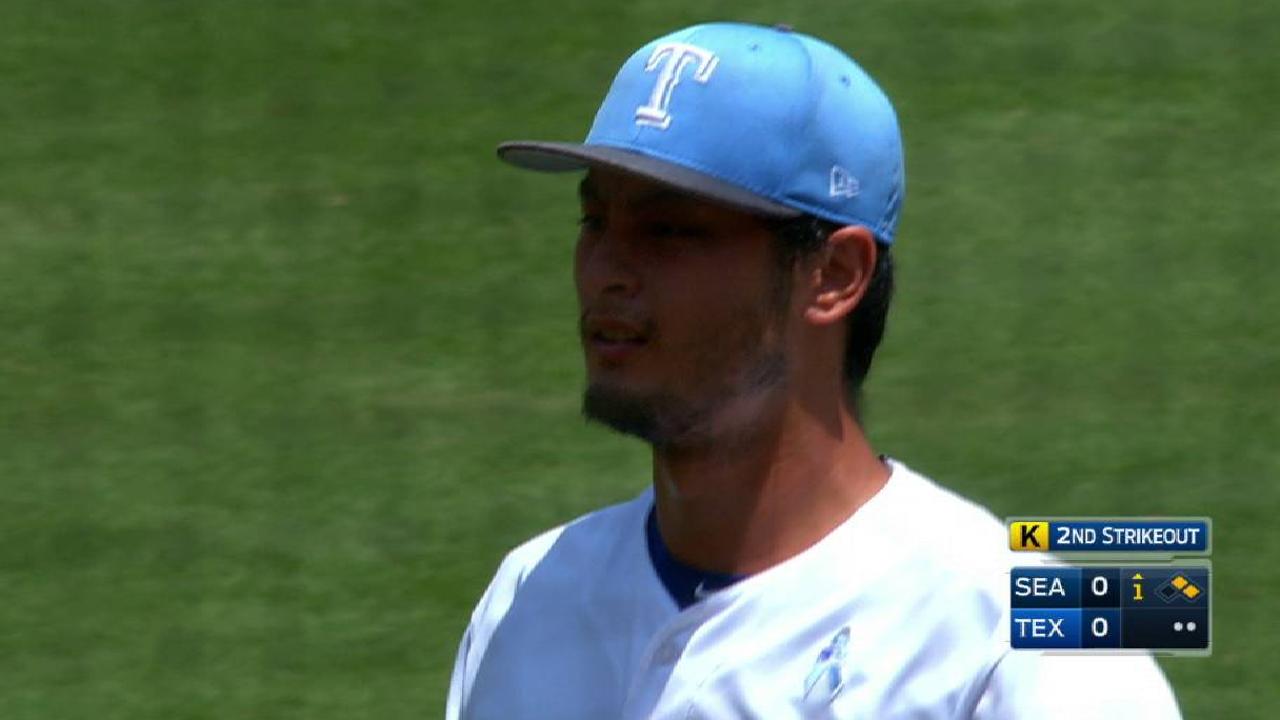 Darvish fans Cruz
SEA@TEX: Darvish strikes out Cruz swinging in 1st
Yu Darvish strikes out Nelson Cruz swinging for the second out in the top of the 1st inning
MOMENTS THAT MATTERED
Seager swinging on 3-0: Seattle turned Seager loose on a 3-0 count in the first inning. The Mariners had two on with two outs when Seager lined a double down the right-field line to give them a 1-0 lead. Seager is now hitting .400 (8-for-20) with five doubles and three homers in his career when swinging at a 3-0 offering. Another run scored on a passed ball, and Valencia followed with a two-run home run to make it 4-0.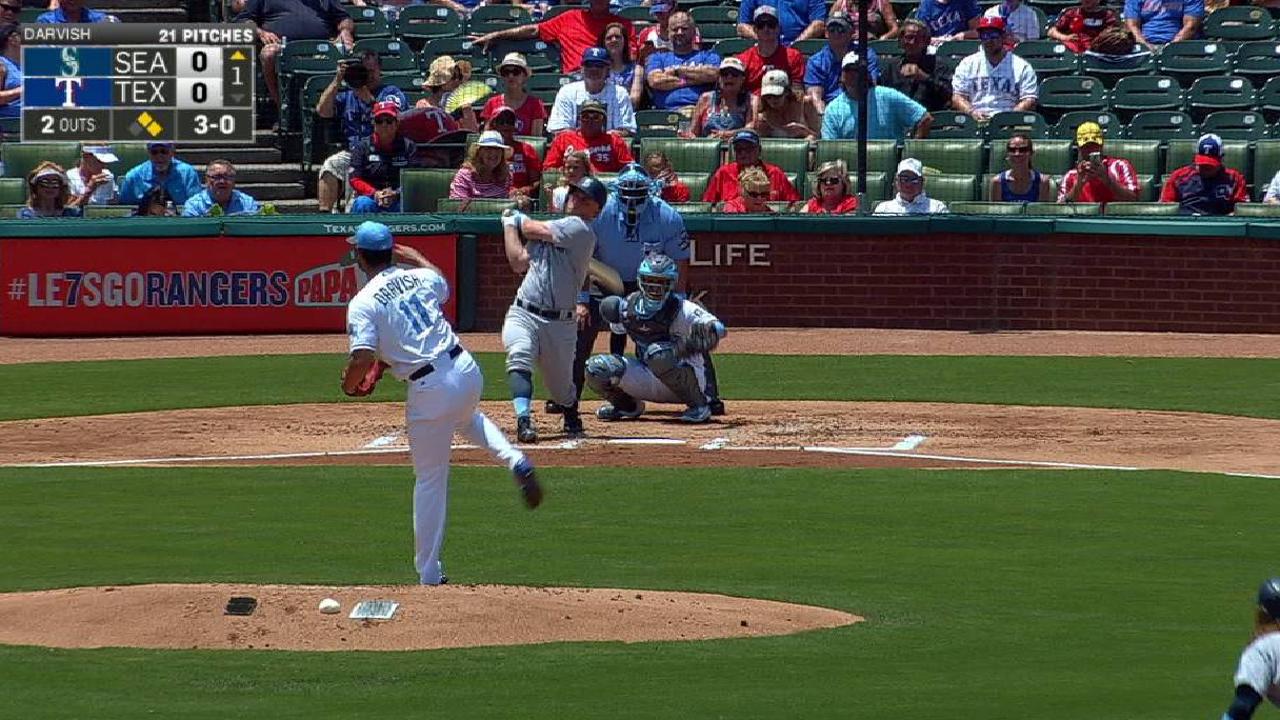 Seager's RBI double
SEA@TEX: Seager lines an RBI double into right field
Kyle Seager cracks an RBI double off the right-field wall to give the Mariners a 1-0 lead in the top of the 1st inning
"He's got such good stuff, and the ball moves all over the place against him," Seager said of battling Darvish. "You get 3-0 and that's one of the few times you can really, really zone him in. Fortunate for me, I was able to keep it fair and get a hit."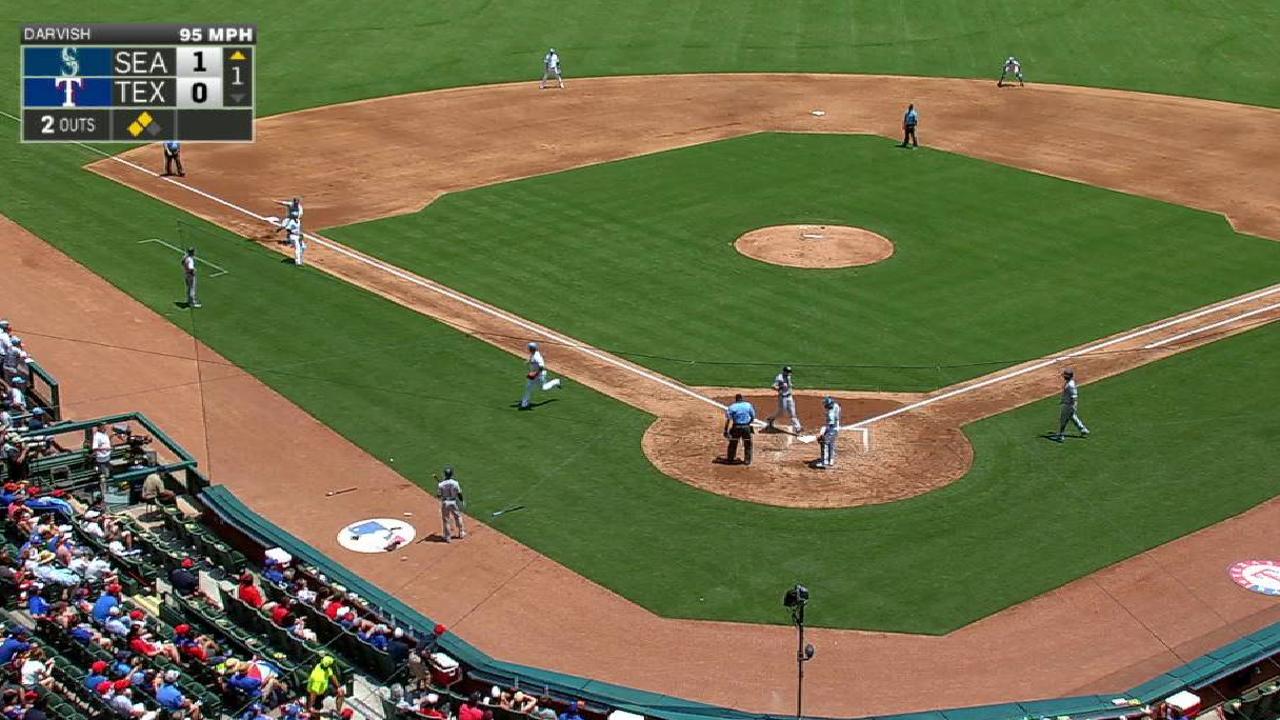 Haniger scores on passed ball
SEA@TEX: Haniger charges home on a passed ball
A pitch from Yu Darvish gets by Robinson Chirinos, allowing Mitch Haniger to score to give the Mariners a 2-0 lead in the 1st inning
Out at second: The Mariners had three baserunners thrown out at second base. Valencia broke early and was thrown out by Darvish in the third. In the fourth, Carlos Ruiz led off with a drive off the wall in right-center and was thrown out trying for a double by Gomez.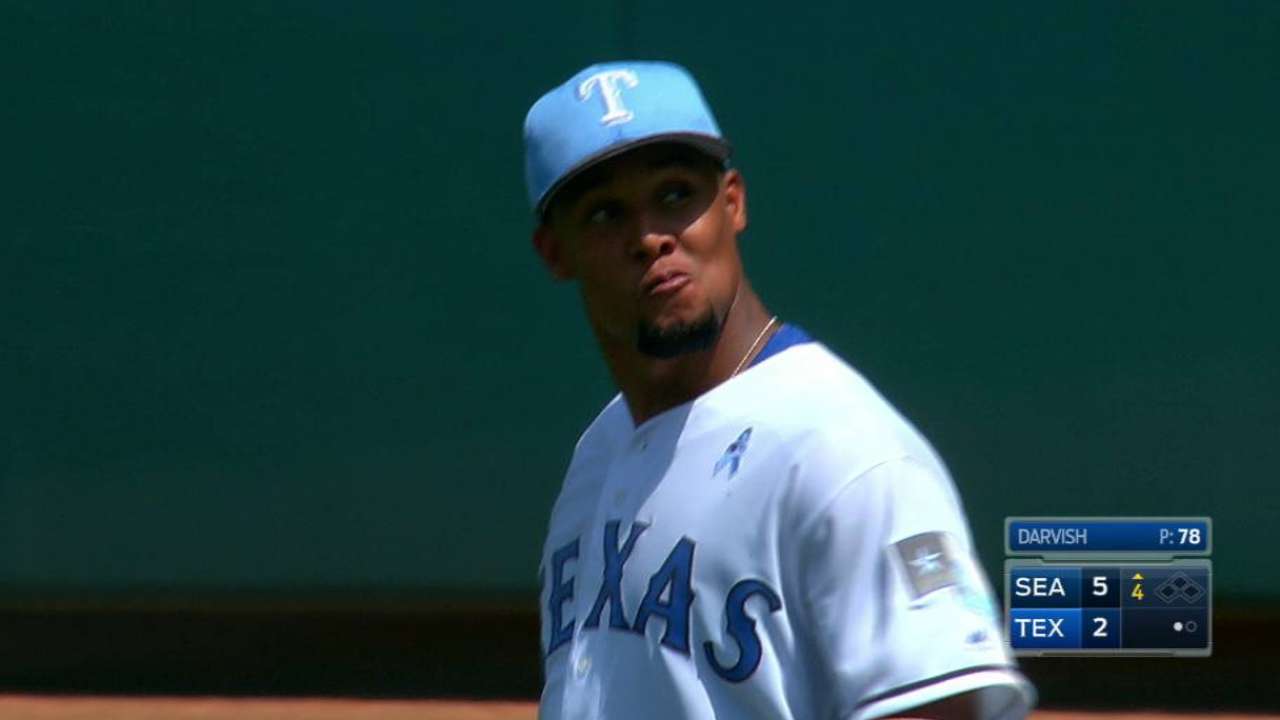 Gomez's outstanding throw
SEA@TEX: Gomez nabs Ruiz with terrific throw
Carlos Ruiz smacks a ball off the center-field wall that's played well by Carlos Gomez, who makes a terrific throw to second for the out
Jarrod Dyson stole second in the sixth inning and then was picked off by reliever Jeremy Jeffress, a call that was upheld by replay. Seager also had a baserunning mistake in the third when he tried to go to third on Valencia's grounder to short.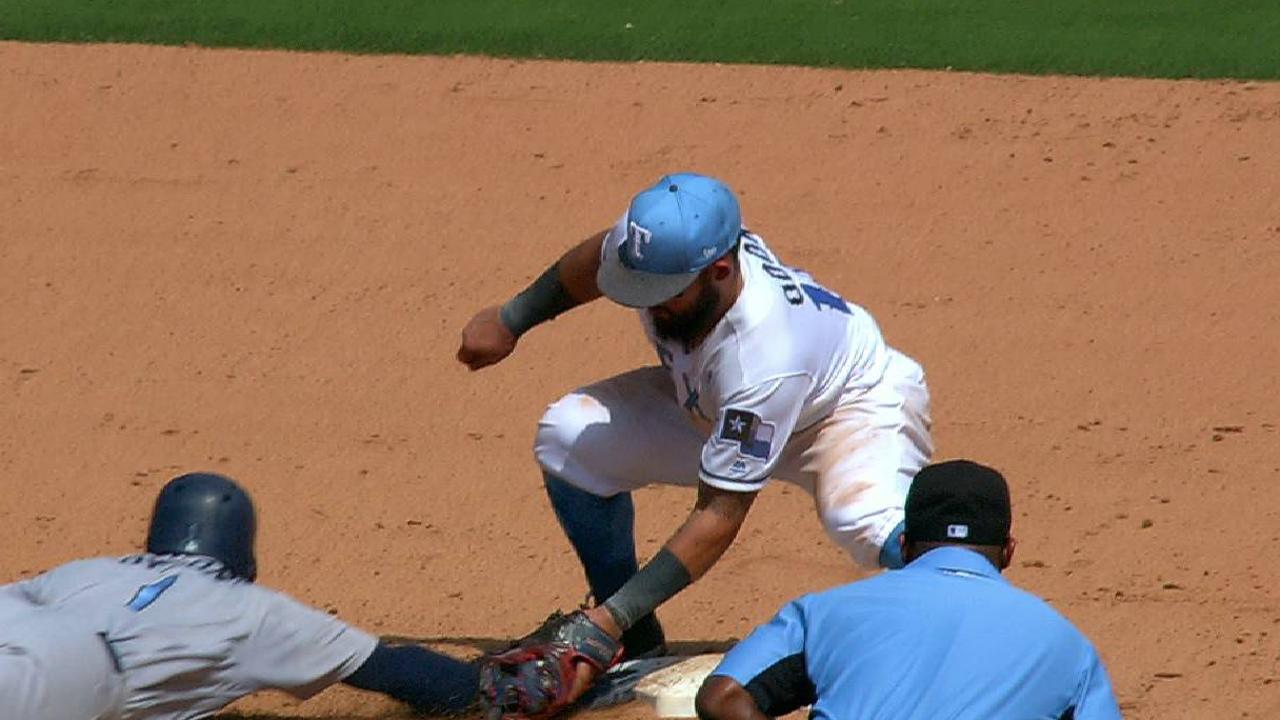 Dyson picked off after review
SEA@TEX: Jeffress picks off Dyson after call stands
Jeremy Jeffress picks off Jarrod Dyson at second, and after the Mariners challenge, the call stands in the 6th
Vincent gets Mazara: The Mariners' bullpen almost melted down with two outs in the seventh, trying to protect a 5-2 lead. Steve Cishek hit Robinson Chirinos with a pitch, and Mike Napoli walked. James Pazos replaced Cishek, then allowed a run on a wild pitch and a walk to Shin-Soo Choo, and Nick Vincent walked Andrus. That left the bases loaded for Nomar Mazara. This time Vincent, got ahead 0-2 in the count and retired Mazara on a fly to center.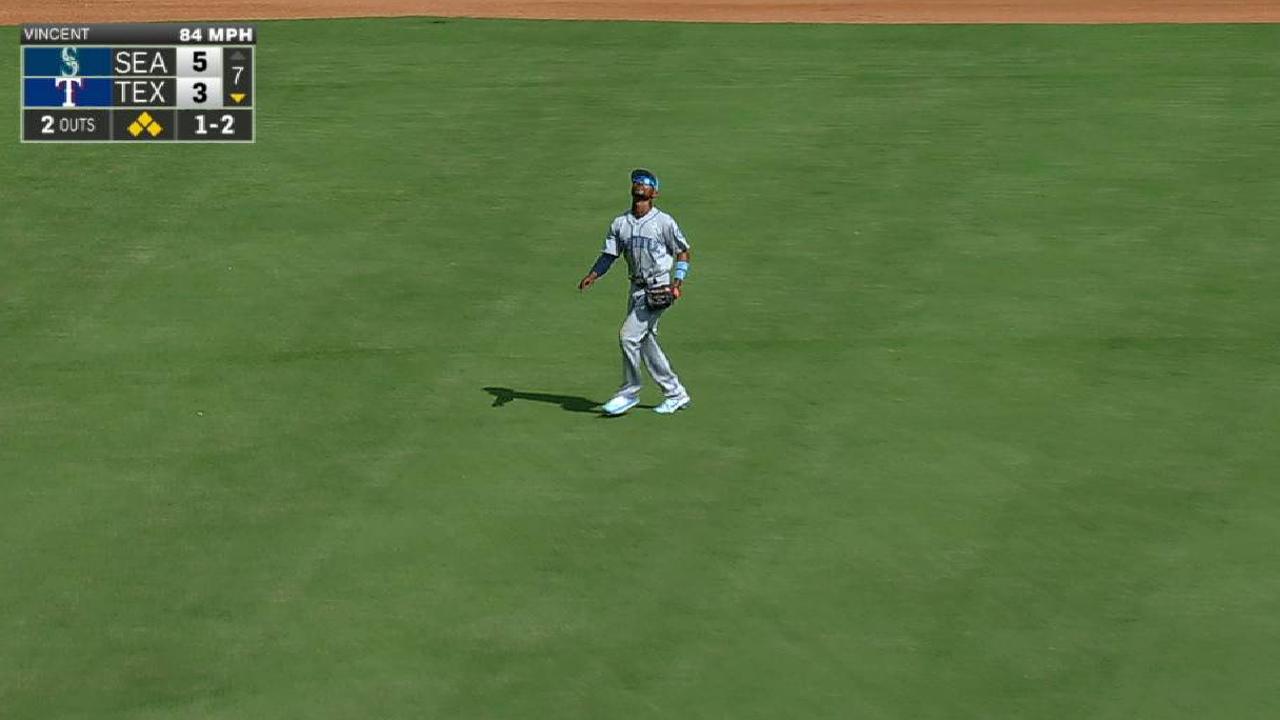 Vincent escapes jam
SEA@TEX: Vincent gets out of bases-loaded jam in 7th
Nick Vincent comes in and escapes a bases-loaded jam by getting Nomar Mazara to fly out to center in the bottom of the 7th inning
"He just kept fouling stuff off, fastball and cutter, so we had to try something different," Vincent said. "We got to the 2-2 count, and Chooch [Ruiz] put down a changeup and got the popout to center field and got out of the jam."
QUOTABLE
"Fortunately they didn't catch 'em today, which was nice. I thought I'd swung it all right the previous two days without much luck. Today, fortunately, I hit 'em where they weren't. I guess I should have been trying to do that the whole time." — Seager, after hitting line drives into the shift several times while going 0-for-8 in the first two games of the series
SOUND SMART WITH YOUR FRIENDS
Seager is now hitting .375 (12-for-32) in his career off Darvish. That's the third highest average against Darvish by any opponent with a minimum of 20 plate appearances.
BANISTER EJECTED
Rangers manager Jeff Banister was ejected in the second inning for arguing a foul ball/hit by pitch. Darvish threw a pitch inside to Tyler Smith, and it appeared to hit the knob of the bat. Home-plate umpire Hunter Wendelstedt initially called it a foul ball, and Smith loitered at home plate. Then he offered his hand in evidence, and Wendelstedt awarded him first base. Banister immediately started arguing with Wendelstedt. Third base umpire Joe West, who is the crew chief, eventually intervened. Banister turned on him, too, and was ejected.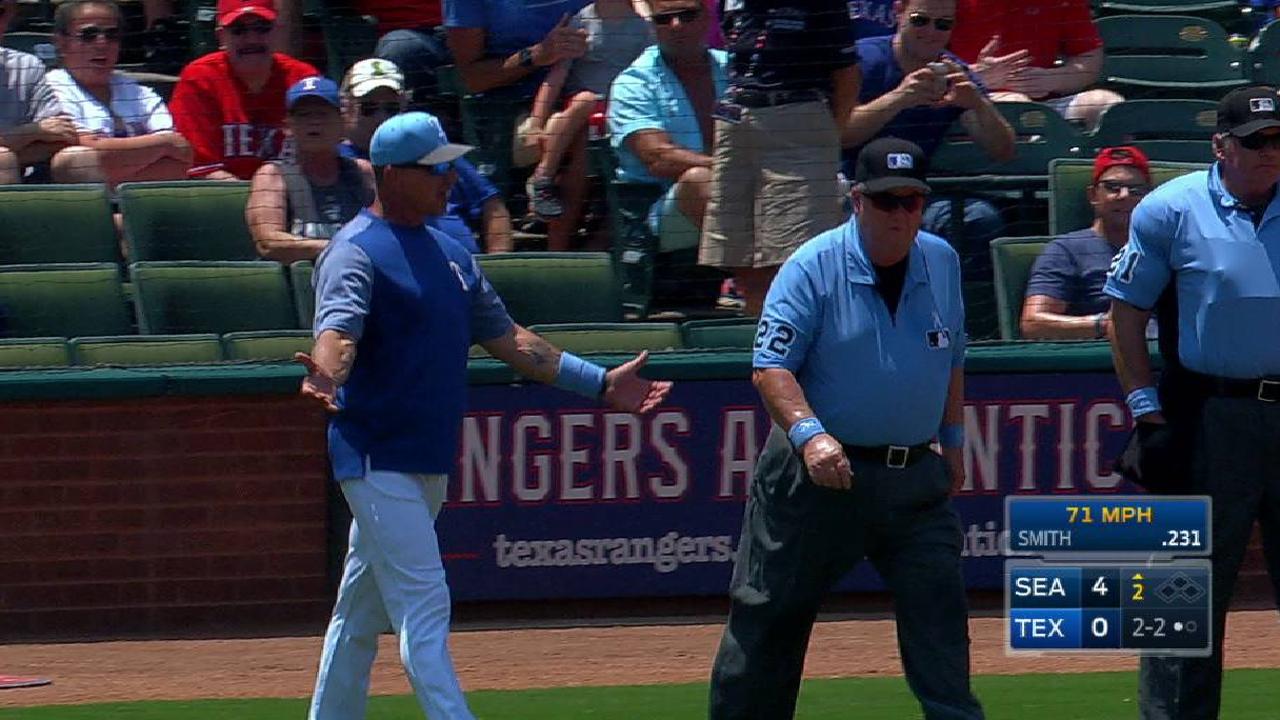 Banister tossed from game
SEA@TEX: Banister ejected after arguing HBP in 2nd
Rangers manager Jeff Banister is tossed from the game after arguing that Tyler Smith was hit by a pitch in the top of the 2nd inning
"From our vantage point, it was a foul ball," Banister said. "That seemed to be the call on the field, too. Somehow, it turned into the batter taking his base. My question was, when did it change out there?"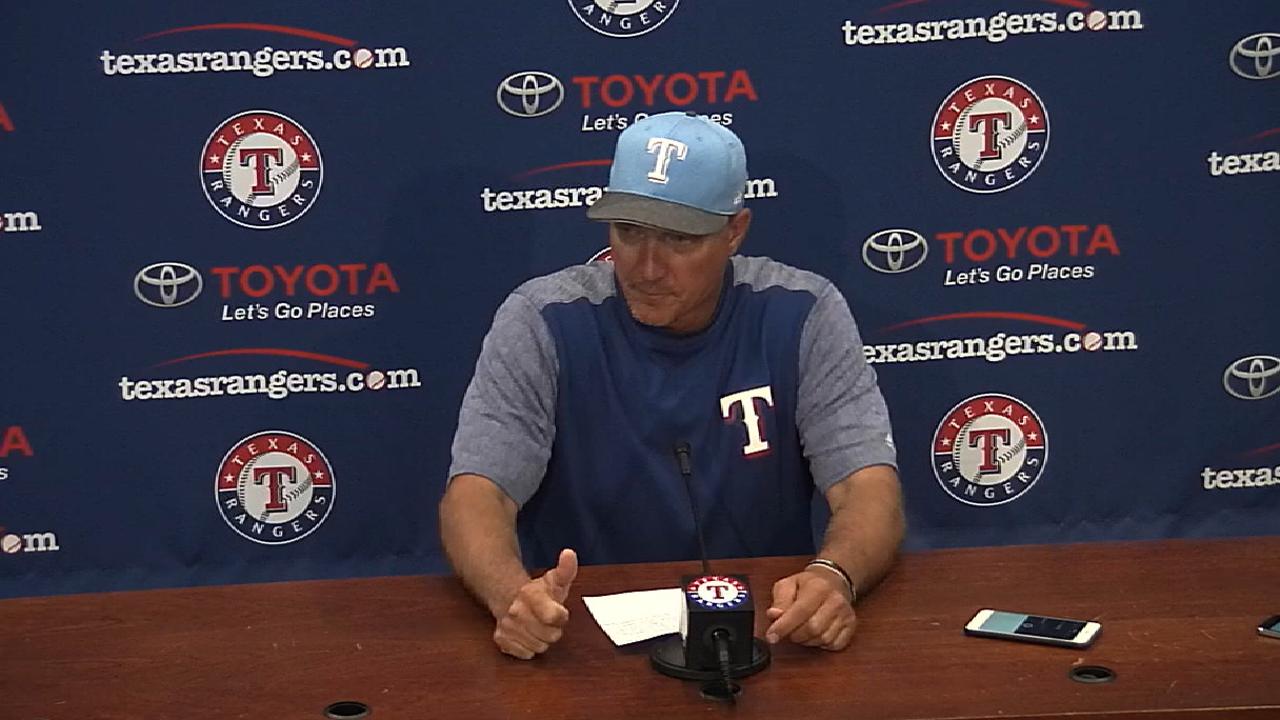 Banister on slow tempo in loss
SEA@TEX: Banister on slow tempo of game, ejection
Texas Rangers manager Jeff Banister discusses being ejected in the 2nd inning and the slow tempo of the game in the loss to the Mariners
REVIEW SAVES RUN
Rangers bench coach Steve Buechele won his first challenge, and it may have saved a run. Seager hit a run-scoring triple into the right-field corner with no outs in the third inning. Buechele challenged the call in that the ball should have been ruled dead underneath the padding on the wall. The call was overturned, and Seager was sent to second base. He was then thrown out trying to advance to third on Valencia's grounder to Andrus, and the Mariners' rally fizzled.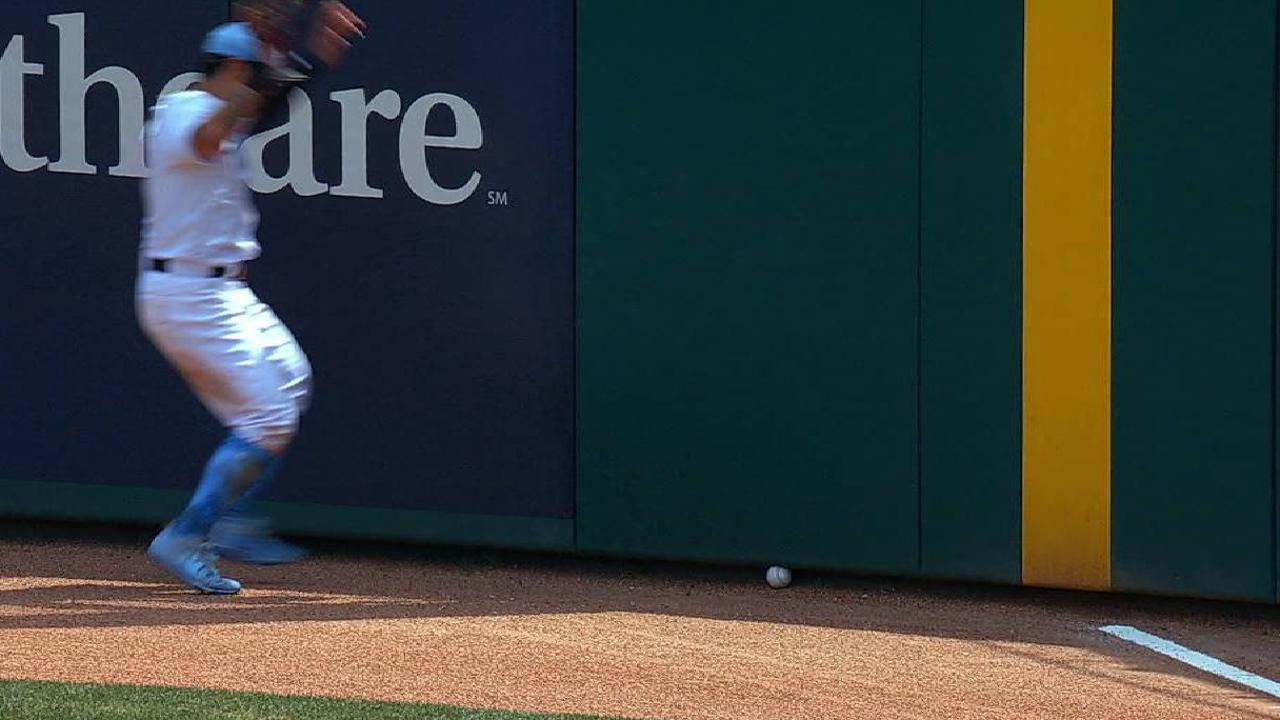 Seager doubles after review
SEA@TEX: Seager doubles after call overturned
Kyle Seager hits a liner that goes under the wall, allowing Seager to reach third, but the Rangers challenge and Seager is placed on second
Buechele picked up another reversal in the eighth when Dyson was called safe beating out a slow roller to Andrus. Buechele challenged and the call was reversed.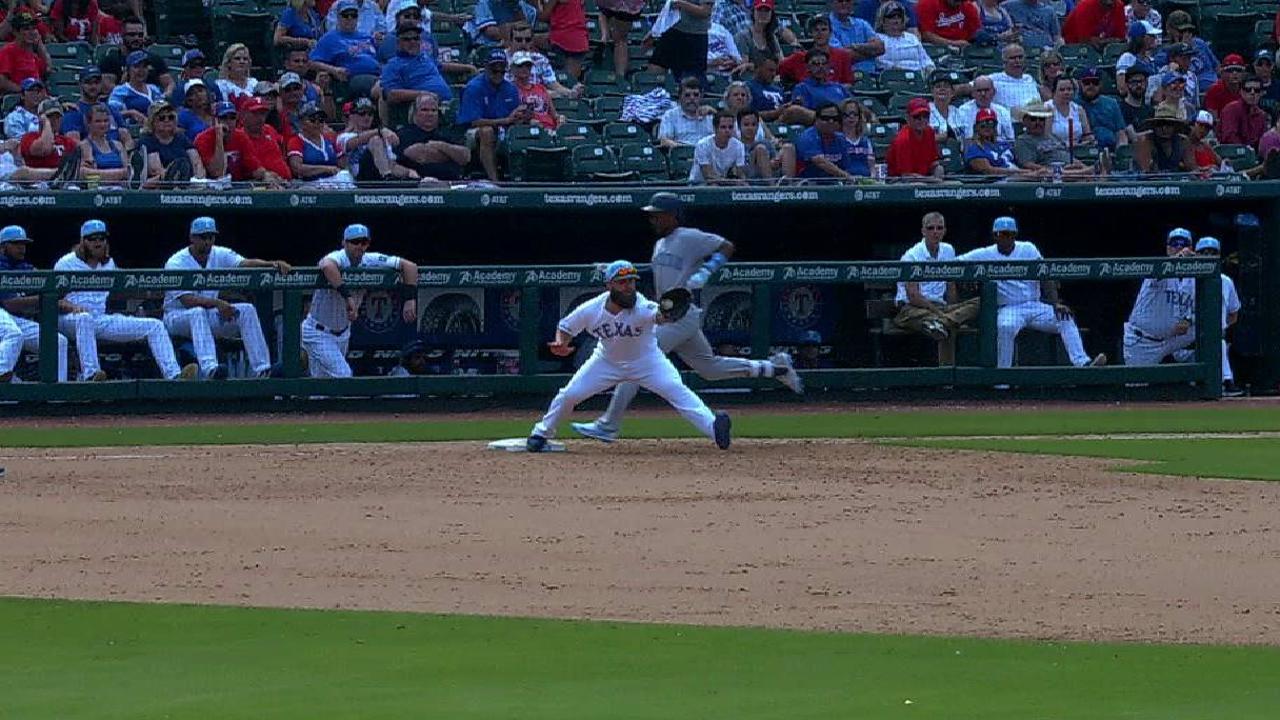 Dyson out at first after review
SEA@TEX: Andrus nabs Dyson after call overturned
Jarrod Dyson reaches first safely after a throw from Elvis Andrus, but the Rangers challenge and the call is overturned in the 8th
WHAT'S NEXT
Mariners: Rookie right-hander Sam Gaviglio (3-1, 3.41 ERA) pitches Monday's 7:10 p.m. PT series opener against the Tigers at Safeco Field on MLB.TV, with Detroit recalling veteran right-hander Anibal Sanchez from Triple-A Toledo to get the start after he posted a 9.00 ERA in 11 appearances in the first six weeks of the season..
Rangers: The Rangers open a four-game series with the Blue Jays at 7:05 p.m. CT Monday at Globe Life Park on MLB.TV with right-hander Austin Bibens-Dirkx on the mound. He is 1-0 with a 3.09 ERA in two starts.
Watch every out-of-market regular-season game live on MLB.TV.
Greg Johns has covered the Mariners since 1997, and for MLB.com since 2011. Follow him on Twitter @GregJohnsMLB.
This story was not subject to the approval of Major League Baseball or its clubs.