Bob Wolff, who was inducted into the broadcasters' wing of the National Baseball Hall of Fame in 1995 and called Don Larsen's perfect game for the Yankees during the 1956 World Series, has died. He was 96.
Wolff's sports broadcasting career began in 1939, and spanned a record eight decades. He was also behind the microphone for one of the most famous professional football games in history, the Baltimore Colts' victory over the New York Giants in the 1958 NFL championship game.
In 1947, Wolff became the first television play-by-play broadcaster for the Washington Senators. He also served as a play-by-play broadcaster along with Joe Garagiola for NBC's baseball "Game of the Week" in the early 1960s.
Wolff broadcast New York Knicks and Rangers games, along with the Westminster Kennel Club Dog Show, at Madison Square Garden for more than half a century, including two NBA championships for the Knicks. In 2014, he was honored at Yankee Stadium by the Guinness World Records for the longest career in sportscasting.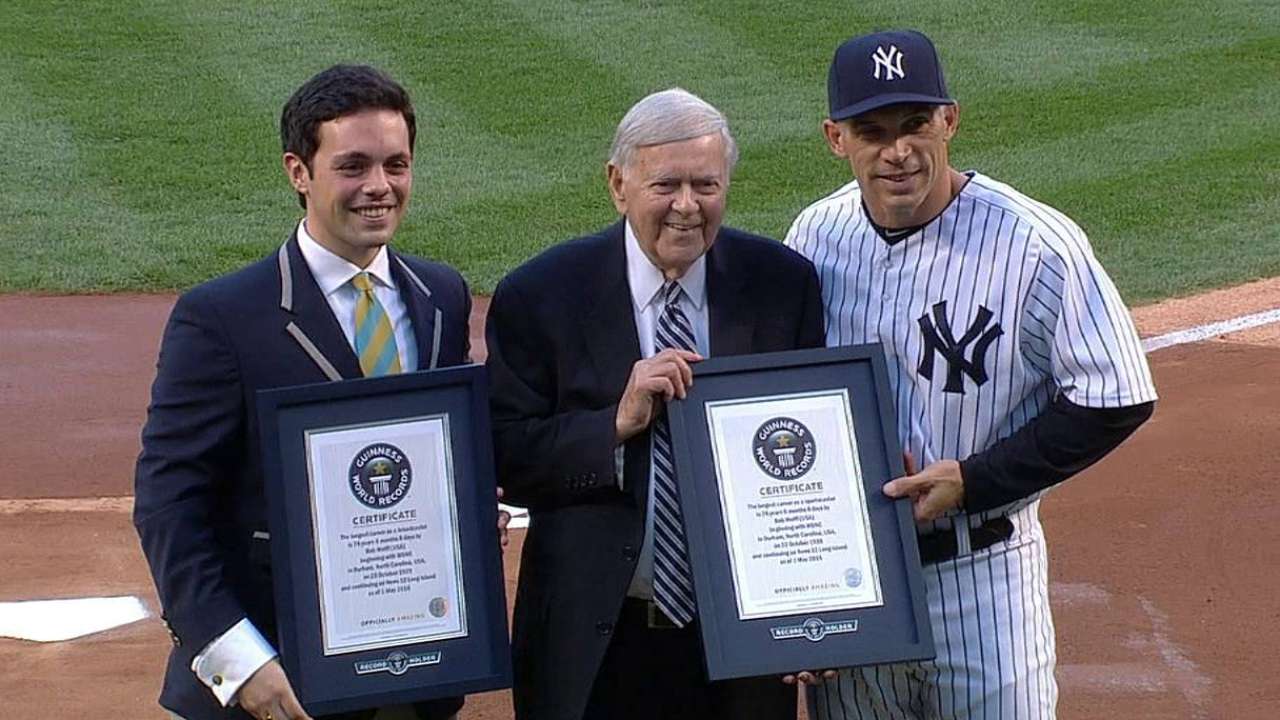 Wolff honored with award
SEA@NYY: Wolff awarded for longest broadcast career
5/1/14: Announcer Bob Wolff receives an award from the Guinness Book of World Records for having the longest broadcast career
The Nationals named the home broadcast booth at Nationals Park the Bob Wolff Suite in Wolff's honor in 2009. Wolff was most recently a sports commentator for cable TV station News 12 in Long Island, which he joined upon its inception in 1986.
Wolff, who passed away in South Nyack, N.Y., on Saturday, is survived by his wife, Jane, his sons Rick and Robert, his daughter, Margy Clark, nine grandchildren and 11 great-grandchildren.
Manny Randhawa is a reporter for MLB.com based in Denver. Follow him on Twitter at @MannyOnMLB. This story was not subject to the approval of Major League Baseball or its clubs.