The Rangers held a 6-5 lead, but the Blue Jays tied the game in the ninth when Josh Donaldson's one-out single scored Ryan Goins from second, handing Rangers closer Matt Bush his third blown save of the year. Jose Bautista walked and Kendrys Morales drove in Donaldson with a one-out single to give Toronto the lead.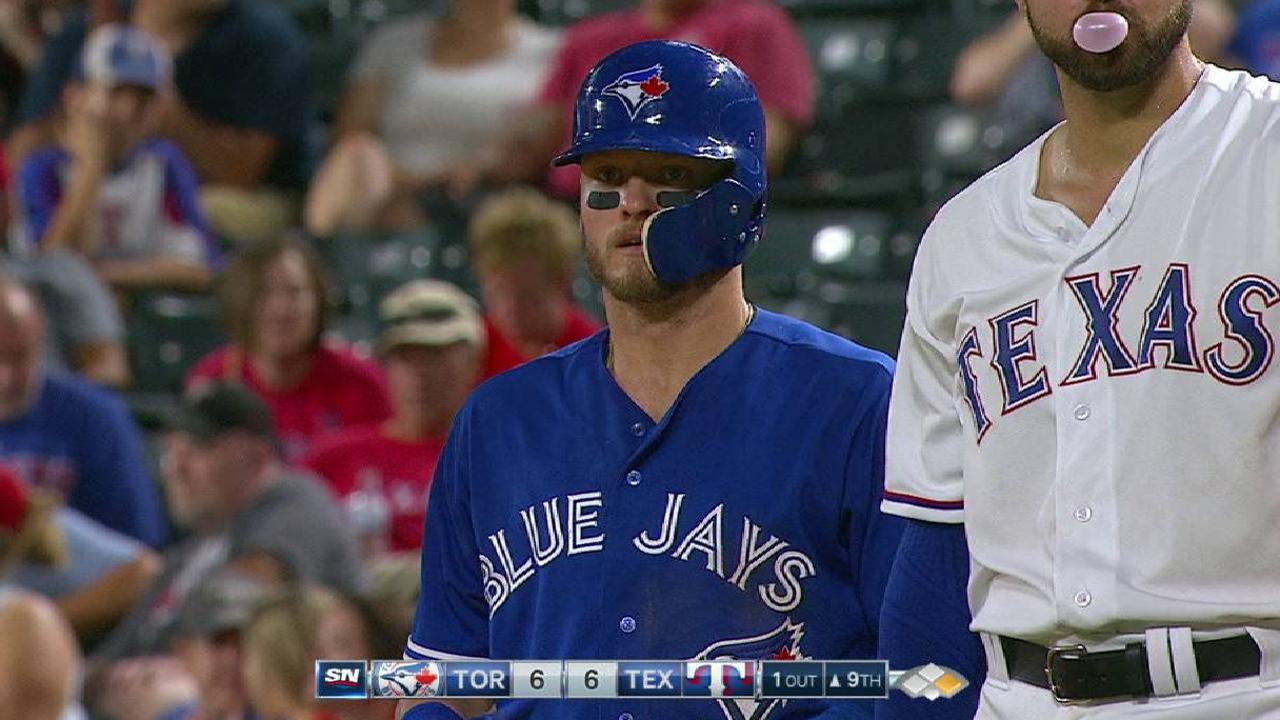 Donaldson's game-tying single
TOR@TEX: Donaldson ties the game with an RBI single
Josh Donaldson knocks a single into left field that plates Ryan Goins, tying the game at 6 in the top of the 9th inning
Roberto Osuna worked a clean ninth to pick up his 18th save, giving the Blue Jays their 21st win over the Rangers in the past 30 regular-season meetings.
"I'm proud of them all, it was a heck of a ballgame," Blue Jays manager John Gibbons said. "It was a tough game on both sides. We always seem to play those kind of games against these guys. Both starters gave up runs early and really the bullpens shut teams down there until the end. … On a hot, muggy night, probably not as hot as it's going to be the next couple of days, but after a travel day, I'm proud of that whole group."
The Jays scored four runs in the fourth to take a 5-1 lead, but Elvis Andrus hit a two-run single with two outs and Adrian Beltre cracked a bases-clearing double to put the Rangers on top, chasing starter Marco Estrada. The Blue Jays used five pitchers to keep the game close following the fourth.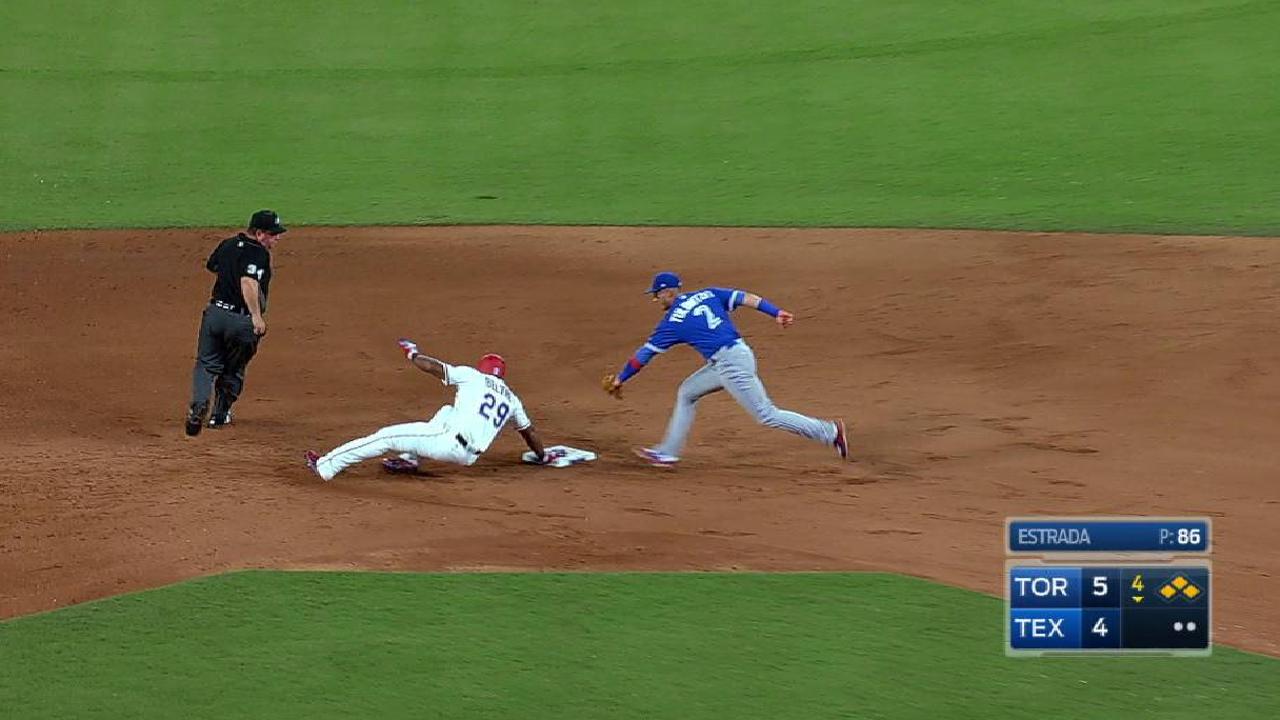 Beltre's bases-clearing double
TOR@TEX: Beltre hits a bases-clearing double to right
Adrian Beltre smacks a double into the right-center-field gap that clears the bases, giving the Rangers a 6-5 lead in the bottom of the 4th
Rangers starter Austin Bibens-Dirkx went five innings, allowing five hits, five runs and striking out five in a no-decision. Tanner Scheppers, Dario Alvarez and Jose Leclerc combined for three scoreless innings before Bush's rough ninth.
MOMENTS THAT MATTERED
Wild fourth ends with Rangers on top: Toronto got the scoring started with four runs in the top of the fourth, but the Rangers erased a 5-1 deficit by scoring five runs in the bottom of the frame to take a 6-5 lead. They chased Estrada in his second-shortest outing this season at 3 2/3 innings. He hasn't made it out of the fourth three times in his past four starts.
"I'm not happy with myself, the way things went down," Estrada said. "But honestly, I don't really care what happened. We just won the game, that's all that matters. There were a few weak hits that inning, and a few walks that hurt me. Beltre is obviously a great hitter and hit that ball into the gap in right-center, but other than that it was OK. It was an OK outing; the results weren't good, but I don't care right now. I'm just glad we won."
Pearce makes them pay: Bibens-Dirkx nearly escaped the fourth with minimal damage on Bautista's go-ahead solo shot to left-center (measured at 442 feet by Statcast™), but then things unraveled.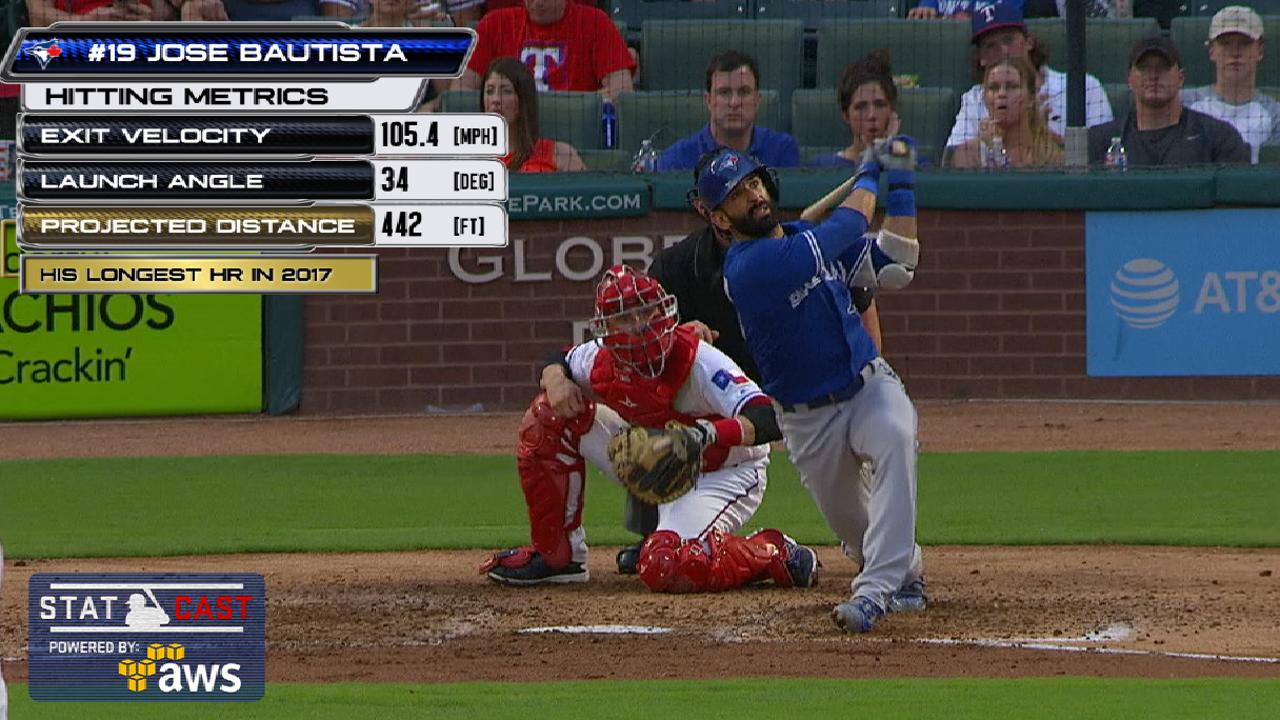 Statcast: Bautista's 442-foot HR
TOR@TEX: Statcast measures Bautista's 442-foot homer
Statcast measures the exit velocity, launch angle and projected distance of Jose Bautista's 442-foot home run against the Rangers
Shin-Soo Choo couldn't reel in Morales' double to right-center, then Bibens-Dirkx walked Russell Martin on a 3-2 count to load the bases for Steve Pearce, who pounced on a first-pitch slider for a three-run double, giving the Blue Jays a 5-1 lead.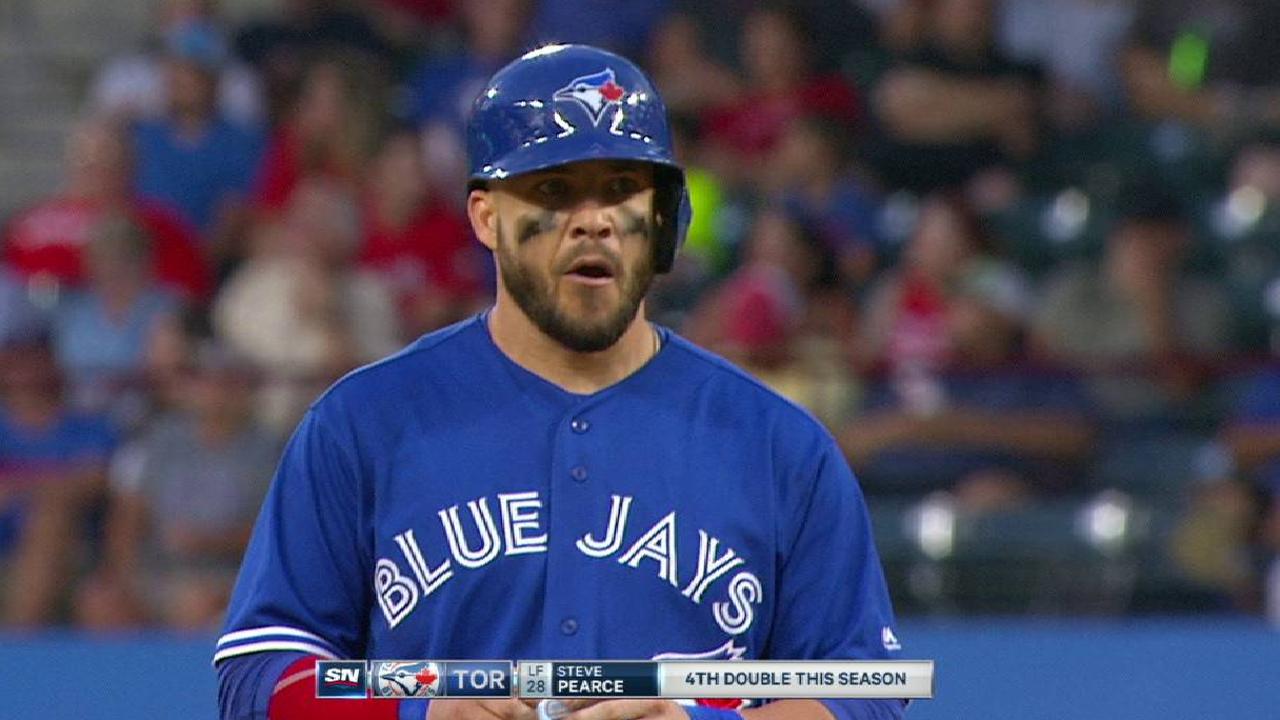 Pearce's bases-clearing double
TOR@TEX: Pearce clears the bases with double to left
Steve Pearce rips a bases-clearing double to the left-field corner to give the Blue Jays a 5-1 lead in the top of the 4th inning
"It's one of those things where if you don't make pitches, you get hurt," Bibens-Dirkx said. "There are probably about three pitches that I'd like to take back and get a re-do. Other than that, I felt like I threw the ball pretty well. Just in some key spots there, the pitch to Pearce — just a slider-middle, and he took advantage of it."
Scheppers gets out of jam: Scheppers, making his season debut after being called up from Triple-A Round Rock on Monday, had his back against the wall early. He relieved Bibens-Dirkx in the sixth and struck out Morales before surrendering a single, a double and a walk. With the bases loaded and one out, Scheppers got Pearce to pop out to shallow center and Goins to fly out to left field to escape the inning and preserve a 6-5 lead.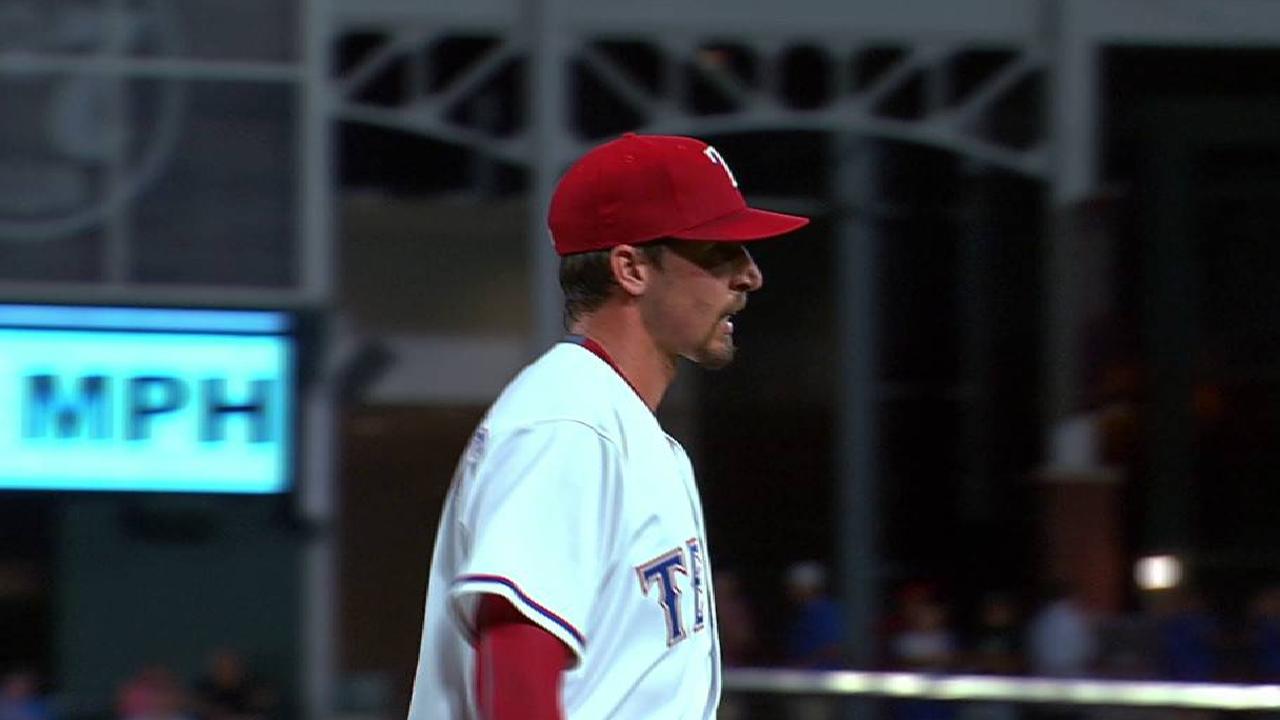 Scheppers works out of trouble
TOR@TEX: Scheppers forces a pop out to get out of jam
Tanner Scheppers gets Ryan Goins to pop out to left field, getting out of a bases-loaded jam in the top of the 6th inning
Rangers can't get Goins: Goins started the Blue Jays' rally in the ninth with a line drive hit to left-center. Goins challenged center fielder Carlos Gomez and the Rangers had a shot at getting him at second. But second baseman Rougned Odor couldn't come up with the throw as Goins slid in with a leadoff double.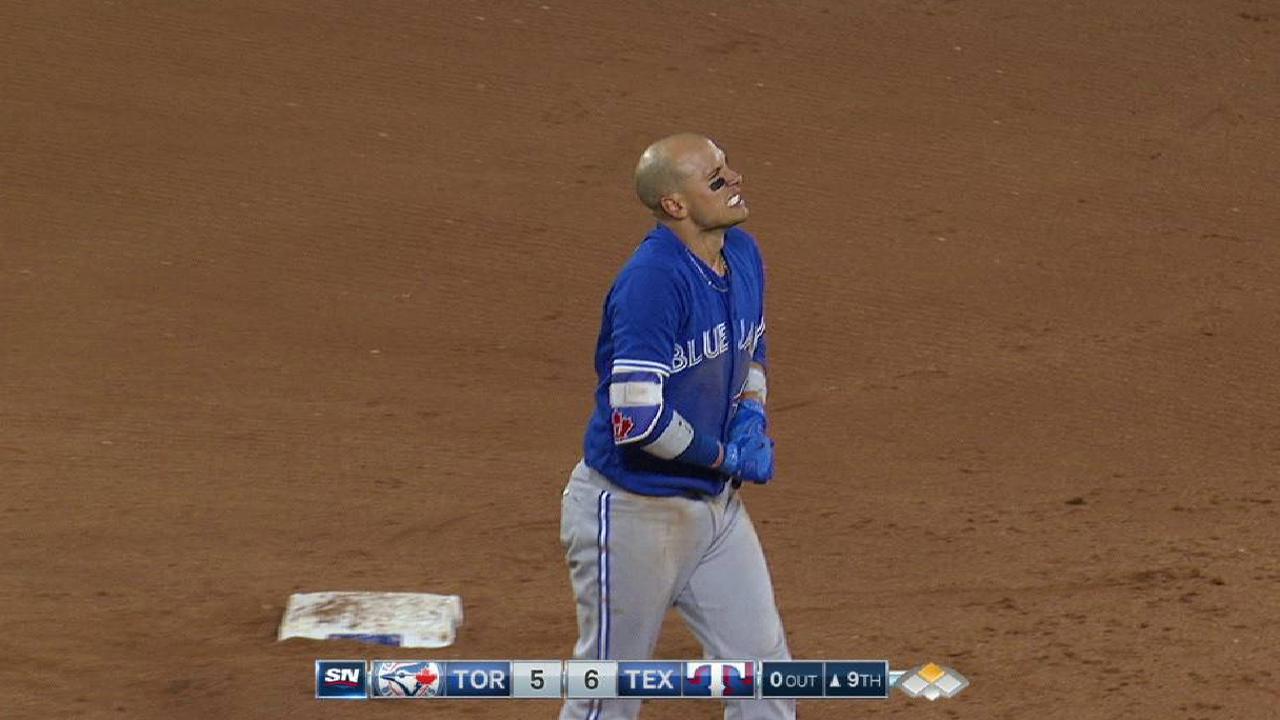 Goins shaken up, stays in game
TOR@TEX: Goins doubles, gets shaken up on hard slide
Ryan Goins gets looked at by the trainer after he appears to hurt his left hand while sliding into second on a double, but stays in the game
QUOTABLE
"It was pretty humid out there, I don't know if you could tell. I was pretty soaked. Honestly, that wait time was pretty nice. It let me regroup a little bit, gave me some time to dry off my hat so it wasn't dripping in my face, but it was nice." — Bibens-Dirkx, on the long wait during the Rangers' five-run fourth
SOUND SMART WITH YOUR FRIENDS
Andrus, with his two-run single in the fourth, was 1-for-2 with the bases loaded. That raised his career average to .340 in those situations. That's the fourth-highest bases-loaded average in Rangers history for a minimum of 50 at-bats. Rusty Greer is the all-time leader at .418.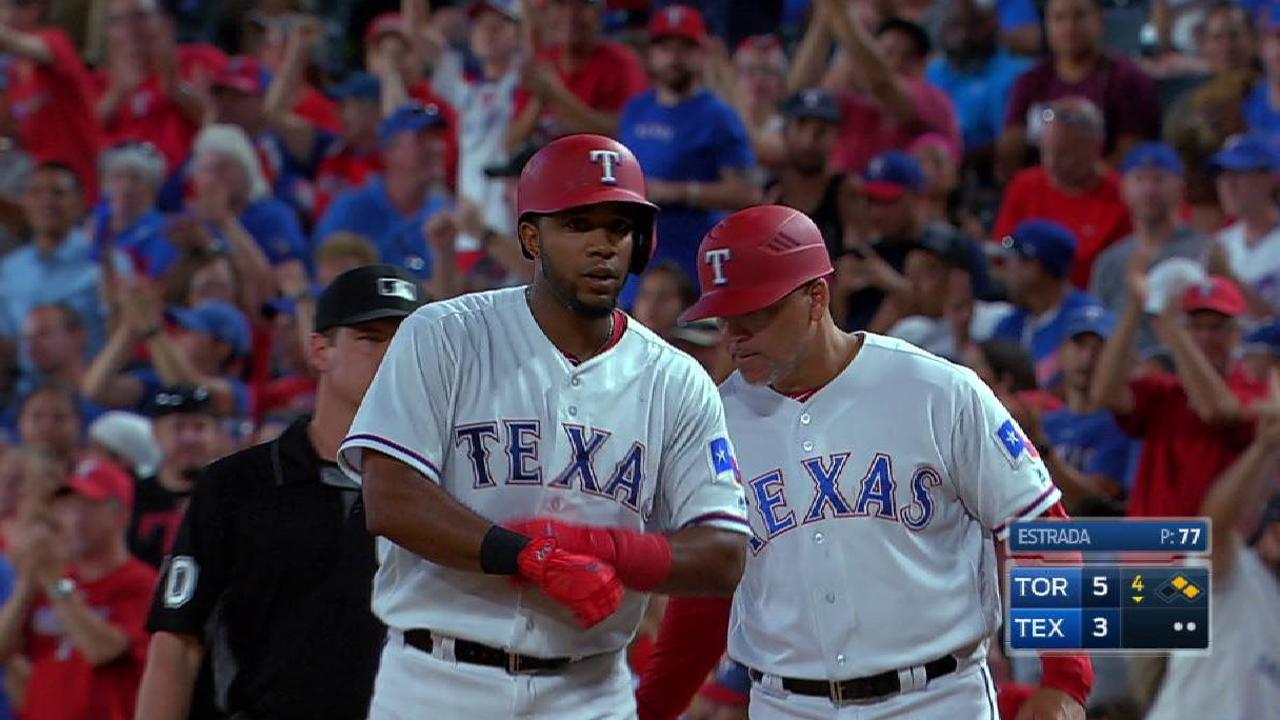 Andrus' two-run single
TOR@TEX: Andrus plates two runs with a single to left
Elvis Andrus singles to left to drive in a pair of runs as the Rangers trim their deficit in the bottom of the 4th inning
Justin Smoak hit a solo shot in the second for homer No. 20, which matched his career high set in 2013 with the Mariners. It took Smoak 131 games to reach that total in Seattle, but it took him just 68 games in 2017. He also became the fourth-fastest player to reach the 20-homer plateau in club history (227 at-bats).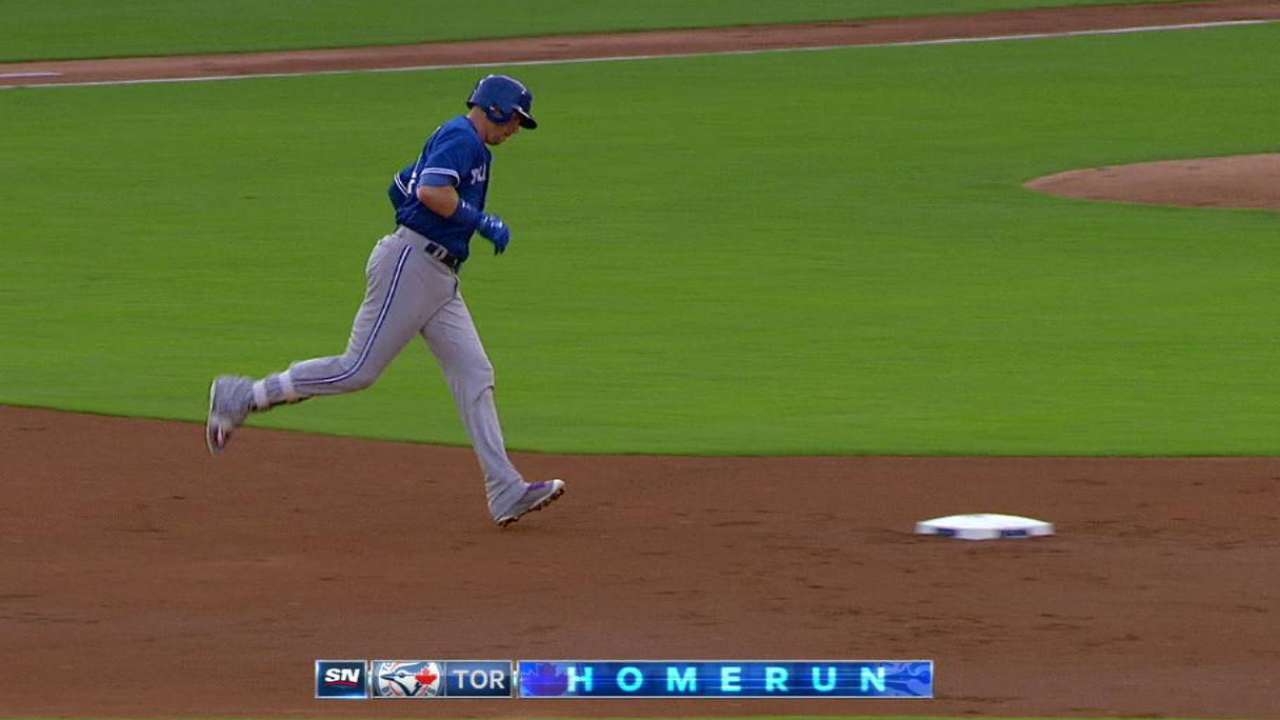 Smoak's 20th home run
TOR@TEX: Smoak slugs solo homer, 20th of season
Justin Smoak skies a solo home run to right-center field for his 20th of the season, tying the score at 1 in the top of the 2nd inning
"It does, but not much," Smoak said about whether reaching the 20-homer plateau matters to him. "I know it was a while ago, but I've done it before but I just have to keep going. It's a long season, you can't just be happy with where you are now. Have to keep going and try to win as many ballgames as we can so we're playing for something at the end."
REPLAY REVIEW
With one out in the first, Donaldson appeared to slide safely under Joey Gallo's tag at first base after Beltre's throw went wide. But Rangers manager Jeff Banister challenged the call, and it was overturned.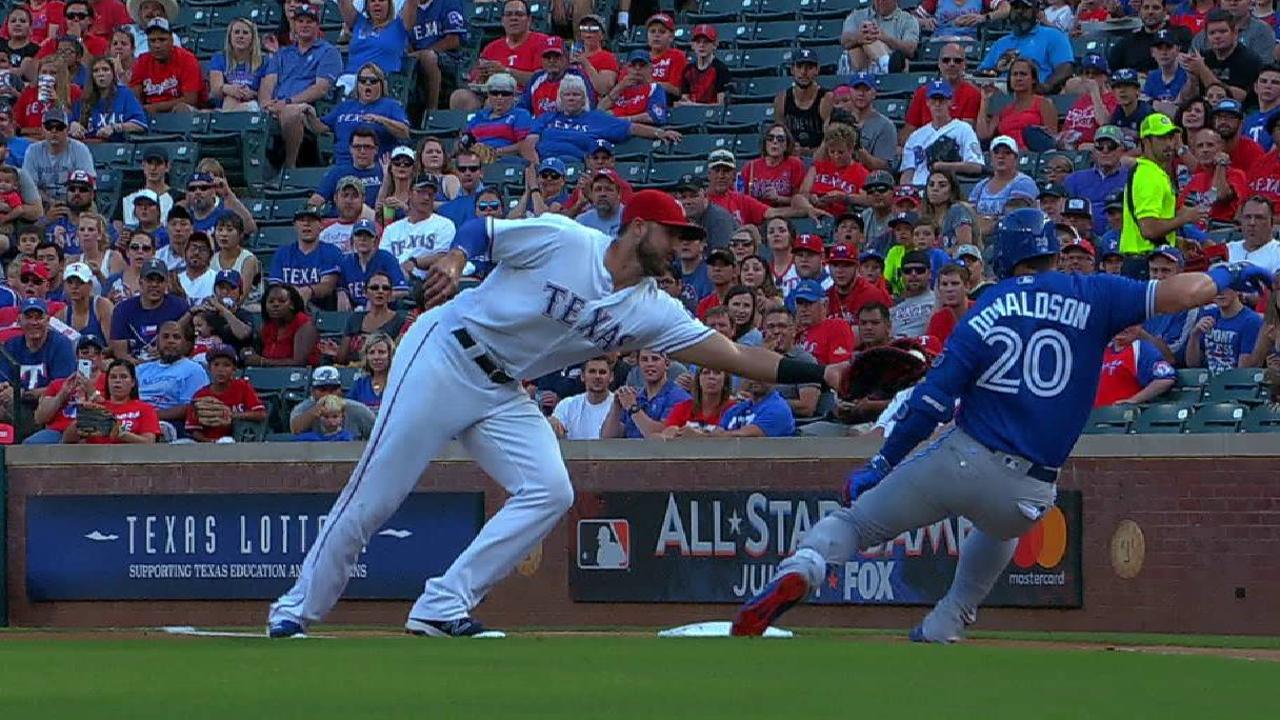 Gallo tags Donaldson at first
TEX@TOR: Blue Jays challenge play at first in the 1st
Joey Gallo corrals a wide throw at first and lays a tag on Josh Donaldson, which was ruled an out after the Blue Jays' challenge
The Rangers challenged another play in the fourth, when Morales hit a double but was nearly tagged out at second when his foot came off the bag for a split-second. That call stood, however, bringing Banister's record on challenges this year to 21-of-34.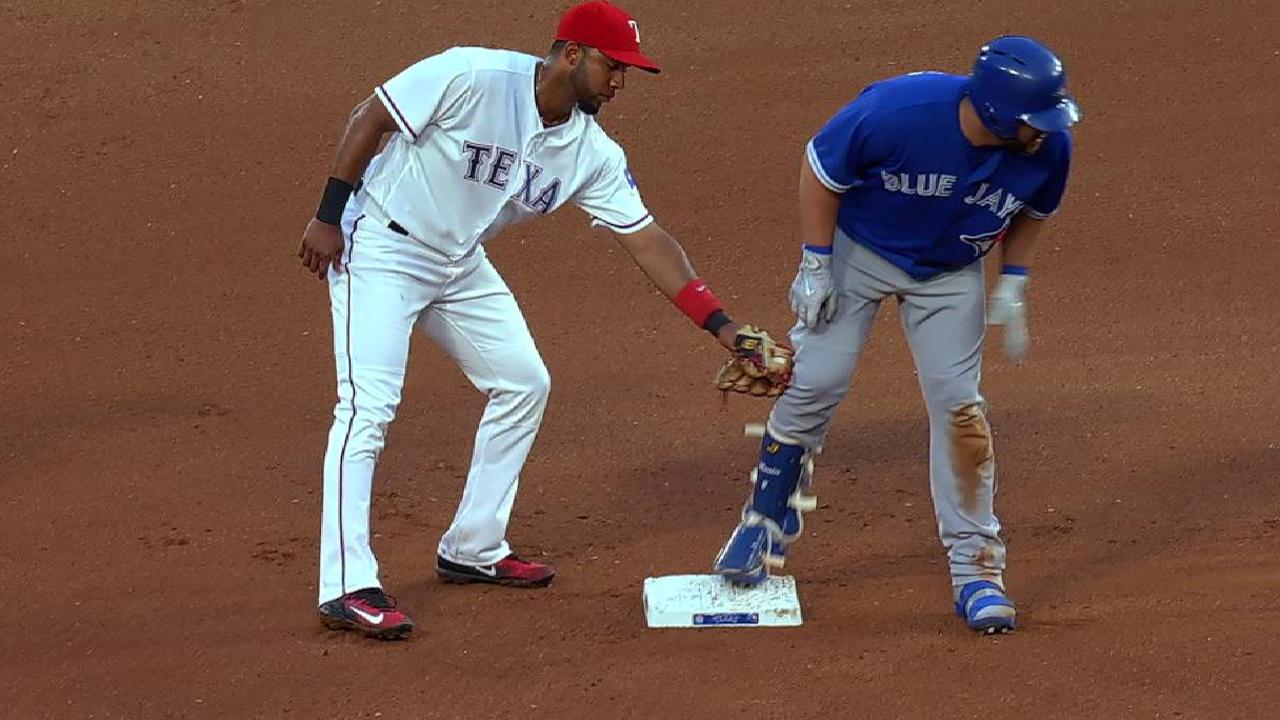 Morales doubles, avoids tag
TOR@TEX: Rangers challenge tag on Morales in the 4th
Elvis Andrus tries to sneak a tag on Kendrys Morales after he doubles to right, and the umpires confirm that the tag was not placed in time
WHAT'S NEXT
Blue Jays: Left-hander Francisco Liriano will take the mound when this series continues Tuesday at 8:05 p.m. ET. Liriano has made three starts since coming off the DL with left shoulder inflammation and the last outing was easily his best. He allowed three runs (two earned) while striking out nine and walking two. It was his first time completing seven innings in 10 starts this year.
Rangers: Right-hander Nick Martinez (1-3, 4.67) gets the nod Tuesday at 7:05 p.m. CT. He has pitched just twice this month — a relief appearance against the Astros on June 4 and a start in Houston on June 13.
Watch every out-of-market regular-season game live on MLB.TV.
Sam Butler is a reporter for MLB.com based in Arlington.
This story was not subject to the approval of Major League Baseball or its clubs.