Houston plated its final two runs in the seventh without benefit of an RBI, as Marisnick scored on an error, and Jose Altuve crossed the plate on a strikeout/fielder's choice.
"We're really athletic," said Astros manager A.J. Hinch. "I think everybody immediately looks at our offense — at the hitting, at the power or the lack of strikeouts — but we can create runs for ourselves."
Altuve scores on a strikeout
MIN@HOU: Altuve hustles home on a heads-up play
Jose Altuve makes a heads-up play as he sprints home to score after Josh Reddick strikes out to extend the Astros' lead to 5-2 in the 7th
Sunday's meeting was the last during the regular season between the Astros and Twins (46-45). Houston took the season series, 5-1.
From the ninth spot in Houston's order, Marisnick followed consecutive singles by Alex Bregman and Aoki with an RBI single in the second inning. Aoki would later slap a two-run double to center.
"It's good for us to put together good at-bats down there, and kind of flip the lineup over for some of these guys that are having the season that they're having," Marisnick said. "The better at-bats we put together down there, the more success we're going to have at the top and throughout the whole lineup."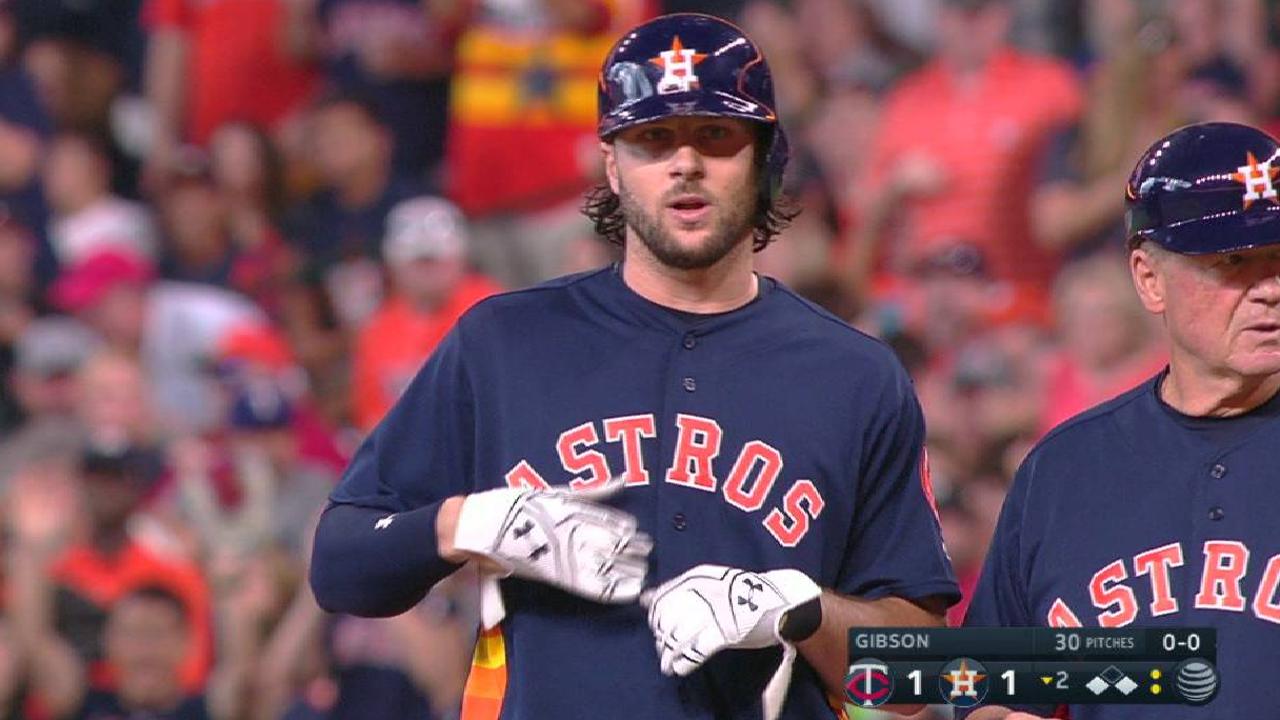 Marisnick's RBI single
MIN@HOU: Marisnick laces an RBI single to right
Jake Marisnick swings at a 1-2 pitch and drives it into right field, bringing in Alex Bregman to put the Astros on the board in the 2nd
While allowing solo homers to Kennys Vargas and Ehire Adrianza, Fiers struck out a season-high 11 — largely with pinpoint control via his curveball — which are the most he's accumulated since fanning 10 in his no-hitter against the Dodgers on Aug. 21, 2015. Fiers is the first Houston starter to last at least seven innings since June 16.
• Adrianza comes up big in loss to Astros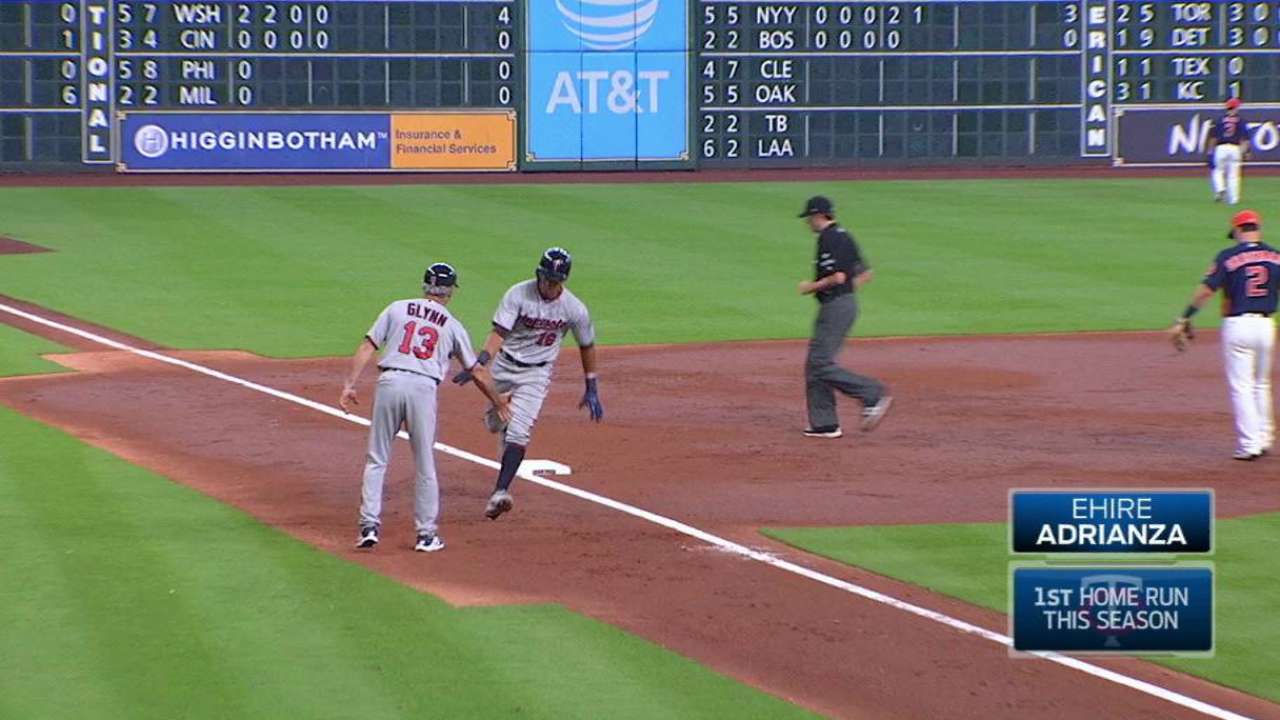 Adrianza's solo big fly
MIN@HOU: Adrianza clubs his first homer with Twins
Ehire Adrianza restores the lead for the Twins in the top of the 3rd as he deposits a solo homer into the stands in right
"I thought he was really good," Hinch said. "That was probably the best breaking ball he's had, and that's saying a lot, because he's had a really good breaking ball since this stretch started when he's been really, really effective. He was a strike machine with it. He could throw it to any hitter in any count. Really did a good job. Seven strong, strong innings."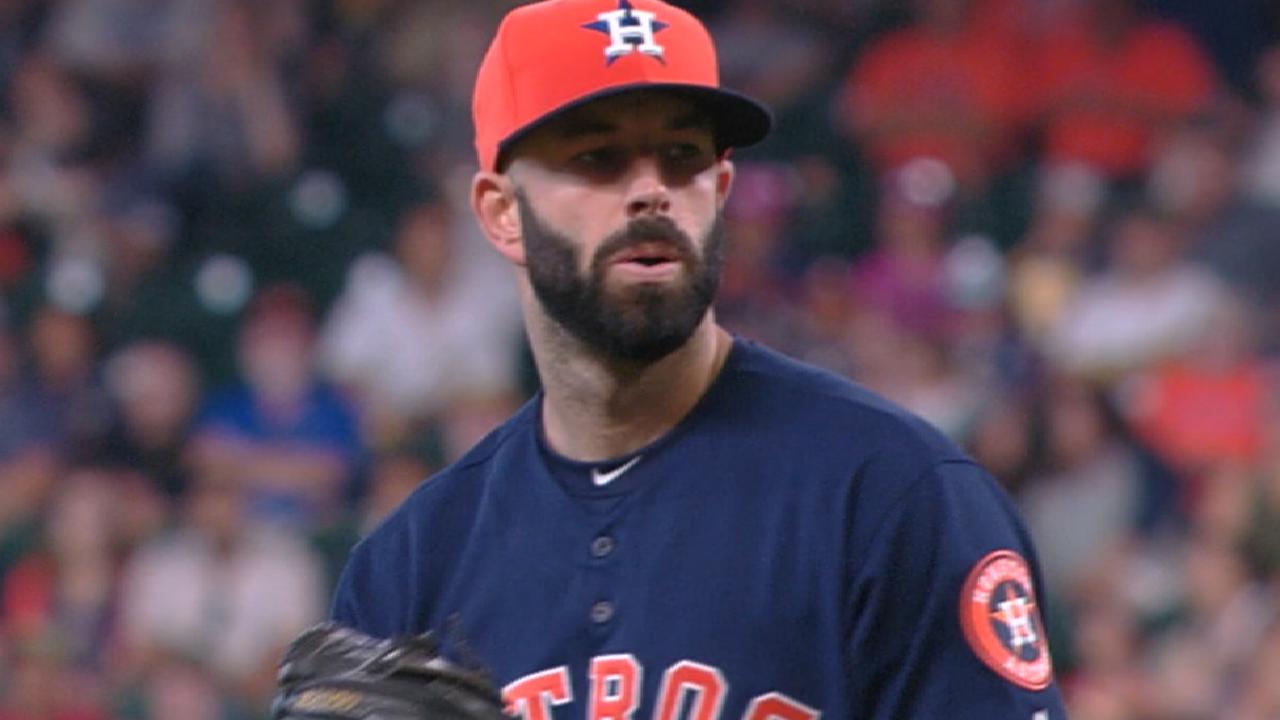 Fiers' 11 K's in 11 seconds
MIN@HOU: Watch Fiers fan 11 Twins in 11 seconds
Watch all 11 of Mike Fiers' strikeouts against the Twins in 11 seconds
Minnesota starter Kyle Gibson wasn't too shabby, either. Gibson went six-plus innings, allowing six hits and four earned runs. He also walked four and struck out six, both tying his season highs.
"This is a team we know we can play with when we're playing well," Gibson said. "They took advantage of us a little late and had some good baserunning to score a couple extra runs. We lost two of three, but we lost on the road to a really good team."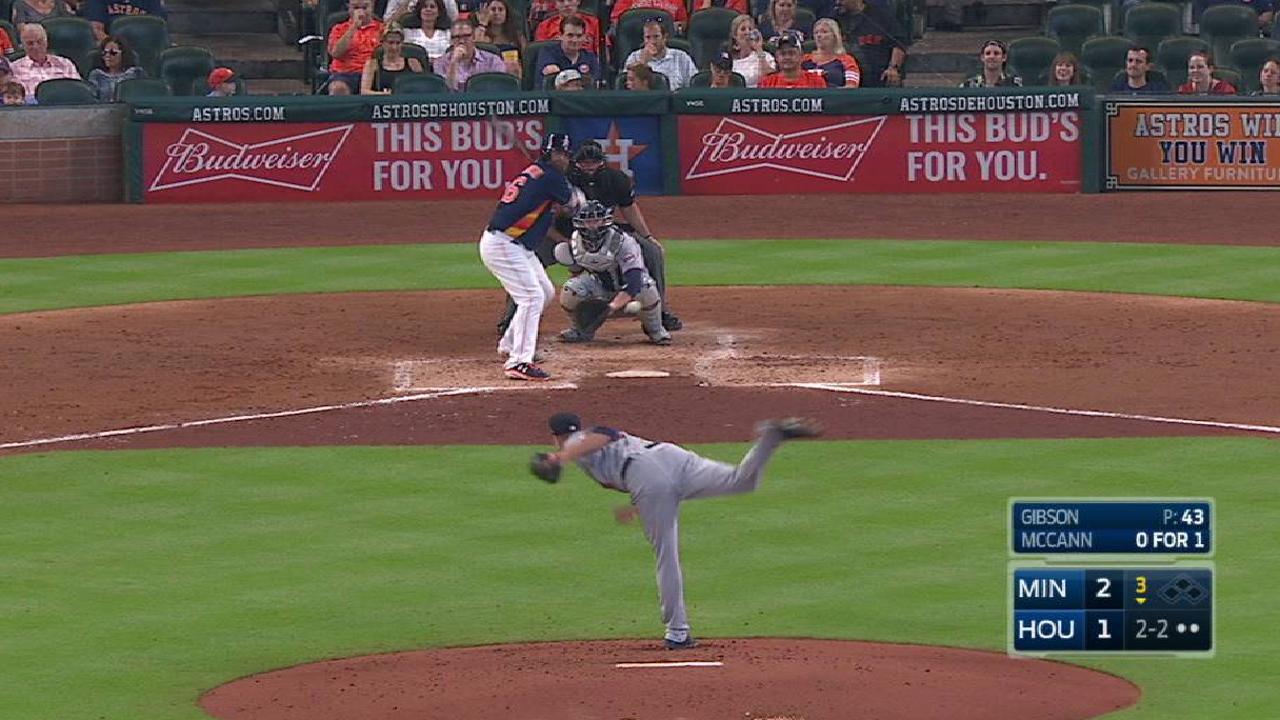 Gibson K's McCann
MIN@HOU: Gibson strikes out McCann in the 3rd
Kyle Gibson polishes off a 1-2-3 3rd inning as he gets Brian McCann to strike out swinging on five pitches
MOMENTS THAT MATTERED
Norichika's go-ahead knock: Following Yuli Gurriel's leadoff double in the fourth inning — which gave the Astros their 49th straight game with a double — Marwin Gonzalez walked. Two at-bats later, from the eighth spot in the order, Aoki shot a two-run double into center, scoring Gurriel and Gonzalez and giving the Astros a 3-2 lead.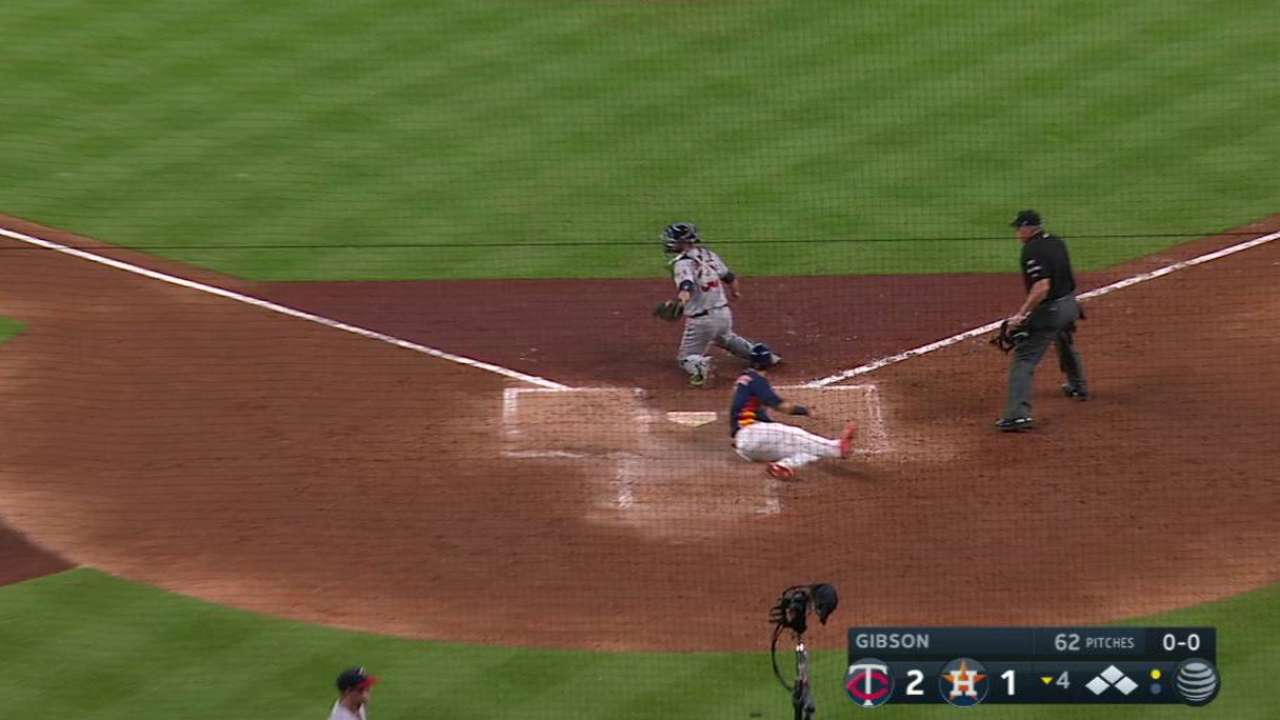 Aoki's two-run double
MIN@HOU: Aoki plates two with a double to center
Norichika Aoki lines a double that bounces to the center-field wall as Yuri Gurriel and Marwin Gonzalez score to give the Astros a 3-2 lead
Giles slams the door: Astros closer Ken Giles allowed a single to Twins second baseman Brian Dozier before walking Robbie Grossman, putting two on base for Minnesota's All-Star slugger, Miguel Sano, but Sano grounded out to short for the first out of the inning. Max Kepler would next chip a sacrifice fly to left field, recording the second out but scoring one and shrinking the Astros lead to two runs. Giles then got Vargas, who blasted a 452-foot homer in the second inning, to ground out to first base to end the ballgame.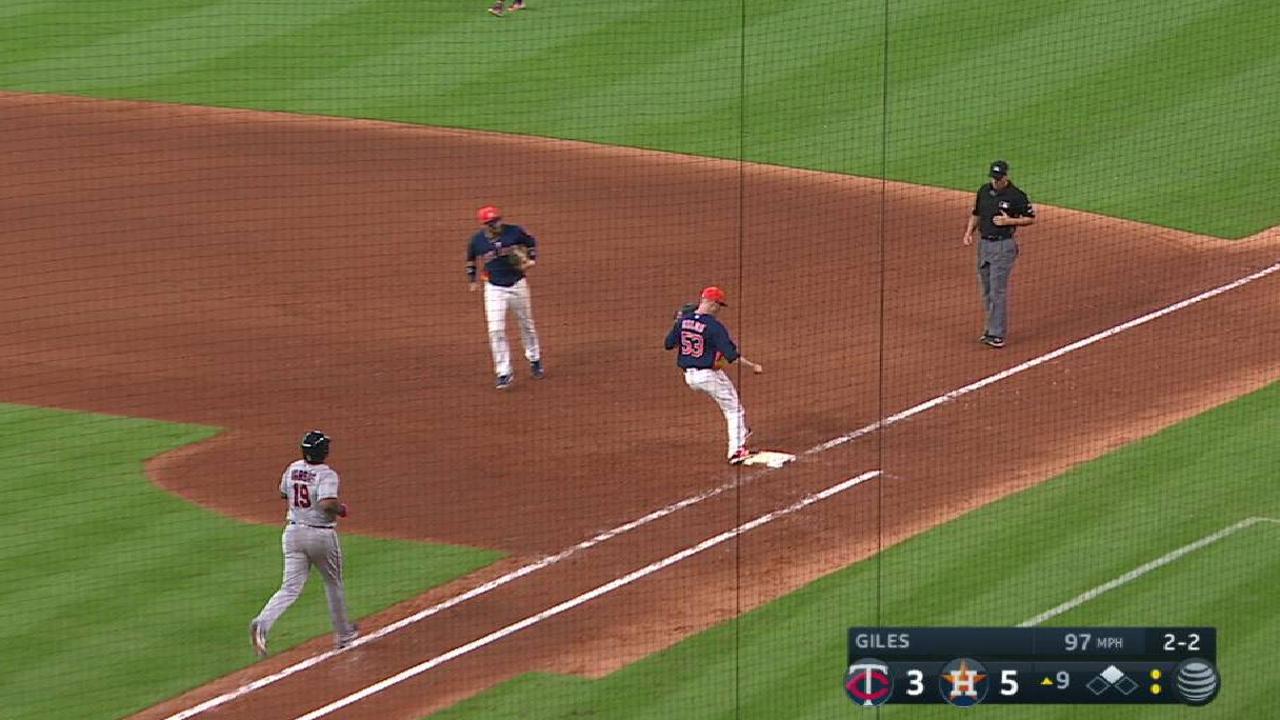 Giles shuts the door
MIN@HOU: Giles earns the save, seals the win
Ken Giles earns the save and seals a 5-3 win for the Astros as he gets Kennys Vargas to ground out in the top of the 9th
"We didn't muster a lot of offense, but we still gave ourselves a chance at the end," Twins manager Paul Molitor said. "But we couldn't get a big hit during the ninth to keep the rally going."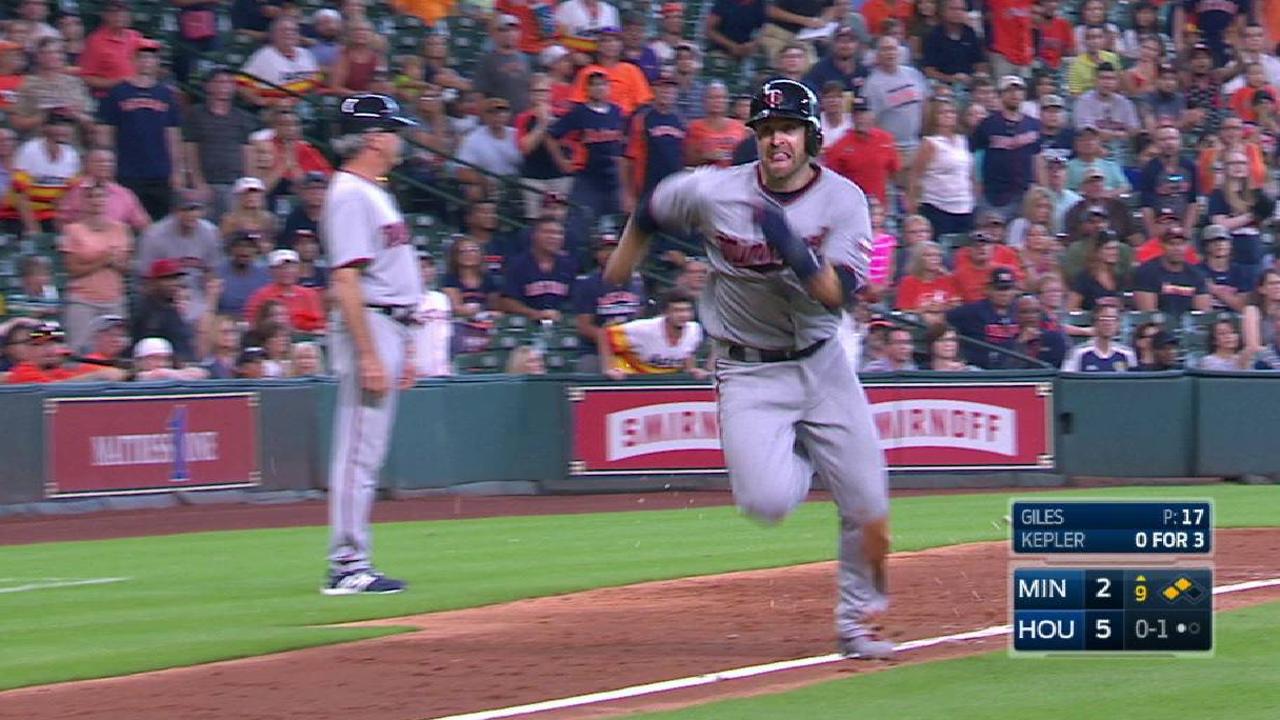 Kepler's sacrifice fly
MIN@HOU: Kepler brings home Dozier with a sac fly
Max Kepler sends a fly ball to left field deep enough for Brian Dozier to tag up and score in the top of the 9th
SOUND SMART WITH YOUR FRIENDS
The Astros have won 18 of their last 26 games. They've scored 191 runs in that stretch, averaging 7.35 runs per game.
WHAT'S NEXT
Twins: The Twins return to Target Field to open a three-game series on Monday against the Yankees. Left-hander Adalberto Mejia will be making his first career appearance against New York. First pitch is at 8:10 p.m. CT.
Astros: Houston continues its six-game homestand with a three-game series against Seattle beginning Monday at 8:10 p.m. CT. Right-hander Lance McCullers Jr. will oppose left-hander Ariel Miranda. McCullers is 2-0 vs. the Mariners this season, and 5-2 in his career against them.
Watch every out-of-market regular-season game live on MLB.TV.
Christian Boutwell is a reporter for MLB.com based in Houston.
Richard Dean is a contributor to MLB.com based in Houston and covered the Twins on Sunday.
This story was not subject to the approval of Major League Baseball or its clubs.