The A's battered Bauer for four runs, getting two-out, two-run singles from rookies Ryon Healy and Jaycob Brugman. Bauer exited after Brugman's single with three hits allowed, three walks and two strikeouts on 43 pitches, his most pitches in an inning since 2014.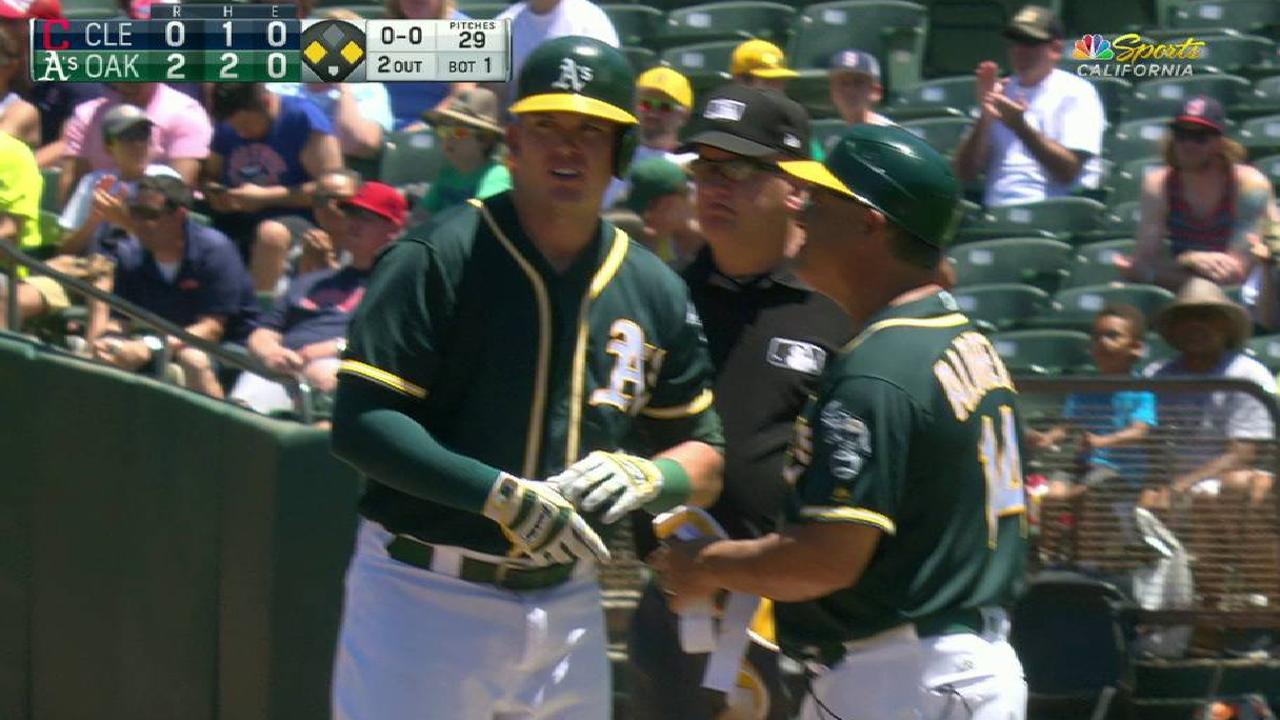 Healy's two-run single to right
CLE@OAK: A's take early lead on a single from Healy
Ryon Healy lines a single to right-center field and drives in two runs, giving the Athletics a 2-0 lead in the bottom of the 1st inning
That was plenty of support for the left-hander Manaea, with the only damage against him in seven innings coming on a two-run single by Michael Brantley in the fourth. Manaea gave up five hits, walked three and struck out eight to earn his eighth win of the season.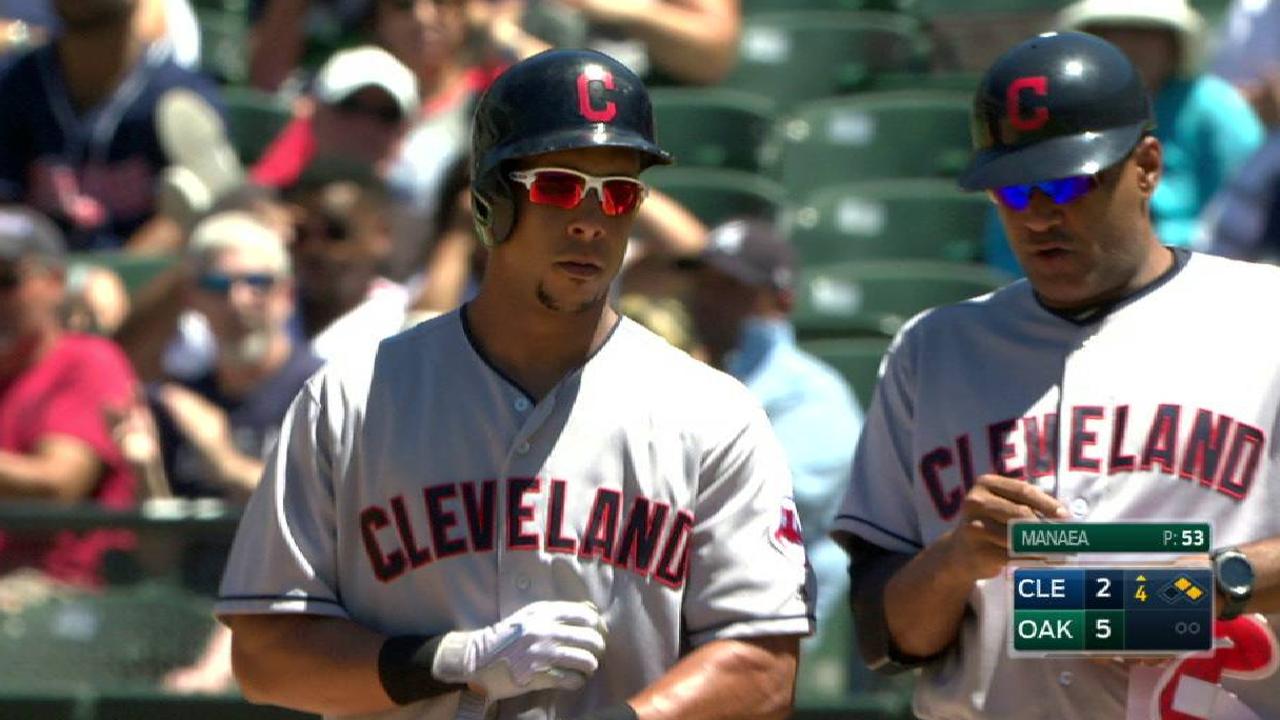 Brantley's two-run single
CLE@OAK: Brantley plates two with a single to center
Michael Brantley lines a single to center field and brings in two runs, putting the Indians on the board in the top of the 4th inning
"It's good for me to go out there and try to pitch to my strengths," Manaea said. "Today was the best game I've had with my slider. I'm finally starting to feel comfortable with it, being able to throw it for strikes, being able to throw it 3-2, get swinging strikes on it."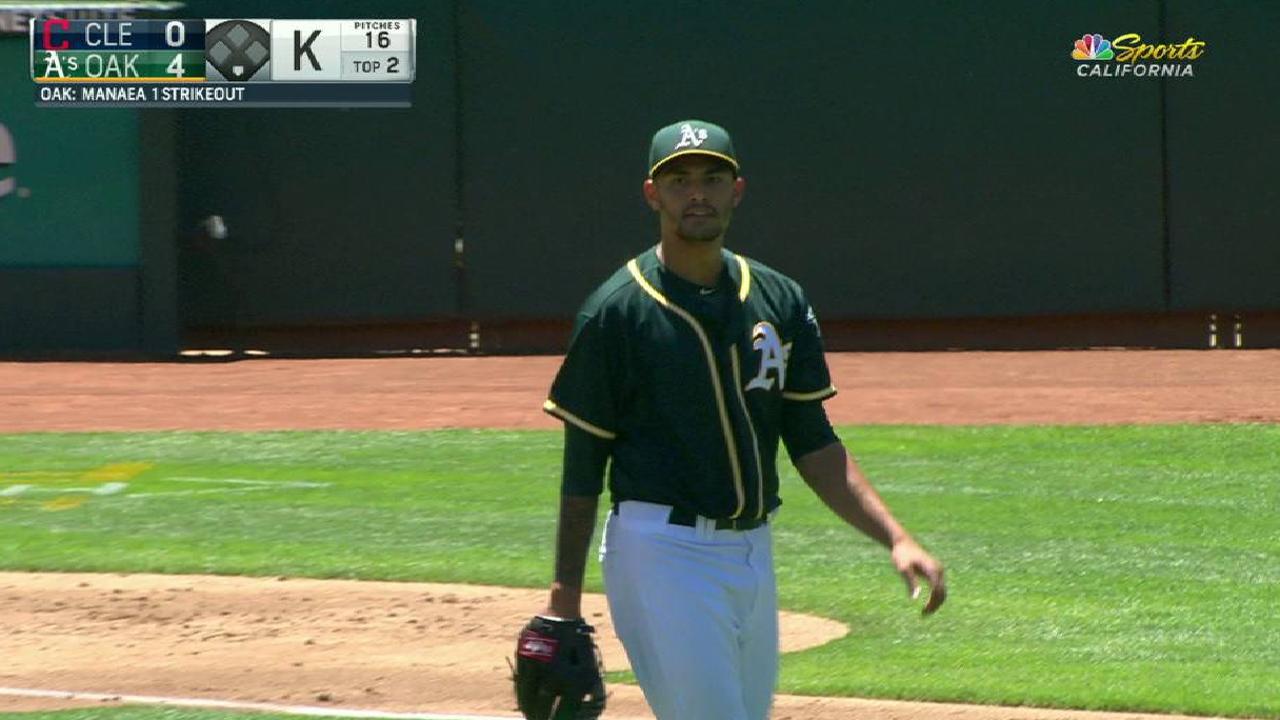 Manaea fans Encarnacion
CLE@OAK: Manaea strikes out Encarnacion
Sean Manaea gets Edwin Encarnacion to strike out swinging and picks up his first K of the game in the top of the 2nd inning
"We all think he's good," Indians manager Terry Francona said of Manaea. "He's been real tough on lefties. Actually, tough on both, but especially lefties. He's kind of got some sneak heat to his fastball, and he has the changeup. He's a good pitcher. He's going to get better, too."
On the day the A's traded key relievers Sean Doolittle and Ryan Madson to the Nationals, the Oakland bullpen trio of Daniel Coulombe, Liam Hendriks and callup Simon Castro combined to throw the final two innings and gave up one run on three hits.
Jed Lowrie hit his 10th homer of the season in the third, taking Indians reliever Dan Otero deep to right-center. The A's added two more in the eighth on Matt Joyce's two-run single.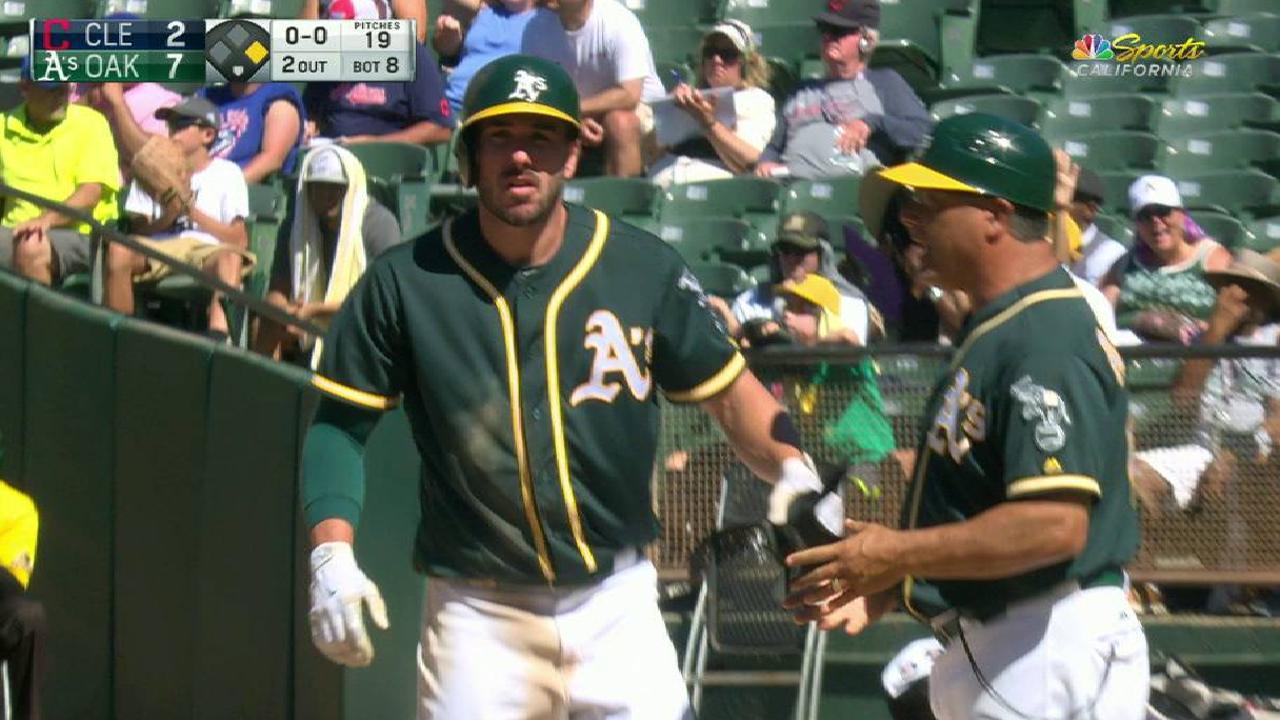 Joyce's two-run single
CLE@OAK: Joyce brings home two with a single
Matt Joyce punches a single back up the middle and drives in two runs to extend the A's lead to 7-2 in the bottom of the 8th inning
For Cleveland, Abraham Almonte added a solo homer with two outs in the ninth, and Francisco Lindor had his second career four-hit day, finishing 4-for-4 with three doubles.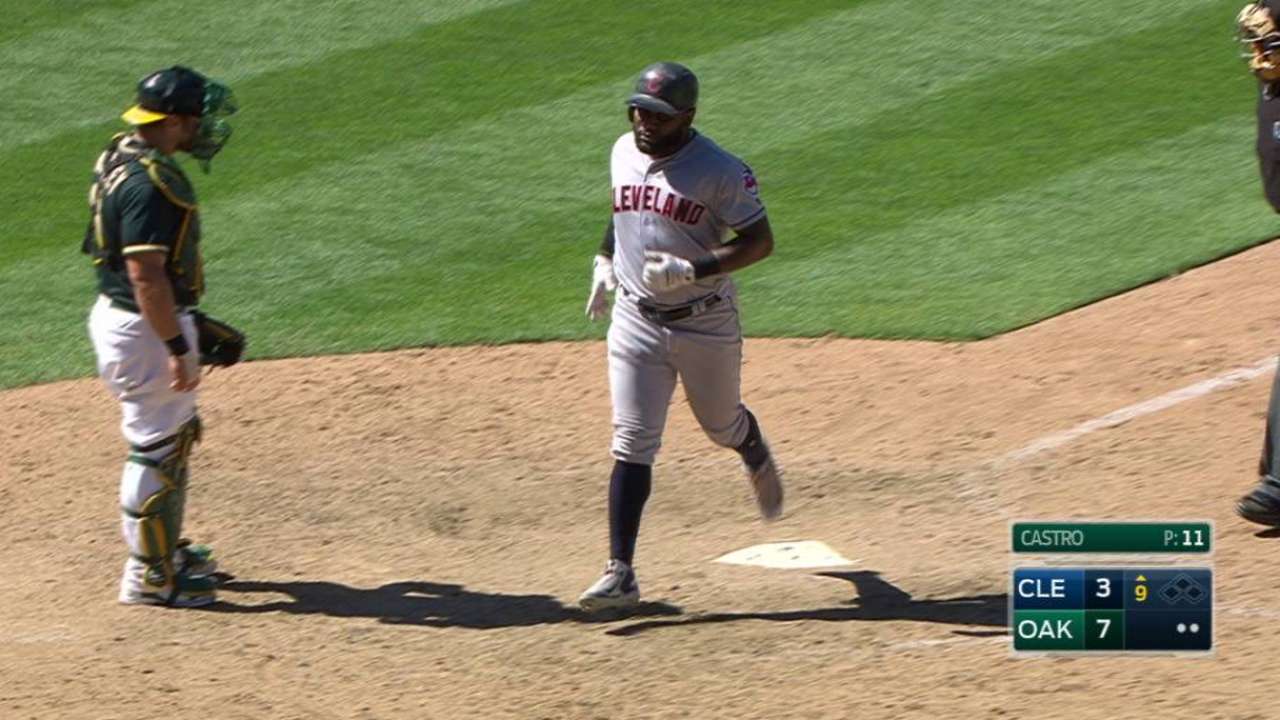 Almonte's mammoth solo home run
CLE@OAK: Almonte crushes a solo homer to right-center
Abraham Almonte smashes a solo home run to right-center field and reduces the Indians' deficit in the top of the 9th inning
Cleveland had a leadoff double in the sixth, seventh and eighth innings, but could not capitalize, ending the day 1-for-11 with runners in scoring position.
"When you're down, you've got to play for multiple runs," Francona said. "We're not trying to give ourselves up in those situations, but we had the middle of the order up a few times and just couldn't do anything with it."
MOMENTS THAT MATTERED
Brugman's big knock: Brugman came to the plate after Indians pitching coach Mickey Callaway visited Bauer, who had already thrown 36 pitches in the inning. As Otero warmed up in the bullpen, Brugman worked a full count and fouled off a 3-2 pitch before lining a high-and-away fastball to right for a two-run single and ending Bauer's start.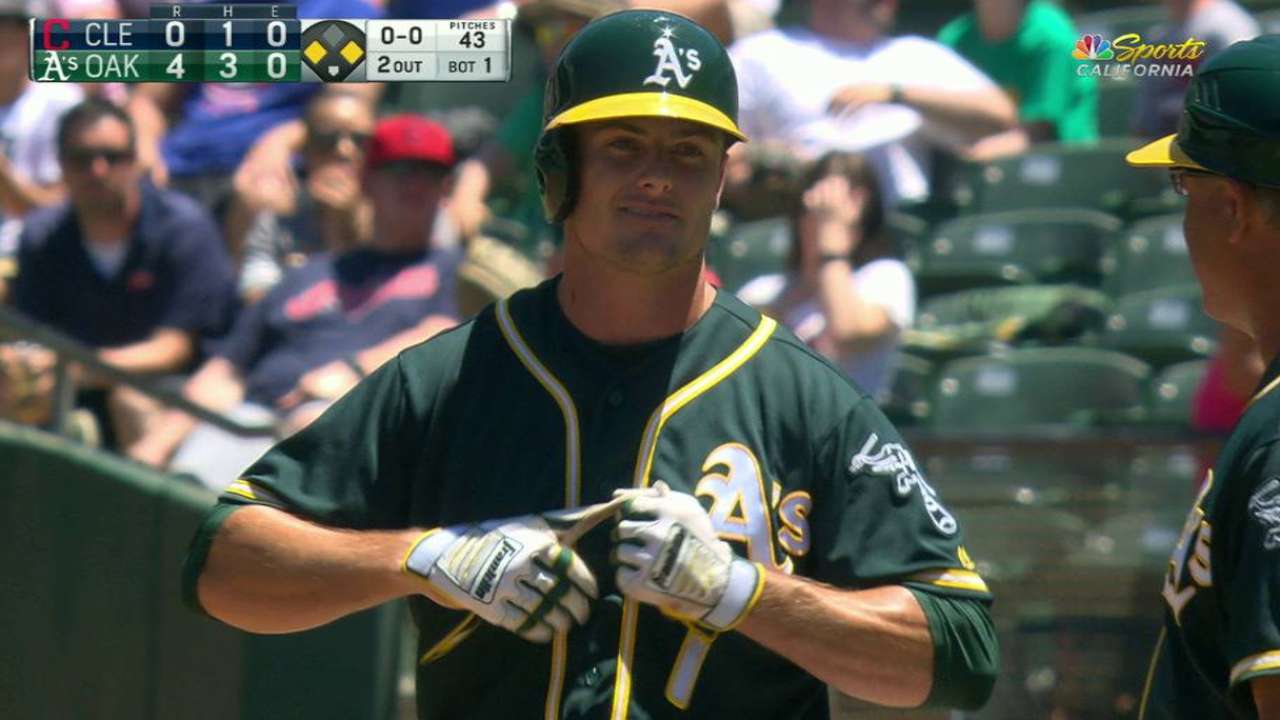 Brugman's two-run single
CLE@OAK: Brugman knocks in two with a single to left
Jaycob Brugman singles to left field and plates two runs, extending the Athletics' lead to 4-0 in the bottom of the 1st inning
"That was huge. It's always huge to get it to the bullpen early," said Brugman, who had missed the previous two games due to the stomach flu. "I had to get my timing down since I hadn't played. I saw some pitches, which is what I wanted to do, and made an adjustment."
Manaea locks it down: Manaea's pitch count had reached 111 when he walked Giovanny Urshela in the seventh to bring the tying run to the plate. But the A's left Manaea in, and he struck out Brandon Guyer on three pitches, completing his day on a good note.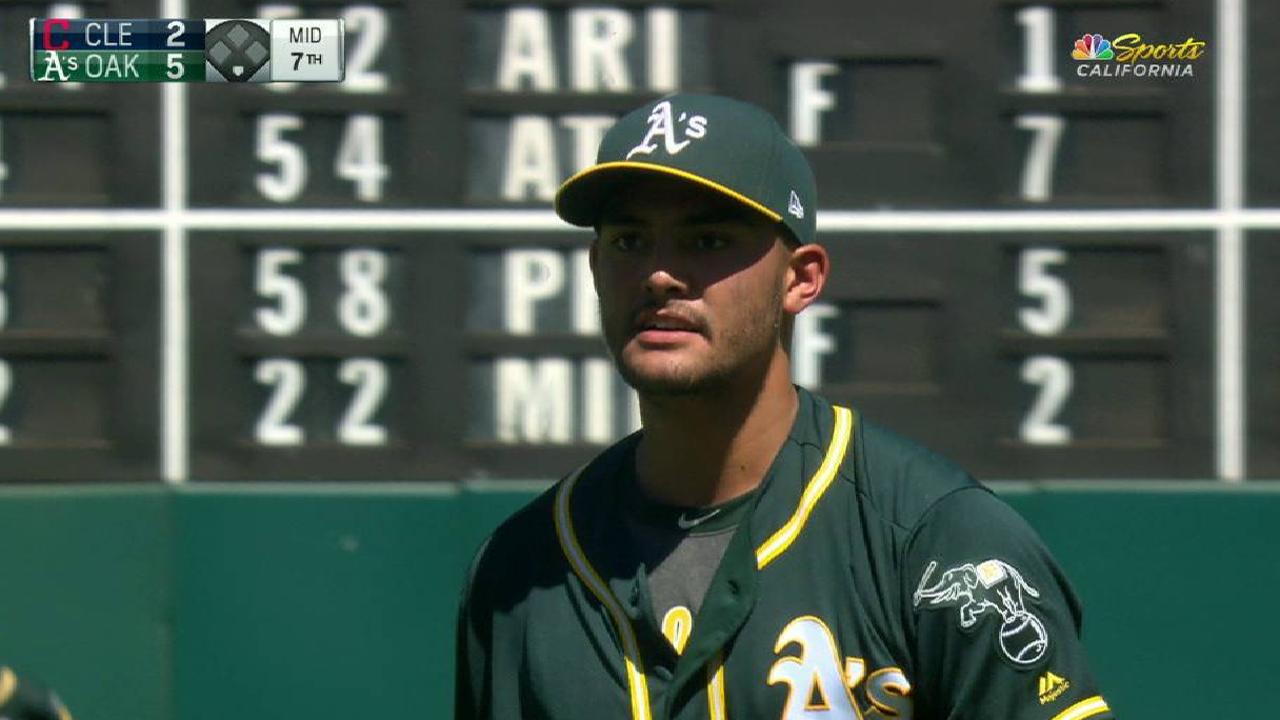 Manaea K's Guyer to escape jam
CLE@OAK: Manaea strikes out Guyer, strands two in 7th
Sean Manaea gets Brandon Guyer to strike out swinging and strands runners on the corners in the top of the 7th inning
"I was really excited. I knew my pitch count was up, but I had gotten Guyer out before," Manaea said. "I knew he was my last guy, so I left everything out there. I was thankful he swung over the changeup to get the last out. I was really, really pumped and glad I was able to finish out the seventh."
"We leaned on him a bit harder, as we'll do with some of our starters," Melvin said. "He's up for that now and has matured into that role, where even though it's the tying run and he's got 113 pitches, it was his game. He takes a lot away from that, too. We have a lot of confidence in him."
QUOTABLE
"Overall, I think the runs early were big for us. Whenever you say goodbye to guys like that, there's certainly some sentiment that runs through the clubhouse. I think the runs early in the game were really important for us." — Melvin, on scoring four first-inning runs hours after trading Doolittle and Madson
"I didn't have any feel for anything I was throwing. No feel for how my body was moving, where the ball was going. Nothing." — Bauer
• Bauer's outing reflects Indians rotation's inconsistency
SOUND SMART WITH YOUR FRIENDS
The loss was the fourth in a row for the Indians, who had not dropped more than three consecutive games since July 23-28, 2015 (six straight defeats). Cleveland's streak of 312 games between losing streaks of four-plus games was the third-longest run of its kind in AL history, trailing the 1931-33 Yankees (346) and 1917-19 Indians (316).
WHAT'S NEXT
Indians: Right-hander Josh Tomlin (5-9, 5.90 ERA) is scheduled to start for the Tribe in a 10:15 p.m. ET Interleague game against the Giants on Monday at AT&T Park. In his last outing on July 6, Tomlin held the Padres to two runs over seven innings. The righty is 9-5 with a 4.51 ERA in 18 career Interleague appearances.
Athletics: The A's continue their homestand against the Rays at 7:05 p.m. PT on Monday. Rookie right-hander Daniel Gossett (1-4, 6.23 ERA) takes the mound for his seventh Major League start, only his second at night.
Watch every out-of-market regular-season game live on MLB.TV.
Alex Simon is a reporter for MLB.com based in the Bay Area. Follow him on Twitter at @alexsimon99.
Jordan Bastian has covered the Indians for MLB.com since 2011, and previously covered the Blue Jays from 2006-10. Read his blog, Major League Bastian, follow him on Twitter @MLBastian and listen to his podcast.
This story was not subject to the approval of Major League Baseball or its clubs.