"It's No. 1," said Arenado, who had not hit a walk-off home run since 2013, and had not homered since June 3 this year. "Obviously, it's one of the best moments of my career. Winning the WBC [for Team USA this year] is up there. I've had some big homers, but this by far is the best."
According to the Elias Sports Bureau, it was the first walk-off, cycle-completing home run with the batter's team trailing in Major League history, and just the 10th walk-off hit of any type to accomplish the feat. Just four other players had hit a walk-off home run to cap a cycle, but all had done it in tie games: Ken Boyer of the Cardinals in 1961, Cesar Tovar of the Twins in 1972, Dwight Evans of the Red Sox in 1984 and Carlos Gonzalez of the Rockies in 2010.
• Cast your Esurance All-Star ballot for Arenado and other #ASGWorthy players
After emerging bloody but in no way damaged from the wild celebration, Arenado was serenaded by an "MVP!" chant from the sellout crowd.
"That's the loudest I've ever heard this place — before I hit it," said Arenado, who gave a boisterous interview on Root Sports Rocky Mountain that was played on the big screen in the ballpark. "I think the fans and people in general are starting to get the hint that we're for real. We need their support.
"I was fired up. I was fired up for them. I just wanted to show them some love."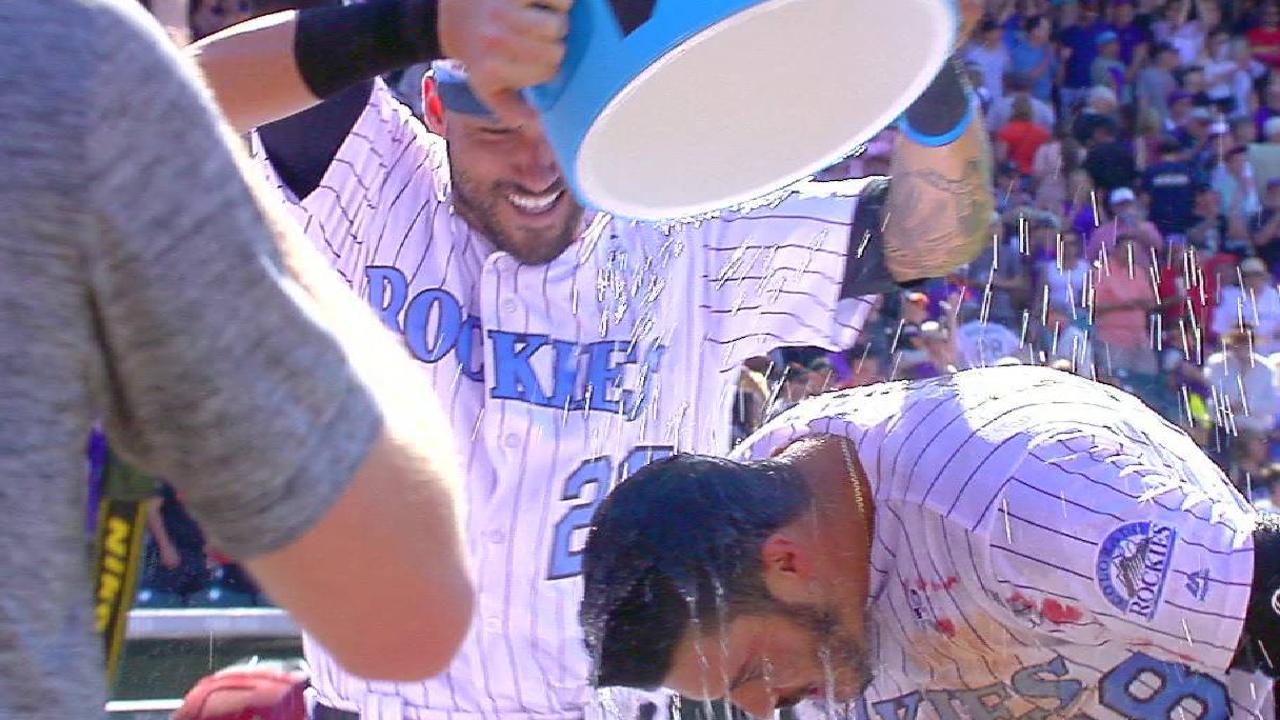 Arenado on big win, his cycle
SF@COL: Arenado gets a bath during interview
Nolan Arenado receives a postgame bath while discussing his impressive game in the Rockies' 7-5 win over the Giants
Arenado tripled in the first inning, singled in the fourth and doubled in the Rockies' first run in the sixth, all off starter Ty Blach. After the Giants scored three runs in the top of the ninth for a 5-3 lead, Arenado was due up fifth in the ninth and "wanted that last at-bat." San Francisco took the lead when Hunter Pence knocked a two-run homer off Jake McGee, and Brandon Crawford added an RBI double in the top of the inning. The Rockies would need something spectacular to keep from losing for the first time in 44 games in which they led after seven innings.
Arenado admitted he thought cycle before the inning. Then he saw Melancon, the Giants' veteran closer, and said, "All right, we've got to put that out the window and start focusing on hitting the ball hard and getting the ball to the outfield."
The Rockies would make sure Arenado had his chance. Taking advantage of a less-than-sharp Melancon, who hadn't pitched in 10 days, the Rockies strung together one-out hits by rookie Raimel Tapia, who was pinch-hitting, Blackmon and DJ LeMahieu, whose single with runners at the corners drove in a run to cut the difference to 5-4.
Up stepped Arenado, who swatted Melancon's first-pitch fastball — off the plate, inside, which is where Arenado loves it — for the eighth cycle in Rockies history and the 17th cycle in the history of Coors Field. It also was the first walk-off cycle in the Majors since Gonzalez did it July 31, 2010, against the Cubs.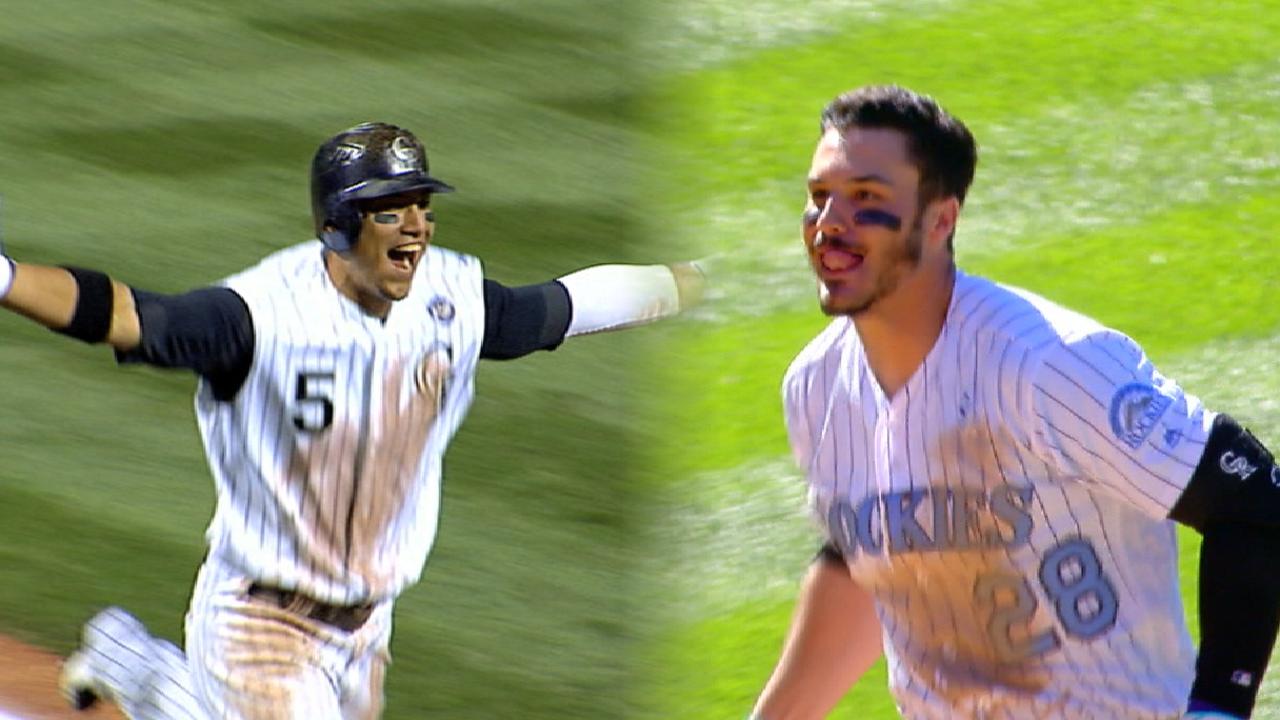 Rockies walk-off HRs cap cycles
Arenado, CarGo completed cycles with walk-off homers
Nolan Arenado follows his teammate Carlos Gonzalez from seven years ago, completing the cycle with a walk-off home run
"I remember watching CarGo's homer when he hit it; it was amazing," said Arenado, who had been drafted in 2009 in the second round and was in his first full season in the Rockies' system in 2010. "It was cool. I guess I know what he feels like."
The homer touched off an earthshaking response from a sellout crowd that was something teammate Mark Reynolds said he hadn't heard at Coors Field "since the '07 playoffs" — when Reynolds played for a D-backs team that bowed to the Rockies in the National League Championship Series. But it's not as if the fans hadn't seen similar feats before from Arenado. Melancon has built a career on a cut fastball, which would have been outside to the right-handed-hitting Arenado. However, Melancon went with a two-seam fastball that bore inside, off the plate. According to Statcast™, six of Arenado's 15 homers this season have been from the inside edge of the plate to off the plate inside.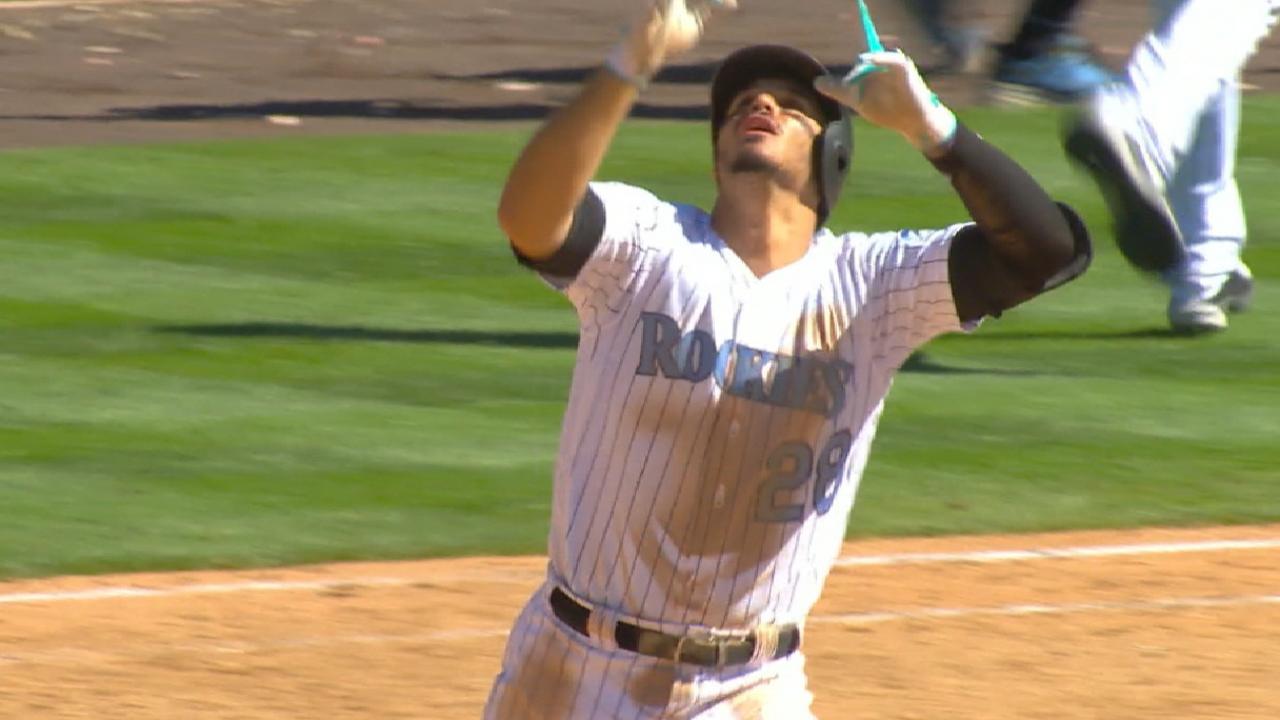 Arenado nets cycle with walk-off
SF@COL: Arenado's walk-off homer earns him a cycle
Nolan Arenado hits for the cycle in a 7-5 win vs. the Giants after launching a three-run walk-off home run to cap off a monster game
"He's an All-Star player," Rockies manager Bud Black said. "He's one of the best players in the game. He's capable of doing these things, no doubt about that.
"And he's been swinging well. That's the thing. His at-bats today, his at-bats yesterday, his at-bats the last couple of days have been solid."
The Giants can't be surprised. Arenado delivered 24 RBIs against the Giants in 2015 and again in 2016. In the four-game sweep, Arenado was 10-for-20 with five of his Majors-leading 26 doubles and nine RBIs. This season in 11 games, he has damaged the Giants to the tune of .383 (18-for-47) with two homers, eight doubles, a triple and 14 RBIs.
The teams are scheduled for nine more games — June 26-28 at AT&T Park, Sept. 4-6 at Coors Field and Sept. 19-20 at AT&T Park.
Yet Arenado is always complimentary of the Giants and even their fans, whom he regularly angers and disappoints.
Even with the stadium rocking after LeMahieu's RBI double and anyone with a pulse believing magic could happen, Arenado stayed humble right up to the swing.
"I was fired up," Arenado said. "I heard the crowd. But I just said a little prayer. I was like, 'Calm down, give me strength to be able to slow this game down.'
"That's what it's all about."
Thomas Harding has covered the Rockies since 2000, and for MLB.com since 2002. Follow him on Twitter @harding_at_mlb and like his Facebook page. This story was not subject to the approval of Major League Baseball or its clubs.