"They came back [from the break] with a good mindset, a good approach, and it's showed in these past two games," Arrieta said of his teammates.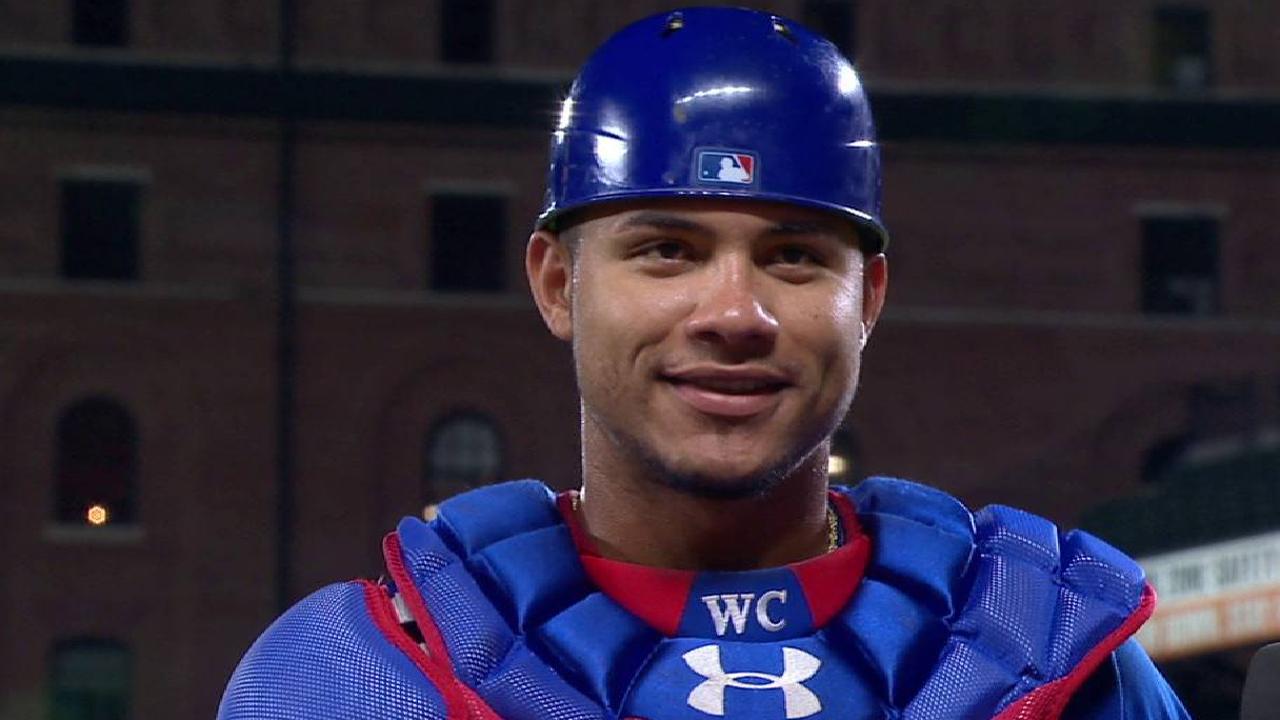 Contreras on Cubs' offense
CHC@BAL: Contreras discusses offense, Arrieta's start
After the Cubs' 10-3 win, Willson Contreras discusses the team's hot offense and Jake Arrieta's start against the Orioles
Making his return to Baltimore for the first time since he was traded to the Cubs in 2013, Arrieta held the Orioles to one hit over the first four innings before Caleb Joseph went deep in the fifth. The righty exited after a two-out infield single in the seventh, with a standing ovation from the Cubs fans at Camden Yards and some scattered applause from the home crowd.
• Buck: O's bright spot Joseph has repaid trust
"All in all, it was a great experience," Arrieta said of his return. "I was fortunate to be able to play here for a few years. Now I've moved on to this phase of my career. I wouldn't trade those years [with the Orioles] for anything. I'm able to be the player I am today because of what I went through in this organization."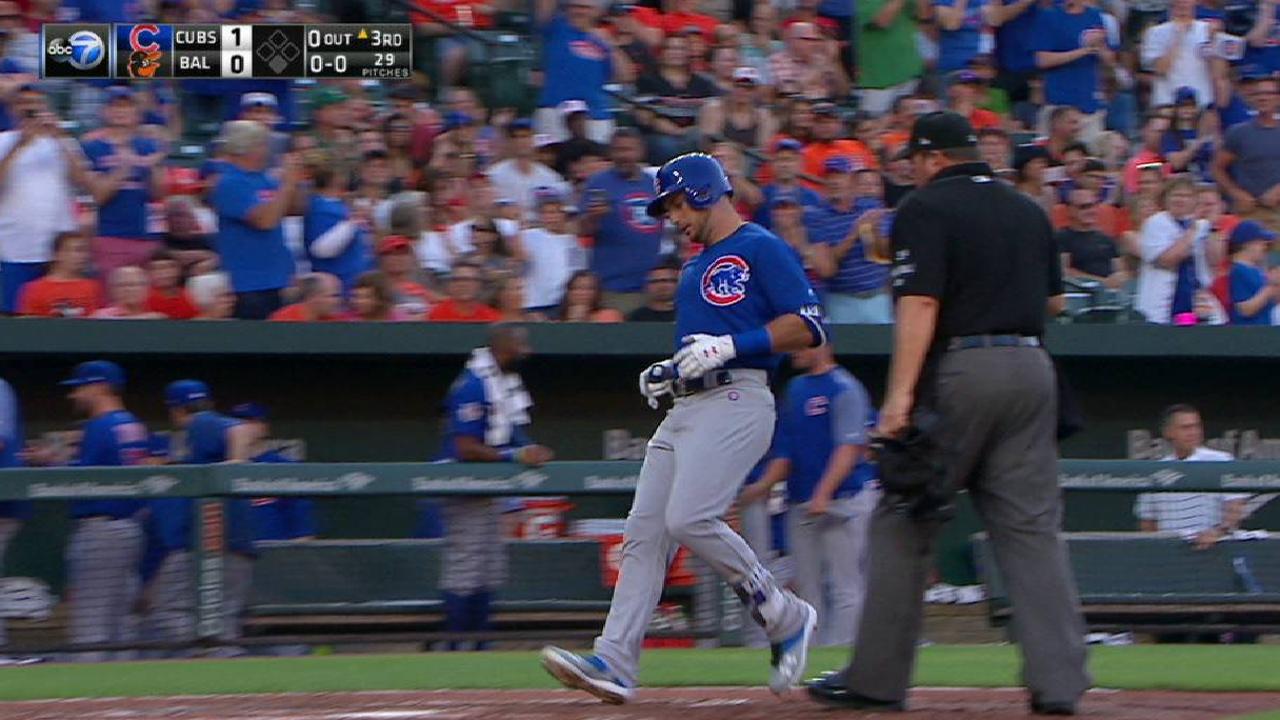 Almora Jr.'s solo homer
CHC@BAL: Almora Jr. crushes a solo home run to center
Albert Almora Jr. opens the scoring for the Cubs in the top of the 3rd inning with a solo home run over the wall in center field
Orioles starter Wade Miley continued a disturbing trend for Baltimore's starting rotation, going 4 2/3 innings and allowing seven earned runs. Almora got things started with a solo blast in the third inning while Russell — who had the game-winning homer on Friday — cranked a solo shot in the fourth.
"There's certainly a certain mentality that you want to be the guy that starts a good roll, but you've got to stay away from, when things get a little sideways early on [letting it get out of hand]," Orioles manager Buck Showalter said. "[Miley] started off sharp. I thought we were going to get another good outing from him like we did last time, but Chicago's pretty good."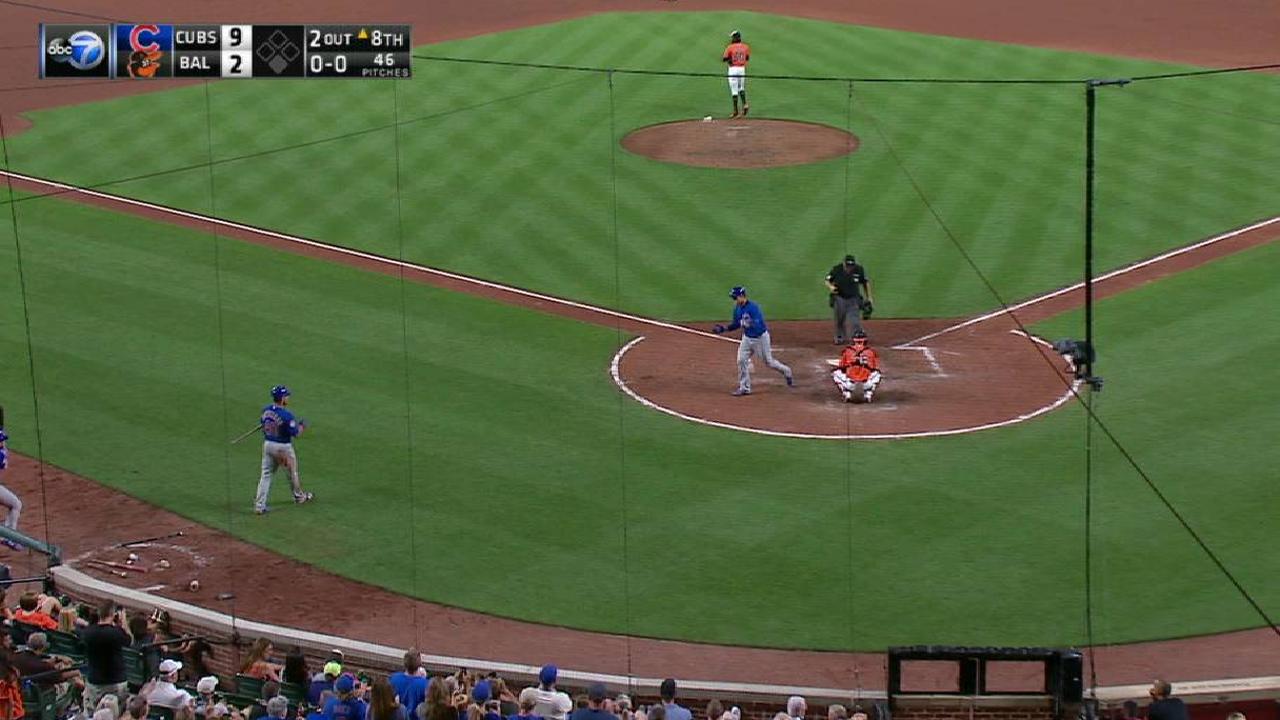 Rizzo's solo home run
CHC@BAL: Rizzo crushes a solo home run to center
Anthony Rizzo belts a solo home run to center field to give the Cubs a 9-2 lead in the 8th inning
Rizzo extended his team lead to 21 with a solo homer off Orioles reliever Miguel Castro in the eighth.
The Orioles' only other run off Arrieta came from Ruben Tejada's infield single to chase him. Joseph had two RBIs and was the lone bright spot for a Baltimore club that is 27-40 since May 1.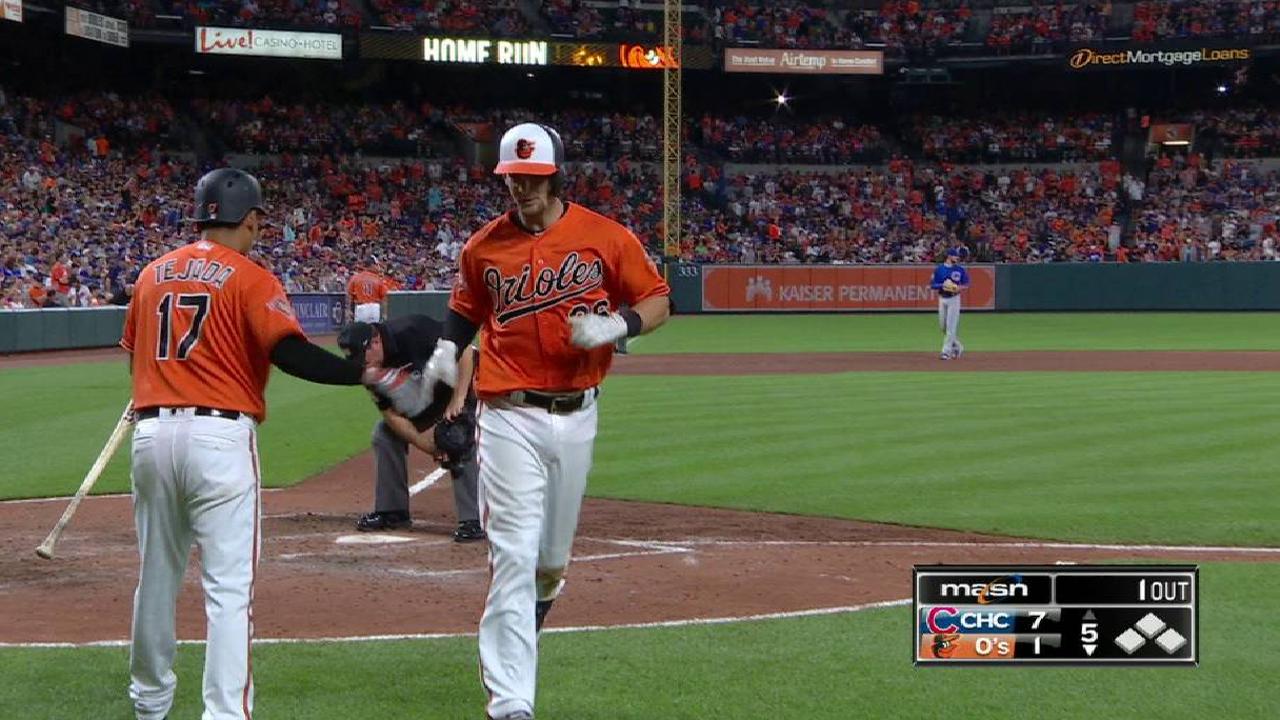 Joseph's solo home run
CHC@BAL: Joseph belts a solo homer to left field
Caleb Joseph gets the Orioles on the board in the bottom of the 5th inning with a solo home run to left field
MOMENTS THAT MATTERED
Heyward makes Miley pay: After Miley opted to intentionally walk Russell to load the bases with two outs in the fifth, Jason Heyward ripped a triple into deep center field to score three. Part of a four-run frame, the hit also chased Miley from the game.
"As crazy as it sounds, the numbers look terrible, but I felt more like my last start than the previous ones prior to that. I've just got to get back in the bullpen and continue to work," Miley said. "In the fifth inning, got the two outs, got the double-play ball, and then it just snowballed. Kind of did the same thing in the fourth. I was able to manage it. But, yeah, falling behind. Falling behind with two outs. Just not staying aggressive."
Said Heyward: "I just tried to get a pitch in the strike zone and not miss it. [Miley] has got a lot of good stuff and a lot of ways to get you out."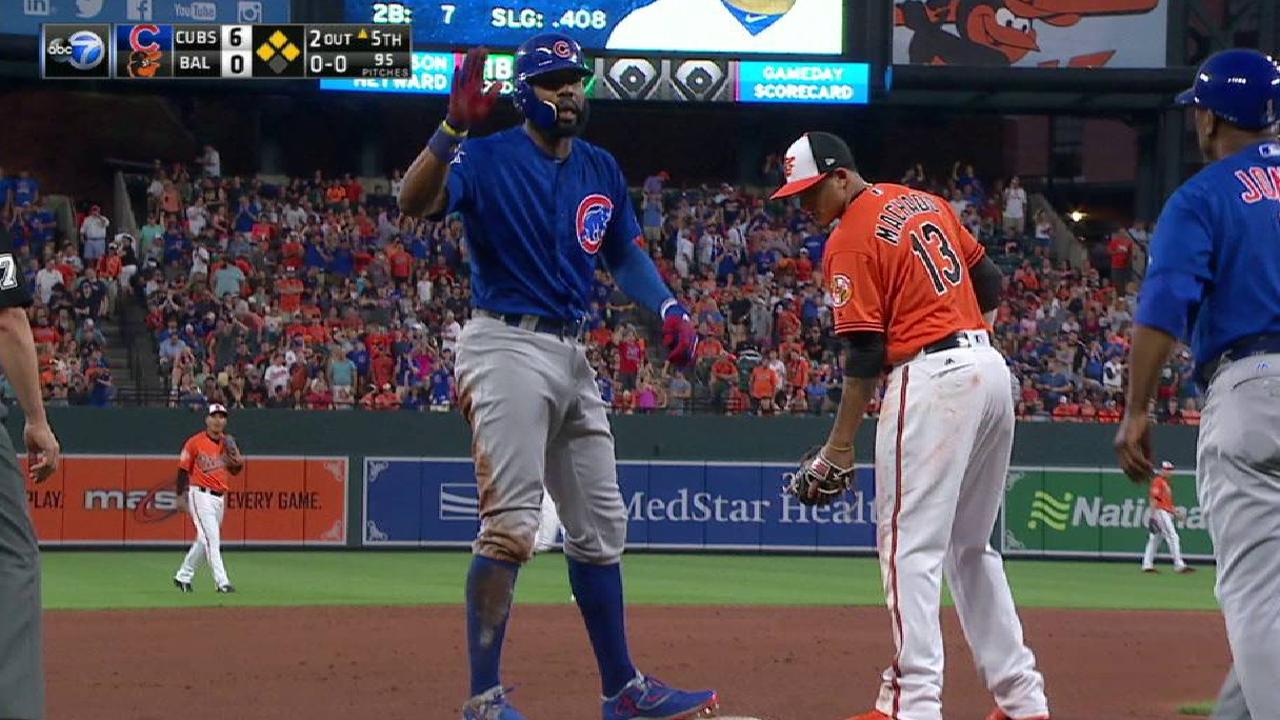 Heyward's bases-clearing triple
CHC@BAL: Heyward clears the bases with a triple
With two outs and the bases loaded, Jason Heyward smacks a triple off the wall in center field to drive in three runs
Arrieta's return: The right-hander was dominant against his former club, pitching 6 2/3 innings and allowing two runs (one earned) on four hits and three walks. Arrieta, who had a rough June (4.85 ERA), has turned in quality starts in two of his three outings in July.
"I'll take that [performance] the rest of the year," Maddon said. More >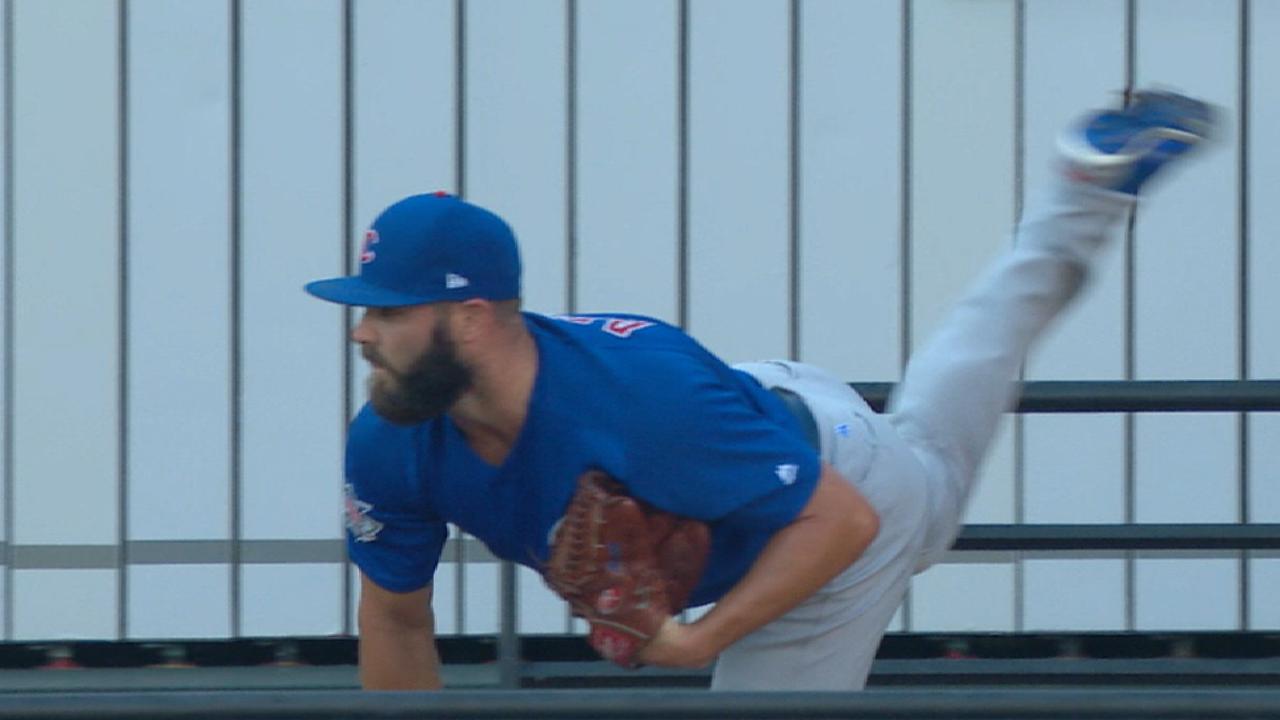 Arrieta's impressive start
CHC@BAL: Arrieta K's three against his former team
In his second career start against his former team, Jake Arrieta strikes out three Orioles while only allowing two runs over 6 2/3 innings
QUOTABLE
"Never threw a ball straight. Every ball he throws has movement. Some come into you, some go away from you. He's a tough at-bat. He's an uncomfortable at-bat, the way he strides for right-handers. It's like the ball comes out behind you." — Joseph, on what made Arrieta so tough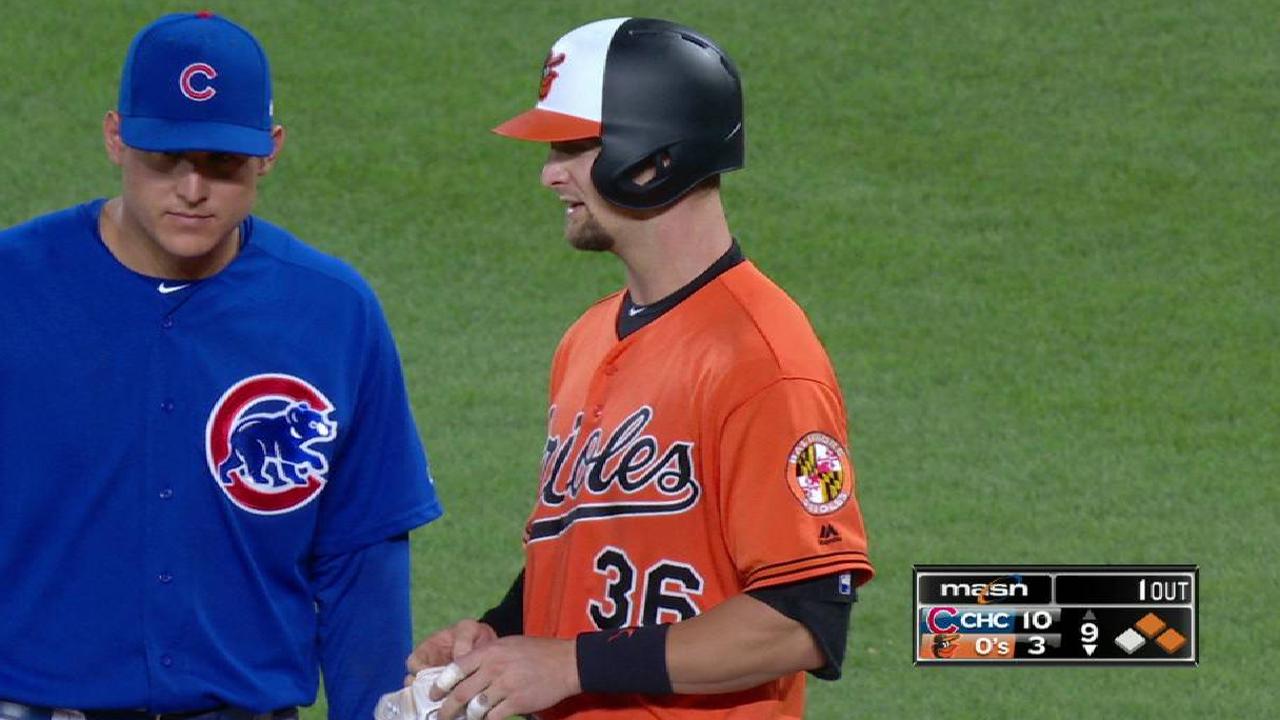 Joseph's RBI single
CHC@BAL: Joseph lifts an RBI single to center field
Caleb Joseph drives in Mark Trumbo on an RBI single to center field in the bottom of the 9th inning
WHAT'S NEXT
Cubs: Jose Quintana, acquired from the White Sox on Thursday for four Minor Leaguers, will make his Cubs debut in the series finale. The left-hander hasn't had great success against the O's (1-4 with a 4.29 ERA in six career starts). Maybe switching to the north side of Chicago will make a difference. First pitch is scheduled for 12:35 p.m. CT at Camden Yards.
Orioles: Looking to avoid a sweep, the Orioles will send Ubaldo Jimenez to the mound on Sunday at 1:35 p.m. ET. Inserted back into the rotation at the end of the first half, Jimenez won his last start, against the Twins. The righty yielded four runs on four hits and four walks with three strikeouts in five innings.
Watch every out-of-market regular-season game live on MLB.TV.
This story was not subject to the approval of Major League Baseball or its clubs.