"Obviously the run scored on a couple of 130-foot hits," Duffy said, "but there could have been so many more baserunners today. It happens, man."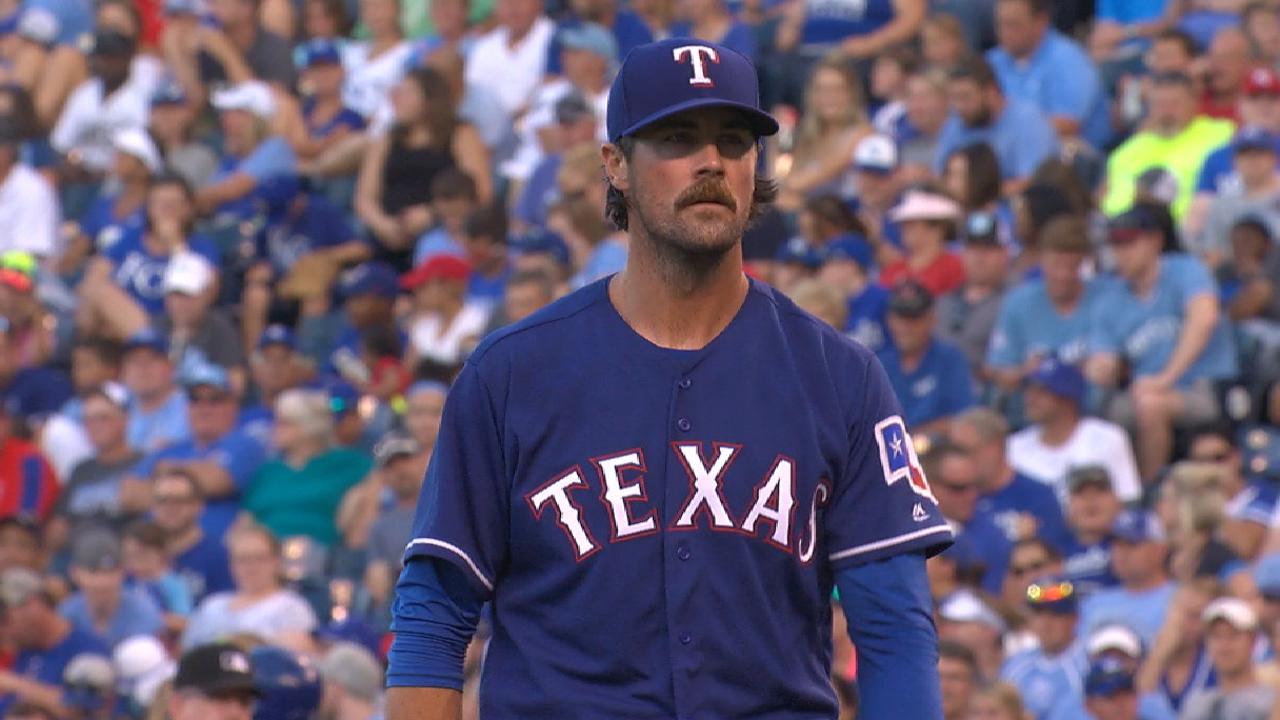 Hamels' stellar outing
TEX@KC: Hamels delivers 7 2/3 scoreless frames
Cole Hamels dominates the Royals' offense, firing 7 2/3 scoreless innings while allowing only four hits and striking out five
The Rangers have won 12 straight against the Royals. Hamels, who gave up five hits while walking one and striking out five, extended his scoreless-innings streak to 21, the longest active streak in the American League. Of his 99 pitches, 69 were strikes.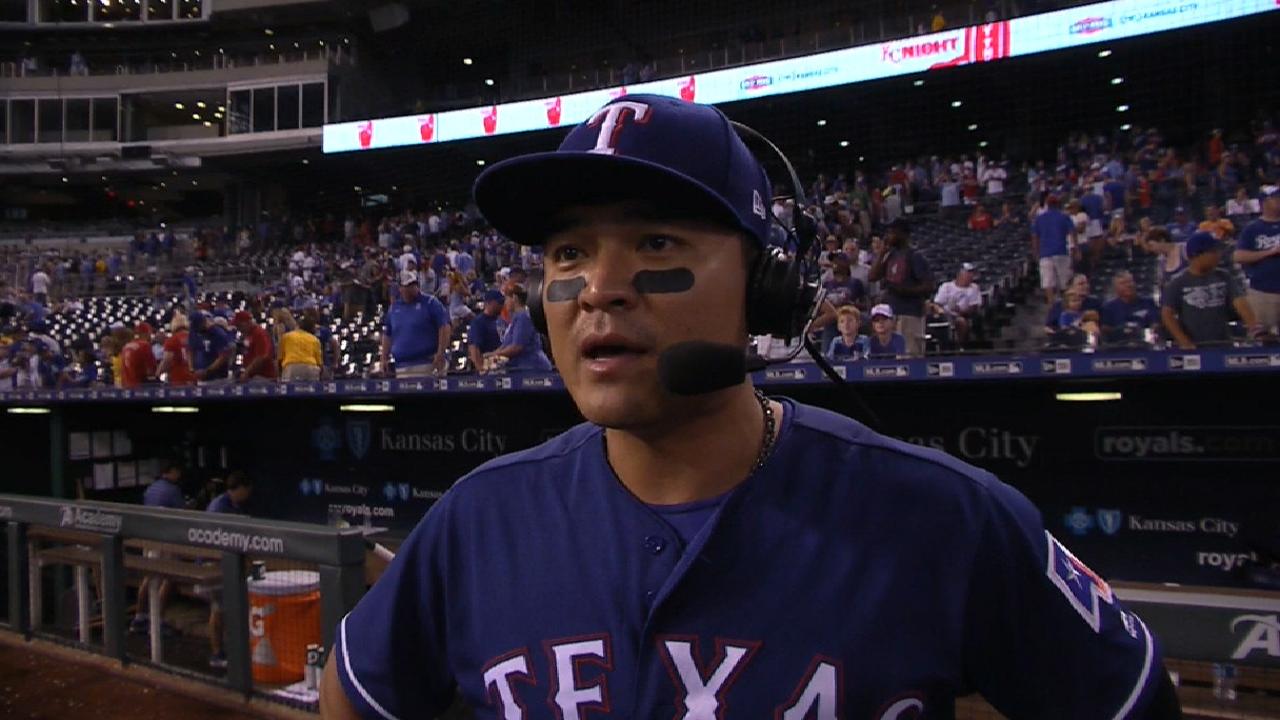 Choo on Rangers' 1-0 win
TEX@KC: Choo discusses go-ahead hit, Rangers win
Shin-Soo Choo talks about his approach at the plate and his go-ahead single in the 9th in the Rangers' 1-0 win over the Royals
"Duffy is a tremendous pitcher," Hamels said. "He's always pitched well. He was making good pitches and getting quick outs, and it was just a matter of going out there and trying to match him. We were both having really short innings so we were kind of building off that and getting through the game, and all of sudden, you look up and it's the eighth inning, it's the ninth inning."
Reliever Jose Leclerc ended up getting the win by striking out Jorge Bonifacio with the potential go-ahead run on second base to end the eighth. Alex Claudio then pitched the ninth and earned his second save in two nights.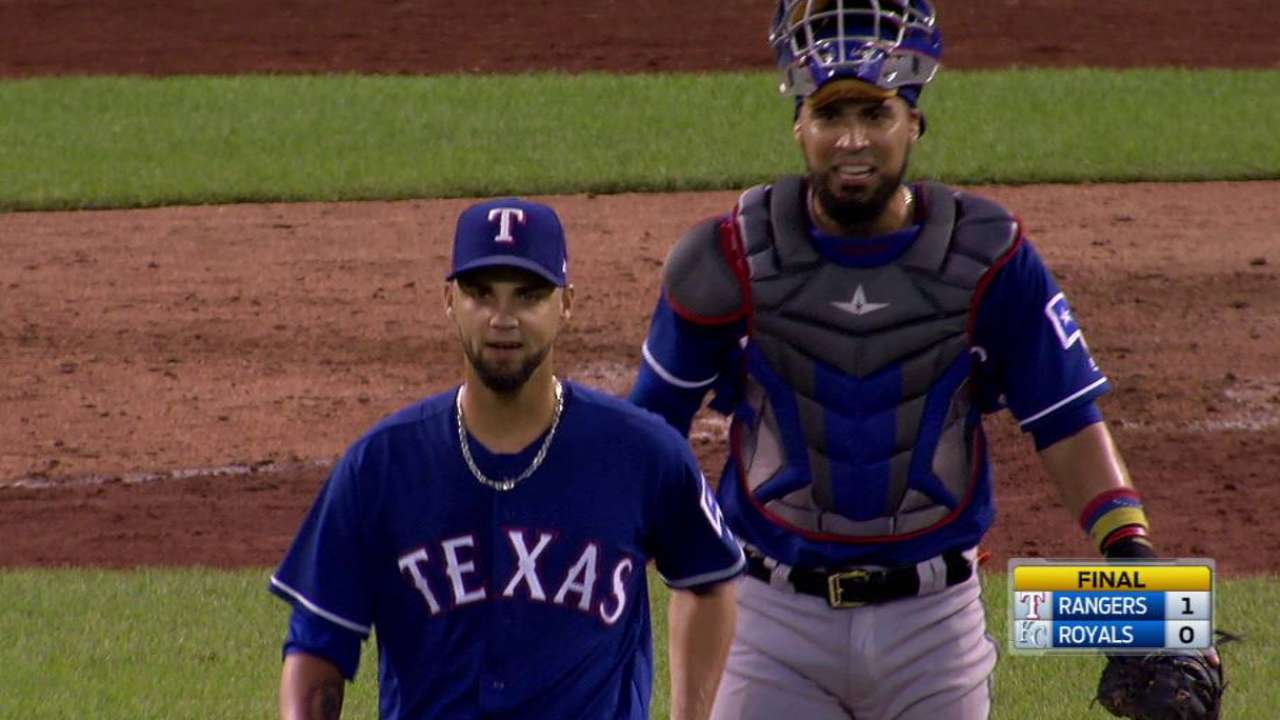 Rangers turn two for the win
TEX@KC: Claudio starts double play, gets the save
Alex Claudio fields Salvador Perez's grounder and starts a 1-2-3 double play to secure the Rangers' 1-0 win over the Royals
Duffy went 8 1/3 innings, giving up five hits and one run while walking none and striking out four.
"This really stinks because Duff pitched so well," Royals first baseman Eric Hosmer said, "and we just couldn't get a run for him."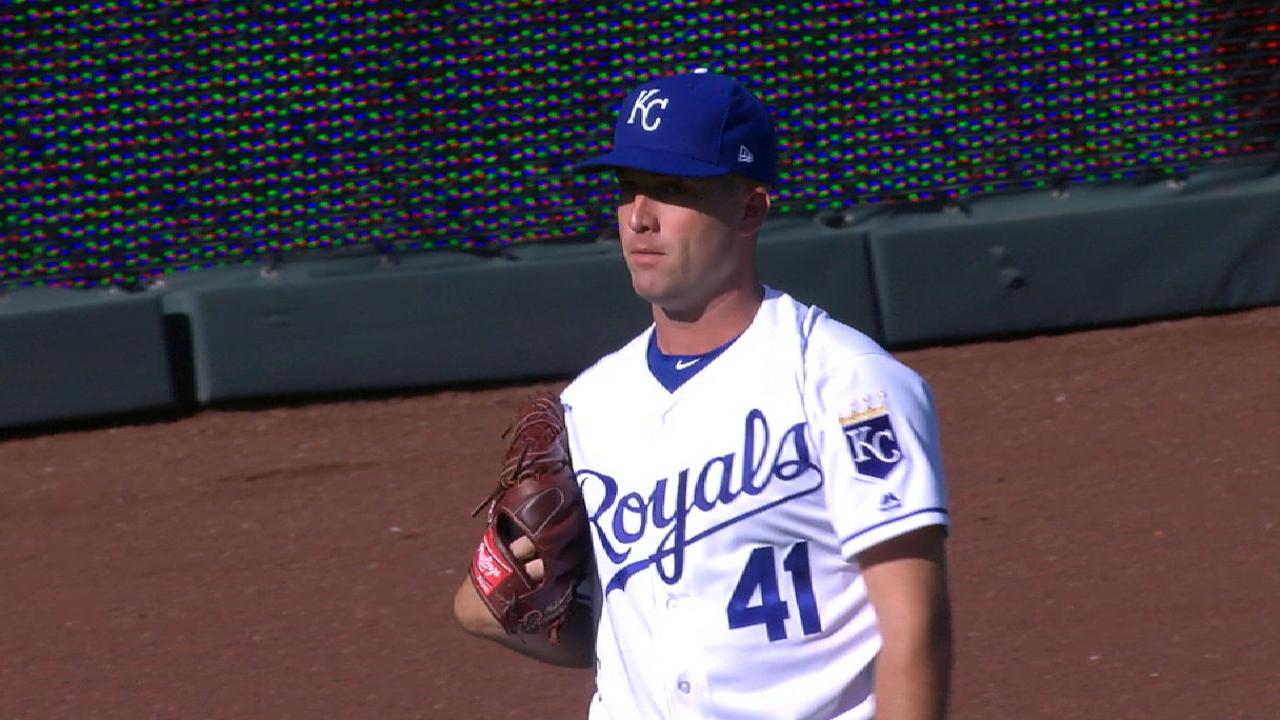 Duffy's brilliant start
TEX@KC: Duffy tosses 8 1/3 strong innings in win
Danny Duffy keeps the Rangers in check, yielding only one run on five hits over 8 1/3 innings, while striking out four
MOMENTS THAT MATTERED
Triple stands, and is stranded: Mike Napoli led off the second inning with a fly ball off the top of the wall in the right-field corner that caromed away from right fielder Bonifacio. Napoli made it to third for a triple and the Rangers asked for a crew-chief review to see if the ball might have been a home run. The call was confirmed. Napoli stayed at third with his 11th career triple and Duffy stranded him there. Nomar Mazara grounded out to second against a drawn-in infield, Carlos Gomez flied out to shallow left and Rougned Odor fouled out to end the inning.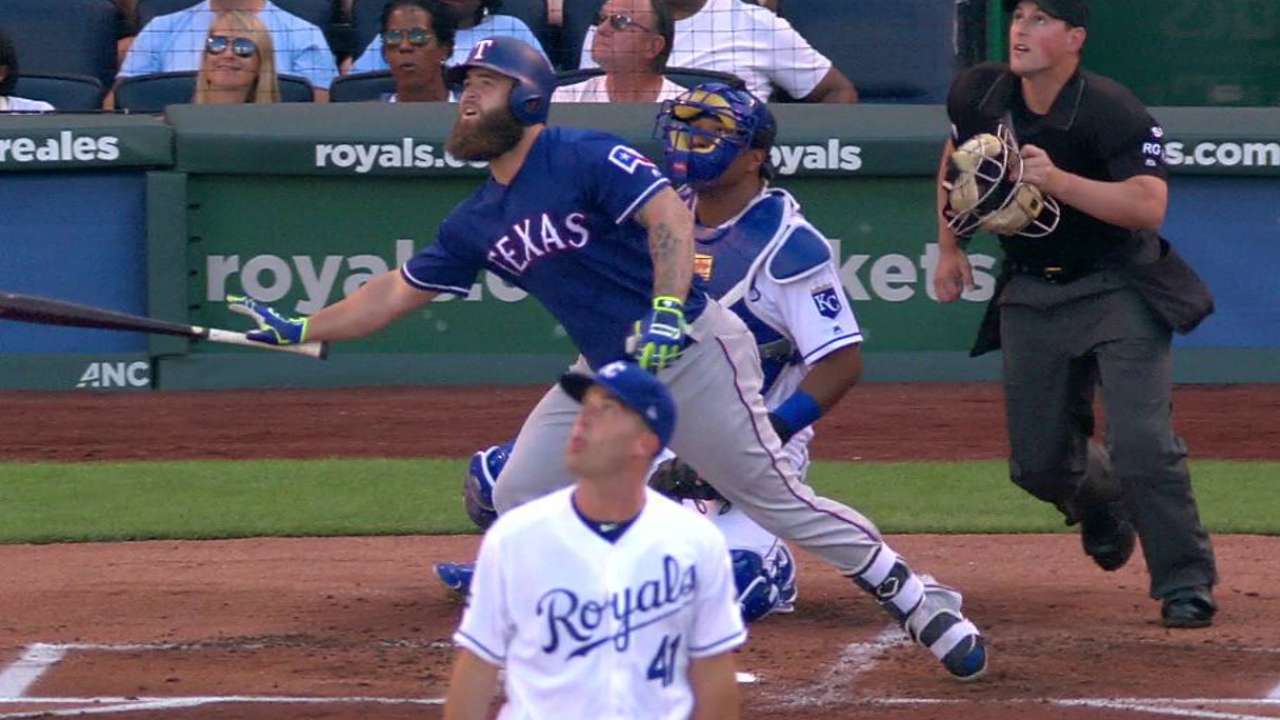 Napoli's triple confirmed
TEX@KC: Napoli triples to right, call confirmed
Mike Napoli hits a triple to right field, and after the umpires review to see if it is a homer, the call is confirmed in the 2nd
"I knew the ball hit the rail, we wanted to make sure it didn't ricochet off a fan, which would have been a home run," Rangers manager Jeff Banister said. "We didn't want to leave a run on the board at that point."
Andrus saves a run: The Royals had runners on first and second with two out in the third when Bonifacio smacked a hard line drive headed toward left. Shortstop Elvis Andrus leaped and got his glove on the ball. He didn't catch it, but Andrus knocked it down to keep Alcides Escobar from scoring from second base. Escobar stayed at third and with the bases loaded, Hamels got Lorenzo Cain on a grounder to third to end the inning.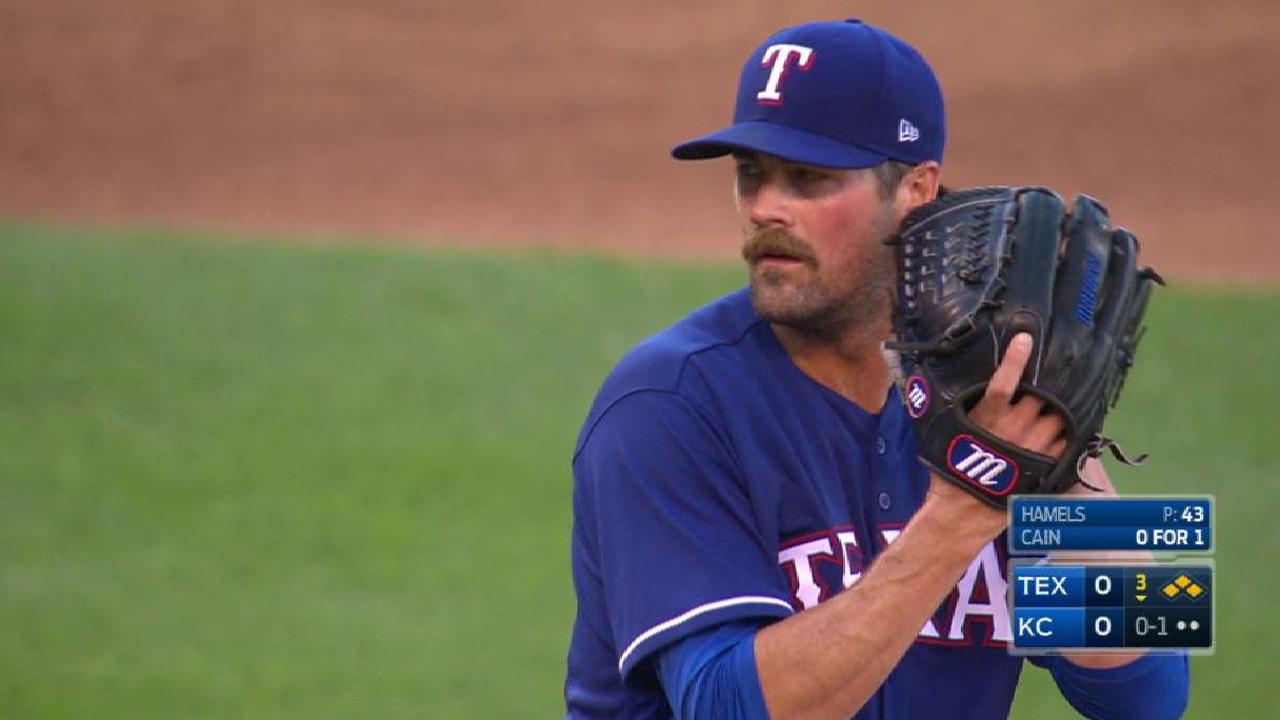 Hamels gets out of a jam
TEX@KC: Hamels gets Cain to end the inning
Cole Hamels gets Lorenzo Cain to hit into a fielder's choice, leaving the bases loaded in the bottom of the 3rd
"We had a couple opportunities to score," Royals manager Ned Yost said. "We needed to find a way to get a hit and we couldn't."
Added Escobar, "[Hamels] did a good job throwing cutters and changeups down and in. And then when he threw the fastball, it looked like 98 [mph]."
WHAT'S NEXT
Rangers: Right-hander Yu Darvish will start the series finale against the Royals on Sunday at 1:15 p.m. CT. Darvish is 1-6 with a 4.25 ERA in his last nine games. Opponents are hitting .227 against him and he has a 1.11 WHIP in that stretch, but the Rangers are averaging just 1.80 runs of support per nine innings for him.
Royals: Right-hander Ian Kennedy (3-6, 4.45 ERA) takes the mound on Sunday at 1:15 p.m. CT against the Rangers in the series finale at Kauffman Stadium. Kennedy gave up three runs over six innings in his last start on July 8 against the Dodgers.
Watch every out-of-market regular-season game live on MLB.TV.
Jeffrey Flanagan has covered the Royals since 1991, and for MLB.com since 2015. Follow him on Twitter @FlannyMLB.
This story was not subject to the approval of Major League Baseball or its clubs.