After Chapman tied the game in the eighth with his second homer, the A's returned for the ninth with more firepower. Yonder Alonso drew a leadoff walk against lefty Andrew Miller, at which point Indians manager Terry Francona turned to Shaw, who worked a full count against Davis before surrendering the game-ending shot to right-center field.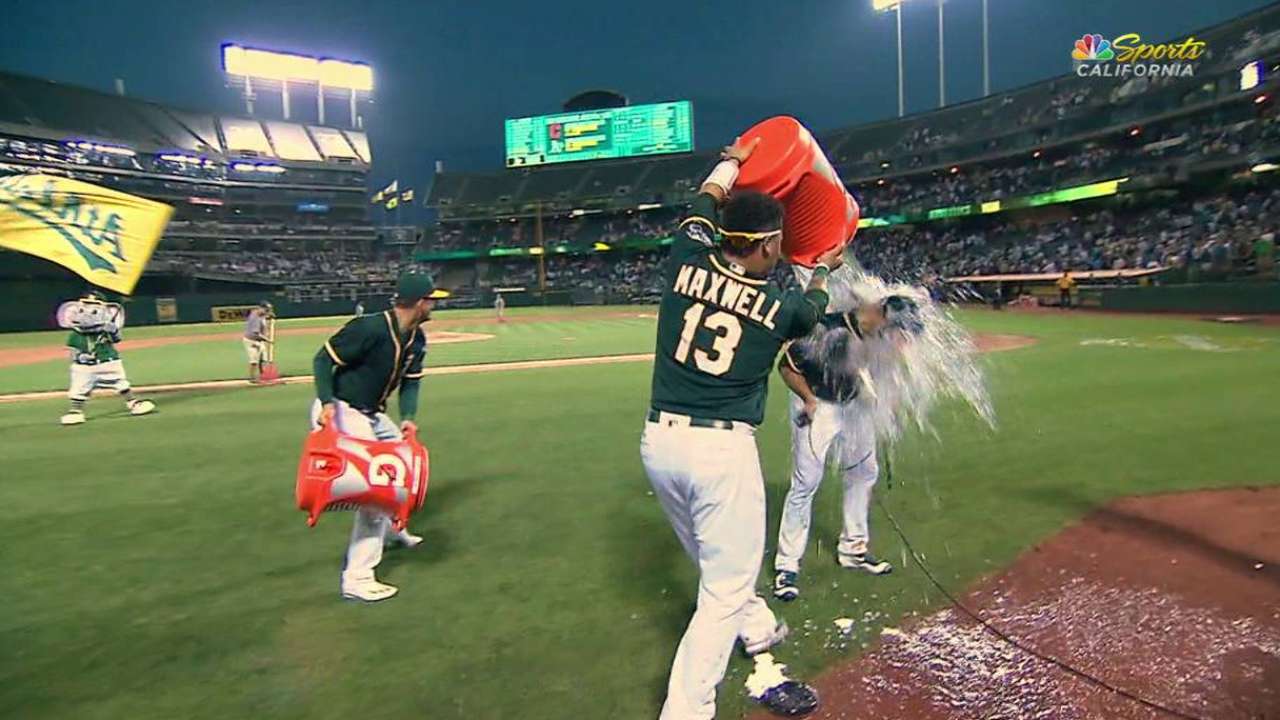 Chapman on his big night
CLE@OAK: Chapman discusses home runs, gets soaked
Matt Chapman discusses his two-homer game, as he gets soaked by his teammates following the Athletics' 5-3 walk-off win against the Indians
"[Miller] was getting just a little bit of a hot spot on his finger," Indians manager Terry Francona said. "That's the last thing we need. … That was the first time Davis had actually hit the ball off Bryan. He just made a nice adjustment and hit it out the other way. You fall behind in the count, those things have a way of happening."
Going into the game-ending battle, Davis was 0-for-4 with four strikeouts against Shaw.
"I didn't think it was going out," Davis said. "I was happy it was in the gap and Yonder might've had a chance to score and it was going to put our team in a good position to win the ballgame. It just snuck over, and I don't know what happened. I'm just glad I could deliver in a big spot. The crowd was going crazy."
Edwin Encarnacion homered for Cleveland, a two-run shot in the fourth against right-hander Paul Blackburn, who went six innings in his third big league start. The rookie allowed three runs on five hits with four walks and four strikeouts.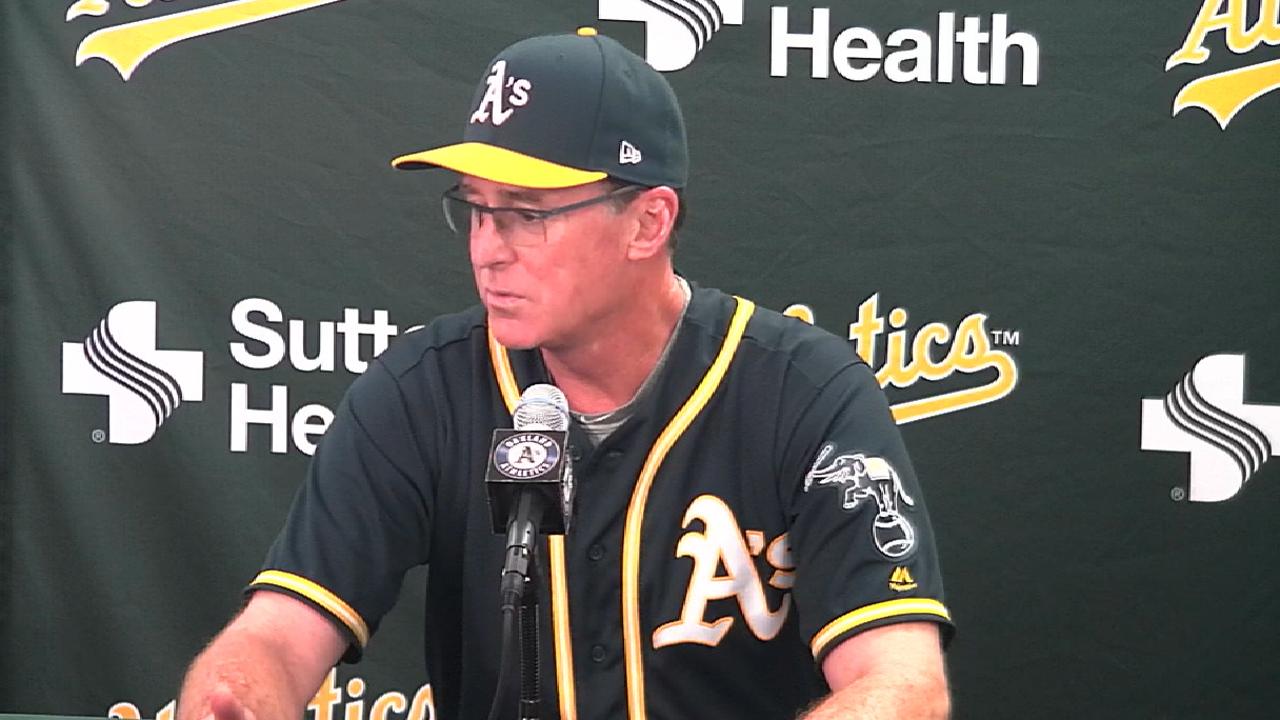 Melvin on Chapman's performance
CLE@OAK: Melvin on Chapman's performance in 5-3 win
Bob Melvin discusses Matt Chapman's two-homer game following the Athletics' 5-3, walk-off win against the Indians
MOMENTS THAT MATTERED
Keeping with Kluber: Kluber sat at 98 pitches after seven innings and gave Francona the thumbs up when approached about returning for another. So back he went for the eighth, having struck out nine of his previous 15 batters, for another try at Chapman. But the rookie triumphed again, and Kluber would throw just two more pitches before being pulled with one out in a tied game. More >
"I thought he was pitching good," Francona said. "No walks and he still felt good. It was a first-pitch home run. That about killed me, but when he's feeling good like that, everything was still working. He wasn't up. He wasn't losing the count. We wanted to get to the leadoff hitter for Andrew, kind of maybe set up not only that inning, but the next. One pitch, all of a sudden, it's a different game."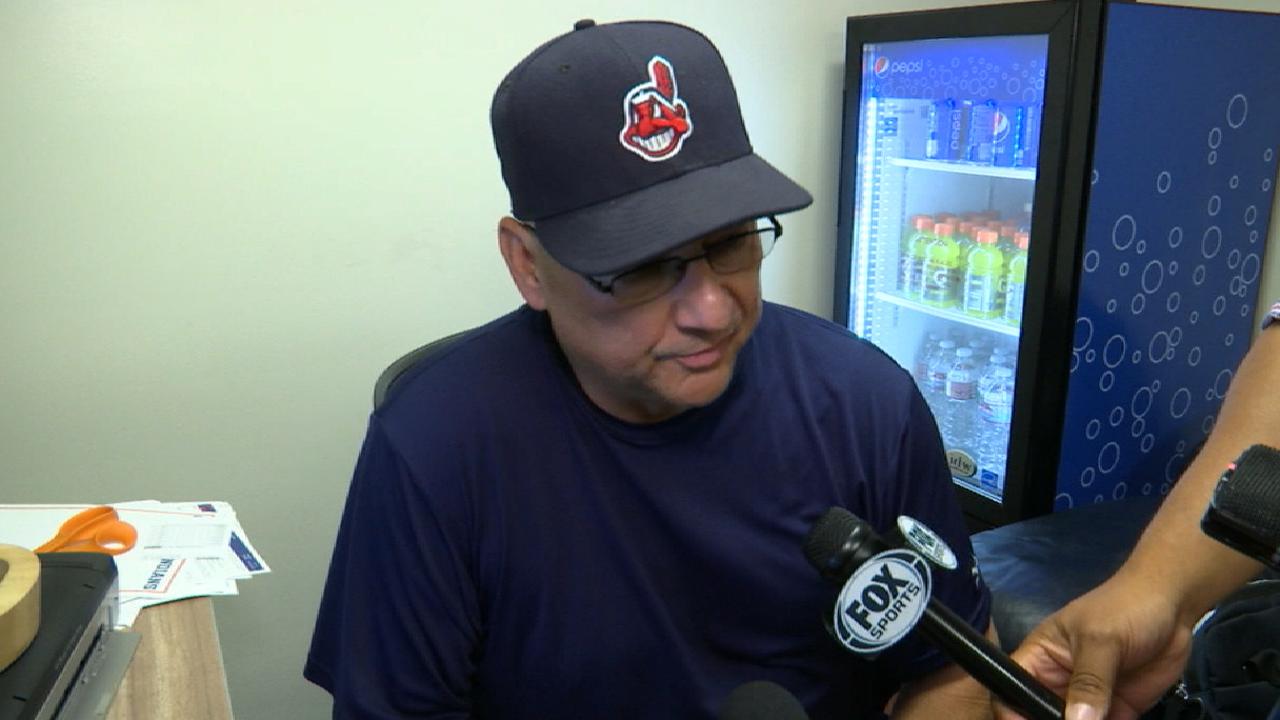 Francona on pitching struggles
CLE@OAK: Francona discusses tough loss to A's
Indians manager Terry Francona discusses Corey Kluber's start and untimely mistakes that led to the loss to the A's
Two for The Show: Chapman wasn't the least bit surprised to see Kluber toe the rubber in the eighth inning, and he took a simple approach against the former American League Cy Young Award winner. Readying to put his bat in motion on any good pitch he saw from Kluber, Chapman did just that, sending the first one a projected 455 feet to center field, according to Statcast™, for his third hit of the night. The third baseman entered the day with just six hits in his first 41 Major League at-bats. More >
"I know he has a Cy Young under his belt and he probably wanted that ball and wanted to go out there," Chapman said. "I knew that my at-bat before that, he kind of got in on me a little bit on a fastball. So I figured he was going to try and sneak one by me there and get ahead so he could try and finish out that inning, or at least go as deep as he possibly could. He didn't want to fall behind, so I was just ready to jump on the first good pitch I saw."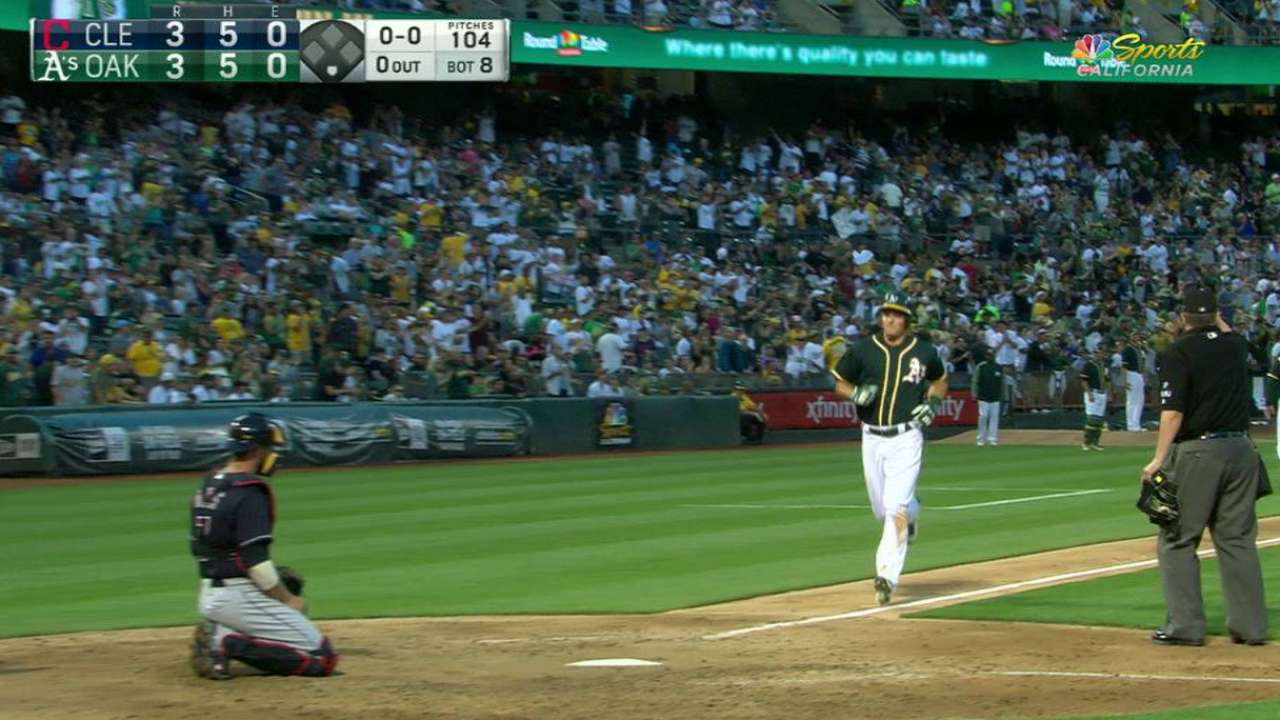 Chapman's second homer
CLE@OAK: Chapman swats his second homer to center
Matt Chapman mashes a towering solo home run to center field, tying the game at three with his second homer of the game
UPON FURTHER REVIEW
The A's successfully challenged the safe call on Tyler Naquin's stolen base attempt in the third inning. Naquin, who led off the frame with a base hit, was ruled out following a review of the play for the first out.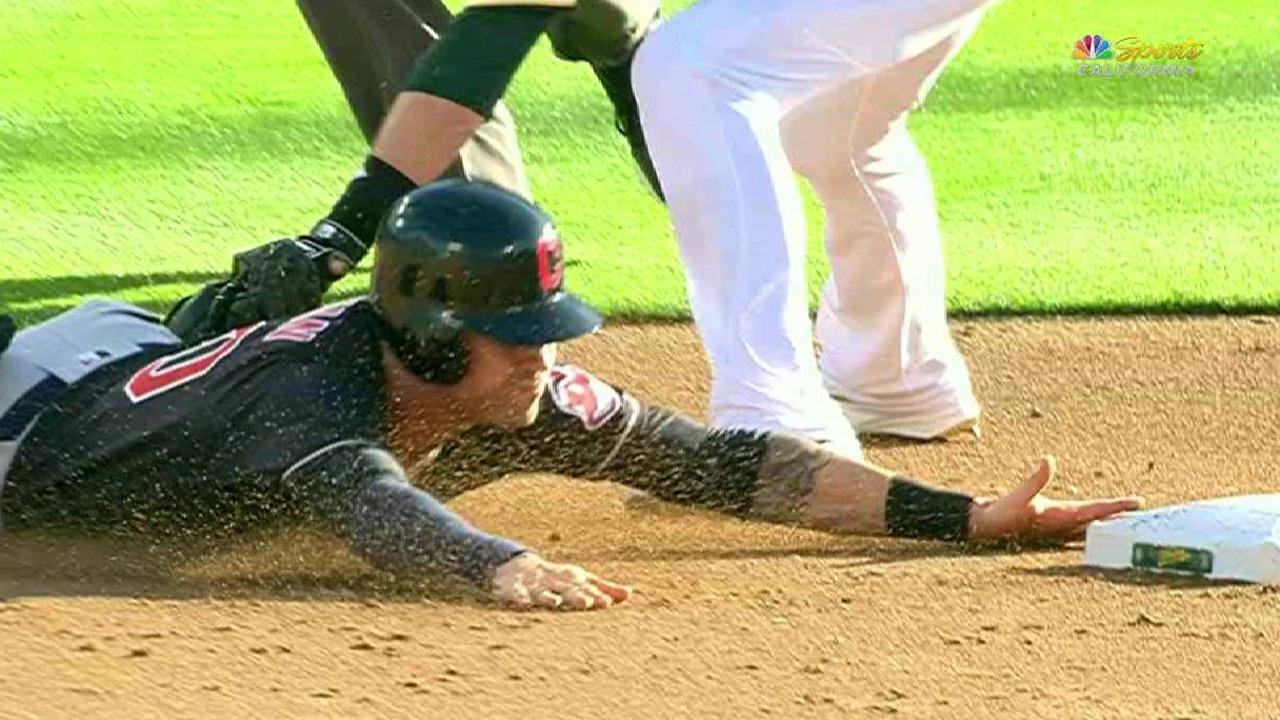 Naquin ruled out at second
CLE@OAK: Naquin ruled out following A's challenge
Bruce Maxwell makes a great throw to second and Tyler Naquin slides in safely, but the Athletics challenge and the call is overturned
In the ninth inning, the Indians challenged a groundout off the bat of Yan Gomes, who hit a chopper to shortstop Marcus Semien and was called out at first on a bang-bang play. After a brief replay review, the out call was confirmed.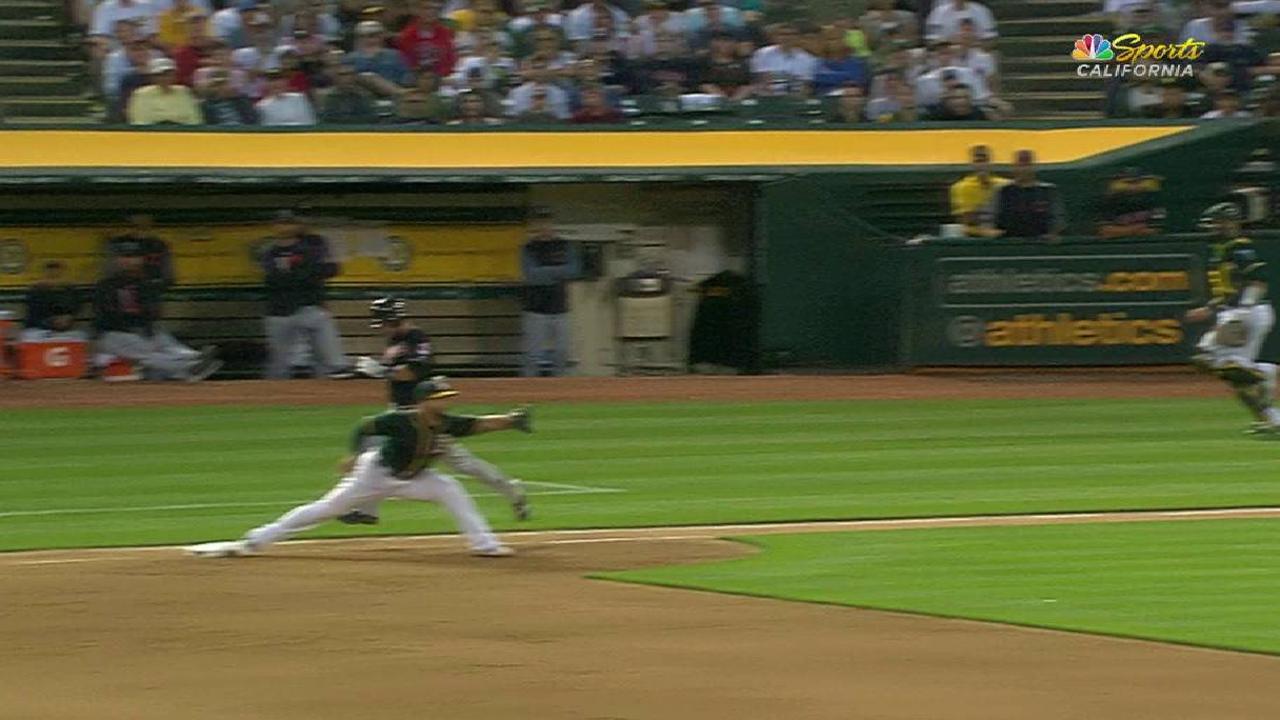 Semien nabs Gomes at first
CLE@OAK: Semien throws out Gomes, call confirmed
Marcus Semien fires to first and nabs Yan Gomes, and after the Indians challenge, the call is confirmed
WHAT'S NEXT
Indians: Right-hander Trevor Bauer (7-7, 5.24 ERA) is scheduled to take the ball for the Tribe in a 4:05 p.m. ET tilt against the A's at the Coliseum. Bauer faced Oakland on May 30 and ended with 14 strikeouts and three runs allowed in seven innings. Dating back to that outing, the righty has a 4.01 ERA over eight starts.
Athletics: The A's will have lefty Sean Manaea on the mound for Sunday's 1:05 p.m. PT series finale against the Indians at the Coliseum. Manaea is 2-0 with a 1.29 ERA in two career starts against Cleveland, including a road win May 31 in which he threw seven one-run innings.
Watch every out-of-market regular-season game live on MLB.TV.
This story was not subject to the approval of Major League Baseball or its clubs.