As part of the MLB Prevailing Moments program, each Monday throughout the 2017 season, MLB.com is honoring the "Bullpen of the Week presented by The Hartford." An industry-wide panel of MLB experts, including legendary stats guru Bill James, constructed a metric based on James' widely renowned game-score formula, to provide a weekly measurement of team-bullpen performance.
Here's how the Bullpen Rating System is compiled for each week. For reference, a weekly score of 100 is considered outstanding:
• Add 1.5 points for each out recorded
• Add 1.5 points for each strikeout
• Add 5 points for a save
• Subtract 2 points for each hit allowed
• Subtract 4 points for each earned run allowed
• Subtract 2 points for each unearned run allowed
• Subtract 1 point for each walk
• Subtract 5 points for a blown save
The Boston bullpen scored a rating of 106.5 points by allowing two earned runs and 17 hits in 25 2/3 innings. Relievers struck out 26 batters against 11 walks, and they earned two saves.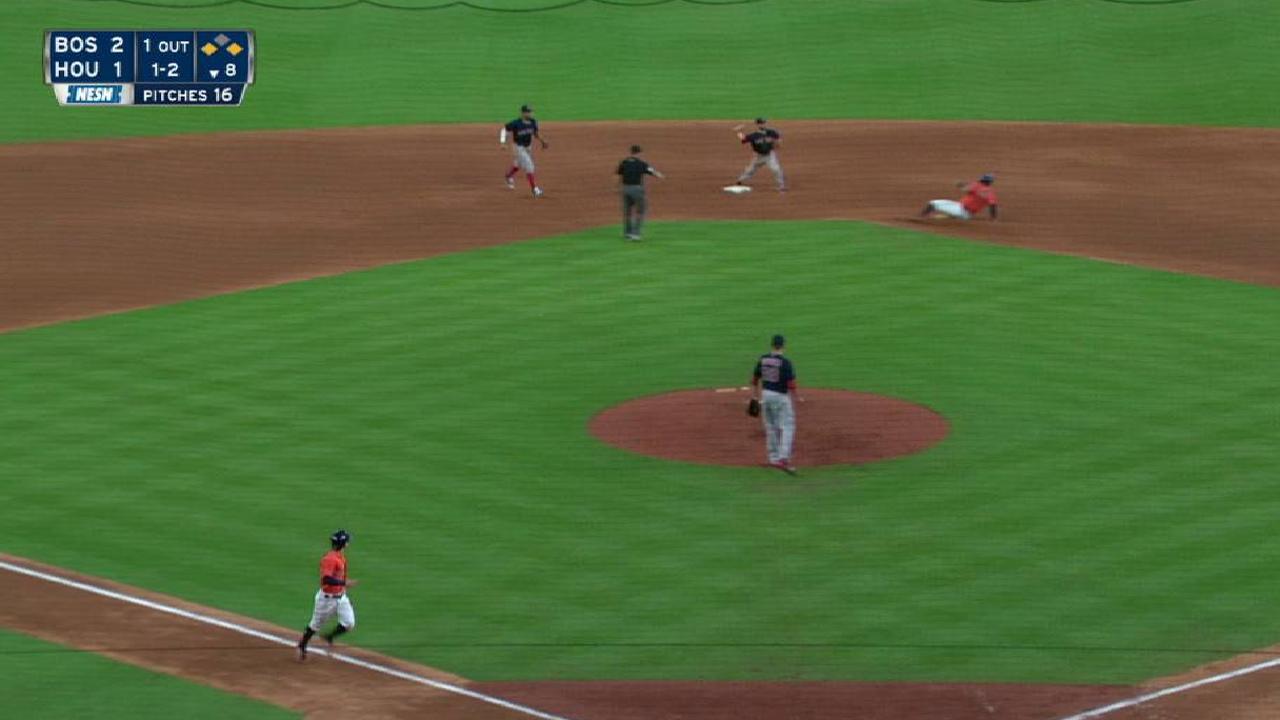 Barnes preserves the lead
BOS@HOU: Barnes induces timely double play
Matt Barnes gets Evan Gattis to ground into a double play to strand runners on the corners and preserve the Red Sox's 2-1 lead
Standout performers for the week included Matt Barnes, who appeared in four games and struck out eight batters in 4 1/3 innings, Robby Scott, who also pitched in four games and didn't allow a run, striking out two over 3 1/3 innings. Fernando Abad struck out three in three scoreless innings in two games.
The unexpected: The Red Sox put their bullpen in a tough spot right away. The first two games of the week went into extra innings, and Wednesday's game followed with starter Brian Johnson only lasting 2 2/3 innings.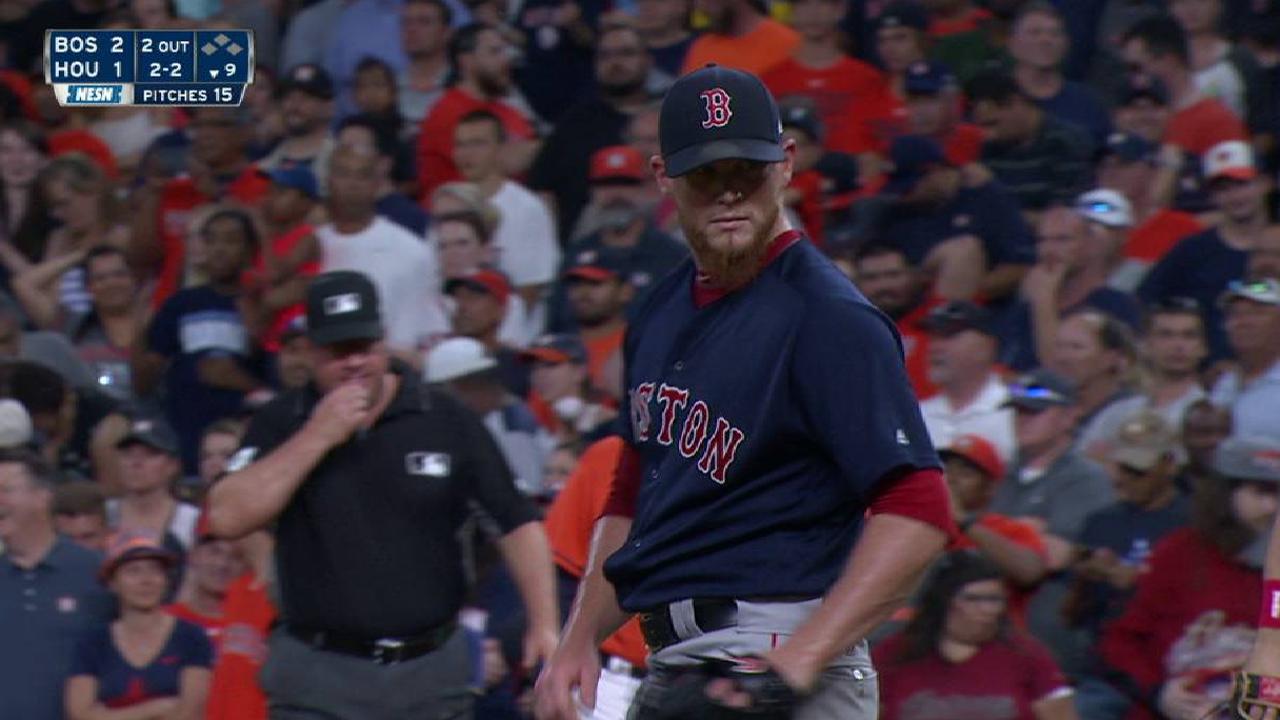 Kimbrel locks down the save
BOS@HOU: Kimbrel slams the door on the Astros
Craig Kimbrel gets Carlos Beltran to pop out to Xander Bogaerts to earn the save in the Red Sox's 2-1 victory
How they prevailed: The Boston relief corps was up to the task despite the overtime hours. Closer Craig Kimbrel did his dominant thing, not giving up a run in four innings in four games. Joe Kelly provided stellar assistance, also appearing in four games and pitching scoreless baseball for 3 2/3 innings with three strikeouts, while the rest of the 'pen chipped in.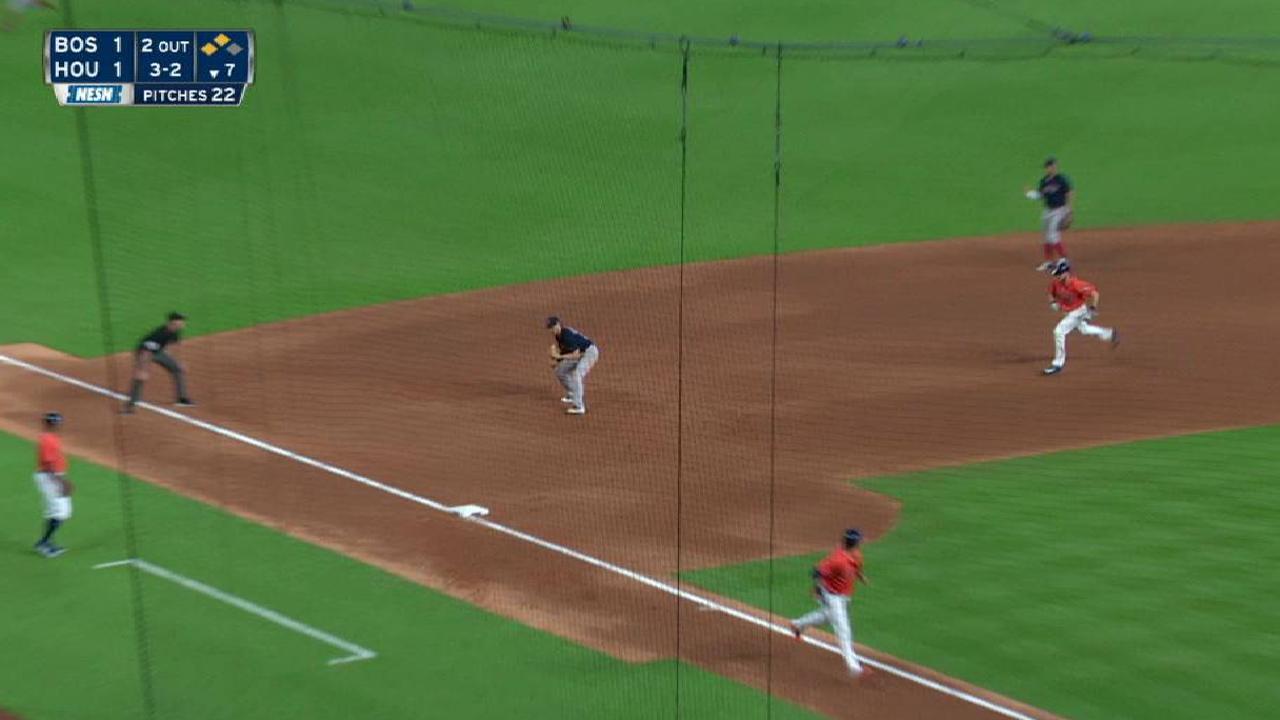 Kelly works out of jam
BOS@HOU: Kelly retires Aoki to keep game tied
Joe Kelly gets the Red Sox out of a jam by inducing a lineout from Norichika Aoki to end the bottom of the 7th inning
The Red Sox relievers combined to finish ahead of the second-place Arizona D-backs, who compiled a 94 rating for the week. Third place belonged to the Los Angeles Angels, who had a rating of 78.
Doug Miller is a reporter for MLB.com. Follow him on Twitter @DougMillerMLB. This story was not subject to the approval of Major League Baseball or its clubs.