"Any time you win, it feels good, it feels the same to me," said Phillips, who is enjoying his first season with his hometown team. "But for myself, my first walk-off win as a Brave, it really means a lot, playing in front of my family and friends. It just shows our grind as a team. We're never out of any game."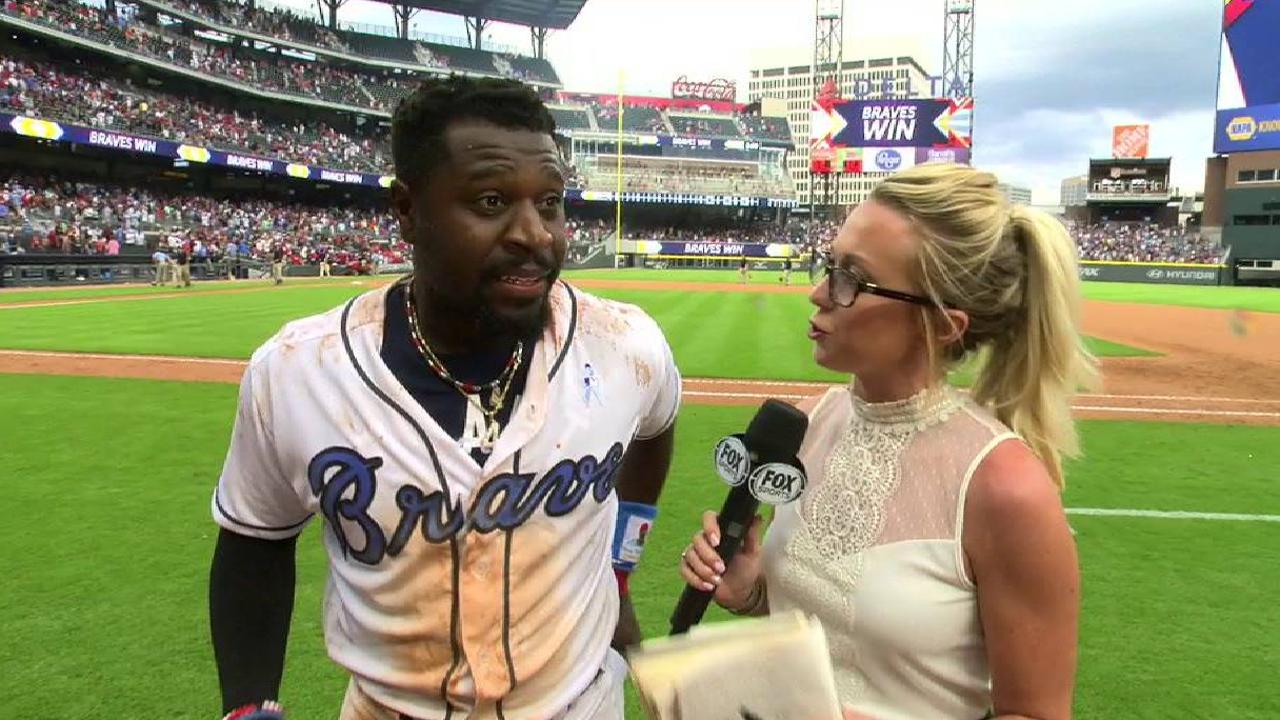 Phillips on walk-off hit
MIA@ATL: Phillips on his first walkoff as a Brave
Brandon Phillips discusses his walk-off single, his first as a member of the Braves, and how the bullpen picked the team up
In the ninth inning, Ramos said he elevated a slider to Phillips. In the 10th, a two-seam fastball didn't bite enough, and Phillips laced it into center to end the game.
"The two-seam, I pulled it, and it was down the middle," Ramos said. "It was down, but he was looking for it. I had a feeling he knew it was coming. I don't care if he did or not. If I execute that pitch, he doesn't do anything with it. It was down the middle, and he just stayed with it and hit it up the middle."
Braves starter Jaime Garcia faced one more than the minimum through the first four innings and had not allowed more than four runs during any of his previous 12 starts this season. But things got weird during Miami's five-run fifth inning, which was fueled by Tyler Moore drilling an 0-2 curveball over the left-field wall for a two-run homer. After Giancarlo Stanton drew an intentional walk, Christian Yelich capped the uprising by hitting a two-run double to right field.
"We didn't tack on any runs," Marlins manager Don Mattingly said. "You can say, 'Well, we scored seven.' But we scored seven in two innings and really didn't score the rest of the game."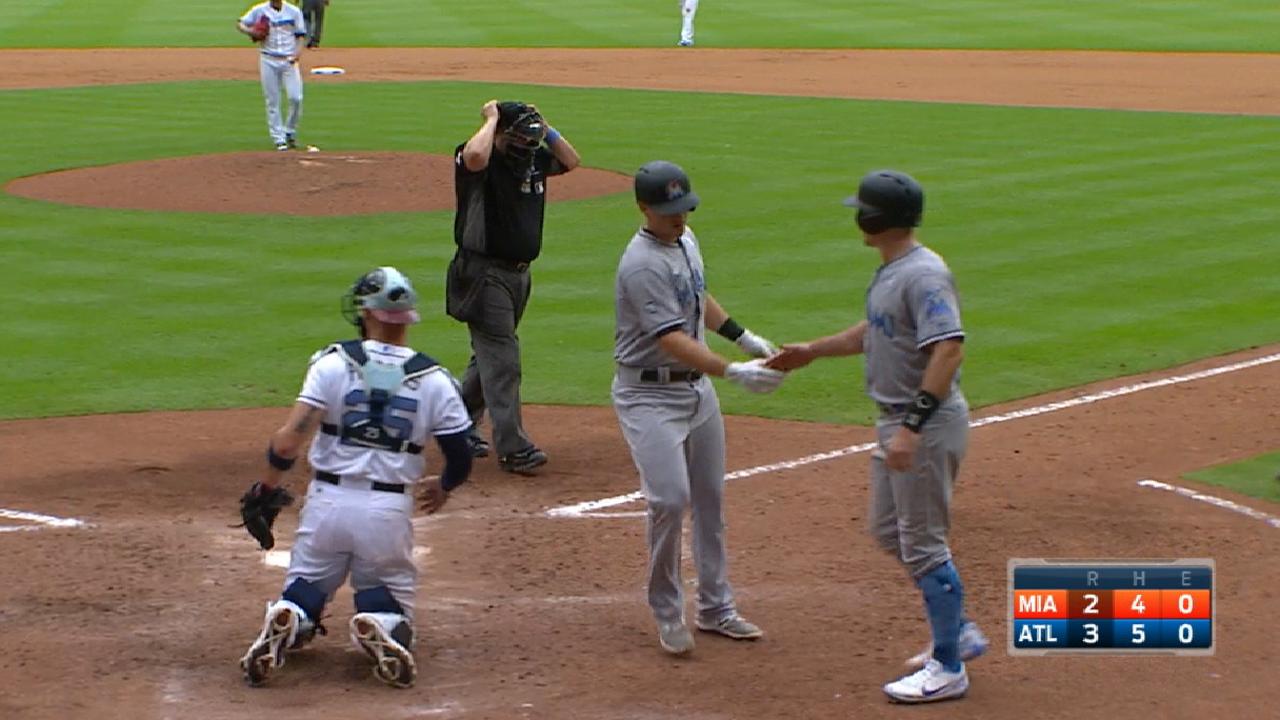 Marlins' five-run 5th inning
MIA@ATL: Marlins score five runs in the 5th inning
Tyler Moore, Ichiro Suzuki and Christian Yelich each collect RBIs as the Marlins score five runs in the top of the 5th inning
Matt Adams paced the Braves with a three-hit, four-RBI game that began with a two-out RBI double in the first and included a two-run homer in the third against Marlins starter Jeff Locke, who was lifted after just four innings.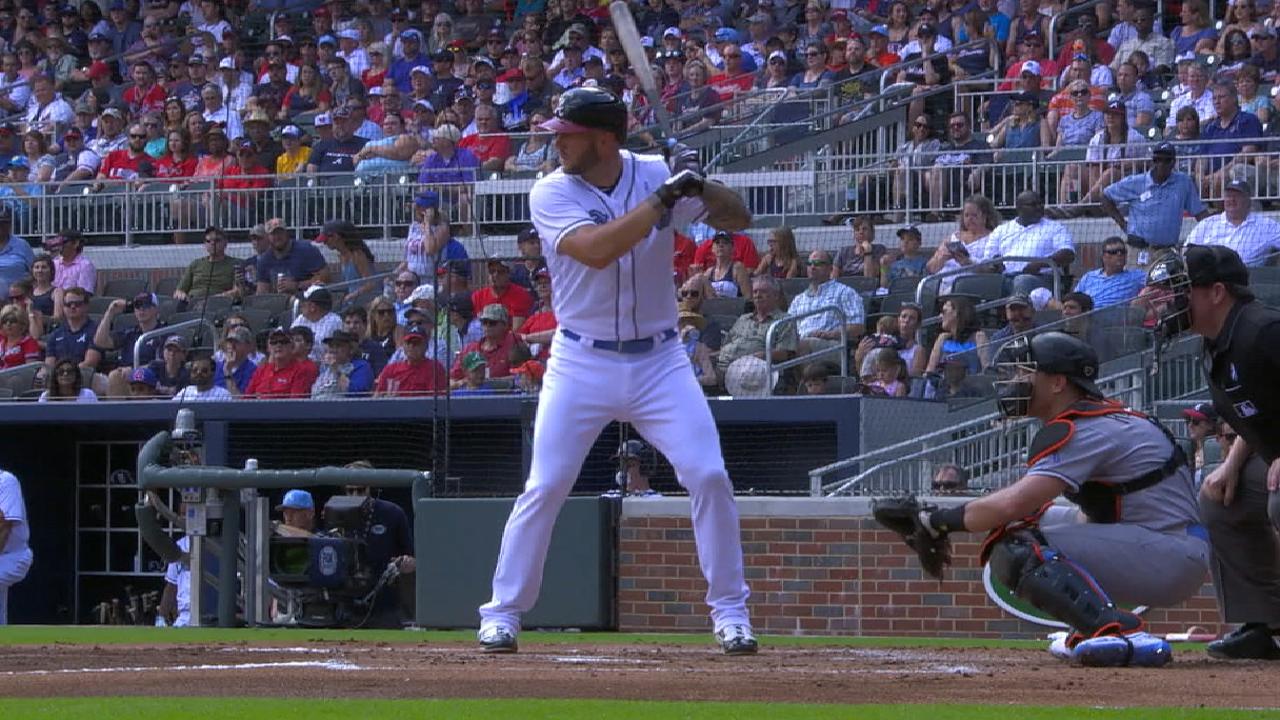 Adams' four-RBI day
MIA@ATL: Adams drives in four runs vs. the Marlins
Matt Adams goes 3-for-4 with two RBI doubles and a two-run home run in the Braves' 8-7 win over the Marlins
Tyler Flowers opened the home half of the sixth with a shot that traveled a Statcast-projected 434 feet — the third-longest homer hit thus far at SunTrust Park. Four batters later, Camargo delivered an RBI single that cut the Braves' deficit to two runs and put runners at the corners for pinch-hitter Matt Kemp, who lined out to right field in his first appearance since tweaking his left hamstring on Wednesday. Kemp's liner wasn't deep enough to score Danny Santana.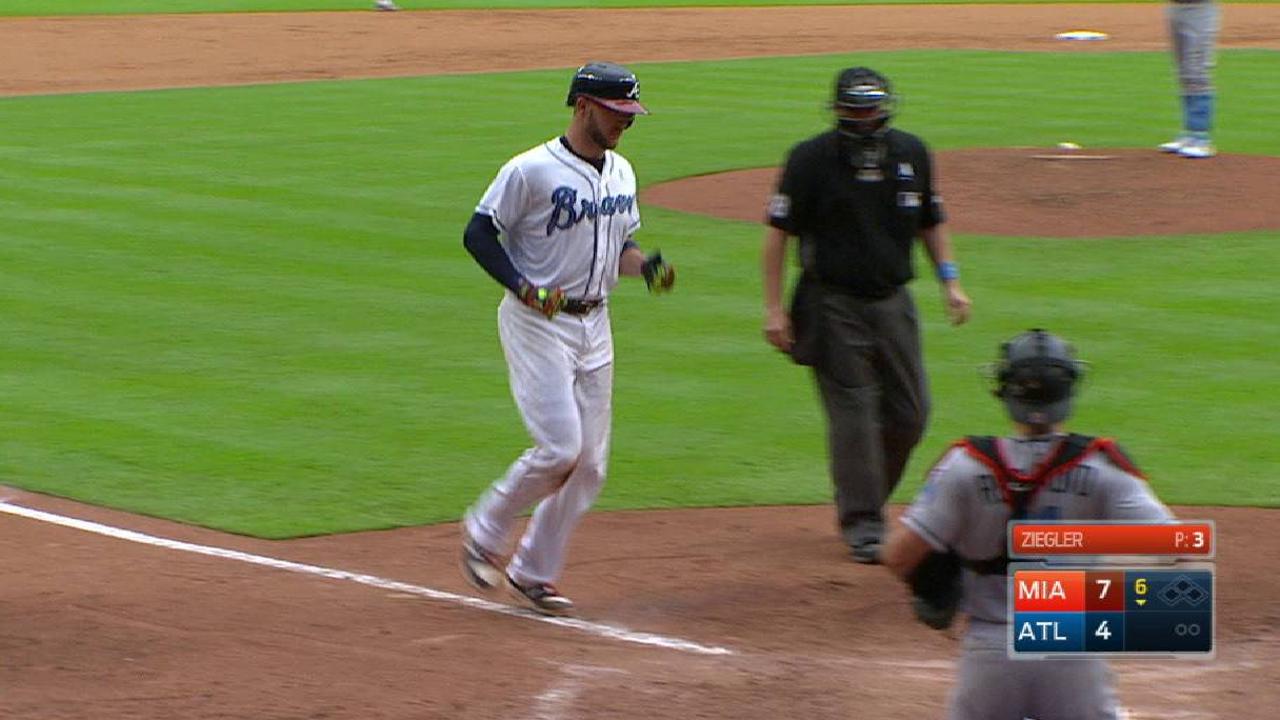 Flowers' solo dinger
MIA@ATL: Flowers drives a solo homer to left-center
Tyler Flowers belts a solo home run to left-center field to cut the Braves' deficit to 7-4 in the bottom of the 6th inning
MOMENTS THAT MATTERED
Ramos bends, but doesn't break: Phillips opened the ninth with a double off the left-center-field wall, and Nick Markakis added to Ramos' problems when he hit a game-tying double that bounced off the first-base bag and landed down the right-field line. But the Marlins closer escaped further damage when he ended the threat with consecutive strikeouts, including one of Dansby Swanson to conclude a 10-pitch at-bat.
"From this, you've got to keep working and know that you can get the job done," said Ramos, who had converted his first nine save opportunities. "The bullpen has been solid, until today. Guys have bad games. They were putting good swings on balls. They get paid to. They did a good job. We just weren't good enough tonight."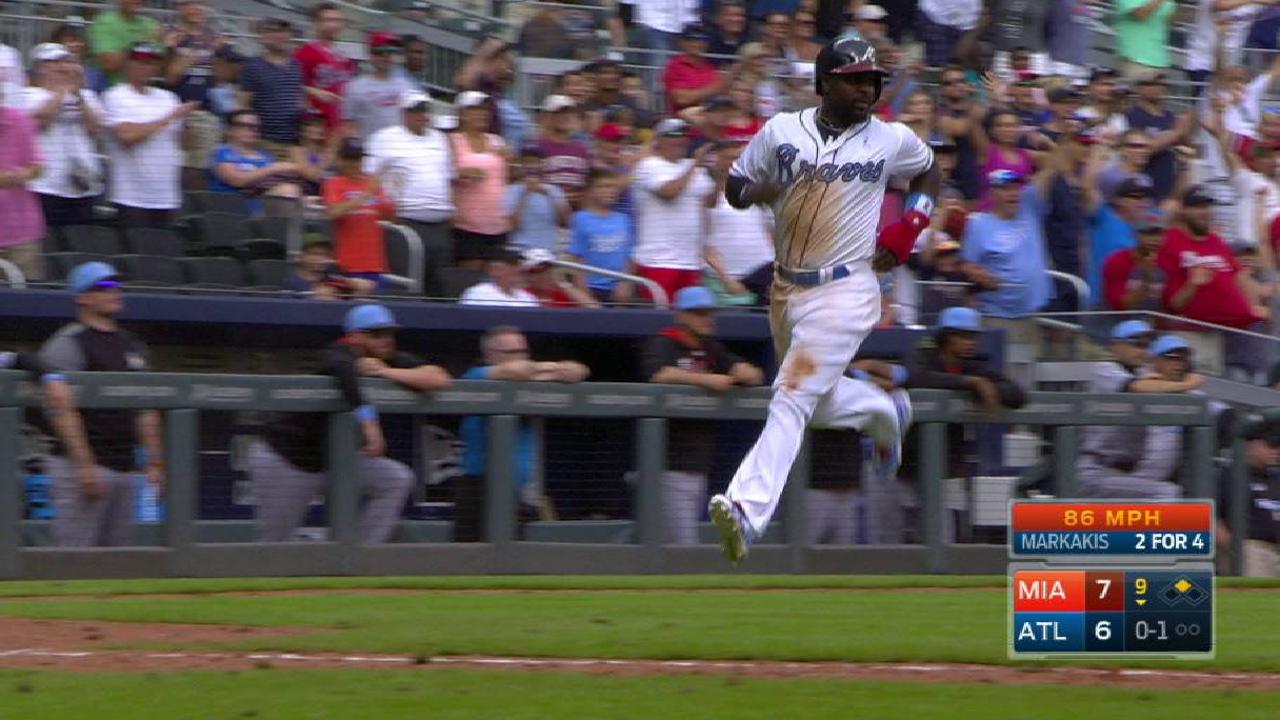 Markakis game-tying RBI double
ATL@MIA: Markakis hits an RBI double off the bag
Nick Markakis hits a grounder that deflects off of first base for an RBI double to tie the game at 7 in the bottom of the 9th inning
Beneficial extra out: It looked like Marlins right-hander Kyle Barraclough was going to work a perfect seventh inning when Flowers lofted a two-out soft fly ball (78.1-mph exit velocity, per Statcast™). But Yelich got a bad read and ultimately proved unsuccessful when he attempted to recover with a diving catch attempt. Adams then followed with an RBI double to cap his 23rd career three-hit game, but the first of which included three extra-base hits.
"We weren't very good defensively," Mattingly said. "We didn't do much offensively, other than those two innings. We let them right back in." More >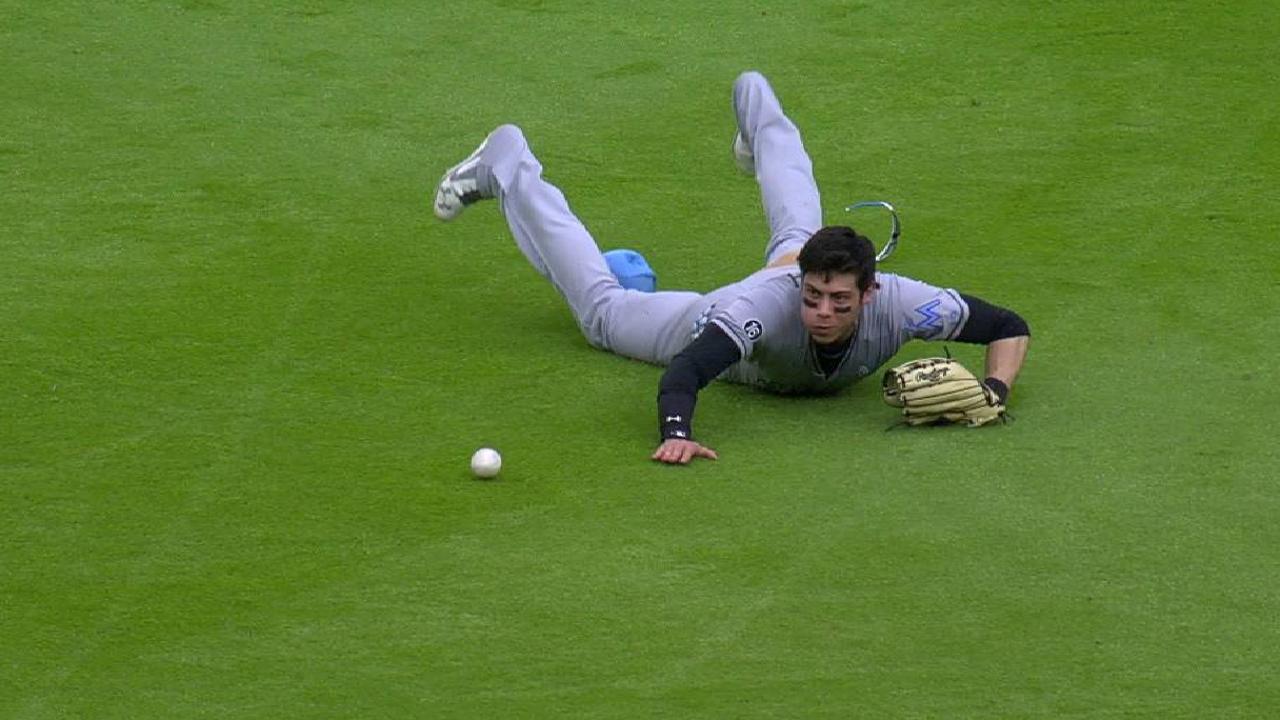 Flowers' two-out single
MIA@ATL: Flowers bloops a two-out single to center
Tyler Flowers send a high fly ball to center field and it falls in front of Christian Yelich for a two-out single in the bottom of the 7th
QUOTABLE
"I feel like this team is hungry and we have something we have to go out there to prove because you never know what can really happen with this team. [Manager Brian Snitker] put a great team together. It's all about us going out there and doing the job with what we've been blessed to play this game. I feel we're way better than what our record says." — Phillips, after the Braves produced their MLB-high 10th last at-bat win
"He's been OK lately up until today. Today, there wasn't anything really soft. They hit pretty much everything on the nose today, for the most part. Today was not very good, but he's been actually OK lately." — Mattingly, on reliever Brad Ziegler, who gave up two runs in the sixth
SOUND SMART WITH YOUR FRIENDS
With his pinch-hit RBI single in Miami's five-run fifth inning, Ichiro Suzuki has now recorded a hit in 41 parks since starting his big league career with Seattle in 2001. The list includes the Tokyo Dome in '12, when he was with Seattle.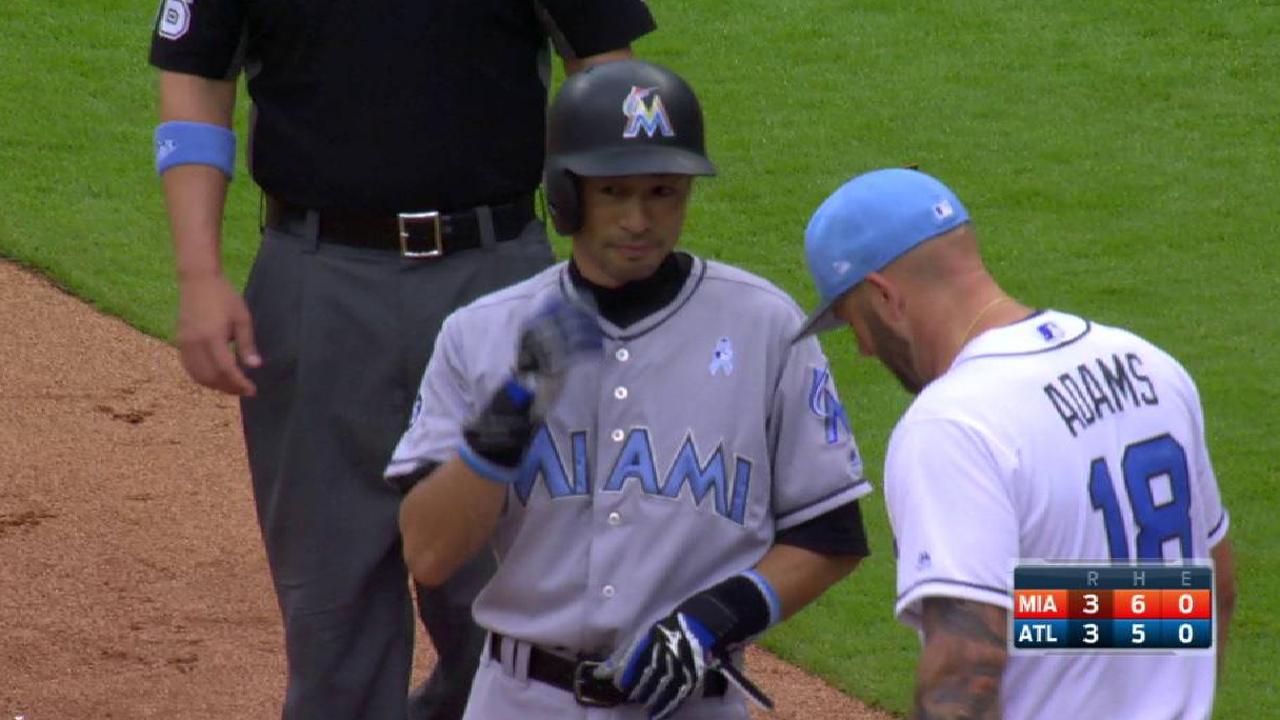 Ichiro's RBI single
MIA@ATL: Ichiro lines an RBI single to right field
Ichiro Suzuki pulls an RBI single into right field to tie the game at 3 in the top of the 5th inning
REPLAY REVIEW
The Braves challenged a safe call in the sixth inning as Phillips tried to tag Moore in between first and second base. The call stood as the replay showed that Phillips didn't tag him. The time of the review was 48 seconds.
Moore safe after review
MIA@ATL: Moore confirmed safe after challenge
Tyler Moore is originally called safe on a tag play and the Braves challenge the call, and after review, it is confirmed
WHAT'S NEXT
Marlins: Wrapping up the three-game set at 1:35 p.m. ET on Sunday is Jose Urena (5-2, 3.70 ERA). Urena is 0-3 (10.29 ERA) in six games with three career starts against Atlanta.
Braves: Mike Foltynewicz will take the mound for the finale of this three-game set. Foltynewicz had thrown 14 consecutive scoreless innings before allowing a season-high eight runs over just 3 1/3 frames on Tuesday at Nationals Park.
Watch every out-of-market regular-season game live on MLB.TV.
Mark Bowman has covered the Braves for MLB.com since 2001.
Joe Frisaro has covered the Marlins for MLB.com since 2002. Follow him on Twitter @JoeFrisaro and listen to his podcast.
This story was not subject to the approval of Major League Baseball or its clubs.