• Cast your Esurance All-Star ballot for Bellinger and other #ASGWorthy players
"The offense today was the star," said manager Dave Roberts. "It was a team offense, every at-bat, from first to eight, there was an intent to compete."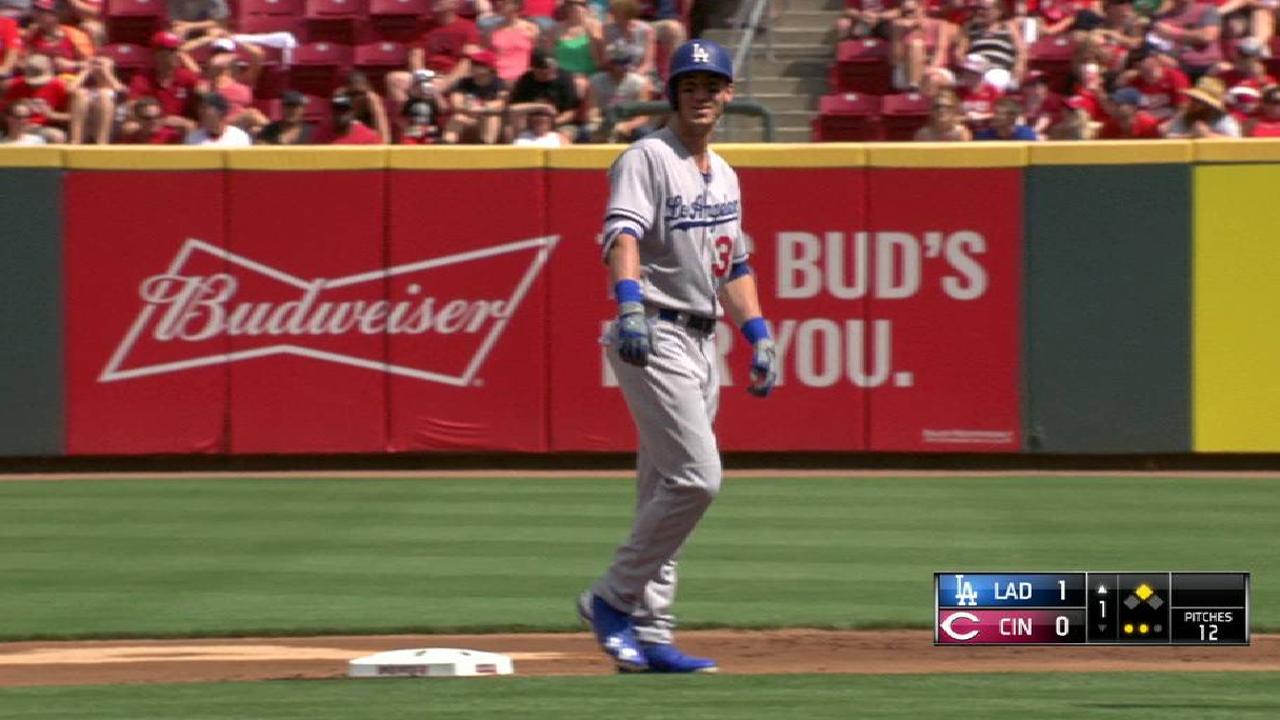 Bellinger's RBI double
LAD@CIN: Bellinger hammers an RBI double to right
Cody Bellinger drills an RBI double off the right-field wall to open the scoring for the Dodgers in the top of the 1st inning
Roberts senses the torrid rookie season of Bellinger is contagious. Bellinger tied the Major League record for most home runs in a player's first 49 games with this one, but in the last six games he has six homers and 11 RBIs. That's why there's an All-Star write-in campaign for him as well as visions of that explosive swing in the T-Mobile Home Run Derby.
How often does he get asked about that?
"Every day, the last couple weeks, and they're asking my dad, too, now," he said of former Yankee Clay Bellinger. "It would be awesome, something you think about your whole life. I've talked with Corey Seager and Joc and they're all about it."
Despite missing 20 games mostly because of his time at Triple-A, Bellinger leads the Dodgers in homers and RBIs (43), and he is second to Seager with 36 runs scored with a ridiculous .971 OPS. Seems he's trying to replace Seager on the cover for the 2018 R.B.I. Baseball.
Roberts said he's past the point of shaking his head over Bellinger's production.
"I'm sort of expecting it," Roberts said. "The homers, doubles, singles, walks. I know I'm being redundant, but the at-bat quality. He's a very talented young player, he gets the info and the data, and he goes with a consistent approach and mechanics, and good things are happening. The most encouraging thing is the consistent approach and it's contagious for the entire team. The stat sheet you can shake your head, but the process is what I see."
Bellinger said he's starting to believe it's real, too.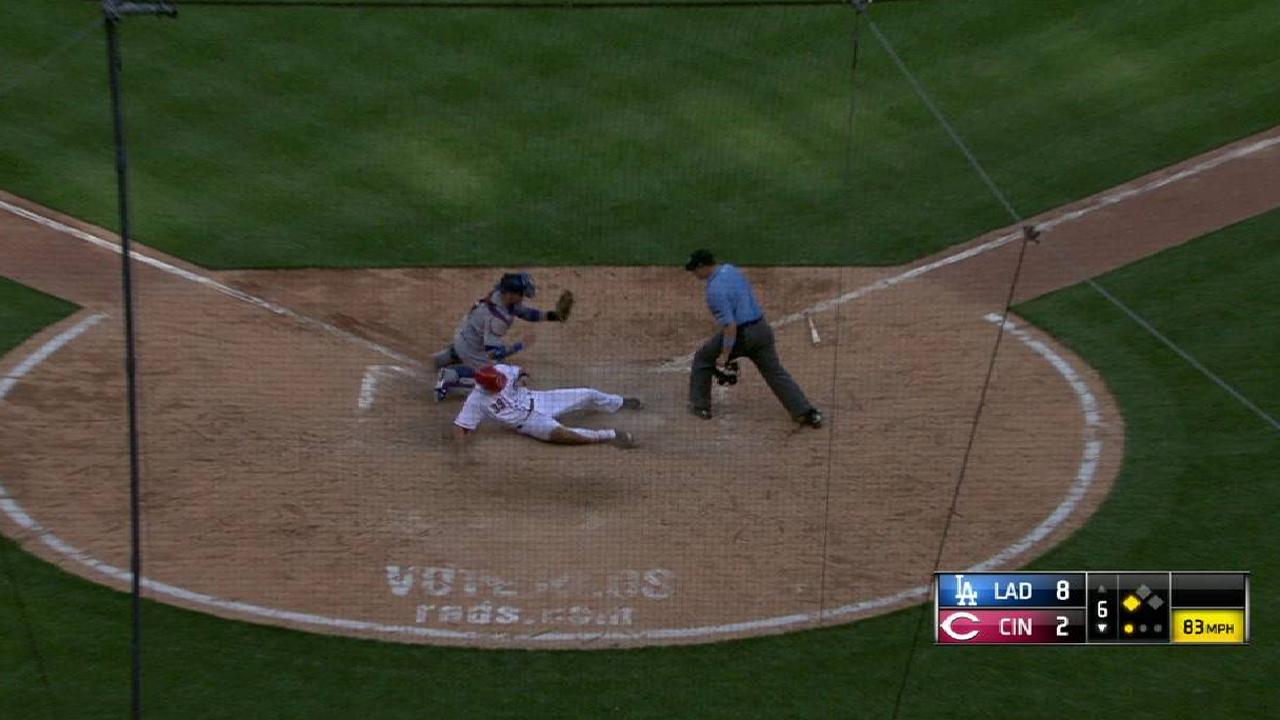 Bellinger stops run from scoring
LAD@CIN: Bellinger prevents Mesoraco from scoring
Cody Bellinger fields a grounder and fires home to prevent Devin Mesoraco from crossing the dish in the bottom of the 6th inning
"After a game, you can really accept it's really happening," he said. "I know it's happening now, I guess. You read stuff on Twitter about what's happening, stuff I didn't know about, it's been crazy."
By going 3-for-5 on Saturday, Bellinger is 8-for-22 on the trip with four homers and eight RBIs. He needs one more home run to tie Adrian Beltre for most home runs by a Dodger age 21 or younger. Since his April 25 promotion, he leads the Major Leagues in home runs and RBIs.
Meanwhile, in the eighth spot Puig has come alive. He's second on the club in home runs and RBIs. He's 7-for-18 on this trip.
"We've talked about swinging at strikes and taking balls and that's what he's doing," Roberts said. "When he gets the ball into his nitro zone, good things happen. With guys like Cody, Corey, Chris Taylor, Joc — everyone feeds off that. Our offense is relentless, it puts constant pressure on you."
Ken Gurnick has covered the Dodgers since 1989, and for MLB.com since 2001. This story was not subject to the approval of Major League Baseball or its clubs.