"I texted him and he thought about it and said, 'This is crazy,'" Almora said Sunday.
As Almora was rounding second base after the home run, he peeked at Machado.
"He was looking down and trying not to laugh," Almora said. "I know my family was watching, I'm sure his was, too. It was pretty special."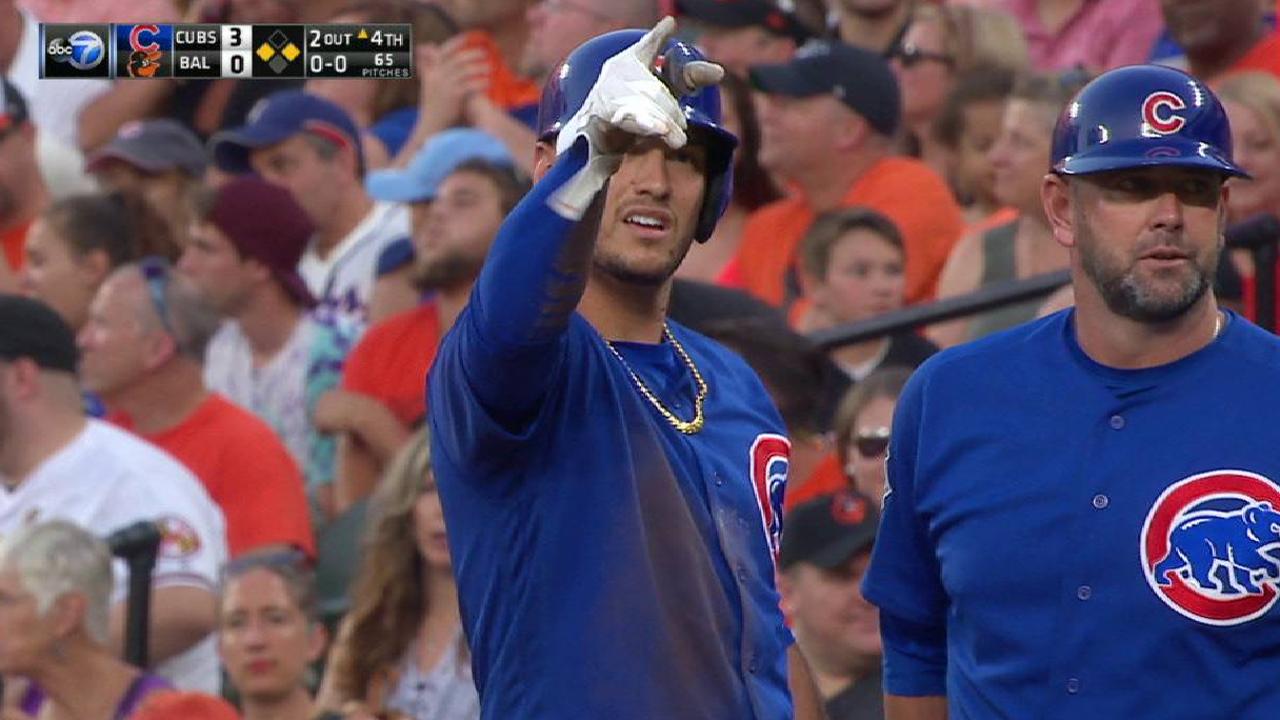 Almora Jr.'s RBI single
CHC@BAL: Almora Jr. singles home Heyward in the 4th
Albert Almora Jr. comes through with a two-out knock as he drives in Jason Heyward on an RBI single up the middle
• Willson Contreras has started all three of the Cubs' games since the All-Star break but manager Joe Maddon said Sunday he wants to make sure he doesn't overwork the young catcher. Victor Caratini, who was promoted from Triple-A Iowa when Miguel Montero was designated for assignment in late June, was expected to start Tuesday.
"The thing about a guy like Caratini, as with any young player, I'm always cognizant about not playing him enough," Maddon said. "He's a guy who is still developing. He can play, I'm good with him and I like him a lot, not a little bit. What Willson is doing now is so significant and what he did last year and what he's doing now, he's building into the season well. The majority of the playing time should go in his direction."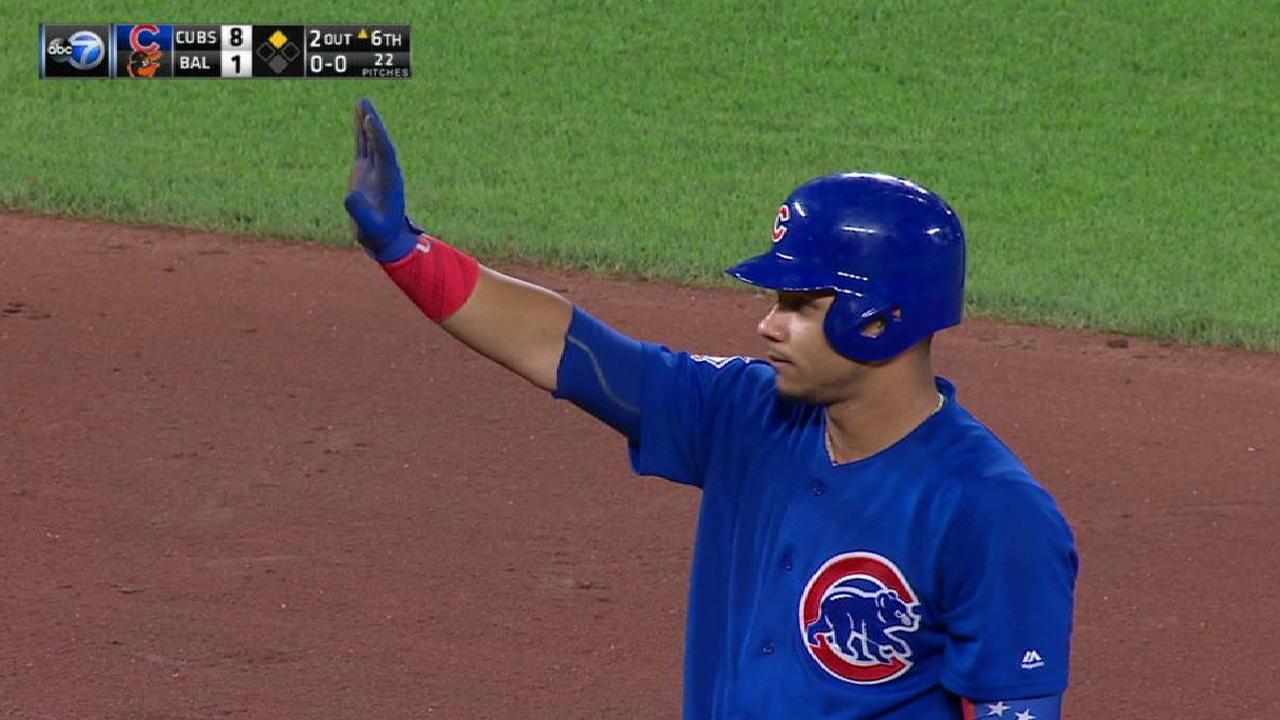 Contreras' RBI double
CHC@BAL: Contreras smacks opposite-field RBI double
Willson Contreras hits an opposite-field RBI double off the wall in right to give the Cubs an 8-1 lead in the top of the 6th inning
Contreras became the Cubs' full-time catcher in the middle of last season, and was behind the plate for the World Series games. He's been thriving in the clean-up spot behind Anthony Rizzo as well, batting .316 with four home runs in 11 games there.
With the July 31 non-waiver Trading Deadline approaching, do the Cubs need more depth at catcher? Maddon likes the two young ones that he has.
"If they're good, I'm OK with it," he said.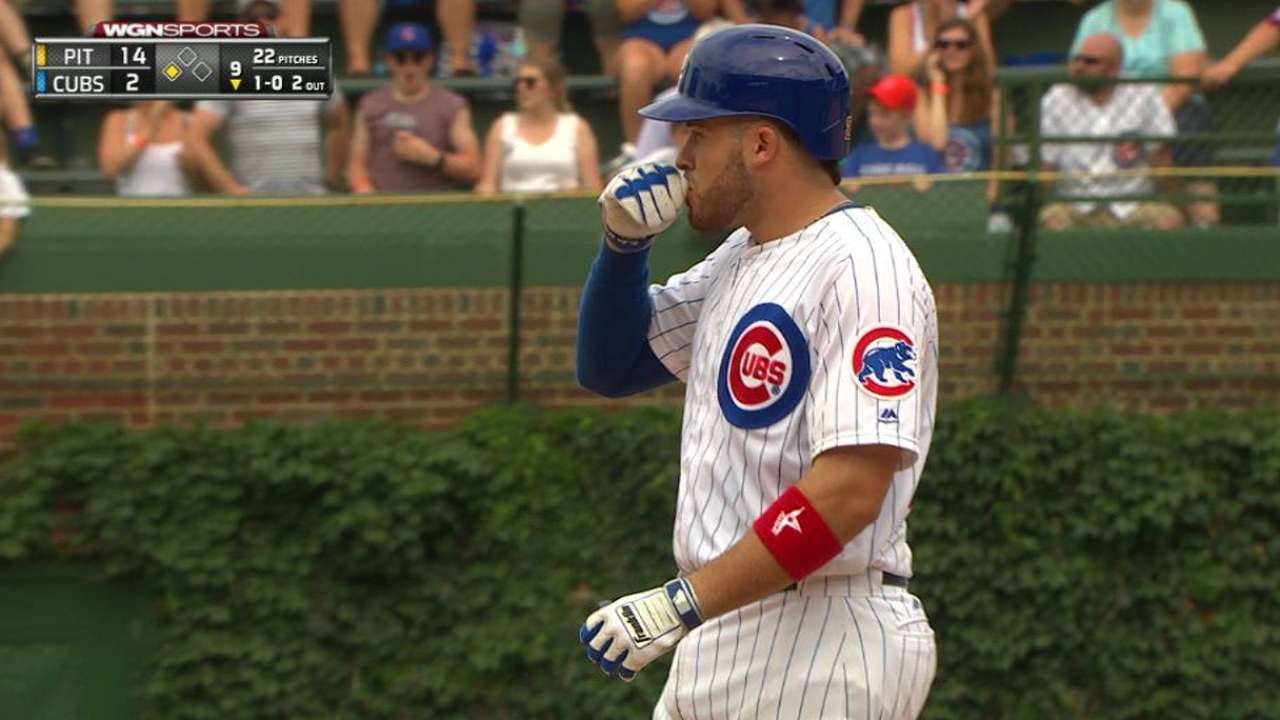 Caratini's RBI double
PIT@CHC: Caratini hammers double for first MLB RBI
Victor Caratini drills a run-scoring double to center field in the 9th for his first Major League RBI
• John Lackey, on the disabled list with plantar faciitis in his right foot, will be activated in time to start Tuesday against the Braves. The right-hander last pitched on July 5 against the Rays and posted his seventh quality start, giving up three runs over six innings.
One thing the Cubs aren't considering is having Lackey pitch in relief.
"I believe he's going to have a really good second half," Maddon said. "[His foot] was bothering him and I'm watching him now and he looks very focused to me. I think the break helped him a lot, combined with getting well. For us, there's no speculation internally [that he'd move to the bullpen]. … As long as he's healthy, I think you'll see a better version than you saw in the first half. He likes being part of the moment."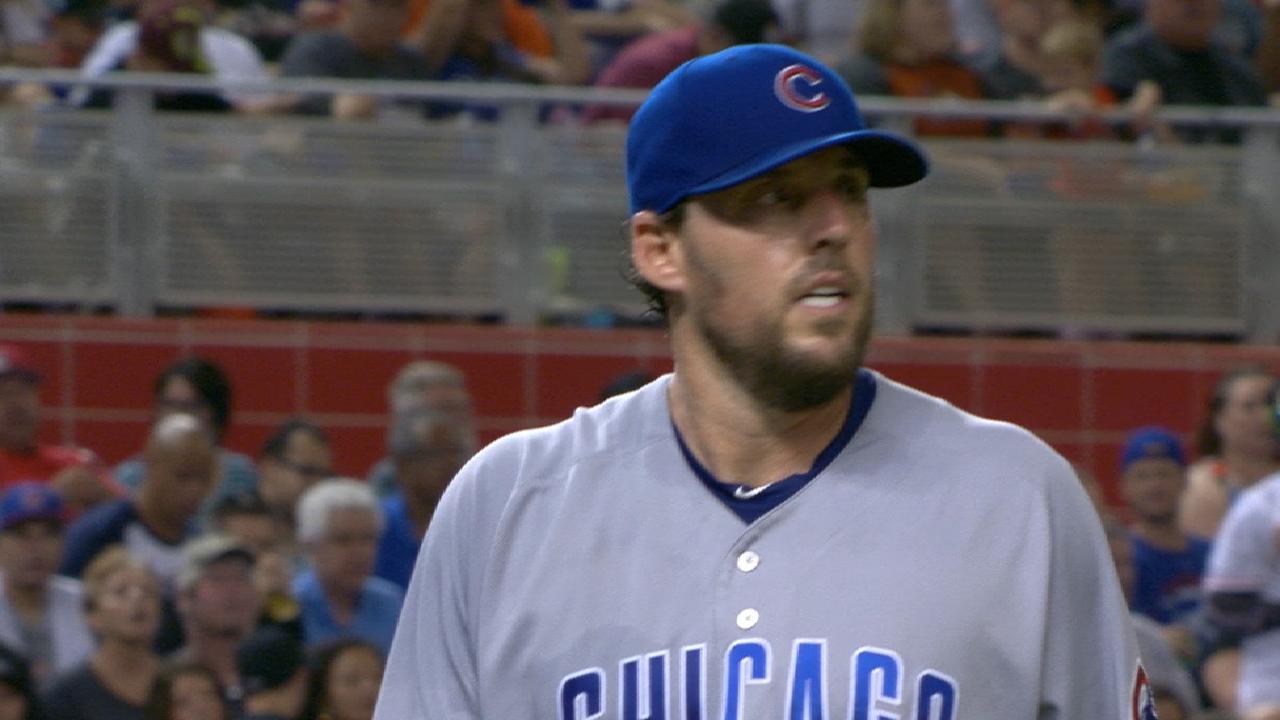 Lackey's solid outing
CHC@MIA: Lackey allows just two runs in six innings
John Lackey pitches six strong innings against the Marlins, yielding two runs on three hits with four strikeouts
Lackey has pitched once in relief in the regular season in 2004 with the Angels, and three times in the postseason, most recently '13 with the Red Sox.
Kyle Hendricks, on the DL with inflammation in his right hand, will make his second rehab start on Monday for Double-A Tennessee. Hendricks is expected to throw 65-75 pitches over five innings. If all goes well, he could activated for the Cubs' series against the Cardinals next weekend.
• The Cubs' next Interleague series will be July 24-27 against the White Sox, which includes two games playing under American League rules. Having a designated hitter makes a difference.
"It's such a different game," Maddon said. "It's incredible that it's the same field and all that kind of stuff, but from the dugout, it's so different. From our perspective, getting our ninth guy out there [in the lineup], there's definitely a different feel playing in a different situation, different rules."
The Cubs also play host to the Blue Jays from Aug. 18-20 and travel to St. Petersburg to face the Rays from Sept. 19-20 to complete their Interleague schedule this year.
Carrie Muskat has covered the Cubs since 1987, and for MLB.com since 2001. She writes a blog, Muskat Ramblings. You can follow her on Twitter @CarrieMuskat and listen to her podcast. This story was not subject to the approval of Major League Baseball or its clubs.