Kids will be fast tracked to the big leagues. Along the way, fans will see the outline of great days ahead.
Hope springs? Yes, in all 30 ballparks, hope does spring, and isn't that the point?
Baseball has never had this kind of parity, and that's one of the reasons we find the season-long journey so compelling.
In the last five seasons, 22 teams have played at least one postseason series. The American League has had five different champions in six seasons, while the National League has had four.
Money? It's not about that anymore. In the last 16 seasons, the team with the highest payroll has won the World Series just once — the 2009 Yankees.
The last 10 World Series winners have had an average payroll rank of eighth. No one will claim money doesn't matter.
Smarts count, too, perhaps more than ever.
We begin this season with the Indians and Red Sox regarded as the best American League teams. In the National League, it's the Cubs and Dodgers.
Right behind those four teams are the Nationals, Astros, Giants, Cardinals, Mets, Rangers, Mariners and others.
No one blinks if any of them hoist a World Series trophy this fall.
In reality, the list is a lot longer.
Here are five other teams to keep an eye on:
1. Rays
They've got pitching, pitching and more pitching. That's starting pitching and relief pitching. When a team has the depth of quality arms the Rays have, it has a chance. If Steven Souza Jr. and Corey Dickerson hit well, there could be enough offense to contend.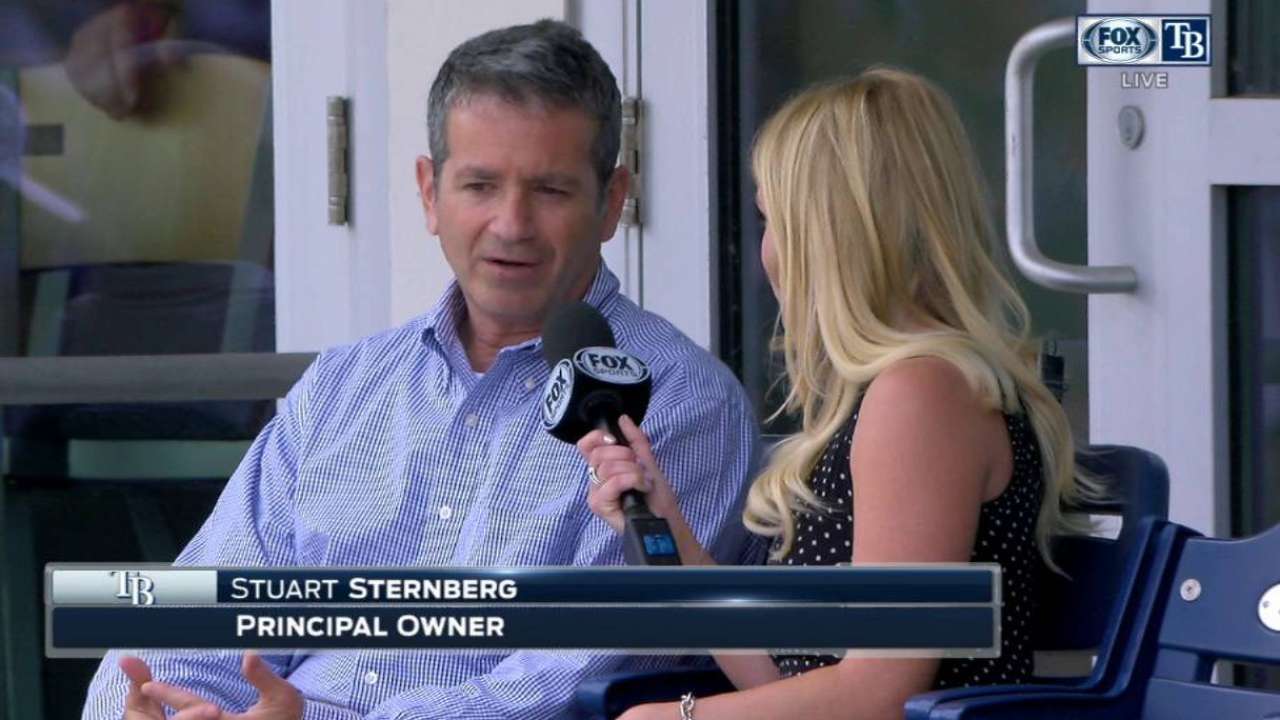 Sternberg on the 2017 Rays
BOS@TB: Sternberg on 2017 Rays, Kiermaier, Longoria
Rays owner Stuart Sternberg talks about the outlook of the 2017 Rays, Kevin Kiermaier and Evan Longoria
Patience will be a must as three projected starters — left fielder Colby Rasmus, shortstop Matt Duffy and catcher Wilson Ramos — will open the season on the disabled list.
Once they all return — and it might not be until midseason for Ramos — this could be the best lineup the Rays have ever put on the field.
Regardless, there may be enough pitching to keep the Rays contending until they're at full strength.
2. Orioles
Having won more games than any other American League team over the past five seasons — and making the playoffs three times — it could be a stretch to say the Orioles could surprise anyone.
And they take some sort of strange pride in being picked to finish last in the American League East pretty much every year.
Well, their most important player — pitcher Chris Tillman — has a cranky right shoulder, and it's unclear when he'll be back at full strength.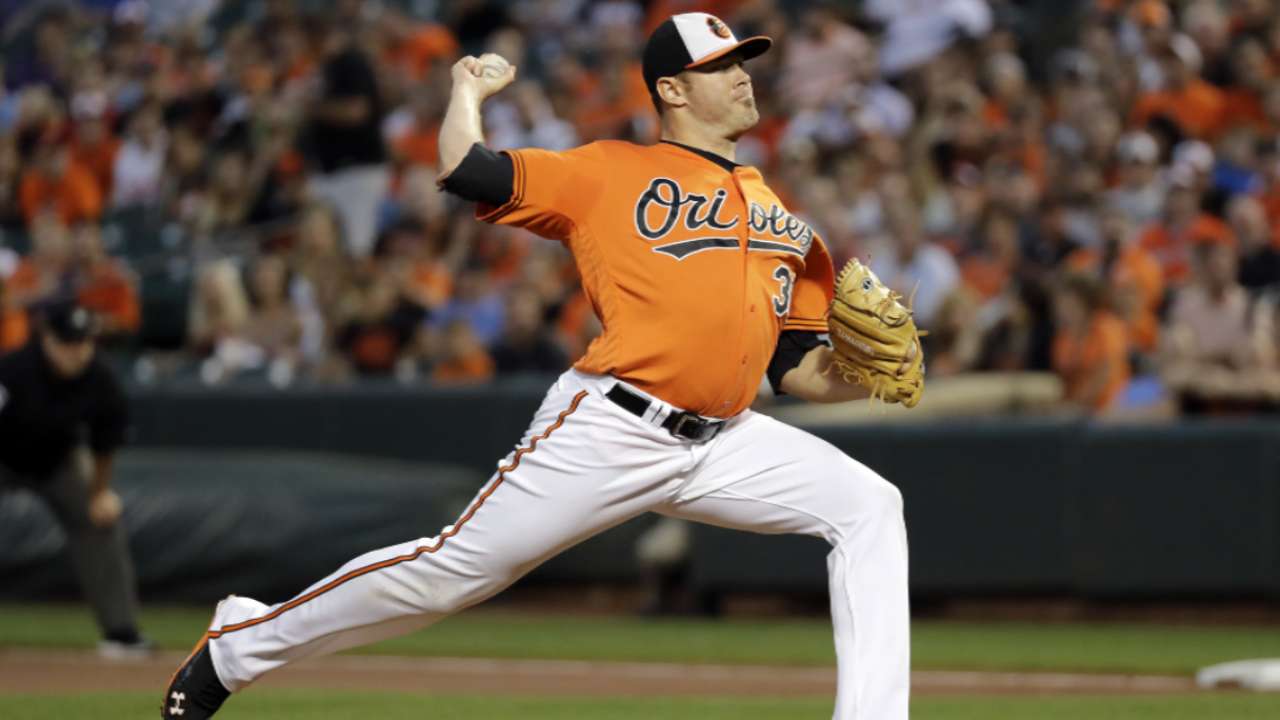 Tillman to miss Opening Day
Ghiroli on Tillman injury and missing Opening Day
MLB.com Orioles reporter Brittany Ghiroli talks about Chris Tillman's shoulder injury and how he will miss Opening Day
The Orioles' rotation was already a question mark, with Kevin Gausman and Dylan Bundy being counted on to take significant steps forward in their development.
But the Orioles made the playoffs last season with a rotation ranked 19th with a 4.22 ERA. If they do that again, they will be permanently eliminated from "surprise team" status.
3. D-backs
Is there enough pitching? Do Zack Greinke and Shelby Miller bounce back? Does Patrick Corbin get back on track? Does Taijuan Walker take the next step forward? Finally, do Braden Shipley and Archie Bradley fulfill their promise?
It's pretty much that simple for the D-backs, who have an offense built around five impact players: Paul Goldschmidt, A.J. Pollock, Jake Lamb, Yasmany Tomas and David Peralta.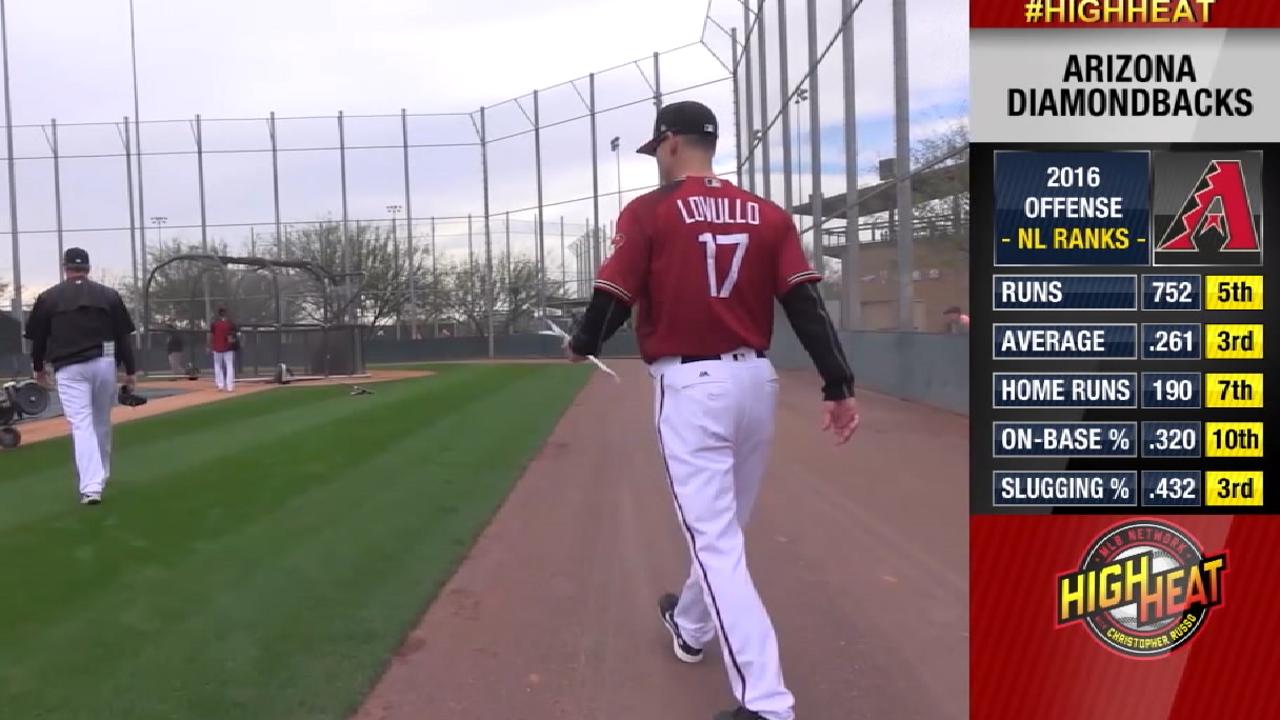 High Heat: Lovullo on D-backs
Torey Lovullo discusses team chemistry on High Heat
On High Heat, D-backs manger Torey Lovullo joins Chris Russo to discuss the importance of his team playing together
There are questions about the bullpen, and some of the projected starters — for instance, Shipley and Bradley — could help out there. There's no question the D-backs are headed in the right direction with new general manager Mike Hazen in charge of baseball operations and new manager Torey Lovullo leading the team.
4. Angels
Can a team with the best player in the game (Mike Trout) and a future Hall of Famer (Albert Pujols) really be a surprise? Here's what we don't know: What will the Angels get from their top two starting pitchers, Garrett Richards and Matt Shoemaker?
The starting rotation may be a season-long work in progress. But if Richards and Shoemaker can stay healthy, the Angels are plenty good enough to make the playoffs.
Scioscia on Richards' return
Scioscia on Richards returning from injury in 2017
Angels manager Mike Scioscia discusses Garrett Richards' healthy return in 2017 and how he can be an ace
They're in an unforgiving division, the American League West, with the Astros, Mariners and Rangers all seemingly good enough to make the playoffs. But don't overlook the Angels.
5. Rockies
The Rockies probably always knew it would come back to accumulating as many young arms as possible and allowing them to get a feel for Coors Field. Yes, you can throw breaking stuff there. Yes, you're going to give up some runs.
Jon Gray, Tyler Chatwood and Tyler Anderson top a list of starters that have a chance to keep the Rockies afloat in the NL West. Despite first baseman Ian Desmond, outfielder David Dahl and catcher Tom Murphy likely sidelined for most of April, the Rockies may still have enough to turn a corner in 2017.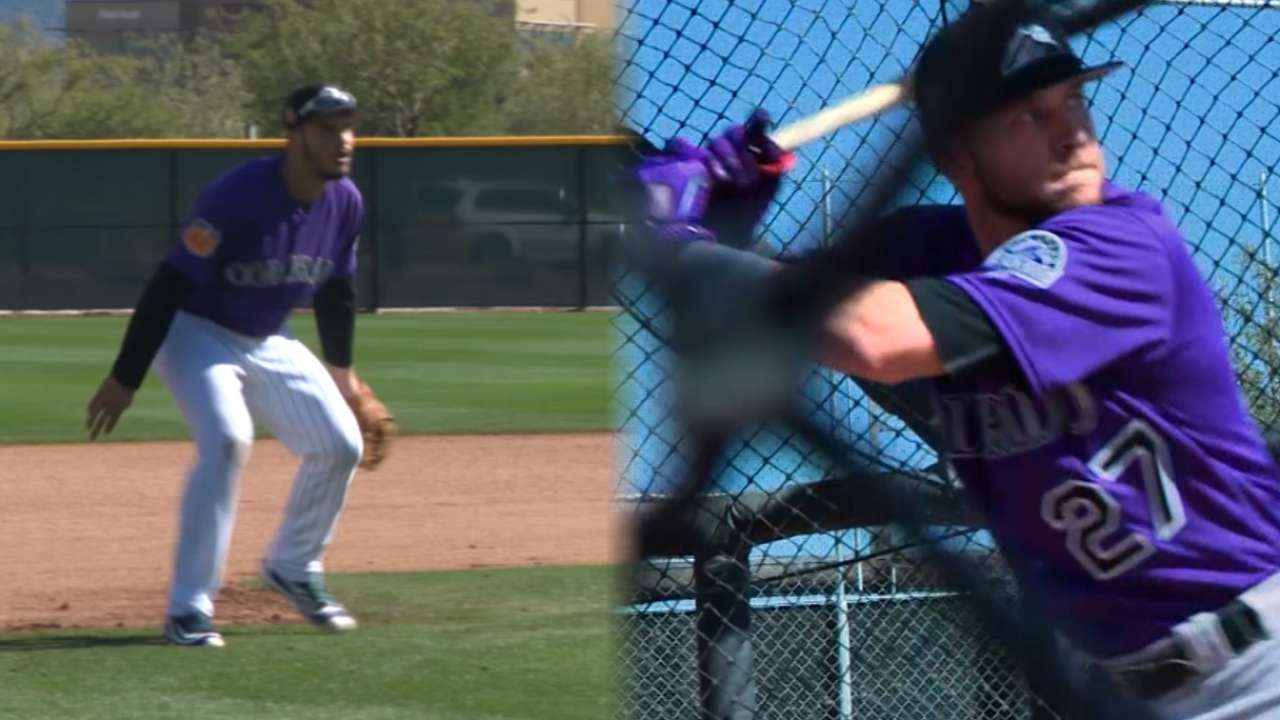 Black expects to contend in '17
Bud Black thinks Rockies will compete in 2017
Rockies manager Bud Black explains why he believes the club will compete for the playoffs in 2017 thanks to its exciting young core
Richard Justice is a columnist for MLB.com. You can follow him on Twitter @richardjustice. This story was not subject to the approval of Major League Baseball or its clubs.